11 Top-tier Voice Recorder Apps of 2023 [Desktop and Mobile Usage]
If you need to do interviews, podcasts, or a school project requiring voice recordings, having the best voice recorder app with you will help ease the work. There are too many on the market, which one will help you get the most clean and noiseless audio? This post has collected the best 11 voice recorder tools for Android, iPhone, Windows, and Mac devices. Let's begin your journey right now.
Part 1: The Best 10 Voice Recorder Apps for Android/iPhone
1. Voice Memos (iPhone)
First on our list of best voice recorder app is Voice Memos. If you are an iPhone user, you do not need to look elsewhere for a video recorder. This application is a built-in voice recorder for iPhone. It also enabled you to record and save voice notes on your device. Although it has a straightforward design and voice recording, it needs more audio editing.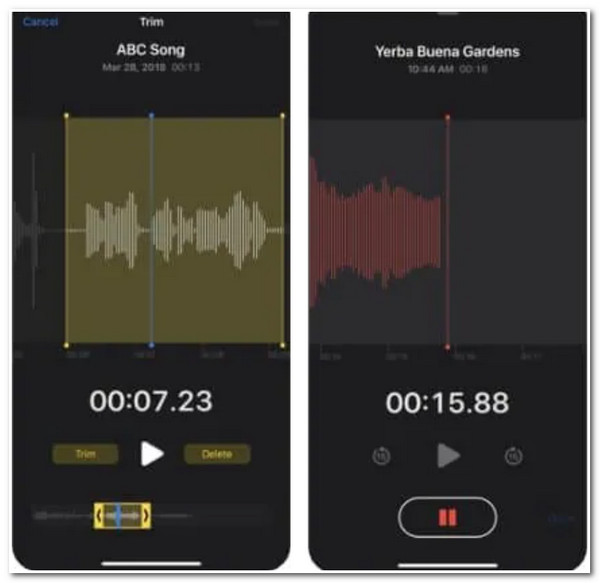 2. Easy Voice Recorder Pro (Android/iPhone)
Easy Voice Recorder Pro is another voice recorder app you can spot on the market. This tool's interface and features promote ease of use. You just need to hit the record button, share the recorded file if you want to, and that's it! That is all it takes to record your voice through this app. What makes this app much more excellent is that this app provides you with the ability to export your voice recordings into PCM, MP3, or AAC format.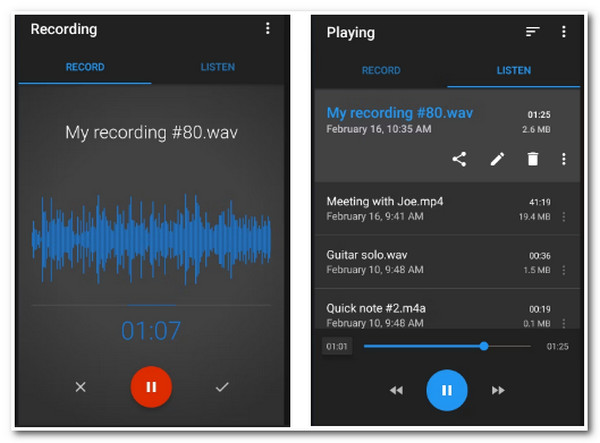 3. Smart Recorder (Android)
Next on our list of best voice recorder app for Android is the Smart Recorder. Like the other voice recorder applications, this Android is infused with usual recording features. But it somehow outshines others through its additional features like skipping silence tracks, cloud storage support, sensitivity controls, customizable sample rates, etc. With those outstanding points, it is considered to be a beyond helpful and suitable tool you can use for voice recording. Although it already caters to many users, crashes are being reported.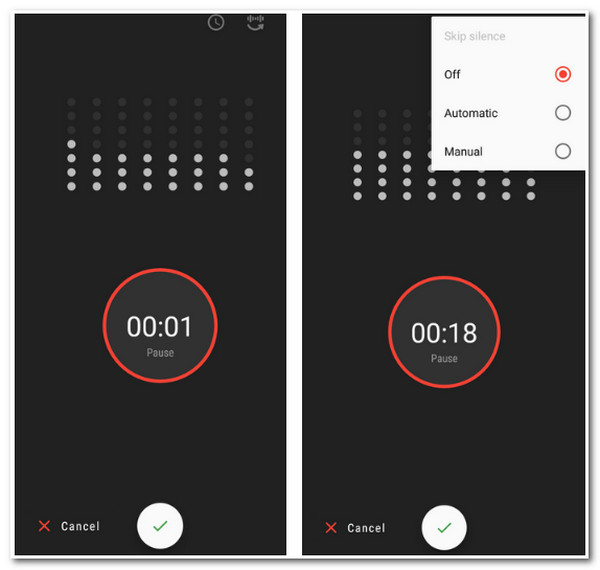 4. iTalk (iPhone)
You don't want to miss out iTalk, for it is also the best voice recorder app for your mobile device. Aside from its capability of recording your voice, it also supports iTunes file-sharing functionality. It also consists of direct mailing, sending recorded files within the app, and built-in browsing features. Unfortunately, the same goes for other voice recording apps; crashes appear while recording.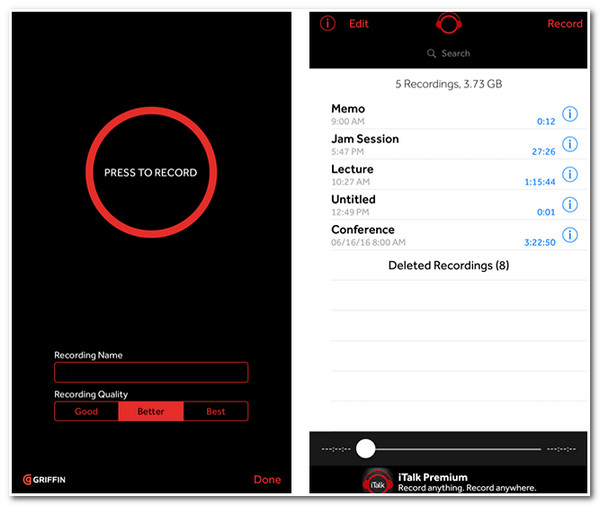 5. Dolby On (Android)
Dolby On is also one of the best voice recorder app for Android. This voice memo recording tool deserves to be on your mobile device because it is infused with recording enhancements. It contains built-in boost and filter features that improve your audio recorded quality. Moreover, it is also infused with noise reduction and fade-in and out effects. So if you are a musician, this app is best for you.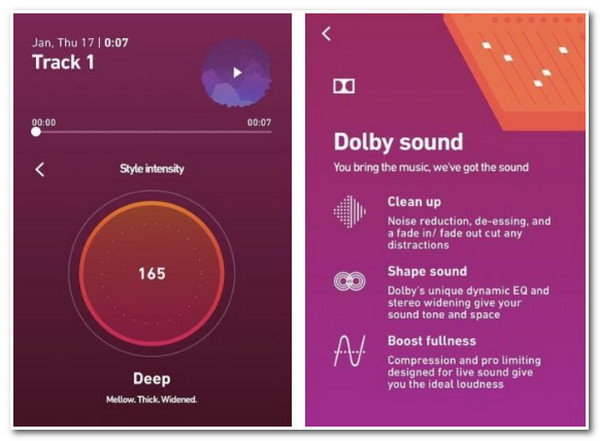 6. Alice (iPhone)
Alice is also a voice recorder app that can help you with your video recording needs. Although this app is developed for Journalists for its feature of automatically transcribing interviews, it is still a suitable tool for recording your voice. In line with that, once you are done recording, it can send it directly to your email account.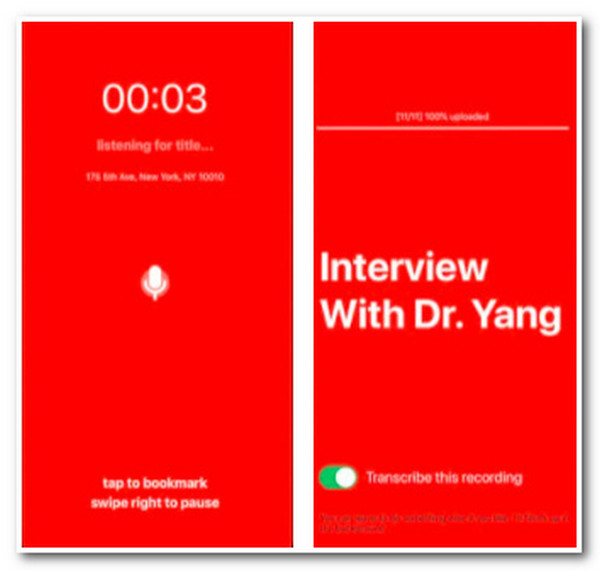 7. ASR Voice Recorder (Android)
You should also take note of the ASR Voice Recorder as it is also composed of features you can find on other video recorder app. This app can export your recordings on MP3, FLAC, WAV, M4A, and OGG audio formats. Moreover, it also enables you to store your recording on popular Cloud storage after recording. Furthermore, it is also enriched with unique features such as skipping silent parts of your recordings and gaining a switch.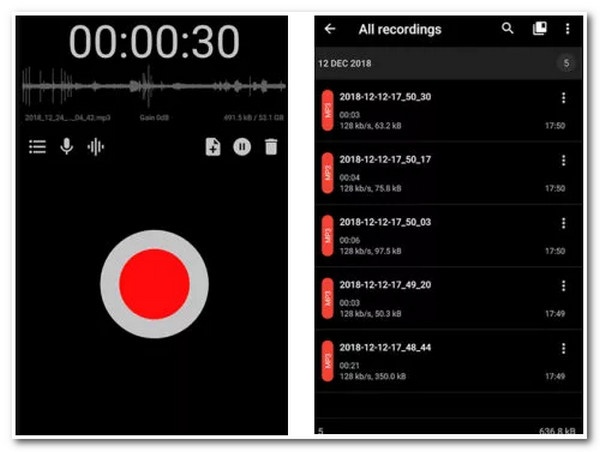 8. Recorder Plus: Voice Recorder (iPhone)
Next is the Recorder Plus: Voice Recorder. This voice recorder app comes with easy-to-understand features and promotes ease of use. What makes it more interesting is that you can customize the quality of your recordings. You might need to improve in sharing features, but it still covers basic editing features you can apply to your recordings.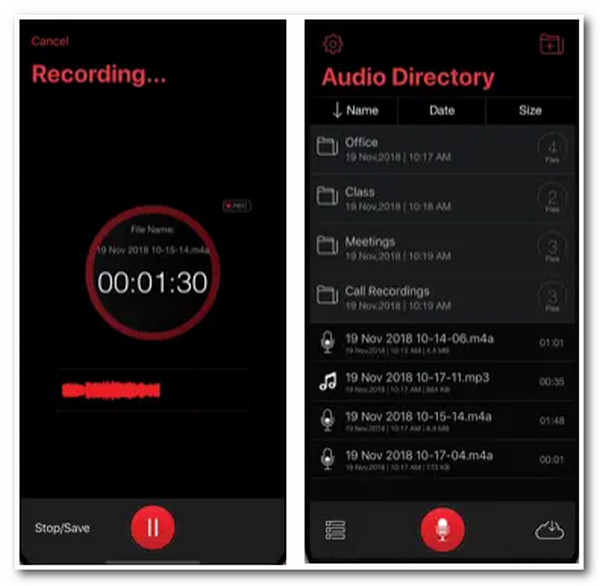 9. Voice Recorder & Audio Editor (Android)
You also don't want to miss the chance of having the Voice Recorder & Audio Editor on your mobile device. This voice recorder app comes with an adorable and catchy eye design. This app enables you to modify the sampling rate of your recordings and export them, whether in MP3 or WAV formats. However, this tool doesn't offer any other features which you might find lacking.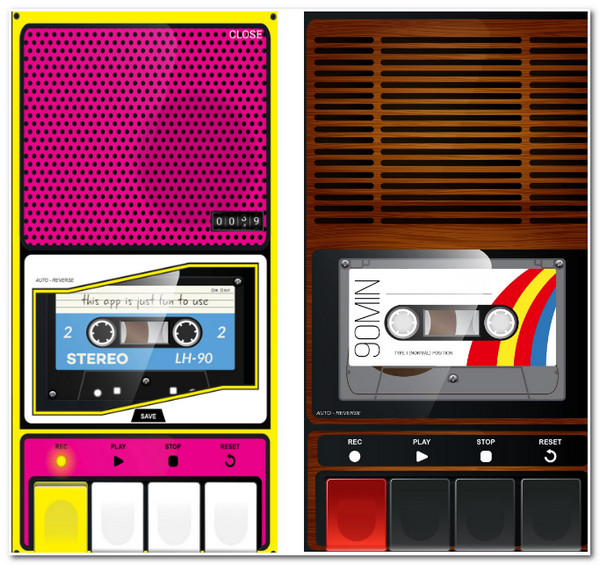 10. Tape-a-Talk (Android)
Last but not least is the Tape-a-Talk. Unlike other voice recorder app on the market, this tool comes with a widget. Through its widget, you can access its record button for immediate voice recordings. Moreover, this app lets you save your recording on various Cloud storage available. Furthermore, it is also equipped with a feature where you can set your recordings into a ringtone.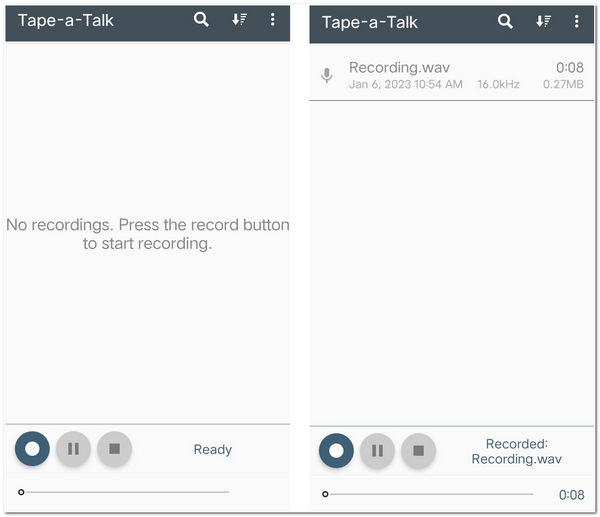 Part 2: The Recommended Voice Recorder on Windows/Mac
After discovering the best voice recorder app for Android and iPhone, here recommend you the best voice recorder for Windows/Mac - 4Easysoft Screen Recorder tool. Unlike the list of voice recorder applications above, this Windows and Mac-compatible tool comprises advanced noise cancellation and voice enhancements. With those features, they can provide excellent voice recording sound. You can also export your recordings into M4A, OPUS, MP3, WMA, and AAC with lossless formats like FLAC and WAV. Moreover, this voice recorder tool is also equipped with customization settings for both audio output and setup preferences.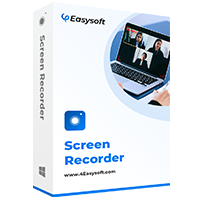 4Easysoft Screen Recorder
Capable of recording both your System Sound and your voice from your Microphone.
Allow you to add a watermark on your voice recordings to avoid alterations without your permission.
Support various audio quality selections such as Lossless, Highest, Middle, etc.
Enable you to provide a schedule for your audio recordings, when to start and stop.
How to use 4Easysoft Screen Recorder as a Voice Recorder Tool:
Step 1Visit the 4Easysoft Screen Recorder on its official website to download and install it on your computer. After that, launch the tool and select the Audio Recorder option.

Step 2Click the System Sound to record your computer's audio only. Otherwise, tick the Microphone to record your voice. You can also turn both options On.

Step 3After the setup, click the REC button to start the audio recording. Use the tool's built-in volume sliders to adjust the volume of your Microphone or your System Sound while recording with this voice recorder.

Step 4Once you are done recording, tick the Stop icon on the toolbox, and then the tool will bring you to its preview section. Next, remove the unwanted parts of the recordings, then tick the Save button to save your work.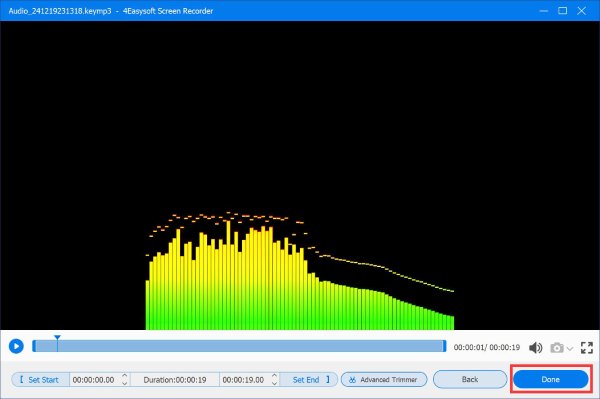 Part 3: FAQs about the Best Voice Recorder App
1. What exactly are the features that a voice recorder app must have?

The most crucial capability or feature that a voice recorder tool must have is the ability to provide you with high-quality recording. A voice recorder application should promote clarity in every audio recording.

2. What would be the best format to export audio recordings?

The recommended ones are lossless file audio formats like WAV, FLAC, and M4A. They possess excellent quality, and even though they are compressed, they can still maintain the original sound quality. However, expect that they consume a vast amount of your storage space, for these formats are large.

3. Is there a length limit on a voice recorder?

Some voice recorder application on the market has limitations on how long you can record voices. You can be able to overcome this limitation by purchasing their upgraded version. So it would be best to use your mobile device's built-in voice recorders.
Conclusion
Those are the best voice recorder app on the market; you can use them on your Android or iPhone devices. Choose among them which one suits your needs. But if you are looking for a complete package voice recorder tool, then 4Easysoft Screen Recorder is what you are looking for. You can achieve your desired voice recordings from its advanced audio recording features and supported output formats; you can achieve your desired voice recordings. Feel free to visit our website to explore and download the tool.
Related Articles: