How to Loop Music to Make Addictive Videos on Social Media [Tutorial]
You may have been listening to good loop music that you didn't notice the start and end of the tune. A piece of loop music may appear in a vlog, video game, or video presentation. A fantastic music loop makes you listen to it repeatedly, and you never get tired of listening to it. Want to learn how to create good loop music for your videos on Tiktok, YouTube, and other online video-sharing platforms? Check out the following parts to see the four best ways to loop music on your desktop, online, and iPhone.
Part 1: The Easiest Way to Loop Music for TikTok, YouTube, etc
4Easysoft Total Video Converter is a video converter and editor that supports converting video and audio files into more than 600 formats, like MP4, MKV, AVI, and more. Its editing function is also powerful, and you can use it to crop, trim, add filters/effects/watermark, etc. The MV function also enables you to loop music and play it continuously. Besides this, it has a Lossless Acceleration that helps convert videos and edit audio at ultra-fast speed with the original quality. Additionally, you can change the audio format after creating your loop music.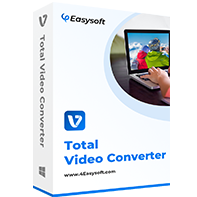 4Easysoft Total Video Converter
Enable you to adjust the audio volume, apply loop play, fade-in/out, and more.
You can keep the original audio track or add background music from your computer.
Provide AI technologies to remove dirt-like noise and make your output cleaner.
Convert your loop music to any popular format, including MP3, FLAC, AAC, WAV, etc.
Step 1Download and install the program 4Easysoft Total Video Converter. Launch the program on your desktop. When you open it, choose the MV tab to add your video/images and loop the music. If you want to arrange the order of the files, drag them with your mouse or click the Ahead or Behind button.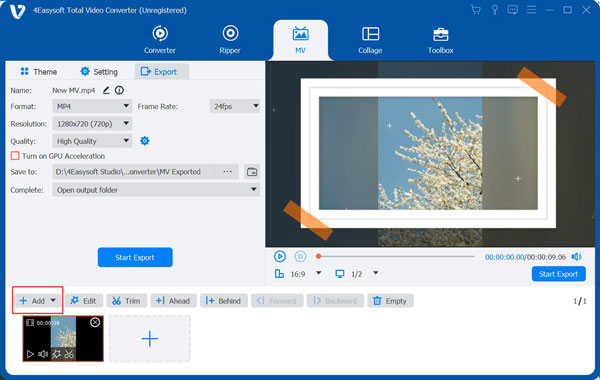 Step 2Start editing by clicking the Edit or Trim button. You can edit the videos and images one by one. You can rotate, clip, adjust effects, add filters, watermarks, and more. You can also adjust the weight and color of the frame below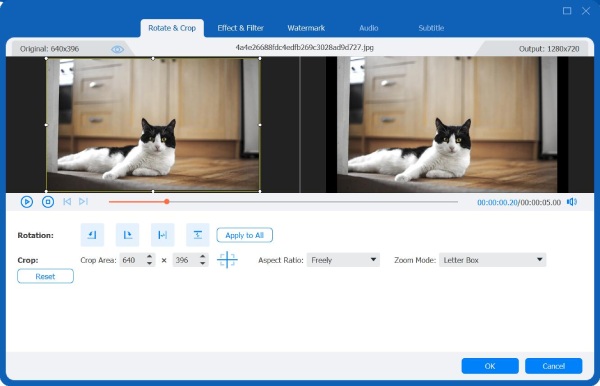 Step 3For audio tracks, you can choose to add or keep the original track. Click the Loop Play checkbox to play the background music continuously; you can also add fade-in/out effect according to your need.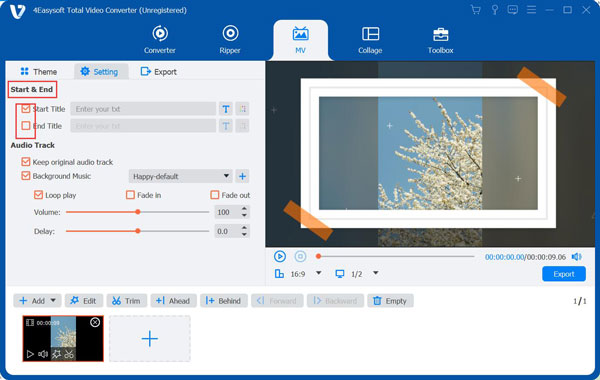 Step 4You can change the output file from the Export tab and the Format option, including converting AVI to MP4. You can also adjust settings like Resolution, Quality, and Frame Rate. Then, click the Start Export button to save your loop music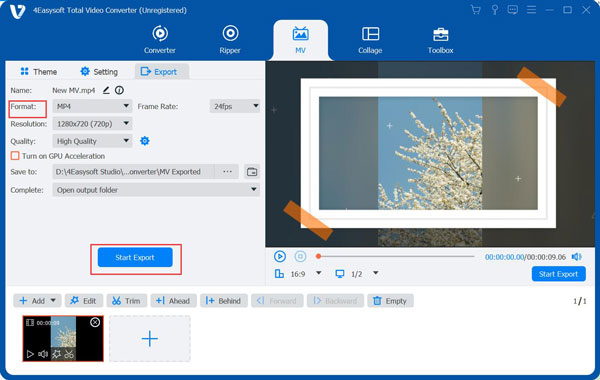 Part 2: How to Loop Music through iMovie on iPhone
Apple's iMovie is a basic editing program that offers iOS users several effects and features. It provided tools like color correction and image stabilization and was designed by Apple for users with no video editing experience. With this, you can easily add photos and videos, trim clips, music, effects, text, and more. If you want to loop music for your video project, do it now with iMovie!
Step 1Open iMovie on your iPhone, then open the video you have been working on. Click the Musical notes icon under Video Player; all your music and audio files will appear along with iMovie's sound effects. Click on the music file you want to apply a loop to, then drag it into the Timeline.
Step 2Click the file in the Timeline, click Edit, then Copy. If you like to insert more audio, move the Timeline cursor. Click Edit, then Paste to paste your copied audio file to the place where you want to put it.
Loop music by clicking Edit, then Paste to have more copies of the audio track; you can stop once you're done to add audio in all places.
Step 3Adjust each by double-clicking, then choose Audio from the popup menu. Click Done once satisfied. You can play the entire track to check if the loop music sounds good.

Part 3: How to Use Online Tools to Loop Music
A good video editor that supports applying loop music is what you need if you want to play music continuously. If there's a program and an application available on desktop and on your iPhone, there's also an online tool for you to loop music.Below are the two online tools to loop the background music for your video.
1. FlexClip
FlexClip online video editor has many professional editing tools. Aside from looping music, you can make cool video edits, add text, change video aspects, and more with this tool. It offers hundreds of templates, presets, and effects. Moreover, unlike others, it is a free video editing tool, but of course, you need to upgrade to a Business Plan to use all features. It's time to create, edit, and do more with this video editing tool. See below the detailed guide to loop music in just a few clicks with FlexClip.
Step 1Go to FlexClip's website. Upload your video and apply them to the storyboard.
Step 2To add music to your video, click the Music icon on the left. You can choose to add music from FlexClip's library or upload music from a local file.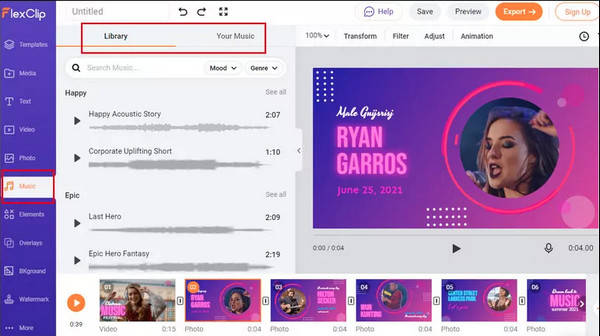 Step 3Loop music by clicking the Loop Playback button. Turn on the switch to play the background music continuously.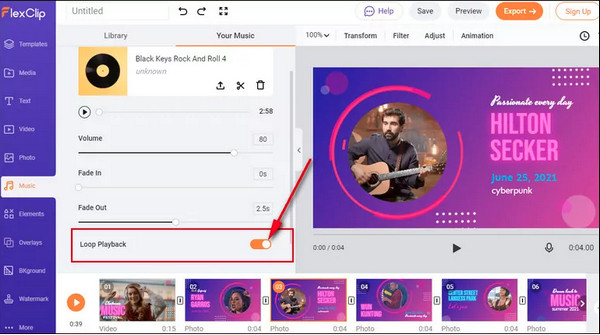 2. Clideo
Loop music comfortably with this loop maker tool, Clideo. This online tool works online for any device, such as Windows PC, Mac, and even on your mobile devices, such as Android and iPhone. You can edit and create video files, GIFs, and images with this online tool, and it comes with several editing features like merging, compressing, cropping, rotating, and so forth. Furthermore, you can slow down a video, make split-screen, and more.
Step 1Open Clideo's Audio Joiner, click Choose Files to open your file from your device. Remember that you can only upload up to 500 MB for free.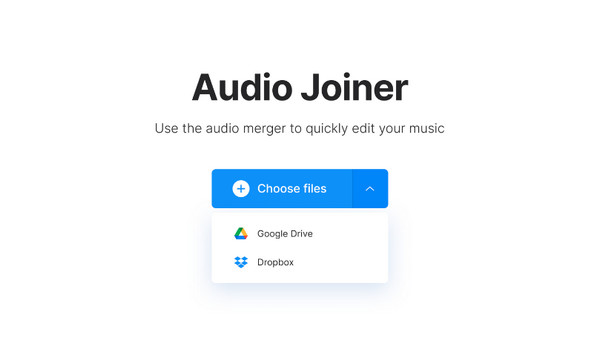 Step 2Below, you can see your added files, and beside them there's an Add more file option. Add as many times as needed for your preferred time you want to loop music. The Final output below will show how long the output will be.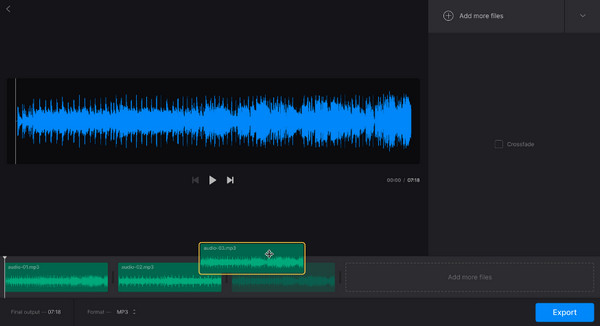 Click the Crossfade checkbox on the right side to make a smooth transition between the end and beginning of the song. Once done, click Export.
Step 3You can listen to it and check if it sounds good, if you want some changes, click Edit and you will return to the previous page. If satisfied, click Download to save it to your device.
Part 4: FAQs about How to Loop Music with Customized Clips
How to add a specific part of a song on iMovie to loop?

On your iPhone's iMovie, open a video project. In the Timeline, click the audio clip you choose to adjust. A yellow trim handle will appear, drag it at either at the end of the audio clips to the place where you want the audio to start and end.

How to loop a song on Spotify?

To loop the song you're listening to on Spotify, click the Repeat icon twice. The icon will be in a color green, and a 1 will appear. To end the loop, tap the Repeat icon again.

How do you play an Apple Music loop?

Loop music on Apple Music by clicking the Repeat button, the button will change its color. To repeat the currently playing song, click the Repeat button until the number 1 appears. To turn it off, click the Repeat button until the button changes color again.
Conclusion
That's all for how to loop a piece of music! Knowing all ways to loop music on your iPhone, desktop, and online allows you to explore more cool editing tools besides the mentioned tools above. But, if you want to do more and try editing features, use the 4Easysoft Total Video Converter. Aside from being a video and audio converter, you can do much with this program. You can loop music and make great video edits by adding text, animation, effects, filters, themes, and more. Now, everyone can loop music for their videos with great ease.
Related Articles: