Honest Review about Top 12 Popular Audio Compressors for Windows/Mac
Audio compressing is the best way to free up some storage space on your device, especially when you have downloaded hundreds of music on your devices. Even with an MP3 which is a lossy audio format, there is a higher chance that you will need an audio compressor to reduce the audio file size, and you will be able to store more files. In this post, you will learn the best 12 audio compressors for Windows and Mac with detailed descriptions.
Part 1: The Best Recommended Audio Compressor on Windows/Mac
4Easysoft Total Video Converter is one of the best audio compressors you can find on the market. It is a powerful audio compressor available for Windows and macOS users. This tool also allows you to edit the output settings, including encoder, sample rate, channel, and bitrate. The best-recommended audio compressor is here for high-quality audio compressing.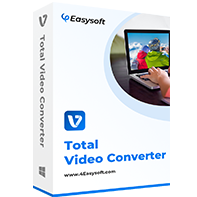 4Easysoft Total Video Converter
Compress most popular audio files like MP3, WAV, AAC, WMA, OGG, etc.
Compress audio files at ultrafast speed with GPU acceleration for a smoother process.
Support batch conversions and provide device preset for perfect compatibility.
Provide other functions such as Audio Sync, volume booster, speed controller, and more.
How to use the best audio compressor on Windows/Mac:
Step 1Go to the official page of 4Easysoft. Download and install it to your device. Run the audio compressor to start audio compressing. Click the Plus icon in the middle part of the main interface, or you can also use the Add Files button to add a folder.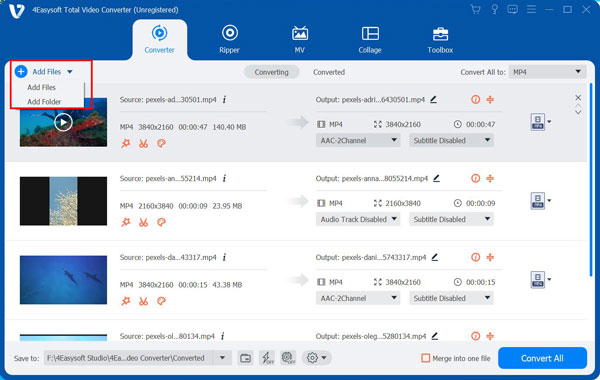 Step 2When the audio file is successfully uploaded, click the Format icon beside the file. Go to the Audio tab, and find the desired folder. You can also select the original file format and edit the output resolution. To do that, click the Gear icon for the Custom Profile settings.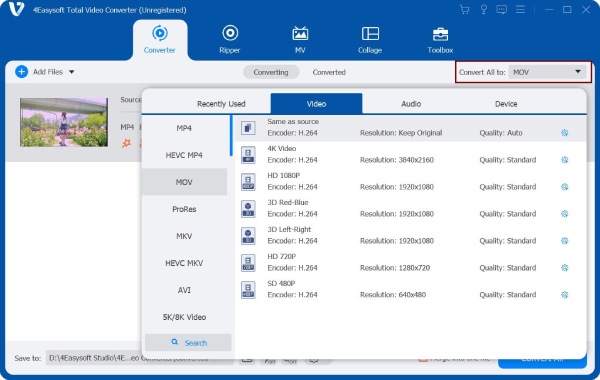 Step 3The following window will let you change bitrate, sample rate, channel, and profile. Once satisfied with the changes, click the Create New button to add the customized resolution to the menu.
Step 4Once you are back on the main menu of this audio compressor, click the Save To drop-down menu and choose the designated folder for the compressed file. At last, click the Convert All button to process everything.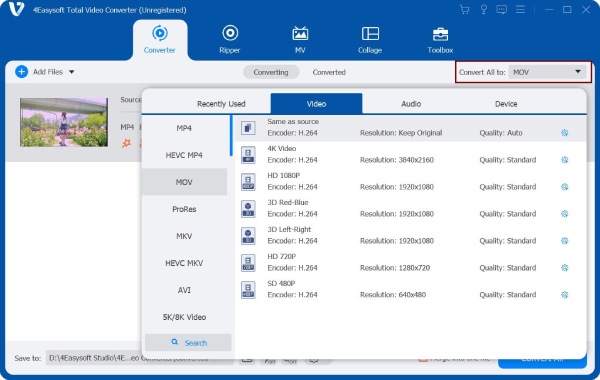 Note
In the toolbox menu, you can also use the video compressor to compress video for email, website, or other social platforms.
Part 2: Other 6 Desktop Audio Compressors to Reduce Audio File
A desktop audio compressor is a must, especially when you constantly need to reduce large audio files. Here are the best audio compressors for desktops without taking up too much space on your device.
1. Monkey's Audio
Monkey's Audio is an efficient audio compressor that is highly optimized for fast compression. It is easy to use with a higher chance of no quality loss. The audio compressor supports popular audio formats such as MP3, OGG, and WMA. Monkey's Audio is free with perfect audio sound and a smaller file size.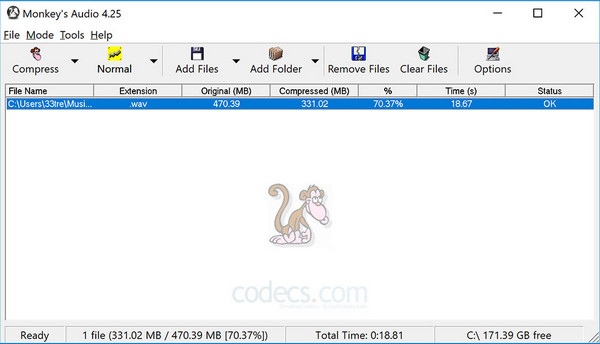 ◆ Fast compression process without distorting audio data.
◆ Use flexible APE Tags for a manageable Monkey's Audio collection.
◆ Allow users to decompress files back to their original file size or format.
2. Freemake Audio Converter
Another free audio compressor with over 50 supported audio formats. It is an all-in-one tool capable of audio compressing, extracting audio from a video file, and audio converting. Moreover, Freemake Audio Converter provides device presets, including smartphones, tablets, PC, and macOS. Compress your audio files with high sound quality up to 320kbps.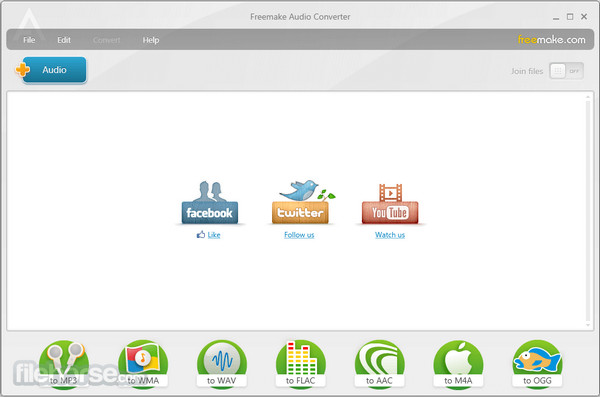 ◆ Contain other tool designs for different devices.
◆ Enable users to upload music to cloud storage and iTunes.
◆ No sign-up is needed to use the free audio compressor.
3. WinSoft Audio Compressor
If you are using a device with Windows OS, this audio compressor is for you. It is an easy-to-use tool that allows you to minimize large audio files, saving you a lot of storage space. The audio compressor is also designed for the video audio conversions such as MPEG4, AVI, MP3, WMA, and AAC.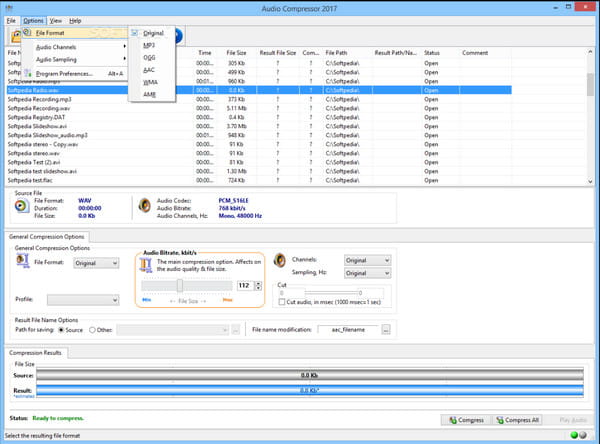 ◆ Reduce audio file sizes by reducing sampling rate, bitrate, and other options.
◆ Enable to perform the audio conversion between formats with file size compression.
◆ Perfectly handles video with supported video formats like MP4, MOV, AVI, etc.
4. Audacity
Audacity is a well-known audio compressor for professional musicians and DJs. It is an advanced audio compressor and open source, which means any user can edit andd make changes to its program. You can easily use this powerful tool and edit audio before compressing it. Audacity is a cross-platform audio software that you can download on Windows, macOS, and Linux.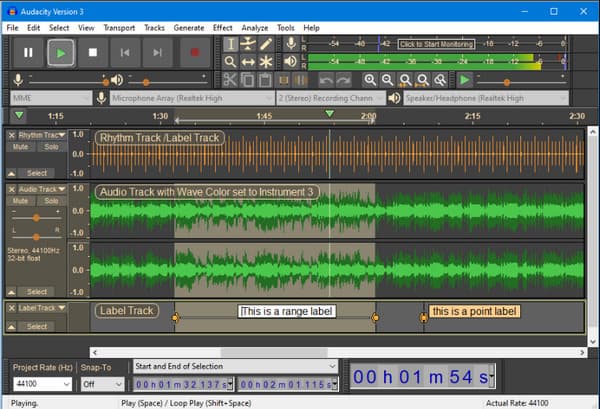 ◆ Smooth and fast uploading process.
◆ Provide guides when audio compressing.
◆ Fixed bugs and crashes on the new version.
◆ Add quick play indicators in the timeline.
5. Advanced Audio Compressor
If you are looking for an audio compressor that supports batch compression, Advanced Audio Compressor is the right tool. Although it can be expensive for the pro version, this audio compressor does not limit you in batch conversion, especially for folders with large audio files.
The tool also indicates the exact file size before and after compressing audio files.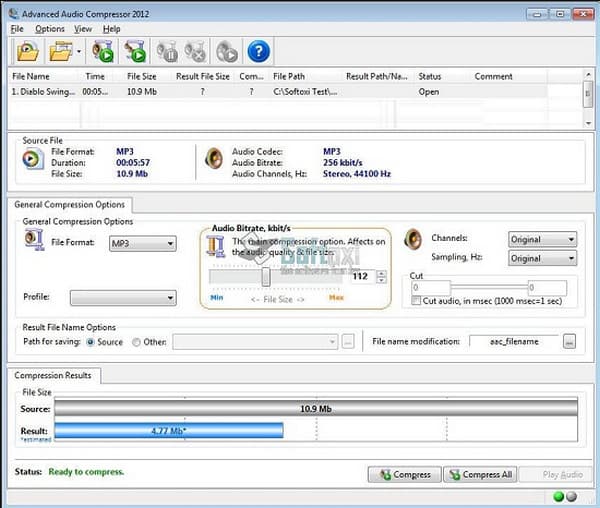 ◆ Easier workflow with its advanced features.
◆ Smoother batch compression because of its lightweight interface.
◆ Other functions include setting mono, stereo audio channels, and sampling value.
6. WinZip
One of the most popular audio compressors in the market is WinZip. This software manages all your audio files to compress. Because of the Zipx format, WinZip works to compress audio from 15% to 20%, allowing you to save more space. What's more, its premium version compresses audio and even video files.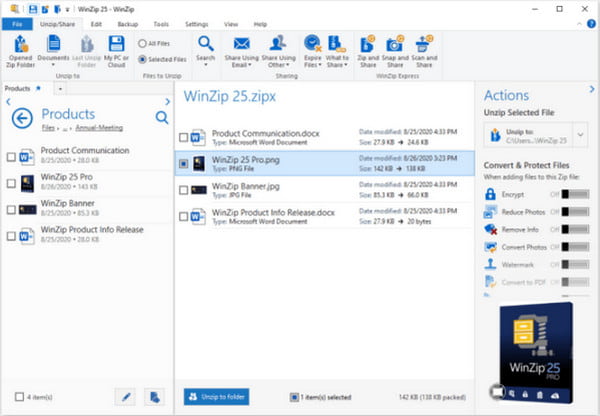 ◆ Available to download on Android, Mac, and Windows.
◆ It has an excellent graphic user interface.
◆ Best for encrypted archives.
Part 3: Top 5 Audio Compressors Online for Free: Pros and Cons
Online audio compressors tend to be free and easy to use. Aside from not worrying about your storage space, an audio compressor has the features you need to reduce audio files completely. So for this part, here are the top five online audio compressors you can try.
1. YouCompress
The first recommendation is the YouCompress online audio compress. When you upload a file to the website, the audio compressor will automatically compress it. After the compression process, you can delete all your uploaded files from the servers by clicking the deletion option.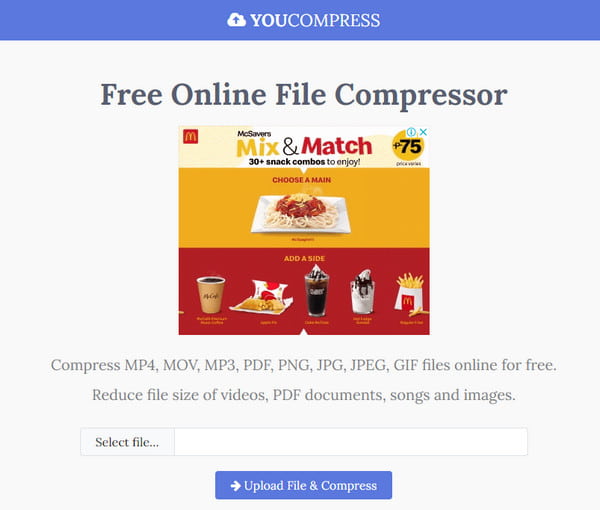 Pros

Encrypted data to keep the user safe.
Unlimited audio compression in a day.
Cons

It doesn't offer many editing functions.
2. Online Converter
With its simple interface, you can get all your large audio files compressed with Online Converter. It is a free online audio compressor to simplify the compression and conversion processes. It allows users to define the output settings manually of the audio with simplified output options.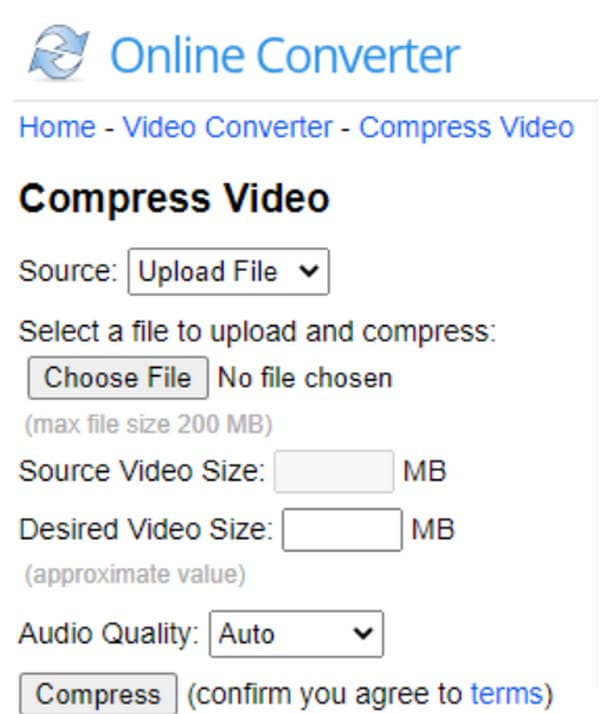 Pros

The compression process can be followed easily.
Enable users to choose the desired audio quality.
Cons

Limited file size up to 200MB.
3. FreeConverter
FreeConverter is an effective online tool that provides different functions. Its audio compressor will compress audio files at a faster speed. The website only shows what you need so to make the process smooth. You also don't need to worry about exposing your privacy, as FreeConverter will secure you safely.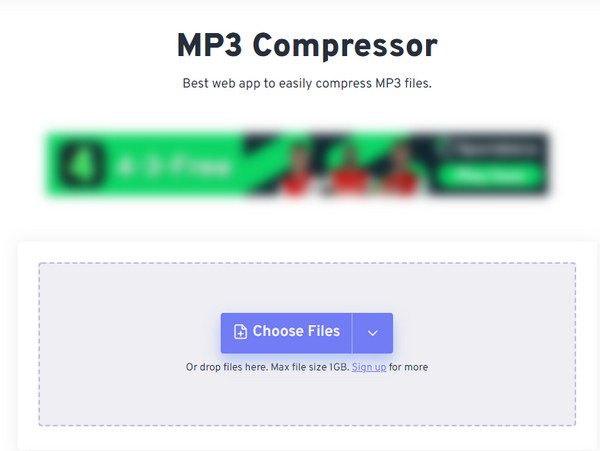 Pros

All files are protected with 256-bit SSL encryption.
Allow users to select the desired file size.
Cons

Sometimes crashes during the compression process.
4. XConvert
XConvert is another audio compressor ultimately dedicated to compressing thousands of audio files in a short time. It promotes faster speed in compressing with the audio quality you prefer. XConvert guarantees perfectly compressed audio by auto-detecting the file's configuration and compressing it without losing important data.
Pros

Enable users to change bitrate, channels, and sample rate.
Offer optional trimmer for any audio file.
Cons

Large files are at risk of not getting compressing.
5. Compress Audio Online
This last recommended audio compressor allows you to have batch compression without a problem. Its simplicity took many users to utilize it without limitations freely. Compress Audio Online has the settings you can manually change to compress audio files with perfect quality.
Pros

Users can save compressed files in a zip folder.
Support audio formats like WMA, AAC, OGG, MP3, etc.
Cons

Slow uploading process.
Part 4: FAQs about Audio Compressors
What is the best audio compressor for Android?

You can try the MP3, MP4 Audio, and Video Cutter app. It has all the tools you need for any digital editing. All you need to do is open the audio file inside the app, then turn on the Compress option. You can change the audio settings like sample rate and bitrate to reduce file size. Click the OK button to save the compressed file.

What is the audio format with the smallest file size?

OGG has the smallest file size among the rest. So you can compress audio by converting MP3 to OGG. However, as it lacks device compatibility, MP3 is the following format you can use. MP3 also has the best audio quality after OGG.

What are the alternative ways to reduce audio file size?

Aside from audio compressing, the most effective way to compress audio is to trim or cut audio files. This way, you can also preserve the original quality of the audio.
Conclusion
Now that you know the best 12 audio compressors, you can try any of them to save a lot of storage space on your device. Among these recommended tools, 4Easysoft Total Video Converter has the potential to compress and edit your files with high quality. Try the free version now.
Related Articles