10 Best Free Online Video Compressors to Reduce Video Size Easily
If you are a professional video editor, for sure you know how a simple 1min HD video gets a massive space in your hard disk. Sometimes, the file size of those videos you capture with your digital cameras or your Smartphones is too large. That is why you need an online video compressor free to reduce videos and upload them on Instagram, Facebook, YouTube, or other social media platforms. In this way, you can save them easily on your devices and make sure the videos will not exceed the video size limit of that social media network. Thus, this is the right time for you to look for the best free online video compressor that will help you along your journey in compressing your video.
Part 1: Best Video Compressor to Reduce Video Size
To keep high quality while reducing the video size, your best choice should be 4Easysoft Total Video Converter. This is an all-in-one video compressor in which you can compress videos, make slideshows, design collages, convert media, extract DVD movies, and more. It support adjusting the video file to a specific size to meet all of your requirements.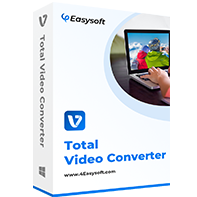 4Easysoft Total Video Converter
Provide a designed video compressor to change the video size easily.
Support more than 1000 formats with different sizes and quality.
Adjust the resolution, codec, format, and bitrate to keep the high quality.
Additional editing tools to crop, trim, add effects/filters, make collages, etc.
Step 1Download and install first the 4Easysoft Total Video Converter, and then launch it. From the main interface, click the Toolbox menu tab, then select the Video Compressor button to launch this powerful video compressor on your Windows/Mac. Another window will appear. From here, you can import your video by clicking the + sign.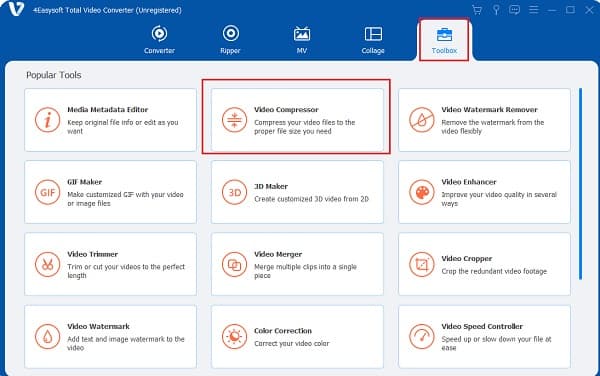 Step 2You can customize your video's size, format, resolution, bitrate, and solution from this window. Also, do not forget to alter the Save to button and choose the proper designation of your compressed video. And lastly, simply tap the Compress button, and you will get your compressed videos from this video compressor.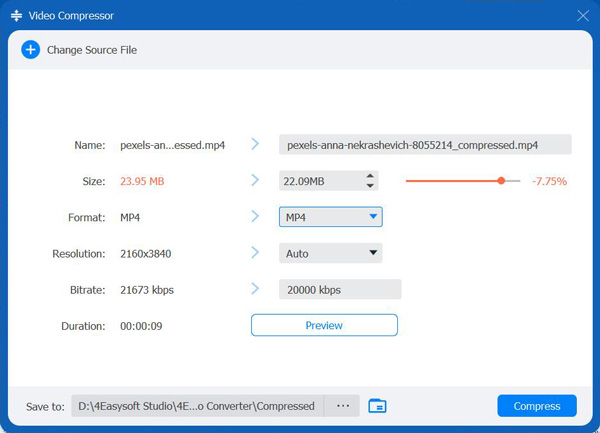 Part 2: Top 4 Video Compressors to Shrink Video Size
2. Clideo
Clideo is a free online video compressor that is good for every beginner because of its straightforward interface and safe to use. Clideo allows you to upload your video files from Google Drive using its drag and drop functionality, and it lets you have a look or preview the videos before you compress them.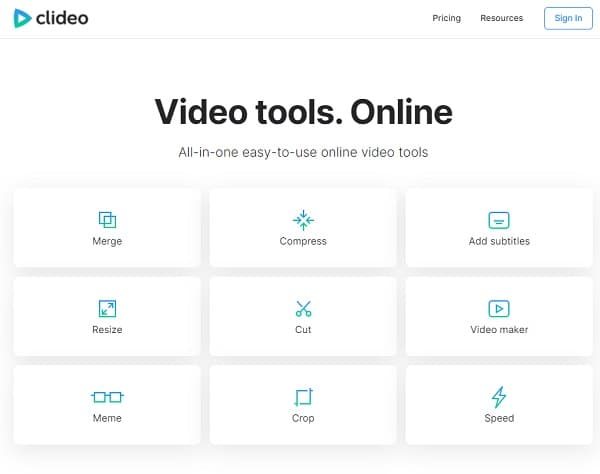 Features:
◆ Allows you to import files from cloud storage.
◆ It supports video formats such as AVI, VOB, MP4, WMV, and more.
◆ You can alter your video's exact width and height.
3. VEED
It helps you produce a professional online video compressor with subtitles and visual effects. This might be a big help in translating videos, transcribing audio files, and creating your content that will increase views. VEED offers a free trial plan for the newbie to try its features and decide if it fits their needs in video compressing, but the Pro version is almost perfect.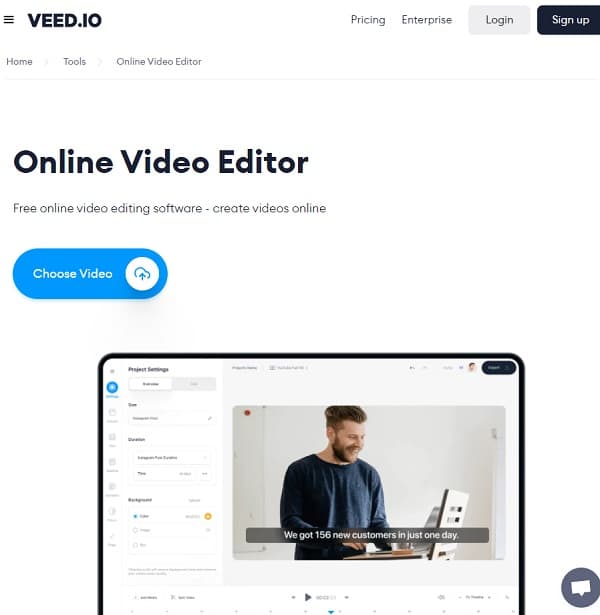 Features:
◆ Allows you to add your own watermarks for free.
◆ Enable you to keep your videos in public or in private.
◆ You can translate your video into a variety of languages.
4. Clipchamp
Clipchamp is one of the most used online video compressors that work most browsers. This online video compressor offers a free version, but sadly, you cannot compress videos until you pay and upgrade for their paid plans; Clipchamp offers four paid plans; (free plan, creator plan, business plan, and business premium plan.) One thing that is good about Clipchamp is that you can compress videos in batches.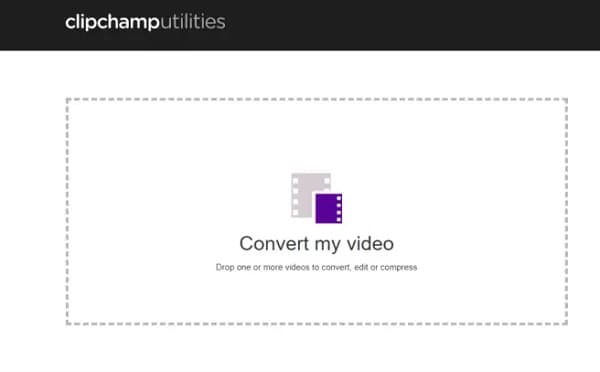 Features:
◆ Clipchamp supports a wide range of resolutions and formats.
◆ You can upload videos directly to Facebook, Instagram, YouTube, etc.
◆ Allows you to preview the edited videos and do a screen recording.
5. Zamzar
This is an online video compressor, and you can use this on any desktop; just make sure that you have an internet connection. Zamzar offers a free version that supports a wide range of videos, but its free version limits you to only two compressions per 24-hour period. Moreover, you can only upload up to 100MB files a time.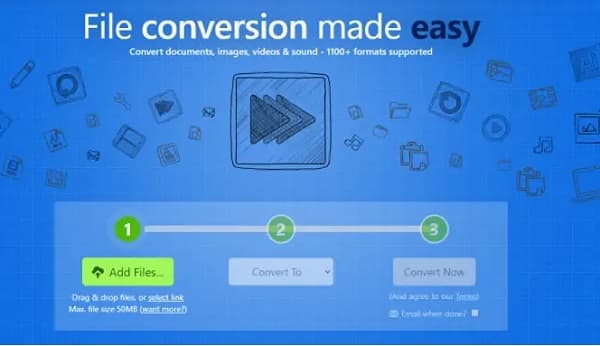 Features:
◆ It has personal storage where you can manage your files.
◆ It supports more than 1,200 file formats to export.
◆ It has a support team that responds to your concerns.
Part 3: 5 More Free Video Compressors for Windows and Mac
6. Handbrake
Handbrake is an open-source free video compressor that only runs on Windows/Mac. It is one of the best video compressors helps you convert your video clips into HD quality sets. Before compressing your video clips, you are allowed to preview them first and adjust the settings to get the best effect.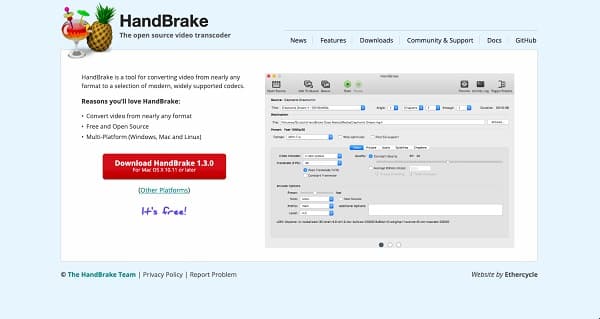 Features:
◆ It allows you to compress your videos from and to different formats.
◆ Handbrake restores low-quality video.
◆ You can make a batch conversion with this tool.
7. VLC
This is an open-source media player that has converting and editing features. VLC free video compressor will not leave any watermark on your compressed video. Its users are amazed by its simple interface because this is straightforward to analyze.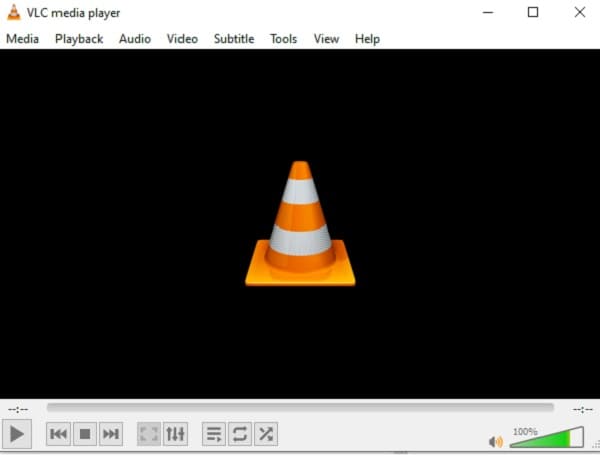 Features:
◆ All-in-one tool to play and compress videos.
◆ It supports multiple video formats for your outputs.
◆ Keyboard shortcuts to provide a better viewing experience.
◆ Impressive and powerful features in video editing.
8. FFmpeg
You can use this FFmpeg as your video compressor for free. FFmpeg supports a wide range of video formats, including MOV, AVI, MP4, and others, available for Mac, Windows, and Linux devices. This video compressor can also be used as a recorder converter and can also stream audio and video.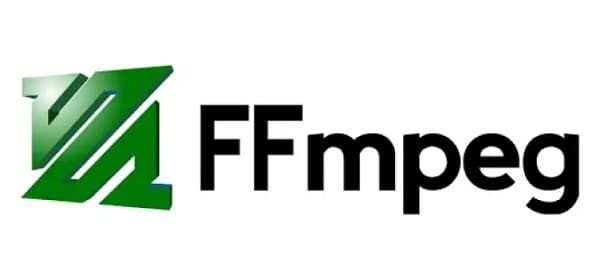 Features:
◆ A n open-source video compressor that support all formats.
◆ It has a built-in editor to crop, merge, etc.
◆ FFmpeg supports screen recording.
9. VideoProc
VideoProc is a video compressor that professional filmmakers usually use. This is such a trusted software since the company sold 180+ million of the software's units from over 180 countries. In VideoProc, you are also allowed to edit, crop, or cut some unnecessary parts of your video clips before compressing them. VideoProc might help you keep the original quality of your file while compressing it.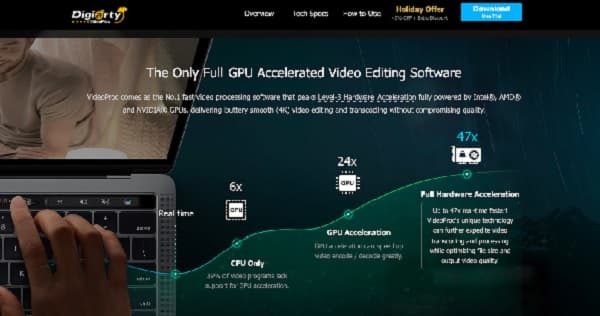 Features:
◆ It has a freemium tool that is available for Windows and Mac.
◆ Support video encoders such as MPEG, MPEG2, H.264/MPEG-4 AVC, MOV, etc.
◆ It compresses videos up to 8K resolution.
10. Freemake Video Converter
You can compress your videos and edit them at the same time with the help of this video compressor for free, the Freemake Video Converter. This tool helps you compress a video without losslessly and allows you to convert it from and to over 500+ formats. Unfortunately, Freemake is not yet available for Mac, but it can be used on your Windows desktop. If you just need a basic conversion, this one is good for you. In addition, you can also add subtitles and edit your videos in Freemake Video Converter.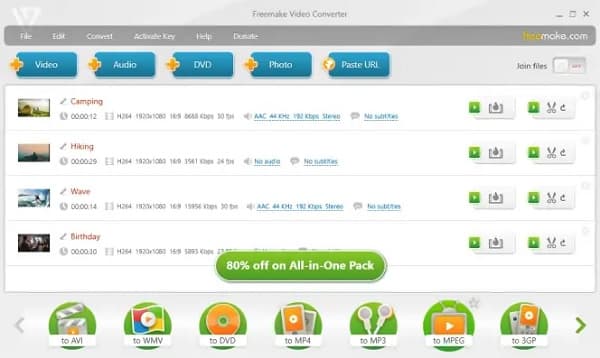 Features:
◆ There is no advertisement for using this tool.
◆ It allows you to compress a wide range of videos.
◆ A very user-friendly interface for all beginners.
Part 4: FAQs about Best Video Compressors
1. Is it possible to compress a 1GB videos to less than 100MB?

Yes. Some online video compressors like VEED support adjusting the video to a specific size, and it's not difficult to compress 90% or more of videos.

2. Can I compress a 4GB video online?

No, you can't. Most online video compressor for free has a size limitation, and normally you can only upload videos less than 1GB. So, you need to rely on professional video compressors like 4Easysoft Total Video Converter.

3. Will converting AVI to MP4 compress the video size?

Generally speaking, it will. Since MP4 has a higher compression rate than AVI format, and MP4 files are always small. Thus, you can also try compressing videos by converting.
Conclusion
After we have discussed the ten best-picked free online video compressors with their features, we hope that you can now finally select the best one that suits your needs. In choosing the best video compressor, always choose the 4Easysoft Total Video Converter. This software will help you make your project proficiently. Do not forget to contact us and send your feedback.