An Honest Review about the 8MB Video Compressor for Discord Users
8 MB Video Compressor is designed for Discord users to send videos and GIFs without troubles. If you fail to send videos larger than 8MB on Discord, this free online video compressor is recommended to you. It supports compressing videos to less than 8MB, but is it easy to use? And how does it work exactly? Keep reading to find out more about 8MB Video Compressor.
Part 1: Overall Reviews on 8MB Video Compressor: Features, Pros, and Cons
The 8MB Video Compressor is an online tool that reduces large file sizes to 8MB. Looking at its interface, it has a plain design with a few features involved. But don't be fooled by the looks because the 8MB Video Compressor has a lot to offer. Aside from the 8MB option to reduce file size, the online tool also allows you to downsize to 50MB and 100MB for much larger files. Uploading files also do not come in one option, but you can do it by clicking the Browse button, entering the URL, or dragging and dropping files.
The 8MB Video Compressor has the functions:
◆ Remove all sounds or mute the videos.
◆ Automatically download the compressed files.
◆ Skip the beginning and ending part in reducing file size.
◆ Protect users' privacy by deleting the uploaded files after 20 minutes.
Pros

No signing up is needed.
Able to set the desired size to compress.
Cons

It becomes buggy for larger file sizes.
No preview of the reduced file.
Part 2: How to Use 8MB Video Compressor to Compress Videos
After you have learned about the key features of the 8MB Video Compressor, the next step is how to use it properly. In this part, you are about to learn the detailed ways of how to use the 8MB Vide Compressor for Discord.
Step 1Go to your browser and search for the 8MB Video Compressor. Once on the website, click the Browse button to select the video file to reduce file size. You can also use other uploading methods such as entering URL and drag & drop.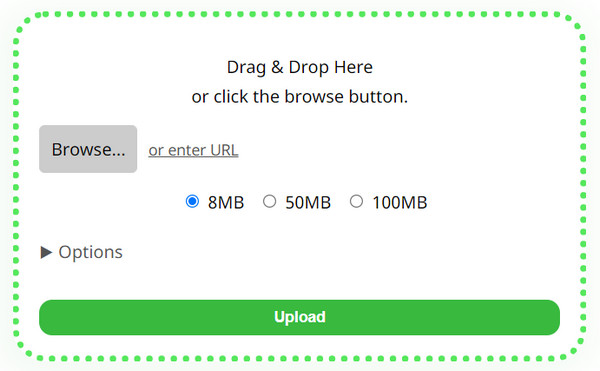 Step 2After successful uploading, choose the file size you want for your video file. In the case of Discord, choose the 8MB option. Open the Options menu to see other functions. You can check or uncheck Mute, Extra Quality, Play a Sound, etc.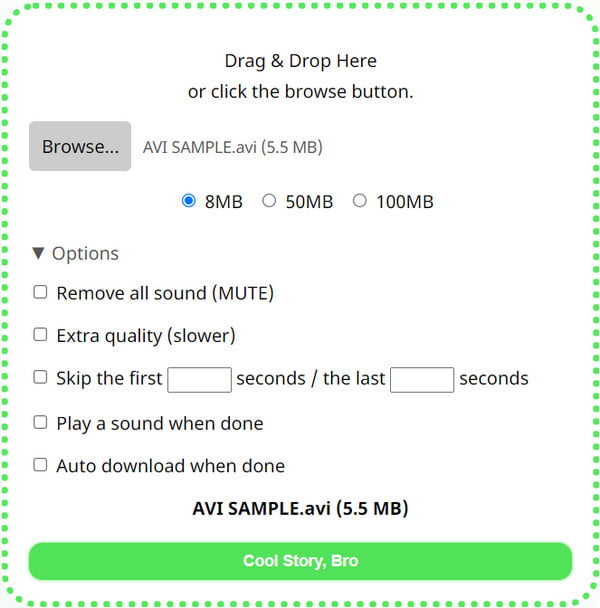 Step 3Once done, click the Green button below. The description of the green button change always but still has one function to do. Wait for the process to finish, then click the Hyperlink to download the reduced file through 8MB Video Compressor.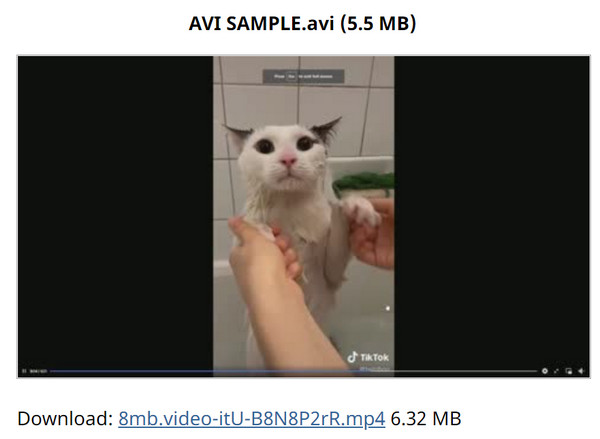 Part 3: 4 Best Alternatives to 8MB Video Compressor for Discord
The 8MB Video Compressor is not a perfect tool to compress files for Discord. Even with its free utilization, it does not have the options for advanced configuration and other essential output settings like video encoder, sample rate, and bitrate. Don't worry; the next part of this post will show you the best alternatives for the 8MB Video Compressor with detailed descriptions for you to try.
1. 4Easysoft Total Video Converter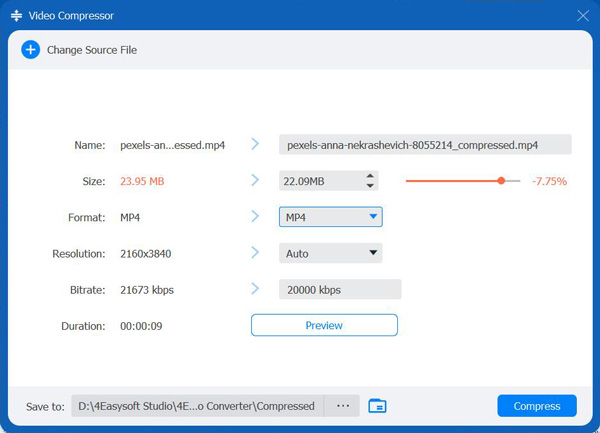 This 8MB compressor is software with different solutions to offer. Its Video Compressor feature allows you to choose the best file size by inputting a specific number. It also enables you to adjust the bitrate to your liking as well as format, quality, and name. 4Easysoft is available for Windows and macOS users.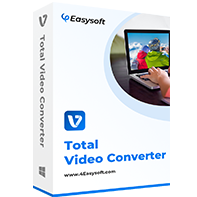 4Easysoft Total Video Converter
Recommended 8MB video compressor for Discord with high-quality output.
The Preview function allows users to watch reduced files before compressing.
Offer other solutions like watermark remover, volume booster, and video merger.
Powered by GPU acceleration for a faster video compressing process.
2. FreeConvert Video Compressor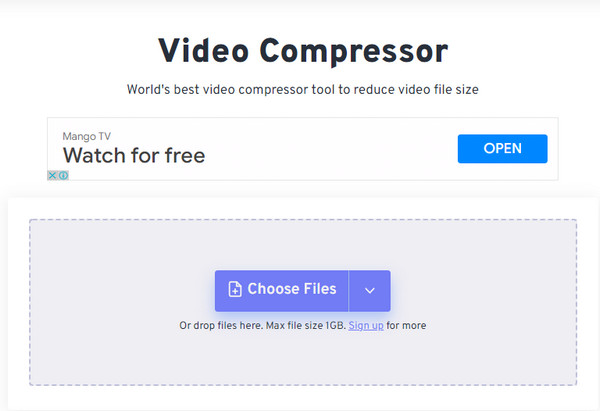 FreeConvert is a famous online program with many tools to offer. Aside from converting videos, it is also a good alternative for the 8MB Video Compressor. What you only need to do is to click the Choose Files button, import a video file, and configure the advanced output settings. After that, click the Compress Now button.
◆ Support popular video file formats such as MP4, MOVE, AVI, and MKV.
◆ Support batch video compressor with faster-compressing speed.
◆ Allow users to change video codecs, compression method, target size, etc.
◆ Faster compressing speed without distorting the quality.
3. VEED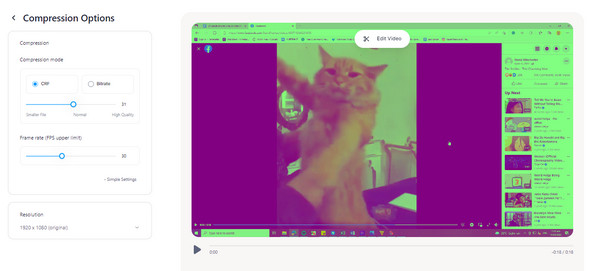 VEED is another online 8MB video compressor that supports many video formats such as MKV, MOV, MP4, and WMV. It offers all its excellent features without signing up or registering. This online tool performs both compressing and editing videos at the same time. You can also see the estimated file size before and after compressing the file.
◆ Advanced settings include CRF, bitrate, resolution, and frame rate.
◆ Editing features allow users to change aspect ratio, rotate, trim videos, etc.
◆ Fast uploading and exporting process with high-quality output.
◆ Show the preview of the compressed video file with complete descriptions.
4. YouCompress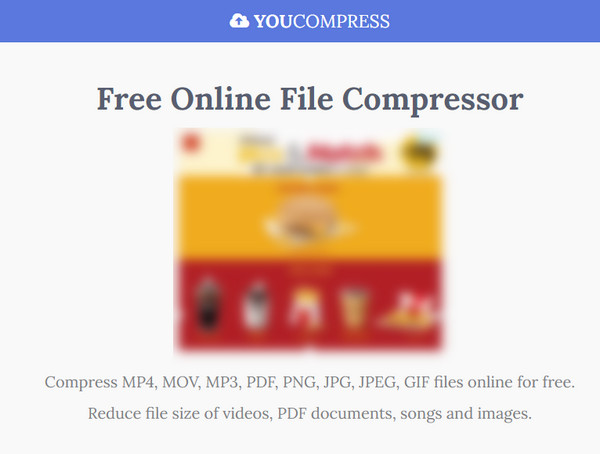 The last alternative to the 8MB Video Compressor is YouCompress. It provides many online tools, including the video compressor. Like other online programs, YouCompress only takes a minimum of 3 steps to compressing files. Other than that, its compressing speed is reliable.
◆ Compress video, PDF documents, audio, and image files.
◆ Simple interface and easy to use.
◆ The Deletion option is provided before and after compression.
◆ No signing or registering is needed.
Part 4: FAQs about 8MB Video Compressor Review
What is the standard video duration when using the 8MB Video Compressor?

The standard time duration when using the 8MB Video Compressor is between 38 to 40 seconds with 720 video quality. However, it still depends on the video codec, especially if the codec has the most extensive data in media size naturally.

Does the 8MB Video Compressor apply a watermark?

No, the 8MB Video Compressor does not apply any watermark after compressing a video file. Despite providing its powerful service for free, the 8MB Video Compressor will not require you to do registration or apply anything to your video file. But if you want to make your customized watermark, you can also use 4Easysoft Total Video Converter.

Is it safe to use the 8MB Video Compressor for Discord?

Definitely, yes, the 8MB Video Compressor is safe to use. As a matter of fact, the online tool is listed in Google Safe Browser among other online programs that do not solicit. Also, it is mentioned on the website that all your uploaded files will be deleted after 20 minutes or so.
Conclusion
Discord is right to set the maximum file size for uploading video files. Because of this, the 8MB Video Compressor is created, and many users agree with it. It's a good online tool to help you reduce the video size. But for more professional desktop compressor, 4Easysoft Total Video Converter is recommended to compress all your files with perfectly flexible functions. Try its free version now and experience its greatness.
Related Articles