5 Easy Methods to Compress MOV Videos to Much Smaller Files with High Quality
One of the most known audio and video storage for all Apple users is the MOV format. But those MOV movies always occupy large storage space on your Mac or iOS devices because of its high quality. So, it's time to compress MOV files. It's also a good solution for uploading large MOV files on Facebook, YouTube, Instagram, and other social media networks. And that leads you to look for a video compressor to compress MOV while keep the high quality. The best solution is to adjust the video settings and customize the file size freely. Keep on reading and encounter the five ultimate MOV Compressors this article will present.
Part 1: The Best Way to Compress MOV to Smaller File while Keeping High Quality
How disappointing it is to not be able to upload your created video from Mac to social media or cannot even send it via email because it is in MOV format. Among those video compressors available, this part will present you with the ultimate and most effective video compressor you can use. 4Easysoft Total Video Converter this tool can help you compress MOV so that you can easily share your video with the world. It compresses videos while maintaining their quality of them.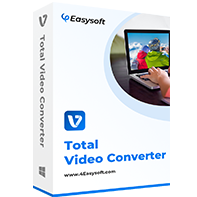 4Easysoft Total Video Converter - Best MOV Compressor
A designed video compressor to compress MOV video to the desired size.
Supports 1000+ video formats to choose from such as MP4, AVI, WMV, etc.
Provides powerful editing tools to trim, rotate, add effects, and crop.
Adjust the resolution, codec, and bitrate to keep the high quality of video.
Steps to compress MOV via 4Easysoft Total Video Converter are listed below.
Step 1First thing to do is download and install the 4Easysoft Total Video Converter on your desktop. This is available for both Mac and Windows devices. After that, go to the Toolbox menu tab then click the Video Compressor button to compress MOV. Another window will appear on your screen. Click the Add button, then add the MOV file you wish to compress.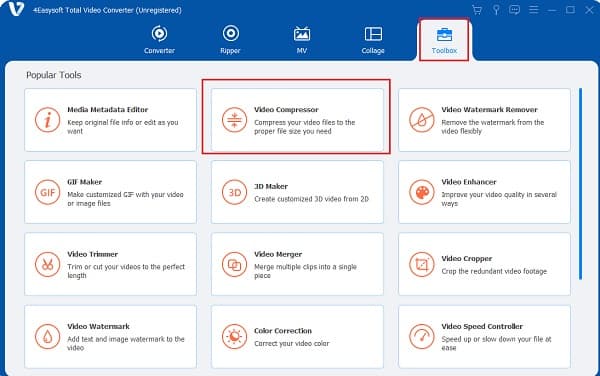 Step 2After adding your MOV file, you can alter the output settings such as the resolution, bitrate, format, and size to compress MOV files. Just simply make its file size smaller by modifying the size setting. You can reduce the file size even to 10% while keeping the original resolution. After that, click the Save to dropdown list, then locate a folder for your output. You can now click the Compress button from the bottom right side of the screen, and it will automatically save to its designated folder.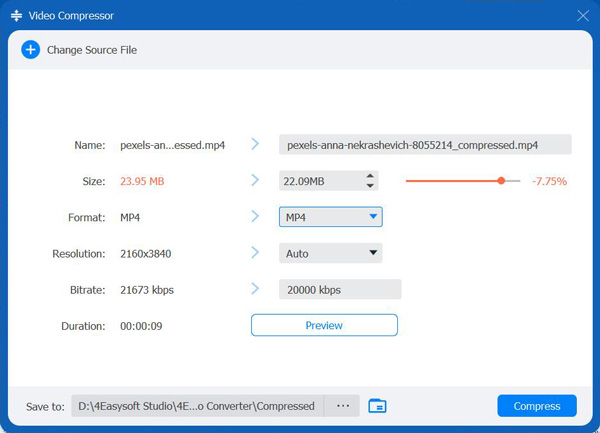 Part 2: How to Compress a MOV Video Online for Free
There are also many online MOV compressors for you! If you wish to compress MOV without downloading any software, you can compress it online by trying the online video compressor software available. The best two most effective online video compressors will be encountered in this part of the article. But you should note that most tools only provide automatic compressing without additional adjustment, which will destroy the quality.
1. VEED.IO
VEED.IO is an online video editing software enables you to reduce the size of your files, such as compressing MOV, without losing its quality so much because it allows you to choose your desired resolution and quality while compressing it. The VEED online video compressor only supports MP4, MOV, FLV, MKV, WMV, and AVI file formats.
Steps to compress MOV online using VEED:
Step 1From the main interface of VEED online video editing software, click the Upload a File to add your MOV file. You can also drag and drop the files into it or paste the video URL from the webpage that hosts it and just wait for the uploading process to finish.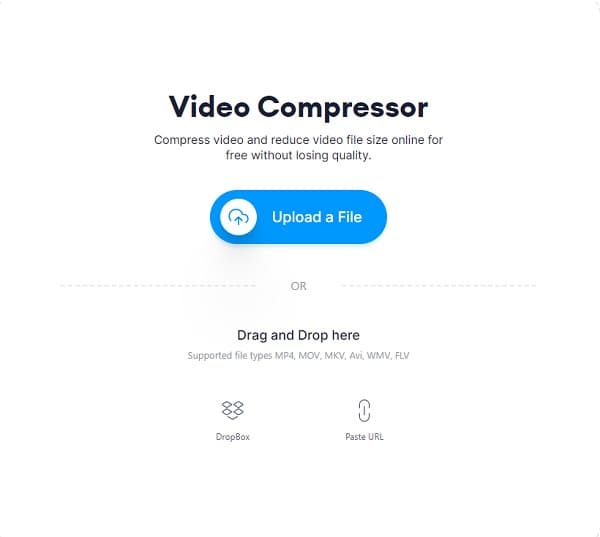 Step 2From the Compression Options, you can customize your desired file size by dragging the slider and altering the resolution. You can also click the Advanced Settings button to customize the video's CRF (constant rate factor), bitrate, and frame rate. Under this, you will see the estimated compressed size of your MOV file.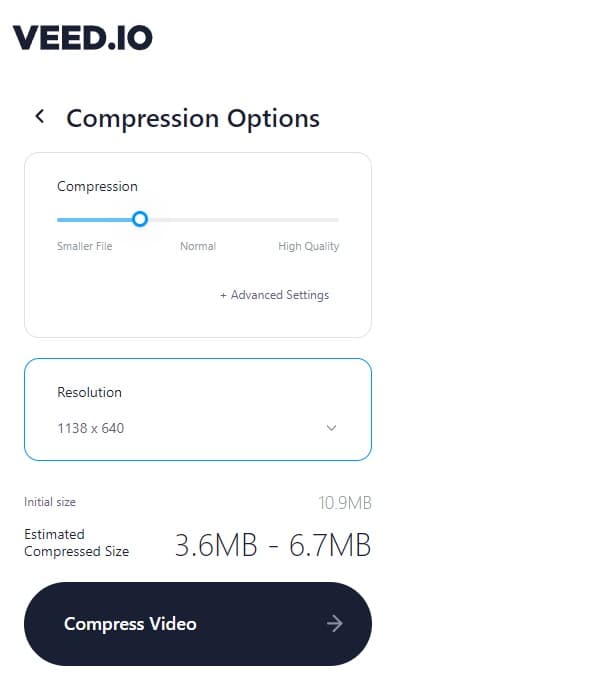 Step 3To finally compress MOV, simply click the Compress Video button. Wait for the compressing time to finish, and then you have the choice to download it or edit it.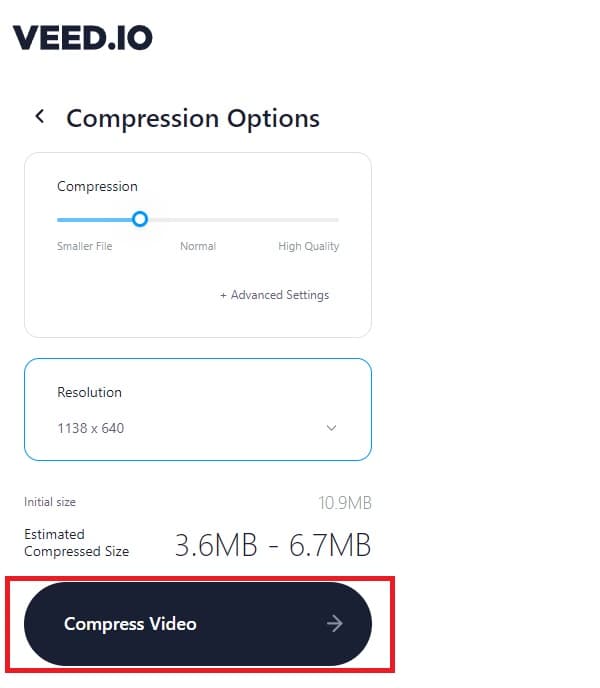 2. Flixier
Using the Flixier free online video compressor, you can easily compress MOV files online since the main priority of Flixier is compression speed. Users enjoy using Flixier because it allows everyone to compress files without any account needed. That is why there will be no spam email for you to be stressed out. Flixier does not even leave any watermark that may ruin your video.
Steps to compress MOV online using Flixier:
Step 1Once you have reached the official web page of Flixier, you can start compressing MOV right away by simply clicking the Choose Video button.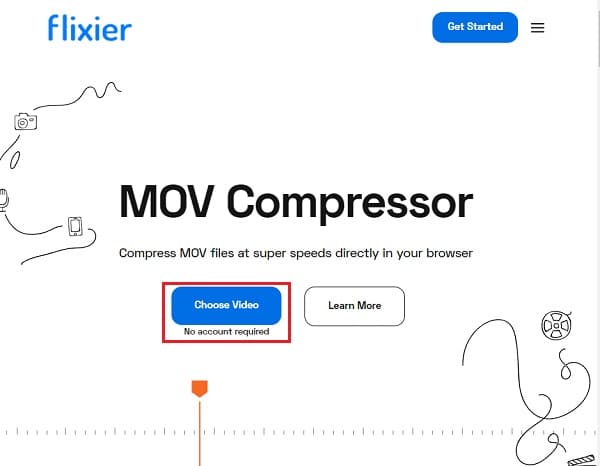 Step 2From the menu, click the Library button and then the Import button to add your MOV file.
Step 3Once you have already added your MOV file, drag it into the Timeline. From the upper right side of the screen, you will see the Settings. From there, you compress the MOV file by altering its resolution. Make it into a smaller file size. And if you are happy with your work, click the Export button from the upper right side of the screen.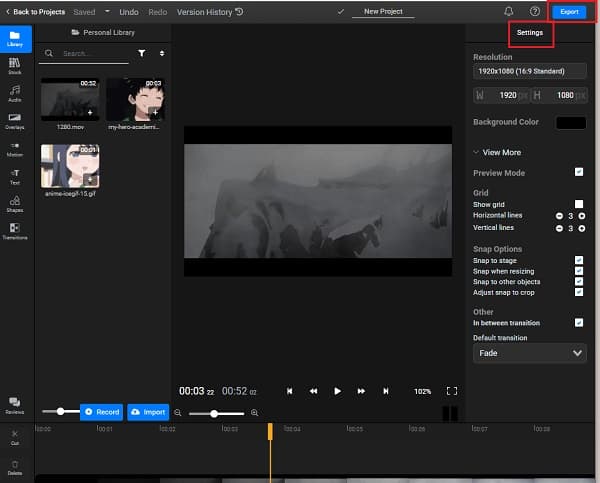 Part 3: How to Compress MOV on Windows/Mac with the Dafault Tools
This part will show you the simplest way to compress MOV using your Windows or Mac desktop without downloading any extra video compressor.
1. Compress MOV directly using Windows
From File Explorer or on the desktop, right-click your MOV file, then click the Send to button. Once you have clicked the Save to button, there is a new drop-down menu. From here, choose the Compressed (zipped) folder. As simple as that, you have already compressed MOV.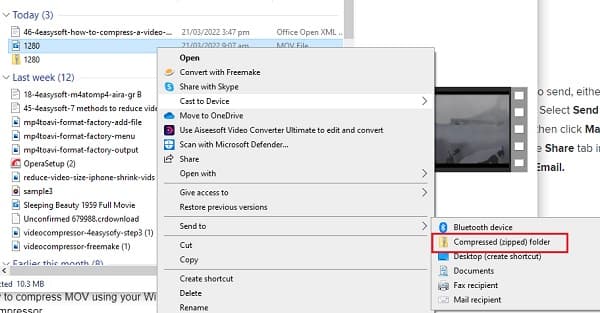 2. Compress MOV directly using a Mac
Steps to compress MOV on Mac:
Step 1Double-click the MOV file you wish to compress on the desktop or in the Finder. The file will automatically open in Preview. Click the Tools menu, then select the Adjust Size button.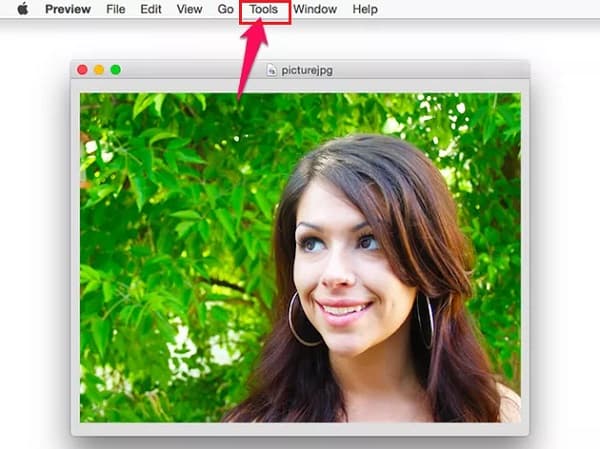 Step 2After that, click the Width or Height menu from the Image Dimensions area and alter it to a smaller size.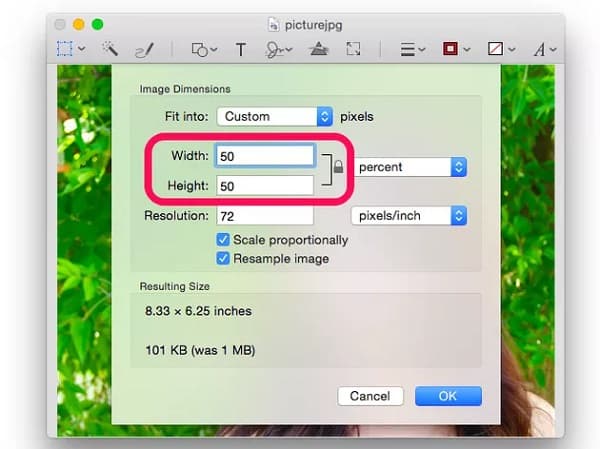 Step 3Lastly, click the File menu tab, and select the Export button to save your compressed MOV file. Do not forget to give your MOV file a new name so that you can find it easily.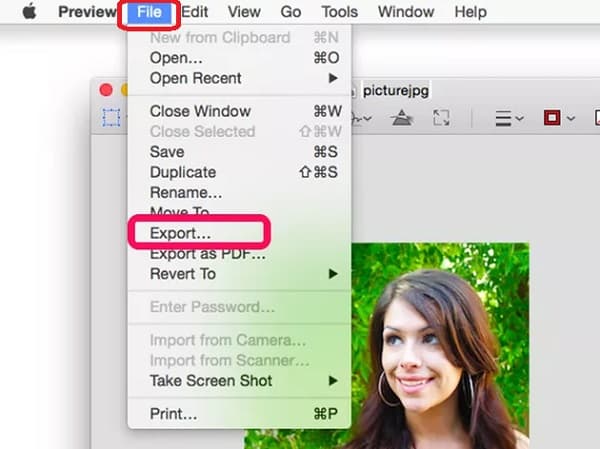 Part 4: FAQs about How to Compress MOV Files
1. What is the maximum MOV video size for Twitter?

The maximum video file size that you can upload to Twitter is only 1GB. So, you'd better compress your MOV videos to smaller size for smooth and quick uploading.

2. Why is the MOV file size bigger than MP4?

MP4 files are smaller in size and more compressed. MP4 is the industry-standard video format because almost all media players support it. At the same time, MOV files are high in quality, so they are larger.

3. Does an Android smartphone have a built-in video compressor?

Definitely yes. Android smartphones already have a video compressor built-in. Just go to your gallery and select your MOV video. Press the Compress button, and from there, you can choose your desired file size to compress MOV files.
Conclusion
Though there are a lot of video compressors that will compress MOV files using different platforms, some of them are still lacking in advanced features that will keep the high quality of the file. Thus, just go for 4Easysoft Total Video Converter - a powerful video editor that compress a MOV file while maintaining its quality. If you have more questions, please contact us now.
Related Articles