Top 10 MOV Compressors Without Losing Too Much [Free and Paid]
MOV format contains high video quality and tends to have a large file size. So, there might be many reasons like slow uploading process, difficulties in sending videos on social platforms, and taking too much storage space on your device. These reasons are enough to look for the best MOV compressor, and thankfully, you are in the right place to have the idea. Read the post furtherly, and see the full details of the top ten MOV compressors.
Part 1: Best 10 MOV Compressors for Reducing MOV Files
The best MOV compressor should be able to compress your MOV files quickly without losing the quality. What's more, the compression rate is important to compress MOV videos to smaller sizes. Learn about the information in the following table.
| | | | |
| --- | --- | --- | --- |
| MOV Compressor | Price | Compression Rate | Supported Platforms |
| 4Easysoft Total Video Converter | Free, $29.95/mo | High | Windows, macOS |
| VideoSmaller | Free | High | Windows, macOS |
| Online Converter | Online Converter | Low | Online |
| VLC | Free | Medium | Windows, macOS |
| VSDC Video Converter | Free | High | Windows |
| YouCompress | Free | High | Windows, macOS |
| Online Video Compressor | Free,$9.95/mo | Low | Online |
| HandBrake | Free | Medium | Windows, macOS |
| Zamzar | Free, $7/mo | High | Online |
| Clideo | Free, $9/mo | Medium | Online |
1. 4Easysoft Total Video Converter
The most recommended MOV compressor in the market is 4Easysoft Total Video Converter. It's an all-in-one solution that shows nest-quality output, whichever functions you use. Its MOV compressor lets you compress MOV files for a smaller file size while keeping the original quality. The advanced settings enable users to configure video resolution, bitrate, and codec.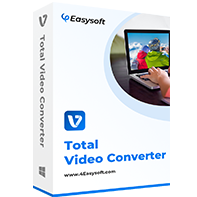 4Easysoft Total Video Converter
MOV compressor with automatic high-quality output via AI Technology.
High compression rate to compress MOV to less than 10% size of the original one.
Enable users to preview a 10-second part of the compressed video file.
Offer other functions like video merger, GIF maker, speed controller, etc.
2. VideoSmaller
VideoSmaller is a free online MOV compressor that is an effective tool for reducing file size. It provides free service of video compressing without losing too much quality. Its main purpose is to reduce video files and save some storage space on your device. It doesn't only compress MOV video for Windows and Mac, but you can also use this online tool on Android and iOS.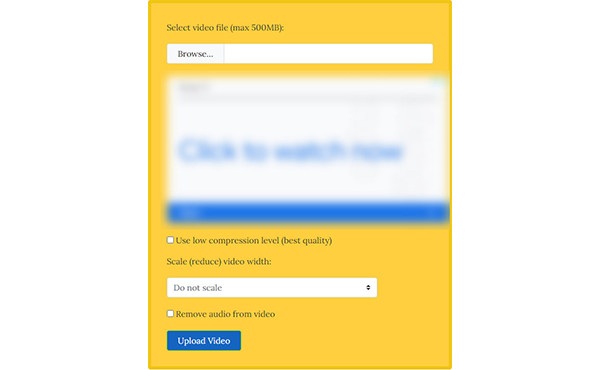 ◆ Accept MOV file at the maximum of 500MB file size.
◆ It can be easily used and navigated to reduce MOV file sizes.
◆ Support other file formats, including MP4, MPEG, AVI, and MOV.
◆ Imported files are deleted after 2-3 hours.
3. Online Converter
This MOV compressor can reduce file size for various formats like MOV, FLV, 3GP, MKV, etc. It helps you cover some storage space and network bandwidth by compressing file size without losing video quality. Reducing file size can also help you easily transfer, store, and share files. Online Converter is a simple online MOV compressor with a straightforward interface.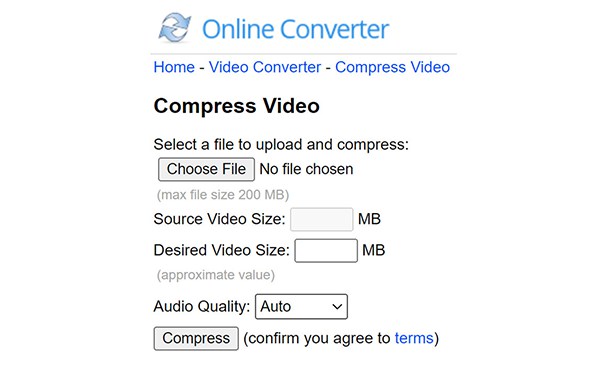 ◆ It does not require registering and signing up.
◆ Support important output formats such as WebM, M2TS, WMV, etc.
◆ Provide audio settings for higher audio quality.
◆ Support other services like video merger, rotator, and stabilizer.
4. VLC
VLC is mostly a media player for Windows and Mac. However, this tool is a flexible program used as a MOV compressor. To compress a MOV file, click the Media menu at the top part of the tool and click the Convert/Save option. Import a MOV file. In the next window, configure the video codec to reduce file size. Click the Save button to save all the changes.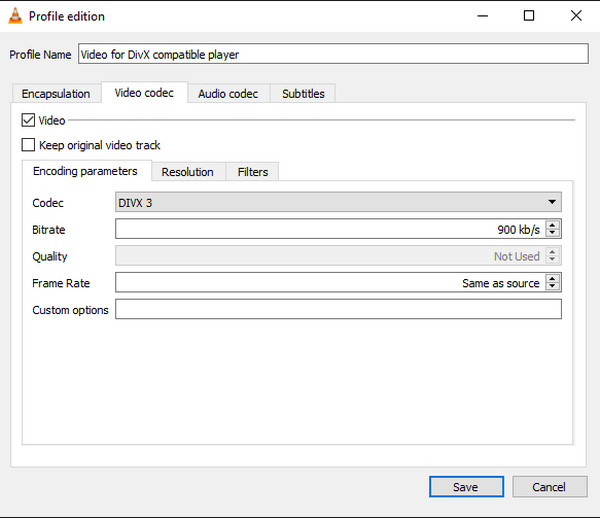 ◆ Multi-functional MOV compressor with advanced output settings.
◆ Allow compressing video files like FLAC, ASF, MOV, MP4, etc.
◆ Free downloadable software without taking too much space.
◆ Fast compression and conversion process.
5. VSDC Video Converter
VSDC is a free and open-source MOV compressor that supports all popular formats such as AVI, DVD, MP4, MOV, and M4V. It is compatible with all Windows OS versions. Its high-speed compression is a practical function without quality loss. Its unique features include saving audio tracks from a video file as individual frames.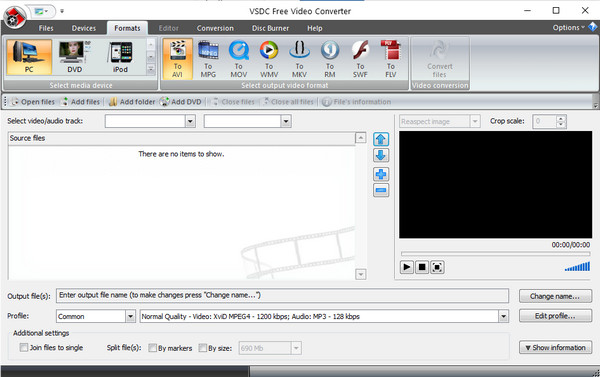 ◆ Built-in video editor to merge, split files, and delete.
◆ Advanced export presets for devices.
◆ High-quality output files.
6. YouCompress
Another free online MOV compressor you can use to reduce file sizes. It compresses various video formats, including MP4, MOV, and AVI. The best part of this online tool is it offers its service for free, including other functions to compress images, documents, and audio files. YouCompress is one of the most efficient MOC compressors you can use freely.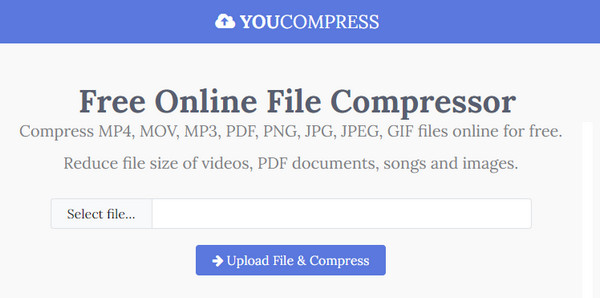 ◆ The compression process takes only 4-5 clicks.
◆ Fast and reliable compression speed.
◆ It does not require users to pay any charges.
7. Online Video Compressor
This online MOV compressor is specifically designed to compress all video formats quickly. It readily accepts media that contain video, audio, and subtitles. The steps are super easy. Go to the website, click the Add Your Media button, and browse the desired MOV file. Then, click the Convert button to start the compression process.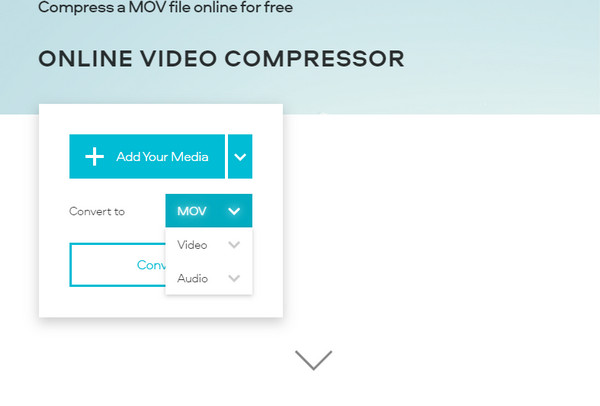 ◆ Allow compressing specific data on a MOV file.
◆ Clean and straightforward interface.
◆ High-quality output video file.
8. HandBrake
HandBrake is a professional MOV compressor with more functions. It has many reasons why many users love using HandBrake. One of its best features is how it can convert and compress nearly all formats you can imagine. The software is also available for all OS, including Windows, Mac, and Linux.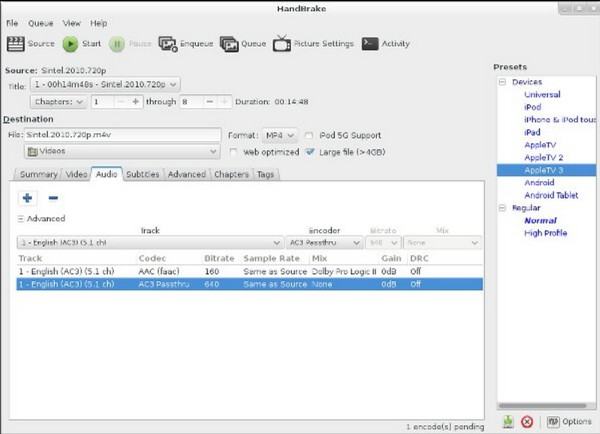 ◆ Users can freely download the app on desktop devices.
◆ Offer built-in device presets for accurate conversion and compression.
◆ Provide subtitles feature to disable and input new subtitles.
◆ It supports VFR and CFR.
9. Zamzar
When you use Zamzar, you are in a good hand. This MOV compressor is an easy-to-use online tool. It accepts files with a maximum 50MB file size. The best thing about Zamzar is it automatically compresses video files to the best file size to ensure that it will not have too much video quality. You can support the developers by clicking the Buy Us a Coffee for a low price.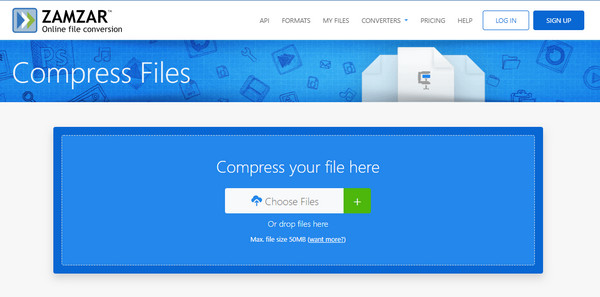 ◆ Low cost for the premium version.
◆ 25 files free compression.
◆ Files are deleted after 24 hours.
10. Clideo
The recommended MOV compressor is Clideo. It secures all your uploaded files with encryption. All your MOV files can be compressed and previewed before hitting the Compress button. Clideo is an online tool that requires any user to install a launcher.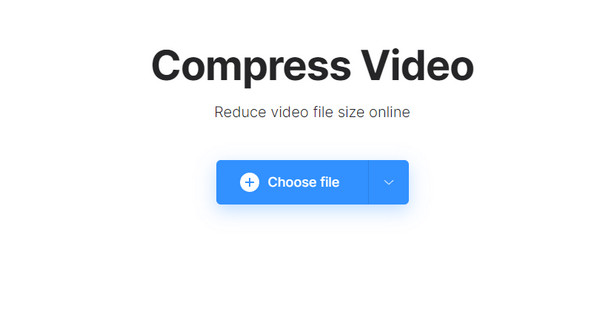 ◆ Support any video format, including MOV, VOB, and AVI.
◆ Simple interface and fast compression.
◆ Offer different uploading methods.
Part 2: FAQs about MOV Compressors for Windows/Mac/Online
What are the best MOV compressors for smartphones?

There are many video compressors you can find on Google Play Store and App Store. The most recommended tools are Video Compressor – Fast Compress Video & Photo, Video compressor – Converter, Video Compressor – Compact Video, etc.

Do my MOV files reduce the quality when compressed?

Yes, because a MOV compressor tends to remove unnecessary data on a video file. However, this can be avoided by using 4Easysoft Total Video Converter and other advanced MOV compressors.

Which format is smaller than MOV?

MP4 has a smaller file size. It is highly compressed by nature. For MOV, it usually has nearly no compression and stores more bitrate video files. Thus, you can also convert MOV to MP4 for compressing file size.
Conclusion
Now that you have learned the best MOV compressors, you can save more space and store more files. The best pick for this post is 4Easysoft Total Video Converter which produces high-quality compressed video files. Try the free version today and experience its other powerful features.
Related Articles