How to Compress Videos for Email to Send Successfully [For All Devices]
Isn't it irritating when you want to send a video presentation through email as an attachment but having trouble? You may find the uploading process is very slow or maybe the file size is too large to send. Compressing your videos for email will also be a good help for that slow uploading and large video size issue for successfully sending a video in email. Therefore, this article will guide you to compress video for email easily by presenting you these four most effective video compressors.
Part 1: The Ultimate Method to Compress a Video for Email
The most common complaint against email is that each mail provider sets a file size limitation. The maximum email size is only 25MB and the attachment video file is 20MB for emailing through Yahoo and Gmail. As for Outlook, you video file should be less than 15MB. But don't worry. With 4Easysoft Total Video Converter, you can compress video for email to the desired size with original HD quality. This video compressor will let you modify your video within 25 MB on your own while guiding you with its straightforward UI.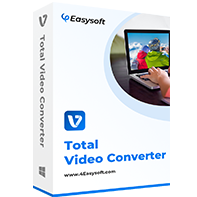 4Easysoft Total Video Converter
Compresses video for email to less than 20MB in a quick manner of time.
Adjust settings such as size, codec, bitrate, and resolution to produce high quality results.
Support over 1000+ formats to export, like FLV, MOV, MP4, WMV, AVI, etc.
Provide advanced editing tools for cropping, rotating, trimming, and adding effects.
Step 1Download and install 4Easysoft Total Video Converter on your desktop. To compress video for email, go to the Toolbox menu, then select the Video Compressor button. Another window will appear on your screen. Click the Add button, then add your video file.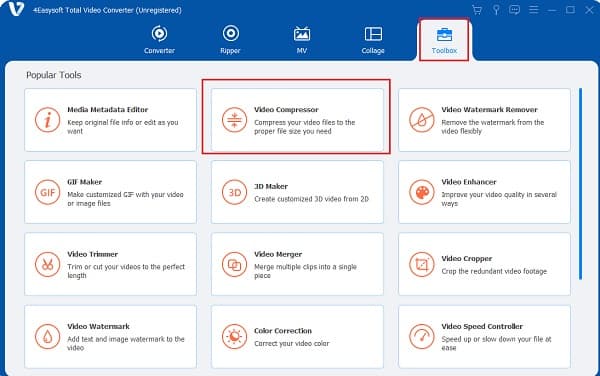 Step 2You can now compress video for email by altering the file size within 20MB. You can edit the format, bitrate, and resolution of your output as you like. There is also the Preview button that allows you to look at your compressed video. After that, click the Compress button, and it will be saved to your folder after a few seconds.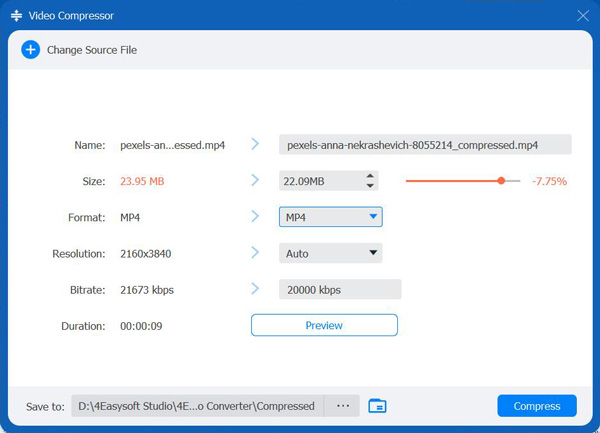 Part 2: How to Compress a Video for Email for Android/iOS
1. Video Compressor - Fast Compress Video & Photo (for Android)
This is one of the most used Android video compressors worldwide. Video Compressor - Fast Compress Video & Photo can quickly compress video for email and convert MOV, WebM, FLV, and AVI to MP4. With this video compressor app, you can also cut video, extract MP3 audio from video, shrink your video and save some device's storage space.
Step 1To start compressing video for email, launch the app to bump into the main interface. And then, go to the Compress Video menu tab, placed from the upper left side of the UI. After you have chosen your video with large file size, tap the Compress Video button on the screen since your main purpose on the app is to compress video for email.
Step 2Do not go to the high or quality from the compression quality area. To personally compress your video on your preferred file size, go to the Custom selection. To finalize your project, just click the Compress button from the bottom part of the screen.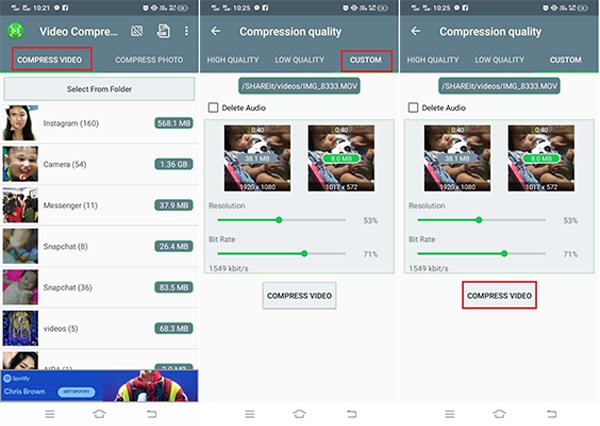 2. MediaConverter (for iPhone)
Media Converter is an all-in-one video editor for all iOS devices. With this app, you can compress video for email in different formats, including MP4, AVI, MOV, ASF, MPEG, VOB, etc. Moreover, it supports batch compressing and many other functions to extract audio, convert video, and more.
Step 1If you have already installed MediaConverter on your iOS device, tap the Edit button to compress video for email. Make sure that you have imported your video files on MediaConverter.
Step 2There is a selection that will appear on your screen. From there, choose the Compress Video button to start your compressing process.
Step 3The conversion type of your compressed video can be customized from this area. The format, time range, volume, audio channel count, and compression ratio are the things that you customize to compress video for email. If you are already happy with the customization, you can now tap the Start Conversion button and wait for it to finish.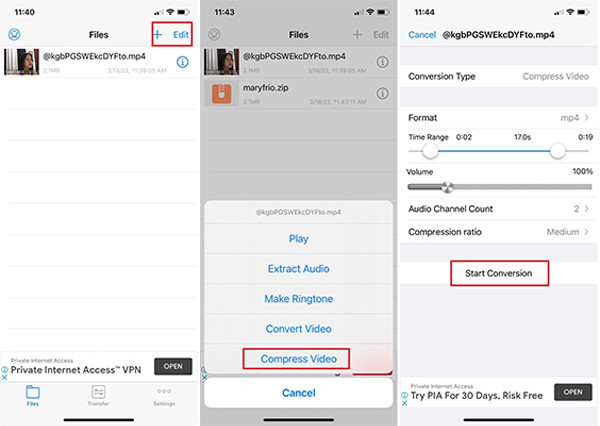 Part 3: How to Compress a Video for Email Free Online
If you don't want to download and install any software, you can still compress video for email online. Online UniConverter is one of those most used free online video compressors where you can compress video online. This tool doesn't leave any watermark on your compressed video. It helps you change the video resolution of your video, customize file size, and convert it to various video formats. Unfortunately, it's not user-friendly for beginners to use.
Steps to compress a video for email via Online UniConverter can be found below:
Step 1Click the Choose Files button, then add the file you wish to compress. But to compress video for email, you can also paste the link of the video into it, even if it's from Dropbox, YouTube, or Google drive.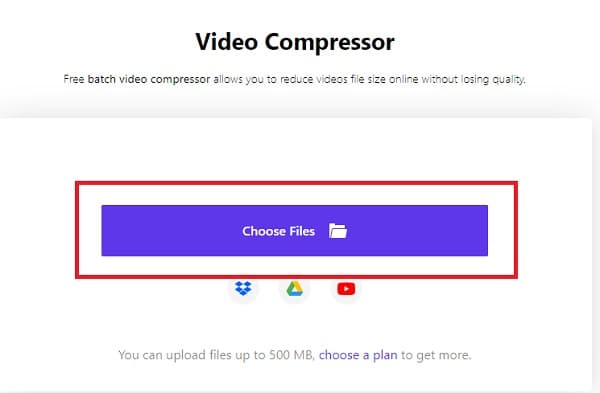 Step 2To customize the file size of your video, go to the settings icon, then alter the file size (MB), format, and resolution of your video based on your preferred video file size and quality.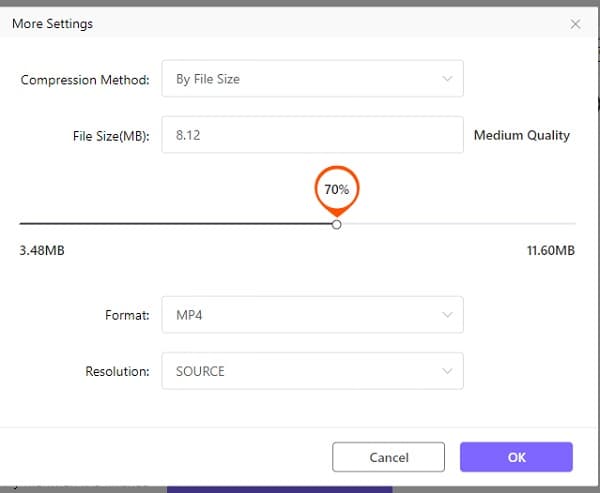 Step 3Once you are good with your work, you can simply click the Compress button from the lowest part of the screen, and it will successfully compress the video for email.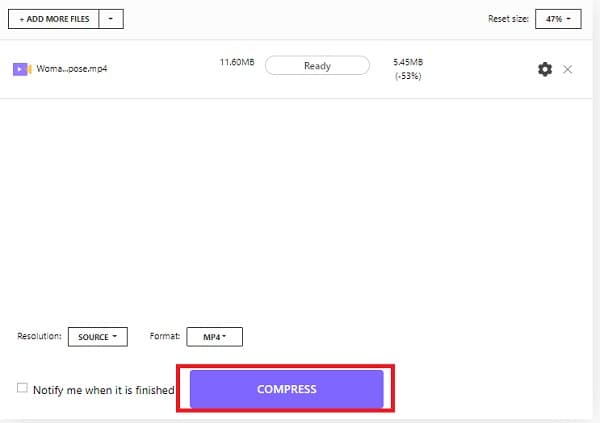 Part 4: FAQs about How to Compress a Video for Email
1. How can I keep the quality of my video while compressing it?

When compressing videos for email, you can try to keep the original resolution to maintain the quality. Since the compressed videos for email are in small sizes, you can't keep the original bitrate and quality.

2. What is the maximum email attachment size limit in different email service providers?

The most common email service providers differ in their email attachment size limits. For example, Yahoo, AOL, and Gmail's maximum file size limit is 25MB, while Outlook email service maximizes the email attachment size at 20MB. You'd better compress videos for email to less than 20MB.

3. What affects the video file size?

The video's file size depends on many factors such as quality, resolution, frame rate, bitrate, file format, and even the counts of movements in the video. The said factors must be monitored to keep your video in minimum file size.
Conclusion
To successfully send a video file via email, you must first know the size limit that the email service provider supports, and you should know how to compress a video for email. Provided above are the tools that may help you compress video for email. Among them, try 4Easysoft Total Video Converter to get the easiest compression and high-quality result. If you have more questions, please contact us now.
Related Articles