7 Best Methods to Reduce Video Size on Windows/Mac/Android/iPhone
A 30-minute video taken by your phone or camera always occupies several GBs. And for uploading the popular reel videos on TikTok, Instagram and other social platforms, you should always reduce the file size to meet the requirements. If you are bothered about large video files and full storage space, this article will present you with 7 best ways how to reduce video file size without losing quality with the help of the ultimate video compressor.
Part 1: Best Method to Reduce Video Size without Losing Quality
When you want to send videos to your colleagues through email but only get the message "file size is too large", you need 4Easysoft Total Video Converter to compress videos! It is the ultimate video compressor where you can reduce video file size at ease but still give your video HD quality. You can also use this software to convert your video from and to over 600 file formats and enjoy the variety of filters that it offers before compressing it. To solve this problem, the steps on how to reduce video file size using 4Easysoft Total Video Converter are presented below.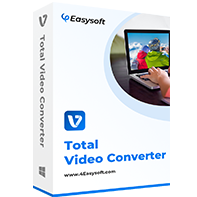 4Easysoft Total Video Converter
Reduce video file to the desired size for easier uploading on any platform.
Adjust the video settings like resolution, codec, and bitrate to keep high quality.
Support more than 1000 video formats, including MP4, MOV, AVI, etc.
Provide advanced editing tools to crop, trim, rotate, and add effects.
Step 1Download and install 4Easysoft Total Video Converter on your desktop, then launch it. Go to the Toolbox tab from the top menu, then click the Video Compressor button. To start your project and reduce video file size, click the Add button from the new window that will pop up. From here, you can select the proposal video you wish to compress.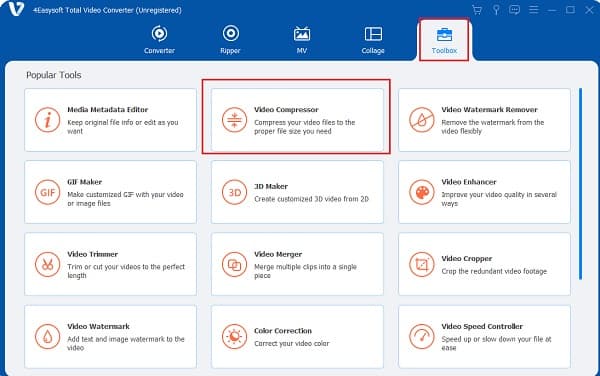 Step 2You can now set the size, resolution, name, and bitrate of the file. If you'd like to compress videos for email, just pull the file size to less than 20MB. And to check the compressed file, you can click the Preview button. Do not forget to set the designated folder by clicking the Save to dropdown list. Then to get your compressed file, just tap the Compress button.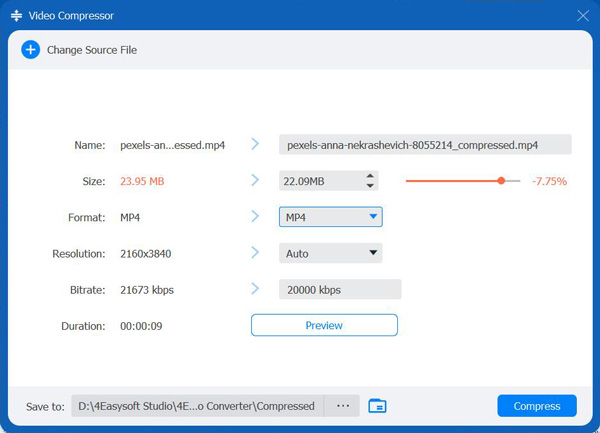 Part 2: 3 Methods to Reduce Video Size on Android
1. Video Guru
Video Guru is a free video compressor and also a video editor. This app will help you reduce video size on Android easily with adjustments. Another thing that made this app popular is that it has many good features to offer, such as merge, cut, fast or slow motion, trim, edit transitions, and edit the effects of the filters or your videos.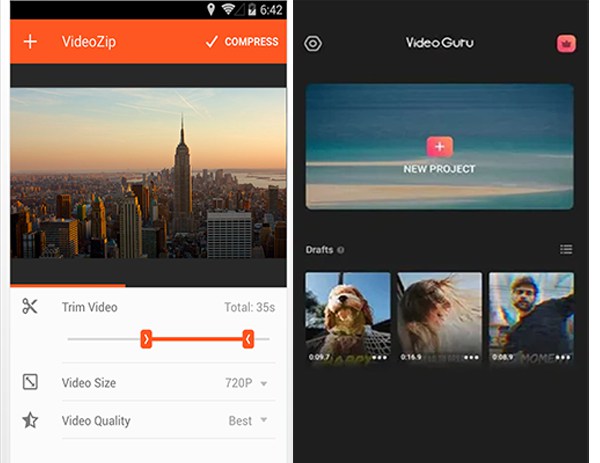 Pros
It has 30+ video transition effects that you can choose from.
You can extract audio from video clips hassle-free.
This is an all-in-one app to reduce video file size on Android.
Cons
Most of its beautiful features are with the Pro version.
It still receives ads even if you've purchased its Pro version already.
2. VidCompact
VidCompact is just a new video compressor to help you reduce video file size, yet it has already been a top-rated video editor. This is also a good app to trim and convert your videos before compressing them. In addition, VidCompact supports any video regardless of how large the file size of your video is, and it can still reduce its video size. No one will not be enticed with this app because it is free, where you can enjoy its features for trimming, cropping, editing, converting audio frequency, rotating, and stabilizing your videos using your Android device.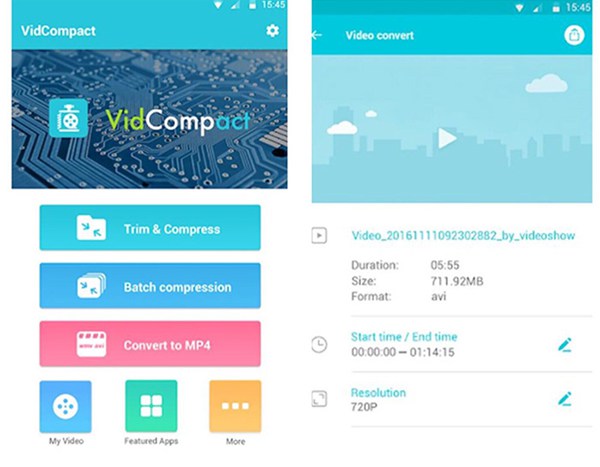 Pros
It has a lot of editing tools to enjoy.
It supports a variety of video formats such as MOV, MP4, WMV, MKV, etc.
Cons
The app crashed to compress after several ads.
The premium paid version is relatively expensive.
3. YouCut
This is an all-in-one video compressor application downloaded from Google Play since this is suitable for all Android devices. Like the other video compressors, it also offers video transcoding, video trimming, video cutting and allows you to directly share your videos on Twitter, Instagram, Facebook, YouTube, and other social media platforms. YouCut can support video formats in a wide range. That is why you can reduce video file size easily, even if it is large in file size.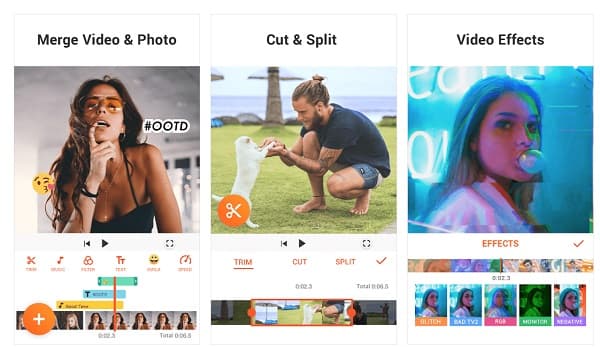 Pros
It is capable of changing the video background of your compressed video.
It enables you to set your video in any aspect ratio like 1:1, 16:9, 3:2.
Cons
The app is bugged because it sometimes corrupts and deletes the saved work.
The video randomly starts moving at a snail's pace, and it throws off the whole project.
Part 3: 3 Methods to Reduce Video Size on iPhone
1. Video Slimmer App
This is not just a simple video editor that compresses videos because it can reduce video file size, and it also allows the users to trim and merge the videos. The most outstanding feature of the Video Slimmer App is its batch processing capabilities. Because it can export compressed videos at the same time simultaneously, with the use of this app, you can free your iPhone's storage space up to 80% once you reduce the video file size that you have stored on your iOS device.
Pros
It allows you to customize the video's dimension.
It's simple UI is very suited for all beginners.
It supports all of the videos that users have thrown into it.
Cons
It sometimes freezes when some of your work is in process.
It has an annoying control because your recent videos are not on the top of your camera roll.
2. Video Compress - Shrink Vids
Video Compress allows you to compress video even if it is recorded in Full HD, HD resolution, or in 4K in a very quick time. It can also do batch processing or even your entire album and allows you to reduce video file size and select the resolution of your output videos at the same time. In addition, it also enables you to have a preview of your video quality to check the quality of your compressed video. Video Compress - Shrink Vids also let you decide if you want to delete the original video. In that way, your compressed videos are the ones that will be kept.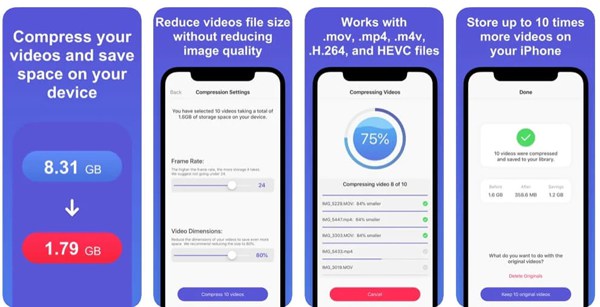 Pros
It allows you to preview the result.
You can directly share your compressed video to email or other file transfer services once you are done compressing it.
Compared to other video compressor apps, it will give you a high-quality result.
Cons
The app is a little bit useless if you did not upgrade it and paid $4.99.
It crashes sometimes, and it chunks off some of the videos.
3. Video Compress - Reduce Movie Size - Shrink Video
If you are an amateur in video editing and want to reduce video file size, Video Compress - Shrink Video might suit your skills in video editing because it has a very simple UI that might guide you. Using this tool, you are allowed to trim, rotate, and crop your video before compressing it.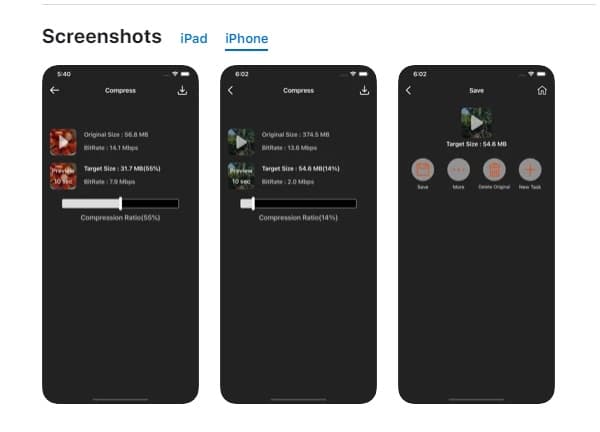 Pros
It can quickly upload your compressed video in less than a minute.
Supports videos in any file size.
The app works clean because there is no watermark with your project.
Cons
No other way to remove the ads.
So uncool because the developer is not responding to the email.
Part 4: FAQs about How to Reduce Video Size
1. Is it spoosible to reduce video file size online?

Definitely yes, there are a lot of free online video compressors, like Clideo, VEED, XConvert, and Fastreel by Movavi. But, do not forget to keep in mind that not all of them are really recommended because you are sure of your privacy since they are online tools.

2. Which video format has the lowest MB?

It's the H264 codec that produces MP4 video format and this typically delivers a high quality with the smallest file size. That is why MP4 is one of the most-used video formats for reducing video file size to.

3. How many MB is there in 1-minute video?

The MB file size of a one-minute video can be different depending on the video resolution of the video. If your video resolution is VGA, it has 24.1mb, if it is in HD (High Definition) it has 88.3mb, for Full High Definition it has 124mb.
Conclusion
Now that you have read the features of those seven best video reducers, hope that you can now reduce video file size on your own with your choice of video reducer. Start using 4Easysoft Total Video Converter and experience its powerful features for video converting, video editing, and video file size reducing now.
Related Articles