Is It Possible to Compress a 1GB Video to 100MB [Ultimate Guide]
Storing a movie or long video with large size on your personal computer is frustrating, especially when your pc is low on disk space. You can quickly solve this matter by simply compressing GB to MB in size. It is also a good way to send and share a GB video file into different social media platforms within the file size limitations. Fortunately, there are various GB to MB converters on the market that may help you make large files small enough to send them to colleagues easily. This piece will give you the ultimate method to compress GB to MB effortlessly while getting a high-quality result.
Part 1: The Workable Method to Compress 1GB to 100MB with High Quality
There are several kinds of GB to MB converter tools available on the internet, and all of them can reduce the file size. But primarily, they don't reduce the file highly and reduce it to a minimal extent. Therefore, start using 4Easysoft Total Video Converter. This GB to MB converter is the most updated video editor worldwide and gives you a very high-quality result.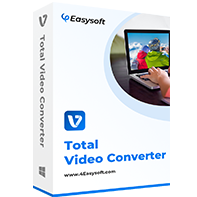 4Easysoft Total Video Converter
Compress GB videos to MB with a specific size by simple clicks.
Adjust the resolution, encoder, bitrate, and quality to keep high quality.
Provides advanced editing tools to crop, trim, rotate, and add effects.
Supports over 1000+ file formats including MOV, MP4, FLV, AVI, WMV, etc.
Step 1To start the process of compressing 1GB to 100MB file size, download and install first the 4Easysoft Total Video Converter. Launch it on your device, and from the main interface, go to the Toolbox menu tab, then click the Video Compressor button. After that, click the Add File button to add the 1GB video you wish to compress into 100MB file size.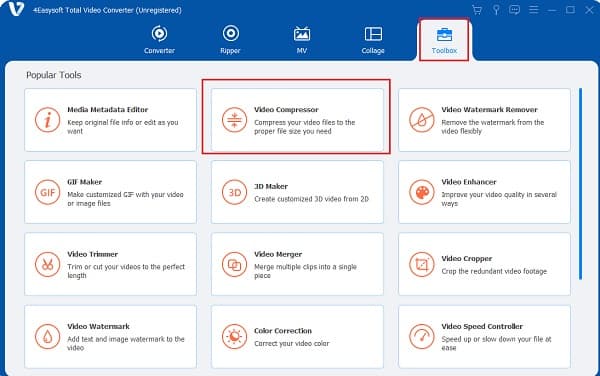 Step 2Set the format, resolution, bitrate, and size of the video based on your preferred file size (100MB specifically). If you want to check your compressed file, click the Preview button. Click the Save to dropdown list and designate a folder as your output's location. Lastly, click the Compress button, and after a few seconds, it will automatically save to your folder.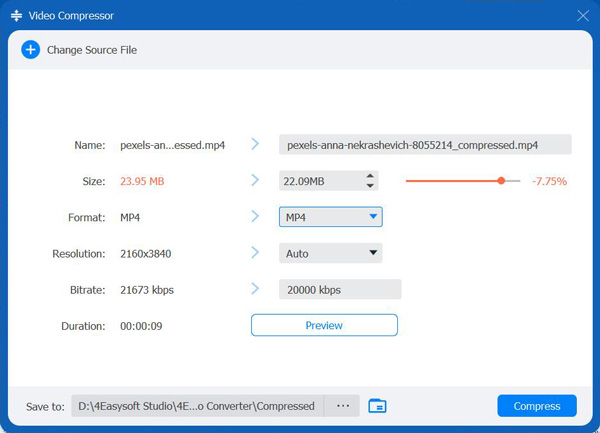 Part 2: 4 More 1GB to 100MB Video Compressors for Windows/Mac
1. CloudPresso
CloudPresso is an online video GB to MB compressor where you can compress your files at the maximum 100MB file size limit for the free account. The support team of CloudPresso says that it can compress MP4 video files up to 80% at a minimal quality loss. This is a user-friendly GB to MB compressor for compressing multiple videos at once.
Step 1From the official website of CloudPresso, click the Select Files button to add your 1GB video.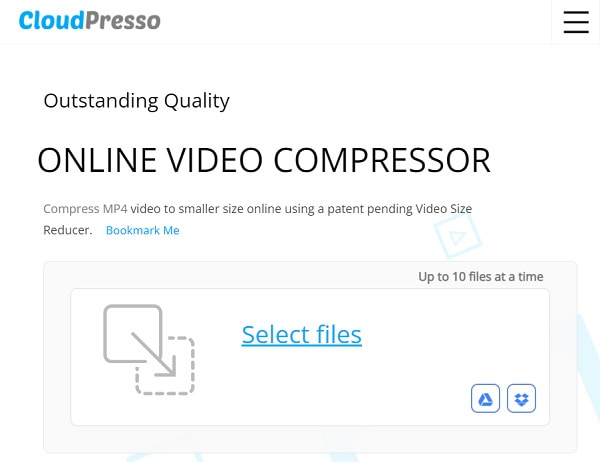 Step 2Adjust the output quality of your video. You can choose from the selection if you want it to be high, very high, or medium quality. Set it on your desired file size.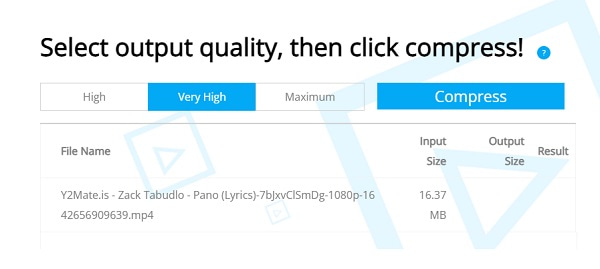 Step 3If you are done compressing GB to MB, you can now click the Compress button and download the result on your device.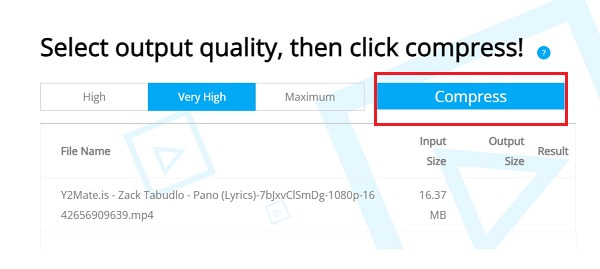 2. Clideo
If you are looking for an online video compressor, Clideo is one of the best because it boasts an ad-free and direct interface with video tools that will benefit all the new users. Clideo is a GB to MB, MB to KB compressor available on iPhone, Mac, Windows, and Android. Additionally, it supports batch compressions and can auto-compress different video formats like MP4, 3GP, MTS, AVI, MKV, MPEG, etc.
Step 1From the main interface of Clideo, you will see the selection of the video tools that it offers online. From the selection, click the Compress button.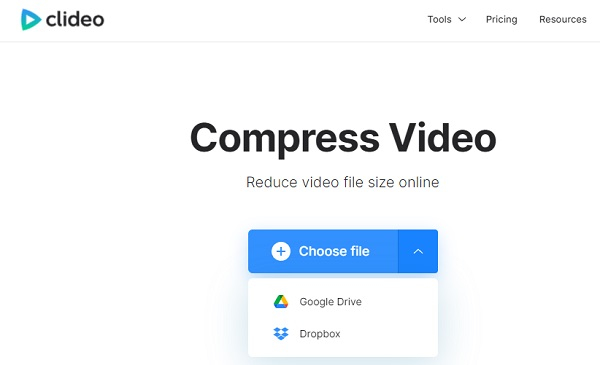 Step 2Click the Choose file button, then upload the video you wish to compress. You can also get your file from Google Drive and Dropbox and wait for the compressing process to finish. Click the Download button and save your compressed GB video on your device.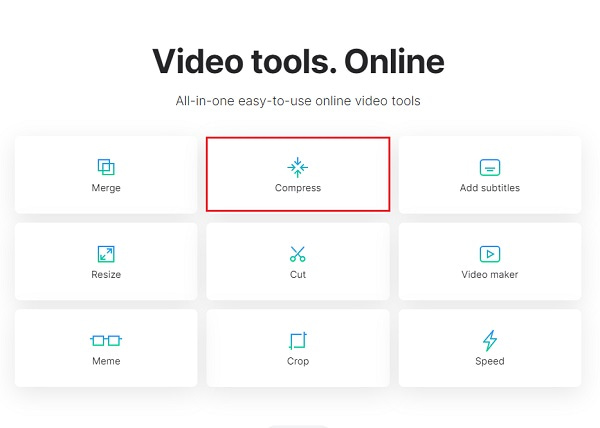 3. FreeConvert
FreeConvert, which can compress GB to MB file size without spending any money. The good thing about FreeConvert is that it allows users to compress GB videos from Dropbox, Google Drive, YouTube URL, or local media. In addition, FreeConvert lets you adjust and reduce the resolution, percentage, file size, bitrate, and video quality to meet your expected file size, and it supports batch compression.
Step 1Click the Choose Files button from the official website of FreeConvert. You have the options where you will get video files that you wish to compress. Either the file is from your device, Dropbox, Google Drive, or paste the video's URL.
Step 2Click the Advanced settings icon to set your output into your desired quality and size. Set the Target Size (MB) area into 100MB as you wish to compress GB to MB, then tap the Apply Settings.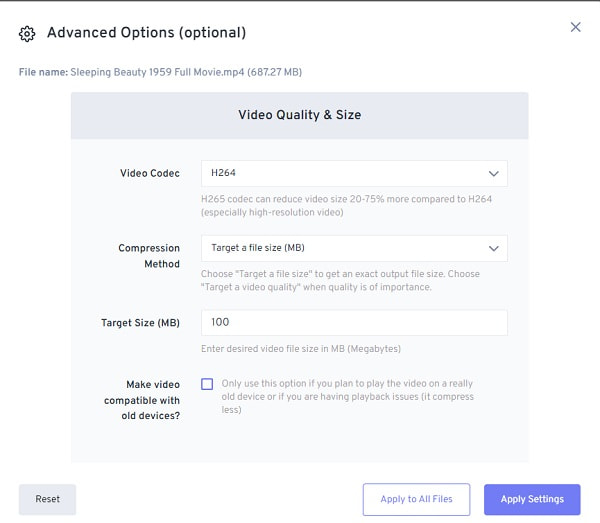 Step 3Once you are happy enough with the settings of your output, you can click the Compress Now button and wait for the uploading process to finish so that you can download it.

4. Media.io
If you are looking for a video converter where you compress GB to MB using your PC or mobile, Media.io is what you are looking for. This GB to MB compressor supports various file formats like MOV, MP4, 3GP, MTS, etc. You can easily compress your video file and reduce its original file size by simply dragging the percentage slider. If you want to change the resolution of your video, you can change it by choosing from the selection such as 144p, 240p, 360p, etc.
Step 1To add your video file, click the Choose Files button. You can also upload a GB video file from Dropbox Google Drive or paste the YouTube URL.

Step 2Click the Settings button and set the output settings. Drag the slider to meet your expected MB size, and you can also choose your desired format and resolution. Then click the OK button if you are satisfied with your work. To save your compressed file, tap the Compress button.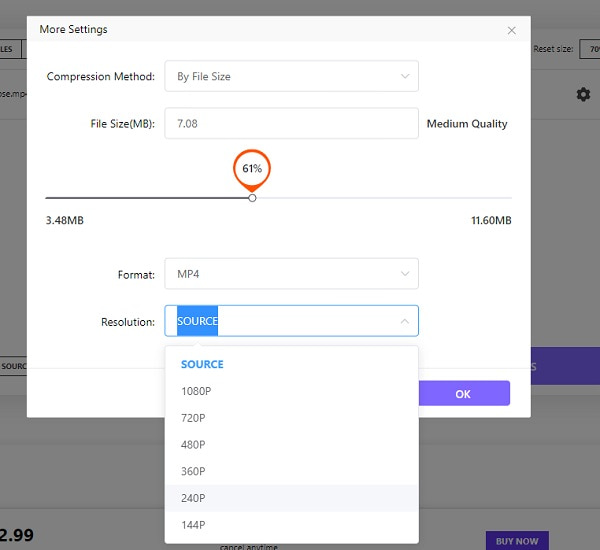 Part 3: FAQs about How to Compress 1GB to 100MB
1. How many megabytes (MB) are there in 1gigabyte (GB)?

A video file that is 1GB in data size contains 1024 megabyte (MB). And likewise, 1MB equals to 1024KB.

2. Is it possible to compress 1GB to 20MB for email?

It's difficult to do it. Most GB to MB compressors only supports 90% compression rate. In this case, you need to clip your videos to several segments through 4Easysoft Video Converter.

3. Can I compress 1GB to 100MB through Handbrake?

If your videos are in MP4, WebM, or FLV formats, the answer is yes. After you add video files in Handbrake, you can choose the Video tab and input the desired MB video size. Then click the Start button to export it.
Conclusion
The best methods to compress GB to MB in a swift process are listed above. Among them, you'd better use the 4Easysoft Total Video Converter to compress GB videos to MB. Try its practical advanced editing tools without getting any watermark while getting a high-quality result now.
Related Articles