How to Make Reaction Videos for TikTok, Instagram, Facebook
Have you ever watched a reaction video? Some of the YouTubers are make-up gurus, and they are also called 'Beautuber.' Their video content is all about cosmetics. Make-up gurus are making reaction videos and giving their reviews with different kinds of cosmetics, hairstyles, nail-art, fashion, and other related beauty topics. Do you also want to become one of them? In this piece, you can learn the right procedure on how to make reaction videos and know more about the point of a reaction video, which will make your videos go viral.
Part 1: What is a Reaction Video
So, what is a reaction video? Reaction videos belong to the genre where video creators record their extemporaneous reactions while watching their choice of content. They often show the videos on their own. People love this kind of YouTube content because they feel satisfied knowing the emotions being expressed with the video. That is why FineBros are very famous, and they are the biggest reaction YouTube channel. They got a lot of fame and money just by showing their reactions to different topics. If you also want to make reaction videos and gain more fans on social media platforms, please keep reading to learn more.
Part 2: How to Make a Reaction Video on Windows and Mac
Are you a YouTuber who wants to make reaction videos as your content? Or just a simple editor who's interested in making a reaction video? 4Easysoft Total Video Converter might provide preset templates to help you make reaction videos with simple clicks. Moreover, it supports more editing tool to crop, rotate, trim, and add effects to the videos. Follow the steps provided below and make your attractive reaction video.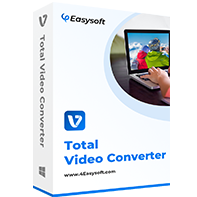 4Easysoft Total Video Converter
Make reaction videos to pip or split-screen videos with preset templates.
Support exporting videos to the requirement sizes of TikTok, YouTube, etc.
Provide many editing functions to trim, clip, adjust filters, add music, and more.
Combine up to 13 videos into one screen to make reaction videos.
Step 1Download and install the 4Easysoft Total Video Converter on your Windows or Mac. From the main interface, click the Collage button from the menu tab and click the Template button, then select the split-screen style based on your desire.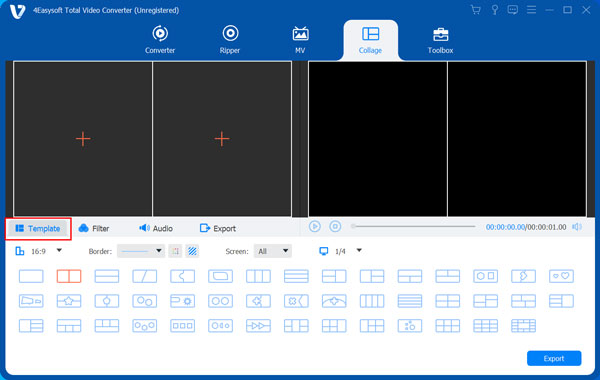 Step 2Press the Plus sign to add the videos you want to put together. After that, you can adjust the size of the videos by dragging the split line between the videos.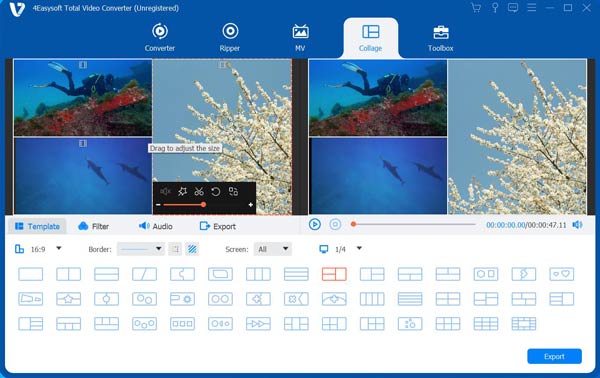 Step 3You can add subtitles, rotate, crop, etc., your videos by simply clicking the Edit icon that appears once you click the specified video. If you are not yet satisfied with the beauty of your work, just go to the Filter tab, and that is the key on how to make a reaction video alluring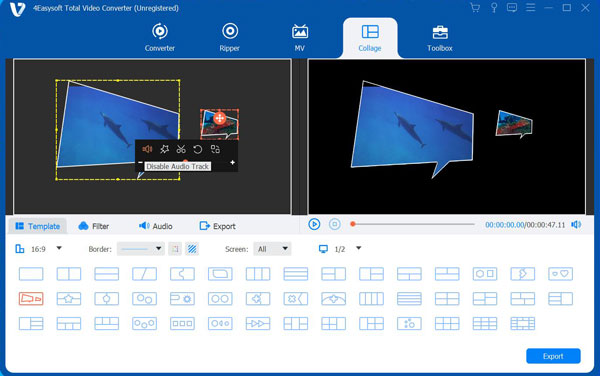 Step 4Of course, a reaction video will not be more attractive without its background music. To make it happen, just go to the Audio tab and then click the + button so that you can add your desired music file. But if you decide to keep the original soundtrack of your work, you can simply check the box before the Keep the original audio track.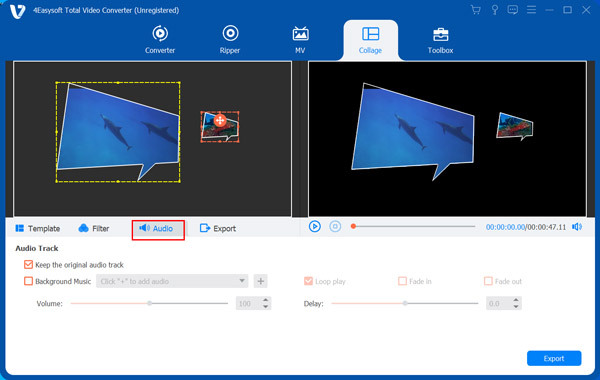 Step 5From the Export tab, you can adjust the resolution, frame rate, output file format, and quality of your reaction video. Click the Save to button, then choose a folder to save your output. Lastly, click the Start Export to produce your project.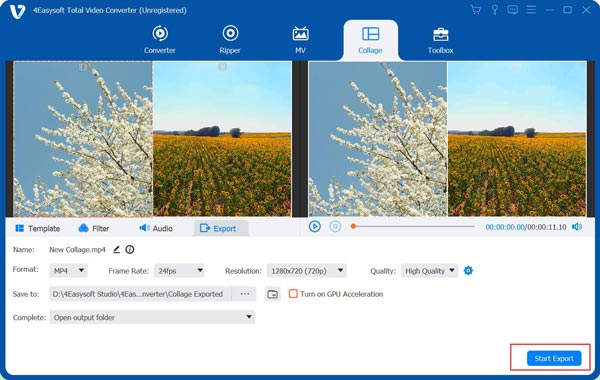 Part 3: How to Make Reaction Videos for YouTube Online
Flixier is an online video editor will help you in making your reaction video hassle-free because you don't have to download any tool to your device, but you are still able to continue creating a reaction video. Flixier allows you to add text to videos, transitions, sounds, images, auto subtitles, etc. If you wish to remove some unnecessary parts of your videos, you can freely trim, cut or crop them easily.
Steps on how to make a reaction video using Flixier
Step 1First thing to do is you need to add the clips into your personal library. You can import them or drag them over from your computer.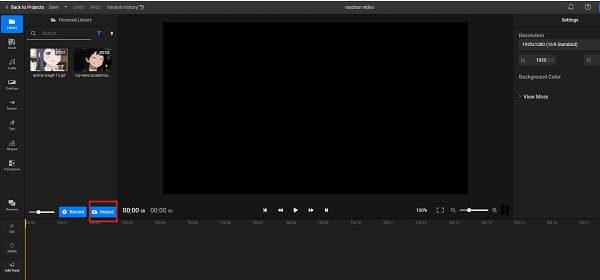 Step 2Make sure that both videos are synchronized before dragging them into the timeline. Click Fit to Canvas to ensure that the videos fit the whole screen. After that, select the video on top, click the Crop and then drag the Left or Right slider up to 50% to split the screen down the middle.
Step 3Once you are already satisfied with your reaction video, you can now finally save it by clicking the Export button. In 5 minutes or less, it is ready to download. At the same time, you can also publish it in seven other online destinations if you want to.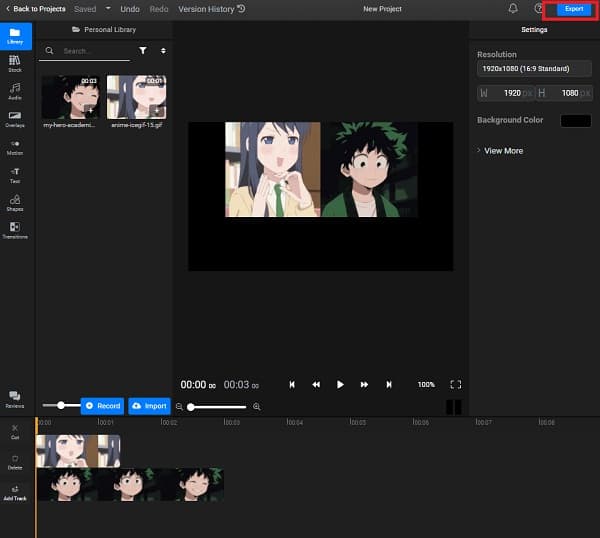 Part 4: How to Make Reaction Videos on Android and iOS
If you are just an amateur in making a reaction video and you lack devices where you can edit your video, you don't have to worry because you can use your Android smartphone and iPhone/iPad with the help of a video editing app. BeeCut is one of the most used video editor programs for Android, Mac, Windows PC, and iOS. This editing tool will help you enhance your reaction video with the help of various overlays and filters. Additionally, it will also help you devise a reaction video in a short manner of time.
Steps on how to make a reaction video on iPhone and Android
Step 1On the main interface, press the Yellow icon and add your files so you can choose your desired aspect ratio.
Step 2Once you have already added your video, you can edit it the way you want to by using the editing functions on the screen.
Step 3To finalize your work, you only have to press the Export icon from the upper left corner of the interface.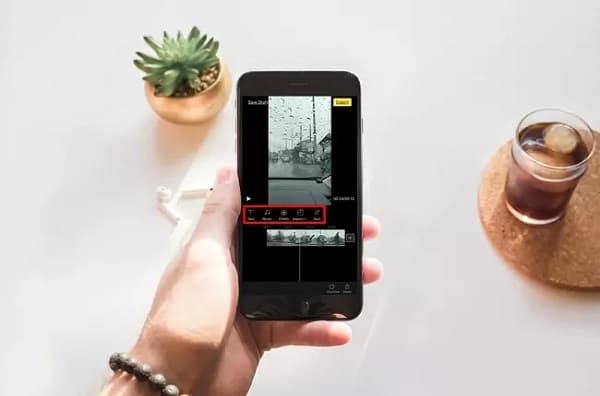 Part 5: FAQs about Making Reaction Videos
Can I make reaction videos with PIP effect?

Of course, yes. Actually, PIP are better than split-screen template when making reaction videos. And you can easily use 4Easysoft Total Video Converter to do it.

How to make reaction videos in iMovie?

If you are a Mac user, you can use iMovie to make reaction videos. Simply drag a video into the timeline, and then pull the another one over it to merge them. In the popping-up window, you just need to choose the Pictur-in-picture effect.

How to make a reaction video attractive?

You have to think rationally about who your viewers will be. If your target viewers are the singers, then it is better to react with the videos of famous singers. If the target viewers are the TikTokers, why not react to the TikTok videos on-trend.
Conclusion
There are too many video editing tools out there to help you create reaction videos, but not all of them will help you make it successfully. You have to be wise in choosing the perfect video editor that will guide you on how to make a reaction video. Start using 4Easysoft Total Video Converter now. Welcome to contact us if you have any questions.