iMovie Split Screen – How to Combine Two Videos Side-by-Side
How to make split-screen videos on iMovie with two side-by-side videos? In this way, you can make reaction videos for YouTube, like other famous vloggers, to show your views on some trending videos. Whether you are a Mac or iOS user, you can make split-screen videos with iMovie - the built-in video editor by following this article. However, when you need to have some special templates, you can also look for an effective video editing tool alternative. Keep reading to learn about the detailed steps.
Part 1: How to Make a Split Screen Video in iMovie on Mac
If you are longing to make a split-screen video on iMovie using your Mac, you need to check about the iMovie version first. With the former iMovie version, you can choose the side-by-side feature and start to create an iMovie split-screen. Just follow the steps we have listed below to successfully create an iMovie split-screen according to your requirements.
Step 1On your Mac, open the iMovie and then drag and drop the video clips you wish to put together onto the timeline.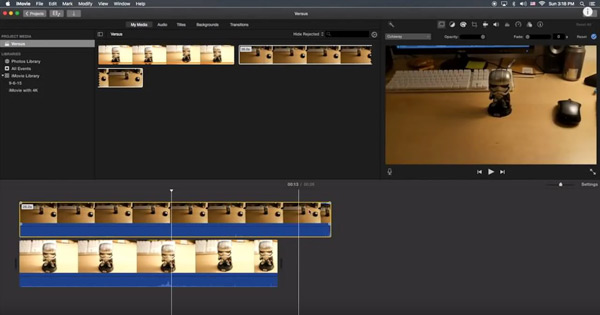 Step 2After that, you have to select the Side by Side option from the overlay settings. If ever you need to trim or pinpoint to make your iMovie split-screen more appealing, you can freely use the Crop tool.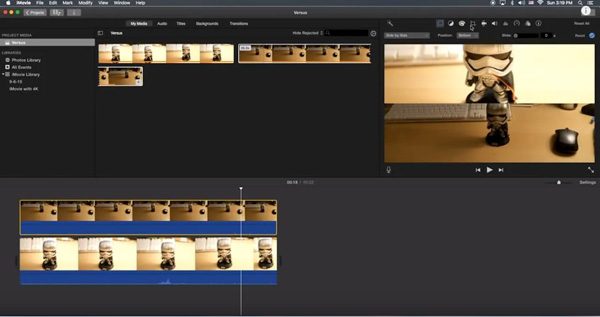 Part 2: How to Put Two Videos Side-by-Side in iMovie on iPhone/iPad
Since we are all now with our smartphones and tablets, somehow, it is very helpful to do our projects at ease. What if you want to put together your two videos in one image and you only have with you your iPhone/iPad? Is it possible to do it without using a desktop? Probably, yes. With the help of this tool, we will show you the right ways how to put two videos side-by-side in iMovie on your iPhone.
Step 1First thing to do is that you have to run the iMovie APP on your iPad/iPhone, then start a new project. Now, you can add two videos you want to add split screen effect on iMovie
Step 2After that, just click on the ellipsis and then choose the split mode. It will then give you a side-by-side split. If you wish to change the split-screen type, you can do it from the overlay controls from the lower part of the screen.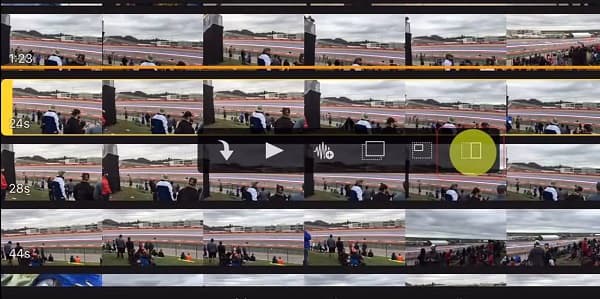 Part 3: The Best iMovie Alternative to Make Split Screen Videos
4Easysoft Mac Video Converter allows you to put together the two videos side by side in only one frame with different templates, horizontally or vertically. It keeps the original audio track or adds background music from your computer. Moreover, there are some specially designed templates to make the split-screen effects as iMovie. It provides advanced filters to enhance, convert, and apply filters with AI technology.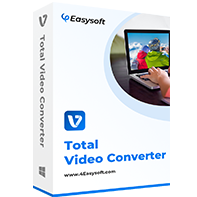 4Easysoft Mac Video Converter
Provide dozens of split-screen templates with special patterns and stunning designs.
Apply different parameters to cut, merge, and crop videos to make split screen videos.
Adjust the side-by-side video as iMovie with ratio sizes, borders, screen modes, etc.
Edit the videos, cut out the desired part, merge different video clips and more others.
Step 1Download and install 4Easysoft Total Video Converter, you can launch the program and click the Collage menu. Press the Template and choose the side-by-side style to create iMovie split-screen effect. There are a lot of templates to choose from.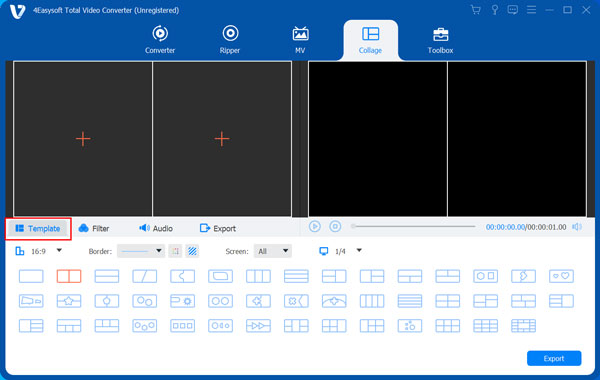 Step 2Once you have already launched the program, click the Collage button from the menu tab. And as you want to do an iMovie split screen effect with this alternative tool, press the Template and choose the side-by-side style.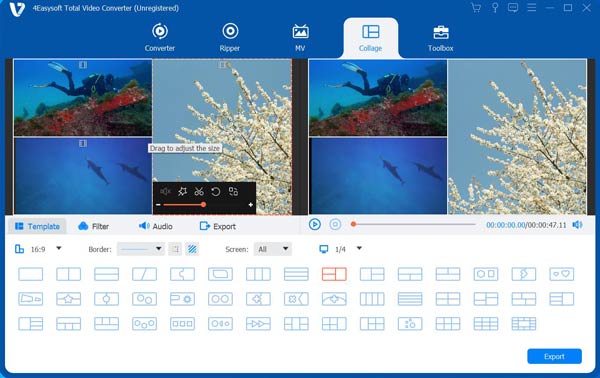 Step 3For you to be able to start the procedure, put together your two videos; just click the + sign. You can enhance them by clicking the Filter button under the Preview or add background music by clicking the Audio button.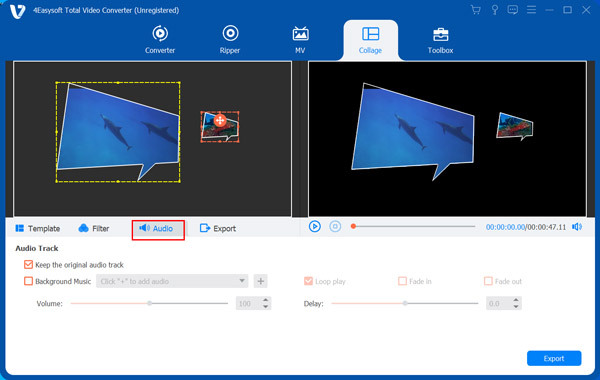 Step 4You are almost done. But first, go to the Save to button and choose a folder that will be the destination of your edited video. And after that, your video is ready to export. Just click the Export button from the lower right area.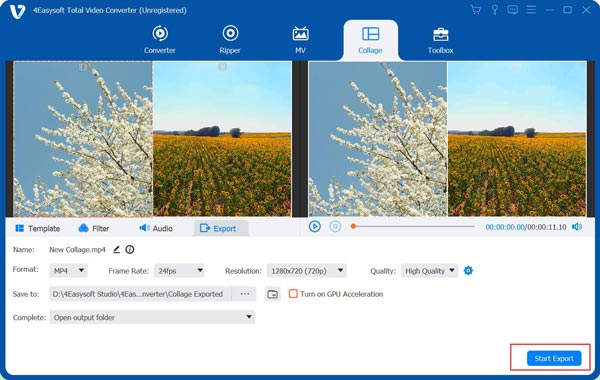 Part 4: How to Create an iMovie Split Screen Online
How to Create iMovie Split Screen Effect via FlexClip
For only doing several clicks, you can readily upload your photos or video clips and place them side by side hassle-free, thanks to FlexClip online video editor. There are a lot of transitions, animations, and many other effects that will help you level up your videos notably. Another good thing about FlexClip is that it is free to use if you wish to apply an iMovie split-screen effect to your videos. You can follow the steps below to know the procedure.
Step 1From the menu tab, click the Media button and then put the first video into the Storyboard.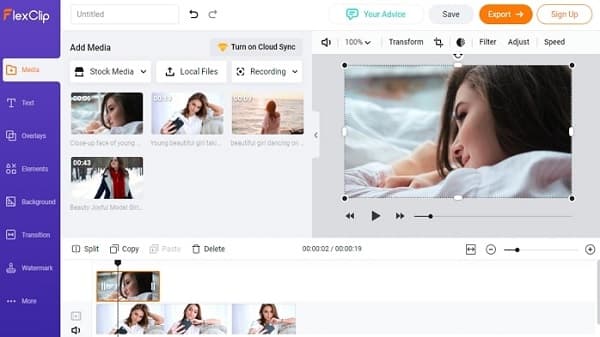 Step 2As an overlay, import the second video into the Storyboard with a Picture-in-Picture icon. To put the two videos side by side, just simply drag and drop them. You can also enhance your video overlay using the tools from the top bar; adjusting brightness, cropping, adding filters, and flipping.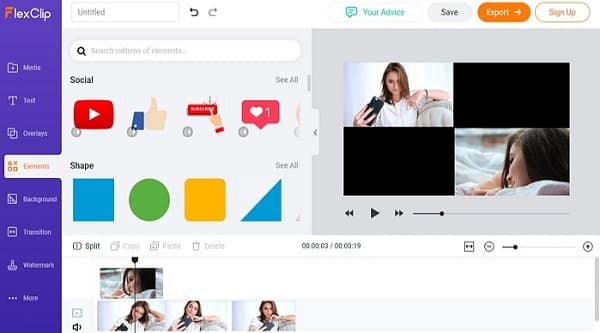 Step 3This is just an optional step, but if you wish to do some video editing once you have put the two videos side by side, you are also allowed to set the background music, do some voiceovers, add captions and titles.
How to Create iMovie Split Screen Effect via FlexClip
Now you can do split-screen iMovie-like videos smoothly online with the help of the Fastreel online video editing tool by Movavi. Since it is an online tool, you don't have to install any cumbersome desktop software. Also, you don't have to worry about privacy since your files are protected from unauthorized access. You can save your edited videos on Fastreel for free with the watermark or you can remove the watermark by choosing the paid option.
Step 1Choose the Template with two frames since you want to apply the iMovie split screen effect with your work.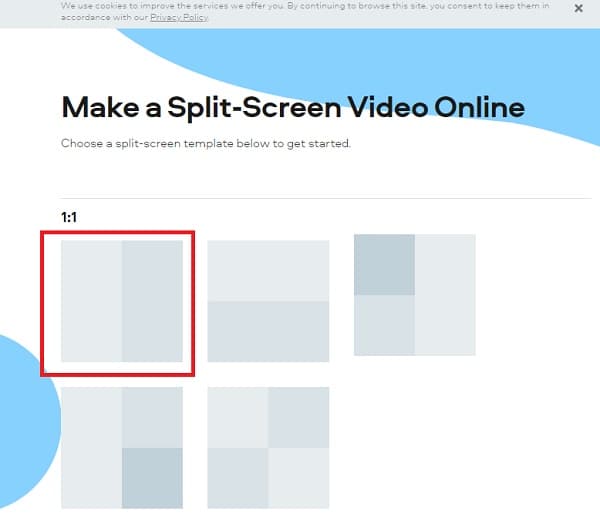 Step 2Click the + upload file from the upper left side of the screen, then add the two videos you wish to combine.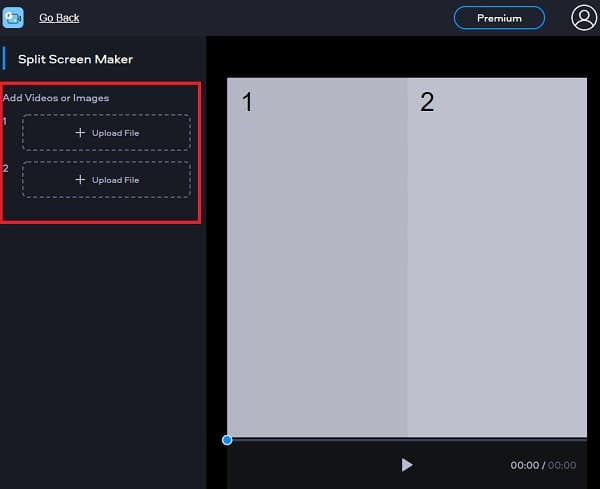 Step 3And if you are already satisfied with your work, you can now save it by pressing the Export Result button from the bottom right part of the Preview.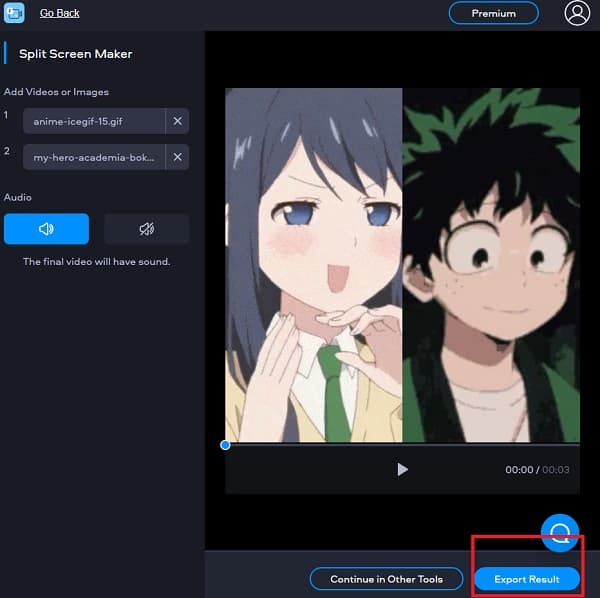 Part 4: FAQs about Split Screen Video in iMovie
Can I do multiple split screens on iMovie?

Absolutely yes! You can connect the clip into another clip and play them at the same time using the iMovie split-screen effect. Also, you can place multiple videos to the same frame you want them to be in.

Why can't I make an iMovie split-screen video?

Maybe because your videos are not on the right line, remember that they should always be in the center row for you to split them. But, it is also possible that iMovie is crashing, so you must have with you the alternative iMovie video editing tool.

Do iMovie split-screen videos save automatically?

As you noticed, there is no save option in the menu tab of iMovie. It is because your work is already automatically saved to your computer hard drive. Your project is ready to share on different platforms as you finish working.
Conclusion
And that concludes the discussion. Whether you are making an iMovie split screen video using your Mac, iPhone, iPad, or Windows, you are still able to add some filters or background music, transitions, and even adjust the duration of the two videos. If you wish to try all of these features in just one tool, just download 4Easysoft Total Video Converter today to start your work.
Related Articles