9 Best Photo and Video Collage Makers to Combine Video Clips
How to make photo and vdieo collages to show more information in one screen? Video collages are the visual way of showing multiple videos and making them more attractive by putting them together on just one screen. Filmmakers add some music background to the video collage to bring it to life. Video collage is perfect if you are making short-form content, it will definitely get your audiences' attention on different social media sites.
Therefore, no matter you want to make a video collage for your schoolwork, business, or social media content, here are 9 best and the most excellent video collage apps that will help you with your projects. Keep on reading to encounter their features, pros, and cons.
Part 1: Best and Easy-to-use Video Collage Makers for Windows and Mac
Do you have a hard time choosing which video collage app to use in making your photo and video collage project? 4Easysoft Total Video Converter is the answer to your problem! This photo and video collage maker has easily been on-trend because of its powerful features and intuitive interface. With the use of this tool, you can make video collages or slideshows using beautiful preset templates and filters. Moreover, there are multiple video editing features to polish the videos, including filters, watermarks, and more.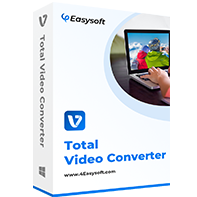 4Easysoft Total Video Converter
Provide many preset and unique templates to make photo and video collages.
Apply different parameters to cut, merge, and crop videos separately before combining.
Adjust the side-by-side video as iMovie with ratio sizes, borders, screen modes, etc.
Edit the videos, cut out the desired part, merge different video clips and more others.
Step 1Select your preferred split-screen style.
Download, install, and run the program on your Windows or Mac. Click the Collage button from the menu tab, then press the Template button. Choose your preferred style from the layouts below.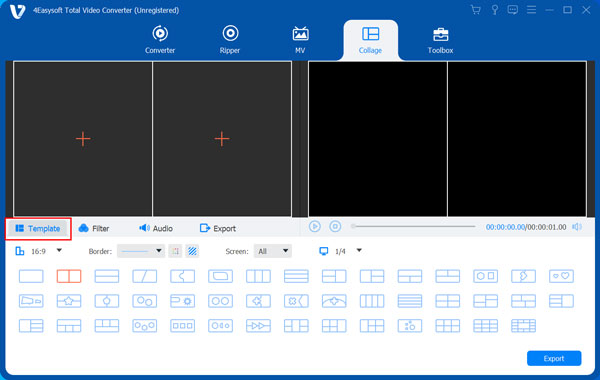 Step 2Import the desired photos and videos.
Click the Add button to add the videos and photos you want to make video collages. You can also drag the split line between the videos into your preferred composition.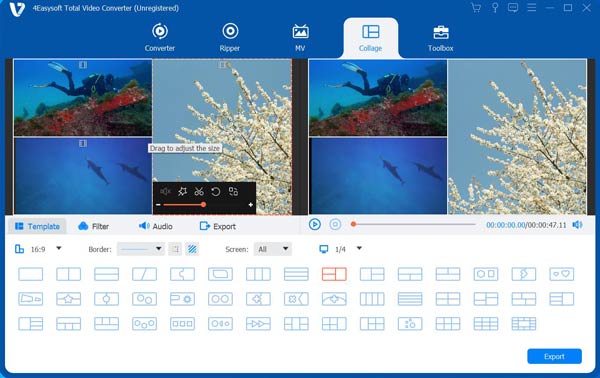 Step 3Edit and polish the videos for collage.
If you want to edit your video clips, just click the Edit icon after clicking the video that you want to edit, or you can go to the Filter tab to choose your desired filter from the selection.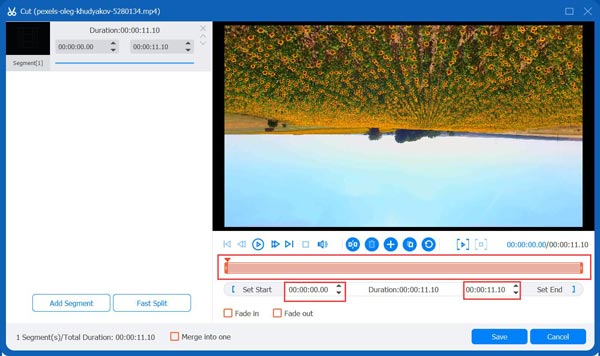 Step 4Add background music.
To make your video collage more attractive, put some music background by going to the Audio tab. You can add music by clicking the Add button. You can just simply check the box before the keep the original audio track.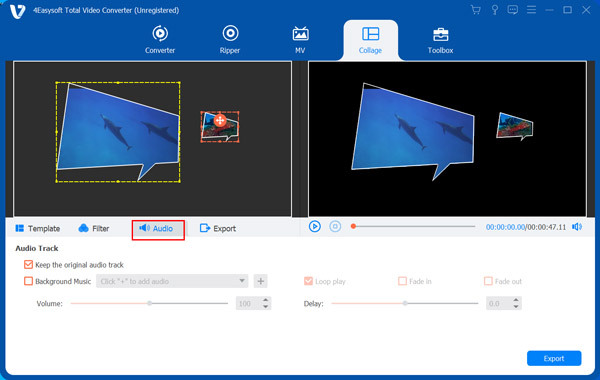 Step 5Export the desired video collage.
Click the Save to dropdown list and then select the folder as the designated place for your edited video collage. After that, you can now click the Start Export button to export your work.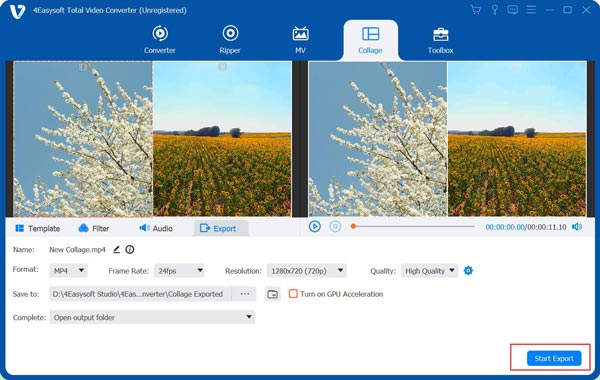 Part 2: 4 Online Video Collage Makers to Combine Videos
1. Animoto
Animoto is a Web 2.0 tool, and it is a cloud-based video collage app that brings video from images, music, and video clips that can be turned into video slideshows, and it can also customize web-based presentations. It started operating in 2005, and it is still getting millions of likes from its users worldwide.
Pros

The available templates are unique and amazing.
It only uses small RAM memory.
Cons

Watermark appears once you used the free version.
This tool needs to update because it crashes sometimes.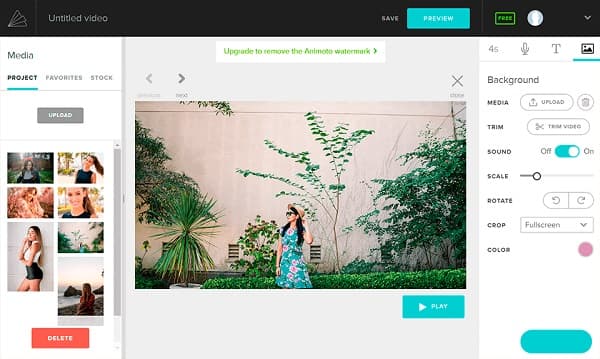 2. Magisto
Magisto is an AI (artificial intelligence) based editing platform and also a video collage maker. How amazing this tool is because it can help those kids to express themselves with the use of their new medium in such a fairly safe way. However, since kids cannot search the key terms easily, it may be a little bit hard to find the user's submissions without appropriate content.
Pros

Its features shows uniqueness compared to other options in the field.
Good assortment with its editing options.
Cons

It doesn't have a free trial.
It would be great if it will support longer videos (20-30 minutes).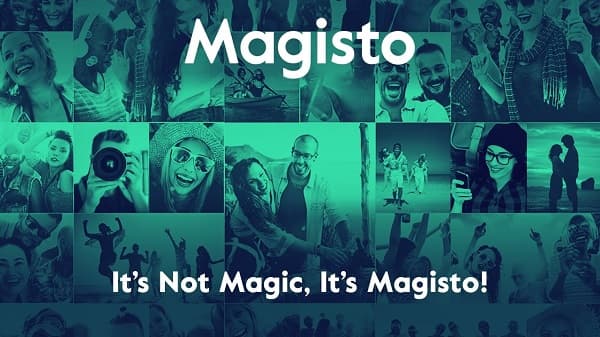 3. MakeWebVideo
Commonly, MakeWebVideo is always used by businesses in promoting their works. It is also usually used when the user wants to do an animation of their videos. Since MakeWebVideo is a video collage maker that allows you to make a professional level of videos, it is good to create videos for your company's promotion.
Pros

Customize the video size and format freely.
It supports the Help Desk.
Cons

You still need to pay for some content even though you already paid for the Pro membership.
Uploading videos crashes all the time.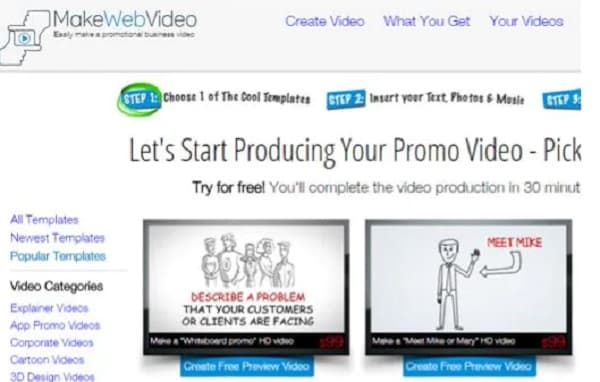 4. Kizoa
Kizoa is one of the most used video collage apps for photographs and a good video collage maker too. It has an initial 1GB storage capacity for its free use But pays for the charges if you wish to upgrade to the pro versions. This free video editing app allows you to create videos in landscape, square, or portrait.
Pros

You can easily personalize the animations and also the text tools.
Enable you to adjust the aspect ratio of the video.
Cons

Beginners might be confused with its interface's options.
You can only do a Full HD recording if you paid for the Pro plan.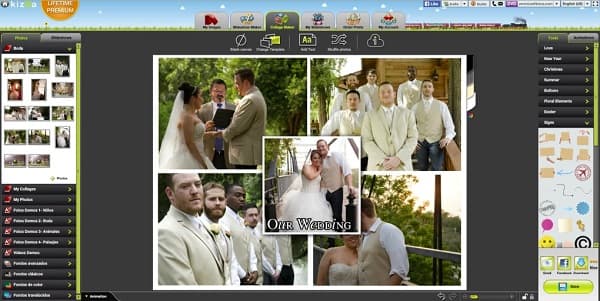 Part 3: 4 Video Collage Maker Apps for Android and iOS
1. PhotoGrid
Cheetah Mobile developed PhotoGrid, and it is a photo and video collage maker for iOS, and Android that allows users to make video grids, collage photos, enhance images, and so many more. Since this is the simplest video collage app, the kids also use it. You can get PhotoGrid for free and enjoy its 300+ layouts.
Pros

Its interface is really graceful in the way that it smoothly moves and is highly intuitive.
Compared to other video collage apps, PhotoGrid offers different collage layouts.
Cons

The constant banner that shows from the top of the screen looks out of place with the beautiful UI of PhotoGrid.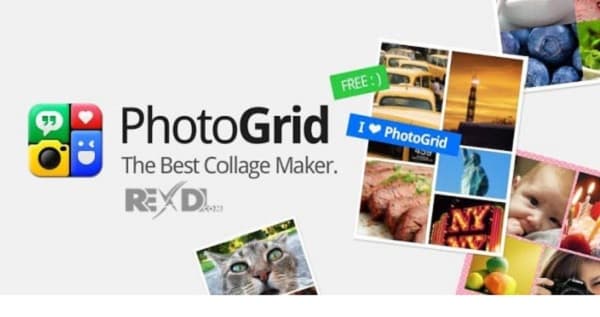 2. Pic Play Post
Pic Play Post is one of those best video collage makers that enable you to create your live video wallpaper, make slideshows, etc. This will be a good editing tool of those filmmakers who want to create videos for a maximum of 30 minutes long. With this tool, you can add videos from YouTube into your collage.
Your final clip will be displayed with a watermark which can be removed once you purchase its premium version.
Pros

An easy-to-use photo and video collage maker for everyone.
You can also add a music track as an accessory to your collage.
Cons

Some of its great features cannot be used on iOS 6 and below.
Can only add the maximum of 6 videos in one screen.
3. Viva Video
VivaVideo is an easy-to-use video collage app and Pro video collage maker that will surely help your records and show your life easily. Even if you are an amateur or a pro in video editing, you can use VivaVideo because it has powerful high-end editing functions which are suitable for newbies.
Pros

Multiple tracks of music and videos are available on the timeline.
For basic video editing, this is an excellent all-in-one video collage app.
Cons

Sadly, it is only a good video collage app for short videos because it crashes when you edit a video that is more than 8 minutes longer.
Unable to edit the GIF files.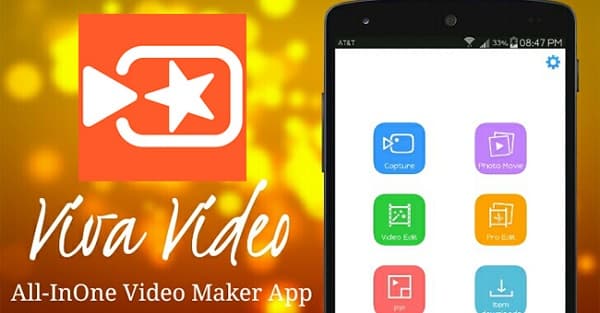 4. Kine Master
KineMaster is an inclusive free video collage maker available for Android smartphones and iOS devices. KineMaster is a high-grade tool that can be used for personal and professional purposes. It allows you to make high-quality slideshows or videos with music backgrounds. It leaves a watermark on your work. For you to remove it, you have to pay for the premium subscription.
Pros

Advanced setting for the effects and audio control.
The built-in animated titles are very professional.
Cons

Watermarks cannot be removed without paying the premium subscription.
You cannot swap your selected format into a different file format.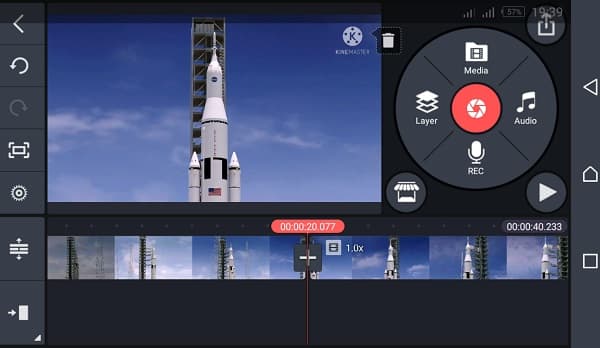 Part 4: FAQs about Video Collage Maker
Can I make a collage with multiple videos?

Yes. Just pick the best video collage app that you think will suit your perceptions, and then combine all the videos simultaneously and choose your preferred templates.

Is GIPHY a video collage maker?

No, it only supports GIFs, stickers, and backdrops. It doesn't have a collage editing feature. But you can edit the videos and export the video as an animated GIF.

Is there any limitation for online photo and video collage makers?

In depends. When you need to make some large collage videos, online video collage makers are not recommended.
Conclusion
There you have it! We hope that we've helped you because we have listed above all the best video collage apps that you can use in making your video collage project. Do not miss the opportunity to try the most recommended 4Easysoft Total Video Converter.
Related Articles