GIF Banner Maker – Make Interesting GIF Banners with 2 Easy Ways
Since a logo is the most remembered in a business or a product, companies ensure that their logo is perfect and attractive. That is why nowadays, most stamps are made with GIF banners, which are more attractive and impressive. So which GIF banner maker is the best? It's very important to make the advertisement moving, leading it to be more appealing and capturing more attention. GIF banners are an excellent choice specifically for advertising when promoting a brand. So if you are wondering what the best tool to use is, keep on reading and learn more as this piece will present you with the ultimate GIF banner makers.
Part 1: How to Make GIF Banners from Photos or Videos
If you ever decided to start creating your GIF banner, 4Easysoft Total Video Converter is one of the best GIF banner makers, which is recommended for professional or beginners. With a speedy time, you can have a high-quality GIF banner from your videos or a sequence of photos. This GIF banner maker is powered by AI technology that will surely reduce the fuzziness of the GIF banner and enhance its resolution. You don't have to worry with your editing before exporting because it allows you to preview your work with its real-time preview and lets you adjust the filters and effects of it.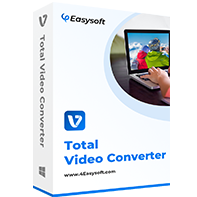 4Easysoft Total Video Converter
Support 1000+ different video and image formats to make a GIF banner.
Adjust the output resolution and frame rate to maintain the high quality of GIF.
Provide advanced editing tools to crop, rotate, add filters, watermark, and texts.
Support loop animation for continuous playback of the GIF banner.
Step 1Download and install the 4Easysoft Total Video Converter on your desktop. After that, go to the Toolbox tab, then click the GIF Maker button. From there, you will choose if you are going to make a GIF banner from video or photos. In this way, you can convert videos to GIF or make slideshows from photos.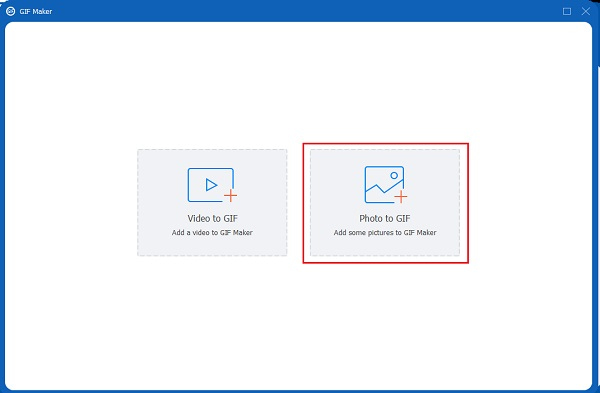 Step 2From the main interface of the GIF banner maker, navigate the output size and frame rate of your work to meet your expected resolution. You can alter your GIF banner and add effects, filters, watermark (optional), subtitles, or reduce the unnecessary part of your clips.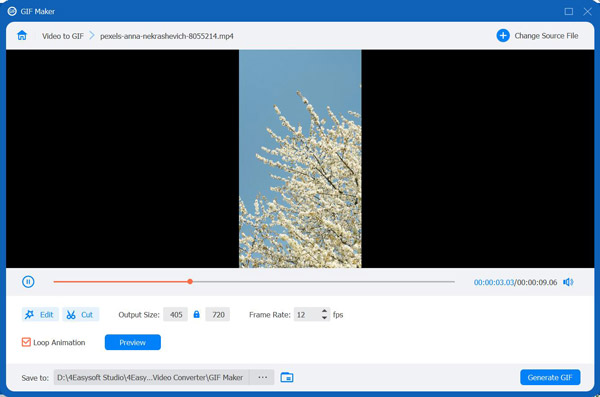 Step 3 You can also change the GIF settings, including the resoluton and frame rate, which will influence the quality. If you are happy with the output of your GIF banner, click the Save to dropdown list to designate a folder for your output. Lastly, click the Generate GIF button to produce your work as an official GIF.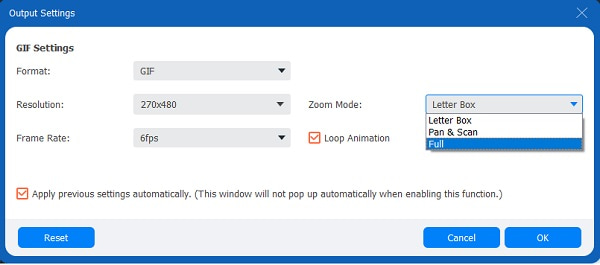 Part 2: How to Create GIF Banner with Photoshop as Pro
Do you want your business or product to stay on top? End the traditional standard logo and start creating a GIF banner for your business, as it is the most trending technique to introduce a product! Besides the mentioned easy-to-use GIF banner maker, you can also use Photoshop to make GIF images. Learn how to use this professional banner GIF maker by following the steps below.
Step 1To import a series of photos, open Photoshop and go to the File menu tab. After that, select the Scripts option, then choose the Load Files into Stack from the drop-down menu. You have to click the Browse to locate the photos you want to use. As you hold the Shift key, choose all the files and click the Open button.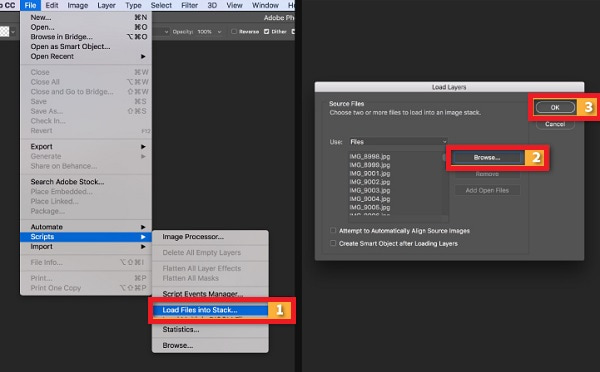 Step 2Go to the Window menu tab and select the Timeline selection to Create Frame Animation. Click the Make Frames From Layers button at the upper right corner. If you want to preview the animation, you can click the Play button from the bottom part of the Timeline panel.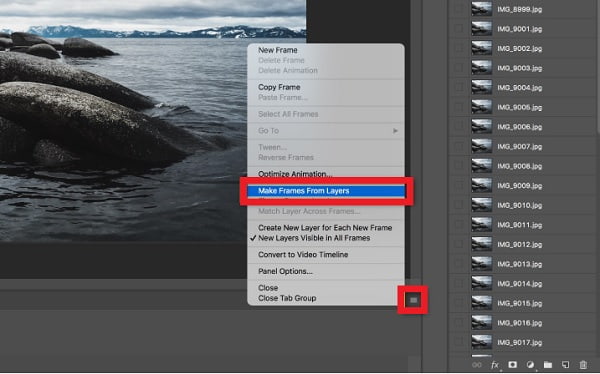 Step 3From the repeat menu of the Timeline panel, select Forever to make your GIF banner in looping animation.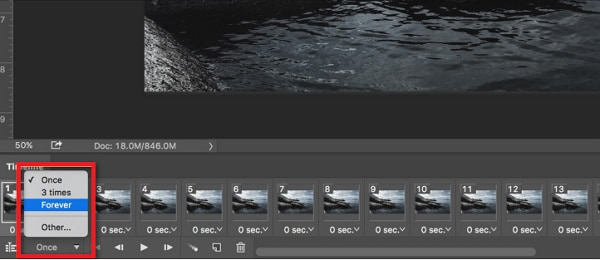 Step 4Lastly, to export the animation as a GIF, go to the File tab on this GIF banner maker, then select the Export button then choose the Save for Web (Legacy) option. From the Preset menu, click the GIF 128 Dithered. After that, select the 256 option from the Colors menu. You can also alter the Image Size option for the Width and Height fields. To stay your GIF in looping animation, click the Forever option. And finally, click the Save button and locate your animated GIF banner.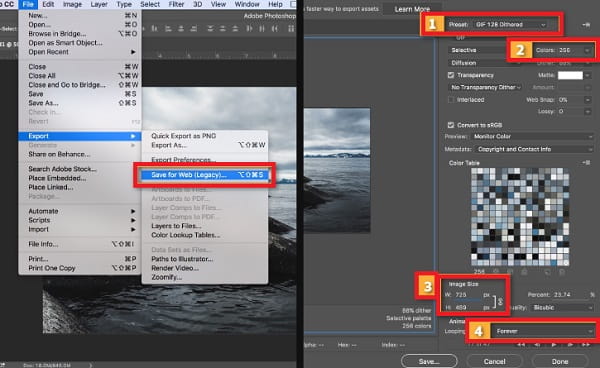 Part 3: What are the Benefits of the GIF Banners
Since logos or banners are mandatory for businesses nowadays, it becomes more challenging for marketers, especially for those who mostly deal with online purchasing. Therefore, GIF will be the savior of this matter. Making GIF banners comprise a number of images (frames) or a short video that are exposed one after another, and it also creates a sense of motion or an illusion with the viewers. You can also speed up GIF to make it shorter and better for your website. With the help of GIF banner makers, GIF banners are more accessible and less heavy compared to a normal video.
Benefits of GIF Banners as per Psychologists
◆ GIF banners make the product known to be familiarized with the viewers as they always see the brand name from it.
◆ It affects the behavior of the consumers as it attracts them and makes them decide to purchase their product.
◆ The only solution for banner blindness is that a GIF banner stands out more than static ones.
Part 4: FAQs about GIF Banner Makers
1. What is the ideal size of a GIF banner for advertisement?

Most ad networks and publishers are accepting GIF banners. But for, ad networks like Google accepts GIF banners with only a maximum size of 150kb. Even if it contains animation, it allows, but make sure that the animation is only 30 seconds or shorter. So, it's important to find the best GIF banner maker for you.

2. Can I include a GIF banner in an Email?

Definitely yes! Making a GIF banner in your email will also make it more attractive. And it's very easy to achieve, just like how you upload an image. Because in the end, GIF is just another image file.

3. How many frames should a GIF banner ad be?

The display ad should only have at least 3 to 5 frames maximum in length. This will be catchy with a high-quality logo and legible in small sizes. When using a GIF banner maker, you need to pay attention to it.
Conclusion
To conclude the discussion, the GIF banner maker is always the important thing you should prepare when making a vivid banner. Always choose the perfect one to use, just like 4Easysoft Total Video Converter. It's a powerful GIF banner maker with many editing tools. Using it will not disappoint you as it keeps the high quality of your moving images.
Related Articles