12 Best GIF Meme Generators to Make Animated Memes on Any Devices
Do you want to be more creative to make your social media posts more engaging? Making GIF memes are on trend! GIF memes are famous not only because they are hilarious but also because they are eye-catcher compared to those traditional static memes that you can see from social media. This piece will show you the best twelve GIF meme generators available on different platforms to make your own GIF memes. This article will get you back if you are just a newbie in the video editing world!
Part 1: 12 Best GIF Meme Makers to Make Animated Memes
4Easysoft Total Video Converter (Windows, Mac)
In creating a GIF meme, you have to look for the best GIF meme generator that will give you the best quality and will guide you in the making. 4Easysoft Total Video Converter is the most trusted and updated editing software. It has the GIF Maker feature that allows you to make a GIF meme from both image and video files. This GIF meme maker will not leave any watermark on your meme.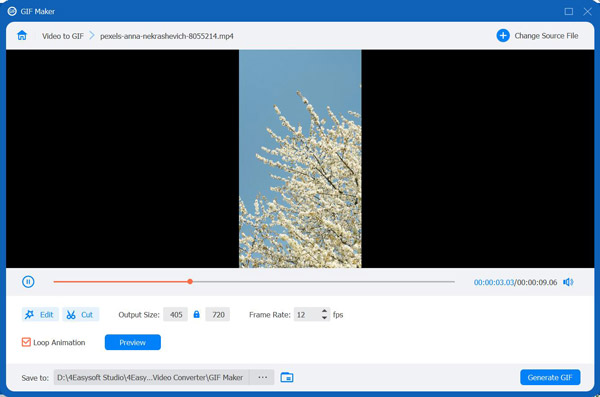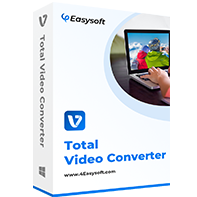 4Easysoft Total Video Converter
Support advanced editing tools to crop, trim, and add effects to GIF.
Adjust the output settings, such as the resolution, frame rate, and zoom mode.
Powered by Al technologies that give users high-quality GIF results.
Add text and watermark to GIF memes to show your ideas.
Imgflip (Online)
If you are looking for an easy-to-use GIF meme maker proven and tested with its users, Imgflip is what you are looking for. Imgflip is a free online tool that offers many powerful features such as the ability to add text, stickers, animations, shapes, filters and remove the background from images freely. Imgflip is also one of those GIF meme generators with the best customer support of any software company.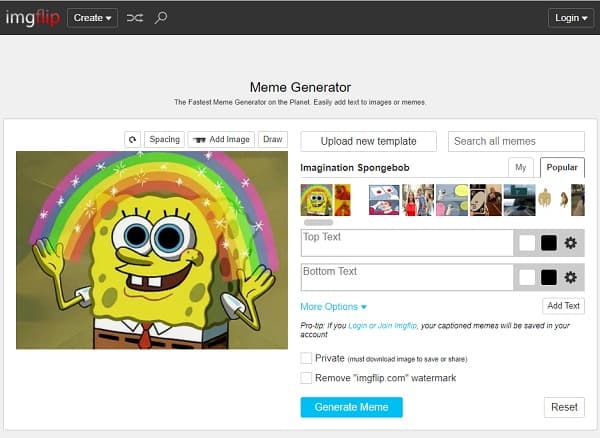 Pros

The file support is very comprehensive.
Straightforward UI for easy use.
Cons

Leave watermarks on the GIFs that are from a free account.
Kapwing (Online)
Kapwing is also a user-friendly free online animated GIF meme generator and GIF cutter because of its easy-to-use platform for users, especially beginners, to create, edit, and share video files. If you are utilizing the basic features of the Kapwing GIF meme generator, you are probably using its free plan. To enjoy its advanced features like adding subtitles or music, you must purchase its subscription, which costs $16.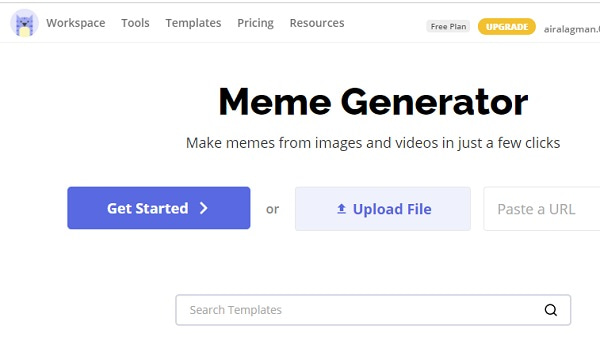 Pros

Can create both photo and video memes.
Create memes into various aspect ratios.
Cons

No meme templates, which is difficult for beginners.
Animaker (Windows, Mac)
Animaker is a powerful online GIF meme generator for Windows and Mac, and it allows users to create an animated GIF with graphics, text, and music in minutes. With the premium account, you can share the created GIF memes on Facebook and YouTube directly. This GIF meme generator also allows you to edit the watermark and add voiceover narrations.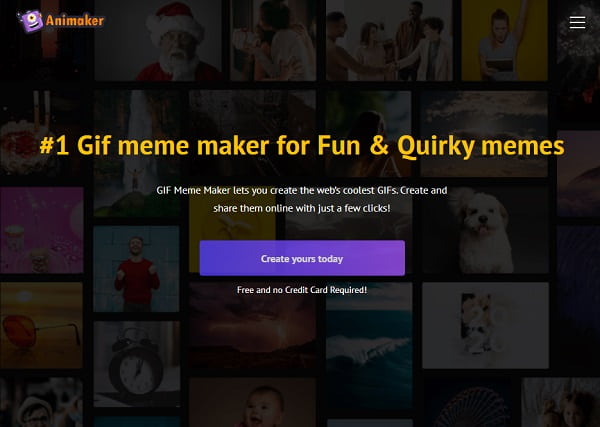 Pros

The customer service of Animaker is very helpful.
Offer a very good canvas for different GIF memes.
Cons

The software always crashes when it over used.
Clideo (Online)
Clideo is one of the GIF meme generators you can create custom animated memes. This software has good reviews because its users said that Clideo is very simple due to its user-friendly interface, and its GIF meme maker feature is worth trying. Clideo offers a background remover to make your image transparent before turning it into a meme. The monthly plan can be purchased at $9.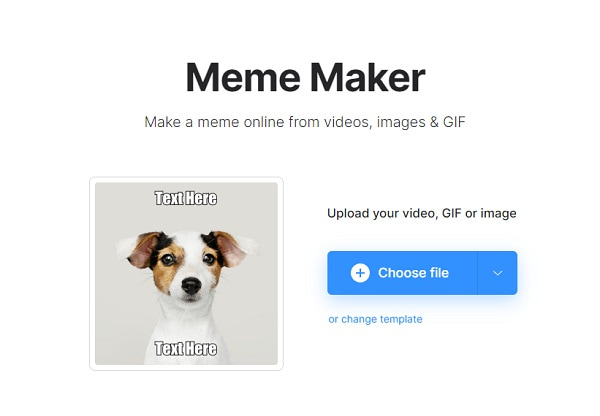 Pros

Available for iPhone, Android, Mac, Linux, Windows, etc.
Allows users to save created GIF memes to Google Drive and Dropbox.
Cons

You cannot remove the watermark without paying for the subscription.
GifPal (Online)
GifPal is an online GIF meme generator, but it is also available for mobile phones. You can now create and edit an animated GIF by capturing the image from the webcam or phone camera and editing it directly, but they can still get images from the gallery.

Pros

No requirement for the registration.
Allow you to select GIF size hassle-free.
Cons

Limitations for uploading capabilities.
Gickr (Online)
Using Gickr online GIF meme generator, you have the freedom to create your own stunning and attractive GIFs just by uploading them from your photo gallery, or it can be from YouTube, flicker, or Picasa account. Safe browsing is also enabled on Gickr, and it's efficient.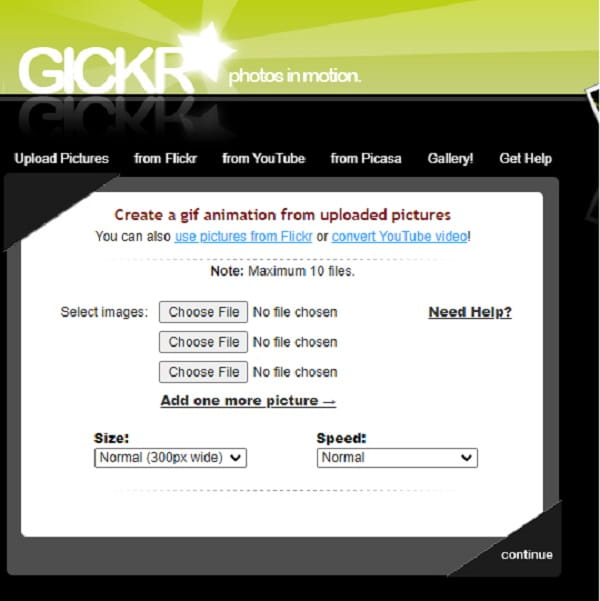 Pros

Simply convert videos or photos to GIF format.
Provide previews, banners, cartoons, and more.
Cons

Only provide simple and basic editing tools.
Promo
Promo online GIF meme maker offers a variety of filters and tools to add text and other elements to the GIFs you are making. That is why the experiences of its users are mostly positive. The Promo GIF meme maker was known for its high marks for quality and easy-to-use interface. Unfortunately, the free plan has limitations like watermarking the GIF result and lack of downloads.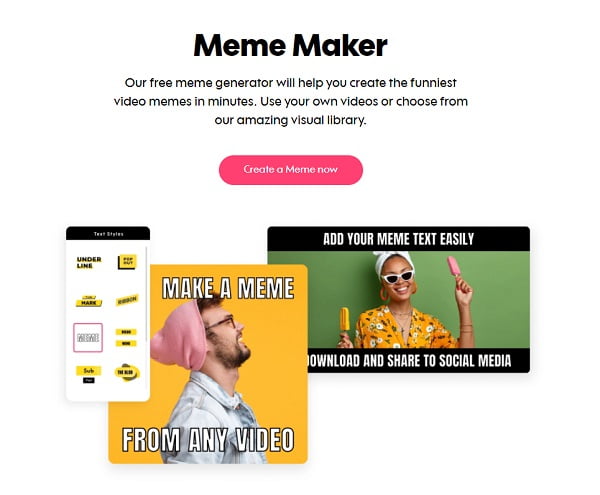 Pros

Give high-quality GIF meme results.
Support a wide variety of filters and tools.
Cons

There are some limitations to the free plan.
Adobe Express (Android, iOS)
To make a stunning GIF successfully, one GIF meme-makers to choose from is Adobe Express, formerly marketed as Adobe Spark. With this software, you can take advantage of the thousands of professional templates. Another good thing about Adobe Express is that it offers assets to create social media posts, logos, memes, etc.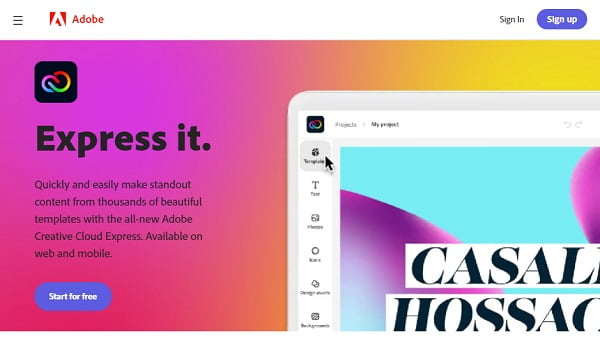 Pros

Offer a 3-month free trial.
Both are available for browser and mobile versions.
Cons

Leave a watermark on the output unless you paid for a subscription.
Memedroid (Android, iOS)
You can start creating your GIF meme through your Android device using Memedroid GIF meme maker. This editing app is one of the oldest meme apps where you can find a lot of old templates compared to the newest ones. Memedroid allows you to upload your captions, photos, and GIFs, and it allows users to browse through memes and make them their own.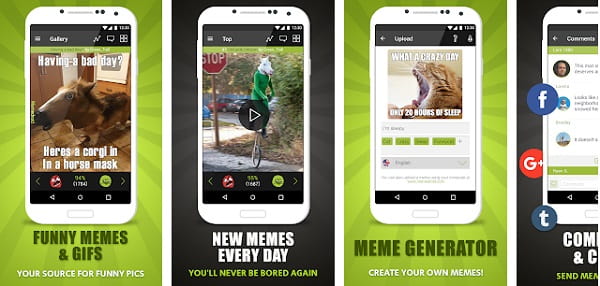 Pros

Can quickly create memes in a short manner of time.
Updating frequently with the latest templates.
Cons

Prone to crashes and full of ads.
Video & GIF Memes (Android, iOS)
This Video & GIF Memes GIF meme generator is unique compared to the editing tools given above. Because the Video & GIF Memes app shows the collection of the pictures, you are most interested in. And this tool enables you to speed up GIF for making funny effects. Unfortunately, you cannot preview your GIF meme because there is no video preview.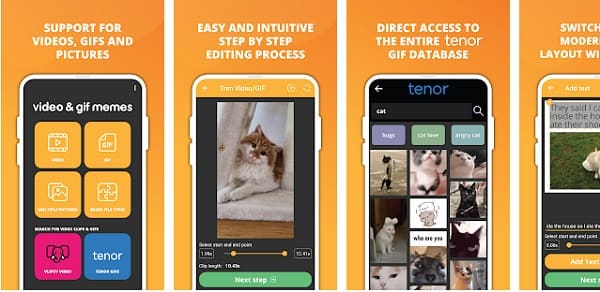 Pros

It has a stable operation.
Very efficient and straightforward app.
Cons

Lacks in tools for editing the sound.
Part 2: FAQs about GIF Meme Generator
Is there any heart GIF meme maker to create sweet memes?

Yes. Most GIF meme generators support adding your own templates. You can upload a heart background on Imgflip and add the desired photos/videos to make heart memes.

Can I animate JPEG files?

Definitely yes! JPEG can be animated with the help of the excellent GIF meme generators presented above. Unfortunately, some of them only support adding basic graphics to the meme. Just make sure to look for the best GIF meme maker you will be using.

What makes a GIF meme attractive?

According to the netizens, a good and attractive meme must be unique, relatable, witty, and short. Make sure that your meme has these four needed characteristics to make it on top. Use GIF meme generators to help you go viral on social platforms.
Conclusion
Presented above are the best and most helpful GIF meme generators you can use when you start creating your GIF meme. Do not hesitate to use 4Easysoft Total Video Converter and start experiencing its best most powerful features in making a GIF meme, plus a bonus for it offers advanced editing tools. For more inquiries, please contact us and leave your messages.
Related Articles