How to Convert and Edit Videos from A Flip Camera Recorder To Share
How to convert and edit old flip videos to more compatible and beautiful ones for different devices and platforms. Flip UltraHD camera recorders are famous for capturing all the memorable events in your surroundings. They record videos and save them in MOV/AVI/MP4 format with AAC audio compression. Thus, you'd better convert all the flip videos to MP4 for better playback and easier sharing. This post will show you the best tool to convert and edit flip videos quickly.
Part 1: Brief Introductions to Flip Camera Videos: Format, Resolution, etc.
The flip cam recorder was initially introduced on May 1, 2006. Cisco Systems bought an American series of tapeless camcorders made by Pure Digital Technologies in March 2009. Its simple interface and few buttons were well-known and marketed as making video simple to shoot, and simple to share. The flip camera videos took their popularity toll until 2011 because of their similarity with pocket camcorders. Cisco Systems discontinued the production of flip camera video to exit aspects of their consumer business.
A flip camera recorder automatically saves a video in MP4, MOV, and AVI when it comes to formatting. These default formats are container formats that can be encoded with various codecs. It captures video at different resolutions like 1280 x 720 resolution using H.264 video compression. A flip camera video usually requires a video player and a 3ivx codec software in the camera to cut out an external CD-ROM installer. An HDMI cable was available to watch HD videos from a Flip camera video to HDTV screens.
Either way, it is super easy to use. A flip camera video provides automatic gain, monaural sound, digital zoom, and a clip-navigation interface with a D-pad and two control buttons. However, the flip camera video is also an uncooperative device as you might have difficulty importing videos to video editing software or other devices. Read the second part to know how to convert flip videos for various purposes.
Part 2: How to Convert Flip Videos for Different Uses
Converting a flip video to play clips on a media player, smartphone, laptop, or PC only needs one powerful tool. 4Easysoft Total Video Converter is an all-in-one solution befitted to convert flip videos to MP4, MKV, HEVC, WebM, WMV, etc., without trouble. Its advanced output settings allow you to adjust the video resolution, quality, frame rate, and bitrate. It supports 1080P, 2K, 4K, and even 8K resolutions to keep the high quality.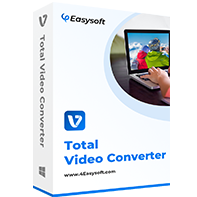 4Easysoft Total Video Converter
Convert flip camera videos without distorting quality and image data.
Quickly convert MP4, MOV, and AVI video files with device preset.
Enable to accept any file with large sizes to convert, compress, and edit.
Offer other essential features such as a trimmer, rotator, aspect ratio changer, etc.
How to convert flip camera video with 4Easysoft Total Video Converter:
Step 1Download the software from the official site. Or you can also use one of the Free Download buttons here, which is appropriate to your device's OS. Launch the tool to begin converting flip camera videos. Click the Plus icon to upload the video file to the software.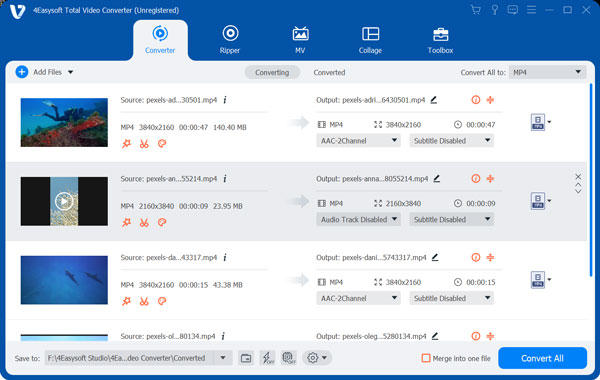 Step 2Once the desired video file is added, click the Format icon beside the imported file. From the Video tab, choose the best format you want or just convert MOV to MP4. You can also go to the Device tab and find the desired device for the video file to be compatible.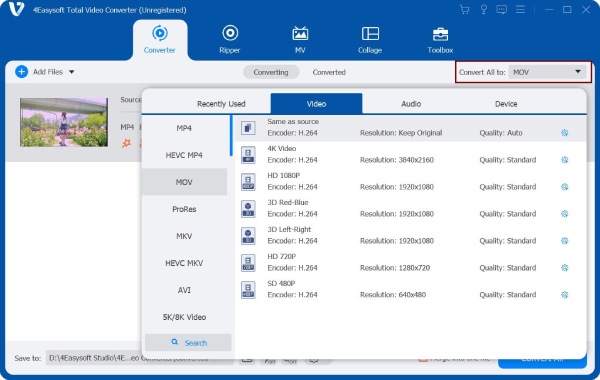 Step 3After that, click the Gear icon or Custom Profile to edit the output settings. In the advanced settings, you can change the profile, video quality, resolution, frame rate, encoder, bitrate, and audio settings. Click the Create New button to save the changes.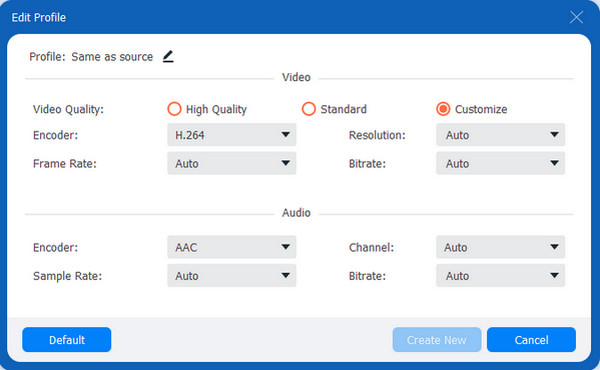 Step 4Once everything is set up, click the Save To option at the bottom part of the interface and select the designated folder for the converted file. Finally, click the Convert All button at the bottom right to start convert flip videos to the desired format. You will be able to preview the converted file once the designated folder appears.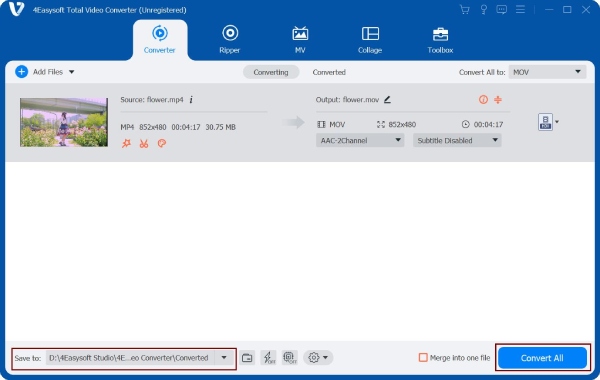 Part 3: The Detailed Steps to Edit Flip Videos with the Best Tool
Now that you know how to convert flip camera video using 4Easysoft Total Video Converter, it is timely to introduce another outstanding performance: Edit flip camera videos. Even with editing flip camera videos, you only need a couple of clicks on your mouse to achieve high-quality films you can watch on any modern device. The Total Video Converter guarantees the best video quality output even with a simple trim and aspect ratio change. To edit a flip camera video, follow the instruction below:
Step 1Open the tool on your device and go to the MV tab at the top menu. Add a video file from your flip camera video by clicking the Plus icon. With this feature, you can make a video clip consisting of a compilation of films. Edit the video clip with a theme, audio track, and other editing tools. Click the Export button to save the edited video.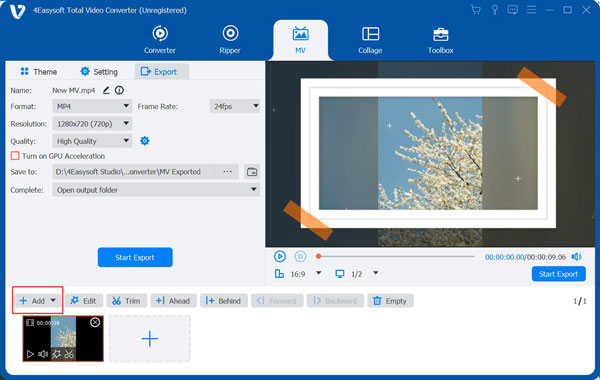 Step 2On the Collage menu, you can import video files and simultaneously play them. Making a video collage needs various templates, customizable borders, and filters. You can also edit output settings on the Export tab by changing the format, frame rate, resolution, and designated folder.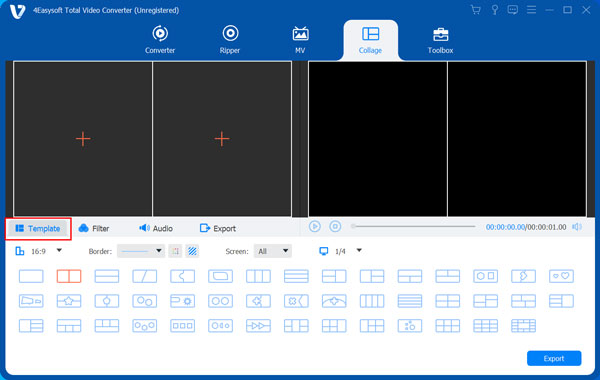 Step 3Lastly, the Toolbox menu is the most flexible feature of Total Video Converter as it holds more tools to edit the flip videos. You can use the Video Enhancer to improve video quality in several ways. Or remove the watermark from a video with the use of Video Watermark Remover. Also, you can change other video aspects by using Video Speed Controller and Volume Booster.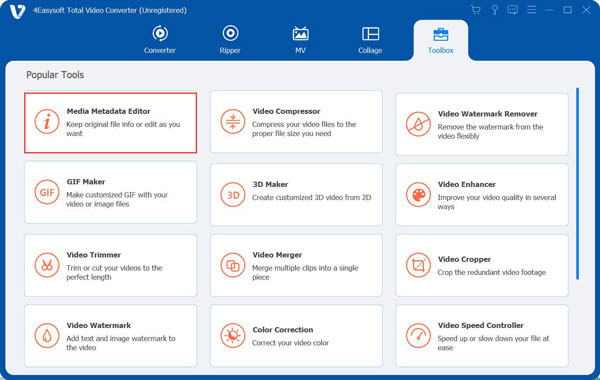 Part 4: FAQs about Converting and Editing Flip Videos
How to connect a flip camera video to my computer?

Pull-on the side of the flip camera recorder to popup the USB connector. On the computer, find the USB port and connect it. Click the FlipVideo Program on the screen, and select Flip Video for Mac. You will find all the recorded videos from the Flip camera video.

Can I use my flip camera video as a webcam?

Unfortunately, you can't use a flip camera recorder as a webcam. Usually, you need a camera that has a driver or software that allows direct playback on the computer. So a flip camera video won't be able to do that because of being unable to pass through the view from the lens to another device.

How to make flip videos without flip camera?

Since the one-button pocket flip camera video was already discontinued in 2011. You can take videos as usual and then use 4Easysoft Total Video Converter to make flip videos and edit them. Just in the Rotate&Crop tab, you can choose the Flip function.
Conclusion
Flip UltraHD camera videos are one of the best devices you can bring wherever you are. And even with the latest model released, flip camera videos are uncooperative devices when converting flip video. No wonder everyone who wants to share flip camera videos to their other devices needs 4Easysoft Total Video Converter to easily and effectively convert flip videos with compatible formats. Have a try on it and start editing your flip videos.