10 Notable Slideshow Makers to Create Photo and Video Slideshows
People discover a great way of bringing memorable photos and video clips into one frame by creating a slideshow. And it's easy to create slideshows with various slideshow maker tools and applications offered on the market. With many of them, you might wonder which is the best tool or application. Don't worry; this post collected the 10 best slideshow makers for Windows, Mac, iPhone, and Android users. Discover them now!
Part 1: Best 5 Slideshow Makers for Windows/Mac/Online
1. 4Easysoft Total Video Converter
The Windows and Mac-compatible 4Easysoft Total Video Converter tool is the best free slideshow maker. You will appreciate this tool, for it has advanced features that can bring stunning looks to your slideshows. This tool is infused with a large bank of editing features that enable you to add filters, and background audio tracks, customize layouts, select background size, and more. With the preset slideshow templates, you can easily produce high-quality outputs. Despite having advanced features, this tool can still be used by beginners, for it is developed in a way users can easy to cope with. With those great points, 4Easysoft Total Video Converter is the best slideshow maker tool for you.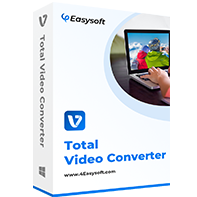 4Easysoft Total Video Converter
Offer output tweaking options for quality, resolution, and output format selection.
Support upscaling AI technology to enhance the quality of your video clips and images.
Capable of removing unwanted noises on your video clips, optimizing their brightness and contrast.
Composed of many toolboxes containing audio compressors, video compressors, video enhancers, color correlation, and more.
Step 1Download and install the 4Easysoft Total Video Converter on its official website. After that, launch the tool and select the MV tab. Then, tick the Add button to import the images and video clips you want to include on your slideshow. You can arrange the files you imported by dragging and dropping them. Otherwise, use the Ahead or Behind button.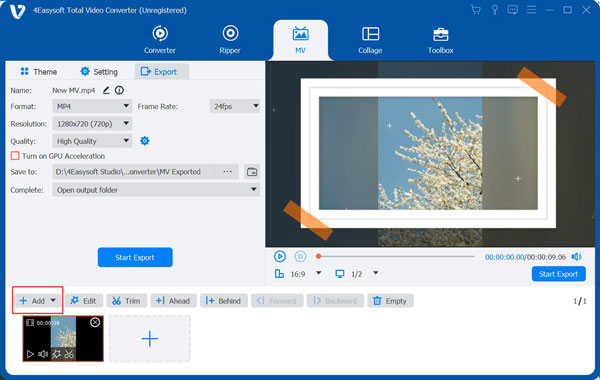 Step 2Next, click the Edit button with the Starwand icon. You can also change your imported images or video clips by ticking its Edit button. You can rotate and add effects, filters, watermarks, etc., to them.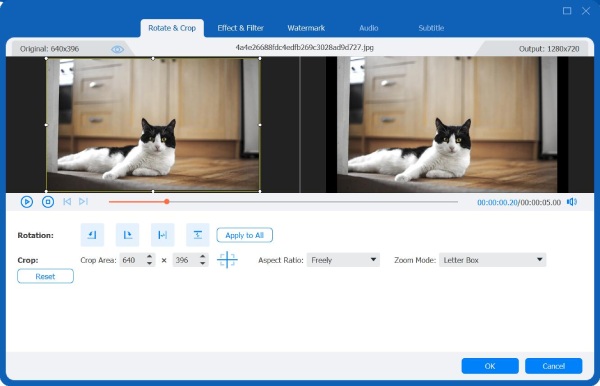 Step 3Once satisfied with your editing, you can select from the tool's offered themes and apply them to your slideshow. Tick the Theme tab on the upper left part of the tool and select the themes you think suit your slideshow.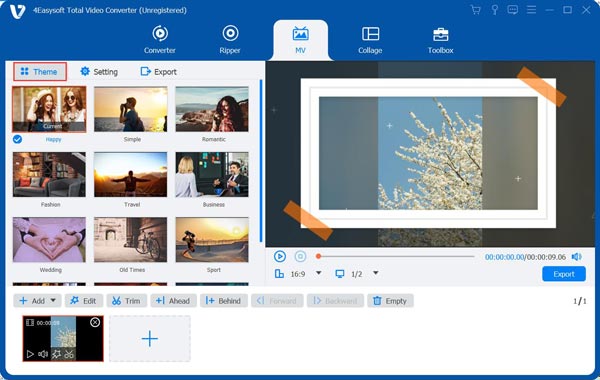 Step 4After that, click the Settings tab, then add your preferred titles from Start to the End of your slideshow. You can add your background track by ticking the dropdown menu under the Audio Track option. Moreover, you can also apply some further editing to your background track, whether you want to Loop play, add Fade in or out, adjust Volumes, etc.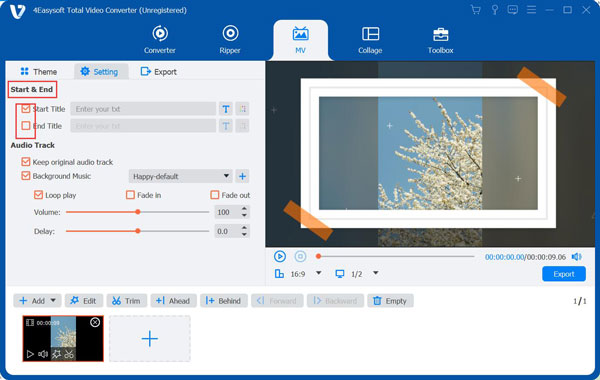 Step 5Lastly, use the tweaking options under the Export tab to choose your preferred Format, Resolution, and Quality. Then, once you are done with it, you can click the Start Export button on this slideshow maker.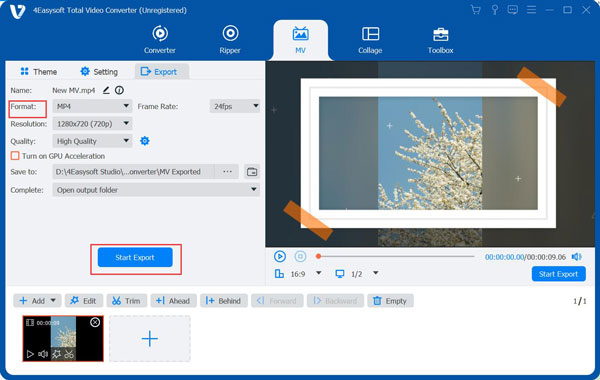 2. Bolide Slideshow Creator
Next on the line of free slideshow maker tools is the Bolide Slideshow Creator. This Windows and Mac-supported freeware tool can add background music to your slideshow. Additionally, it also offers excellent transition effects. Moreover, like other popular slideshow creator tools, Bolide is also composed with the ability to drag and drop your files directly on it. It's just that this tool needs to enhance its interface to make it more attractive. Also, it lacks some features you can see in most slideshow makers.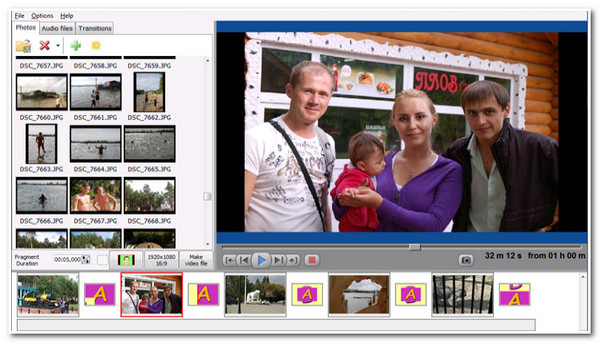 3. Focusky Presentation Maker
Focusky Presentation Maker is another Windows and Mac-compatible slideshow maker tool capable of giving you a great presentation. What makes this tool excellent is that it comes with ample pre-designed and professional video backgrounds. Moreover, it also offers its users commendable transitions, audio narrations, and built-in animated characters.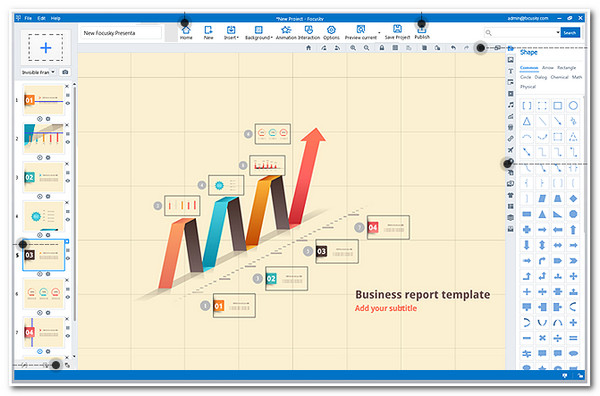 4. Adobe Spark
You shouldn't also miss the chance to try Adobe Spark as your slideshow maker. This online tool also comprises the best features for creating a slideshow. In line with that, this tool comes with customizable text, images, and icons. Aside from that, it also enables you to edit images and videos, which are best for slideshow presentations. However, this tool limits you with other features, especially if you are using the free version.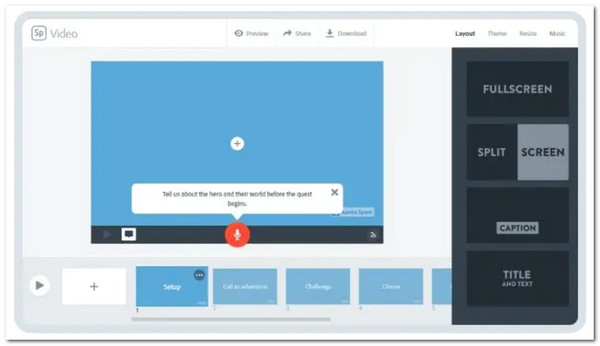 5. Penderforest
Another online tool on the list of slideshow maker is Renderforest. This tool is an all-in-one video editing tool, for it is not only developed to create slideshows but also designed to produce animations, intros, and logos. When we talk about its interface, it is well-developed and attracts beginners. Aside from that, in just a few clicks, you can create your interactive slideshow, thanks to its easy-to-understand features. However, watermarks are included in your every output if you are using the accessible version of this online tool. Additionally, it greatly relies on the status of your internet connection. The stronger and more stable your internet connection is, the more the tool flows smoothly.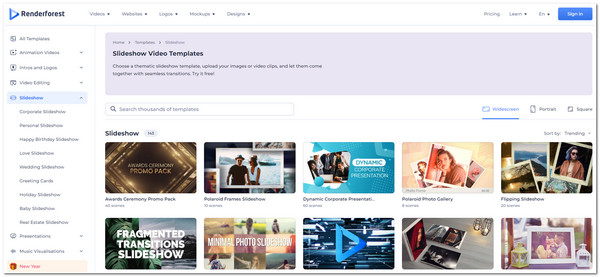 Part 2: Top 5 Slideshow Maker Apps on Android/iPhone [2023]
Now those are the best slideshow-maker tools on the market that are compatible with your Windows/Mac and accessible online. We collected five Android and iPhone-supported applications if you are also interested in using a much more handy slideshow maker. Pick the one that you think shines the brightest.
1. SlideLab
First on the line is the SlideLab. This iPhone application is considered to be a simple yet outstanding slideshow maker. It is rich with various effects, slide transitions, and image and video clip editing features. What's more interesting about this application is that it doesn't have slideshow length limitations. However, arranging your images and video clips using this app is tricky despite those good points.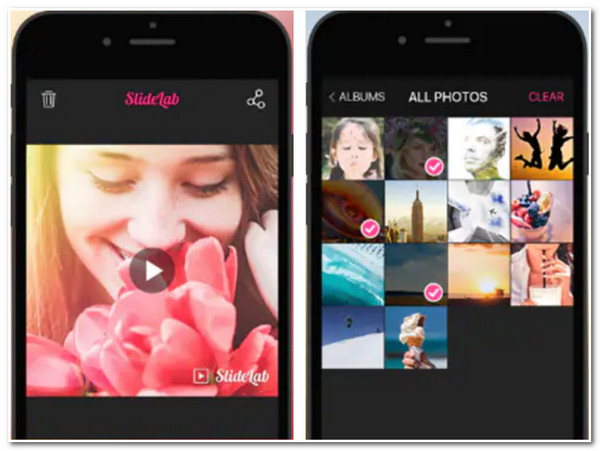 2. PicPlayPost
PicPlayPost is an Android and iPhone-supported slideshow maker application developed with rich features and capabilities. This app lets you select various GIFs, vid clips, and images you can add to your slideshow. Additionally, this GIF slideshow maker can combine different photos in one frame and lets you customize its size and apply frame colors. Moreover, it is also infused with basic video editings features such as trim, speed or slow down video, adding multiple tracks, and more. However, unlike other slideshow creator applications, this app doesn't have a built-in iCloud sharing feature.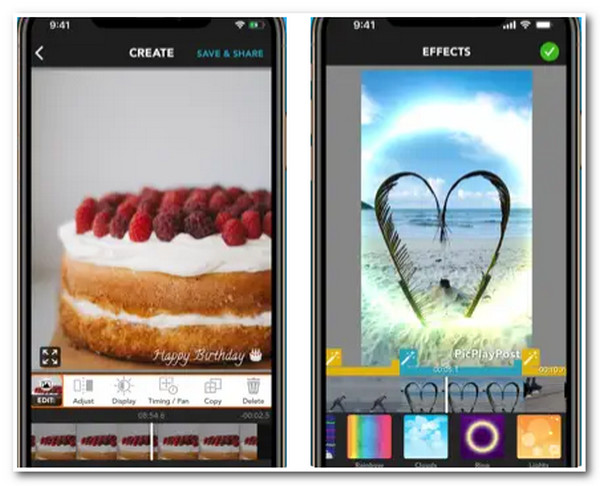 3. Pixgram
We recommend the Pixgram slideshow maker application. This application also allows you to customize your presentation, whether an image or video slideshow with music. Moreover, like its similar applications, this tool is equipped with video filters and effects. This application is more impressive because it can provide high-definition output, which you can easily acquire if you set the proper parameters using its built-in export settings.
4. Videoshop
Next is Videoshop. This iPhone and Android-compatible application is also made to support your slideshow needs. Similar to other slideshow maker applications, this tool has basic editing features such as trimming, cutting, rotating, etc. Also, it enables you to add filters to your slideshows and attractive stickers. This application also supports distortion and tilt-shift effects you can apply to your slideshow. Moreover, screen capturing is also added to its bank of capabilities.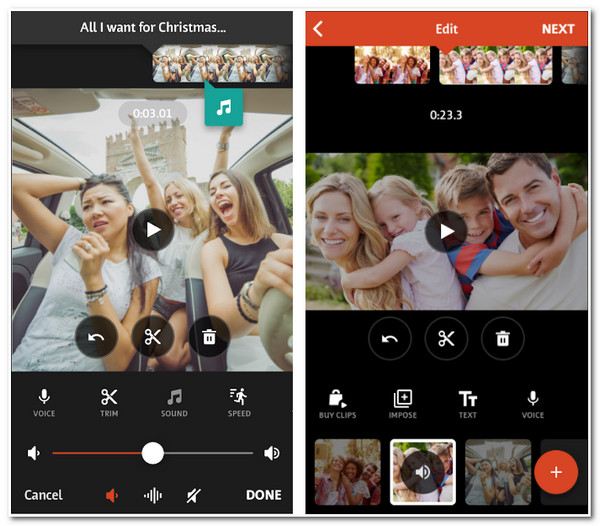 5. Vimeo
If you are looking for a slideshow maker suitable for business or work presentations, then Vimeo is the best tool. This application comes with 3,000 templates that can be used for your slideshow creations. Aside from that, you can edit those templates by adding your video clips, images, and background music. Moreover, you can also change its length and transitions. Furthermore, you can also extend your creativity by applying HD images to your slideshows from Vimeo's photo library.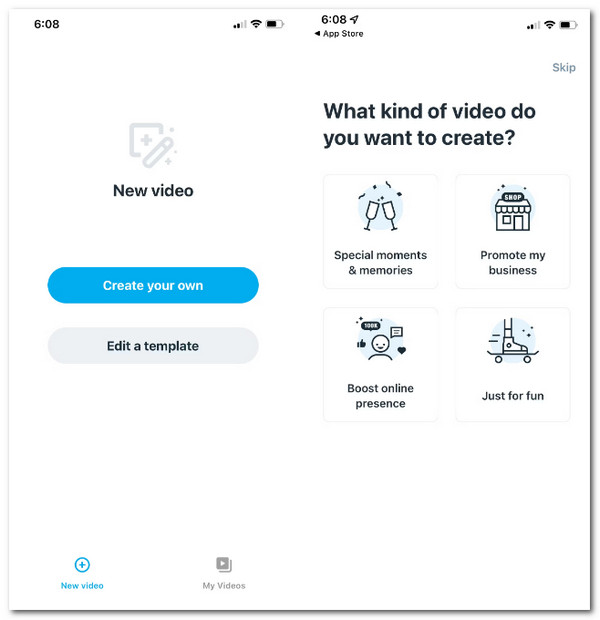 Part 3: FAQs about the Best Slideshow Maker for Any Device
1. Can I add watermarks to my slideshows?

Yes, you can! You can use the 4Easysoft Total Video Converter tool to add your preferred watermark if you create a business or educational-related slideshow. This tool offers you an Image and Text watermark, which you can customize and apply to your slideshow.

2. What would be the best format to export my slideshow?

If you wish to have a high-quality slideshow output, you must export it into a MOV format. You can use this format for a much better slideshow-watching experience. However, it wasn't made to support some devices, unlike MP4, which is supported by most devices.

3. How to make a slideshow with music with 4Easysoft?

To create a slideshow with music, launch the 4Easysoft Total Video Converter and click the MV tab. Import all your photo and video clips to the tool by ticking the Add button. Then, on the Setting tab beside the Theme, click the Background Music dropdown menu to access the background music offered by the tool. Otherwise, import your track by clicking the Add Audio with the Plus icon, then you will be prompted to your File Explorer window. Here you can choose your preferred track and apply it to your slideshow.
Conclusion
There you have it! Those are the best slideshow-maker applications and tools you can use! Each of them possesses excellent features and capabilities. Some are enough to help you create a slideshow, and some are beyond capable, for they contain a large bank of features. If you need a tool that provides advanced functionality, then 4Easysoft Total Video Converter is your best choice. Create a professional slideshow with this free slideshow maker tool, and be creative! Feel free to visit our website and download 4Easysoft Total Video Converter now!