How to Make a Music Video? Find Out the Things You Need to Note
"How to make a music video?" Producing a music video for a song requires a lot of processes and demands physical and technical work. If you are also one of those newbies in music video production, this post is valuable for you! This article collected helpful guides for creating an excellent music video. Also, we feature the best way to edit your music video easily. Explore them all out now!
Part 1: The Best Way How to Make A Music Video with Lyrics
If you are looking for a way on how to make a music video with lyrics, then let the 4Easysoft Total Video Converter tool help you with it. How can a converter tool edit a music video? Well, this tool is not just capable of converting file formats, but it is also infused with an advanced Music Video Editor that can add subtitles or lyrics to your MV. This tool's built-in MV editor also offers many redefining features, including awesome theme templates, customizable settings for title and audio, and output tweaking options. Furthermore, this tool's editor is well-composed, which will help you use the tool without any confusion. With those outstanding capabilities, this is a total package music video maker or editing tool for you!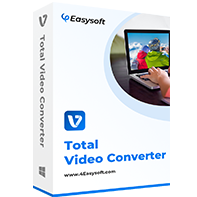 4Easysoft Total Video Converter
Support output tweaking options that enhance your output's resolution, quality, and frame rate.
Offer you the ability to import your music as a background track, modify its volume delay, and add fade-in and fade-out effects.
Infused with basic editing features such as trim, crop, rotate, compress file size, etc.
Equipped with redefining features, including applying effects, filters, themes, and watermarks.
How to Make a Music Video using 4Easysoft Total Video Converter:
Step 1Download and install the 4Easysoft Total Video Converter tool on your Windows and Mac computer. After that, launch it and click the MV tab. Then, tick the Add button to import your music video to the tool.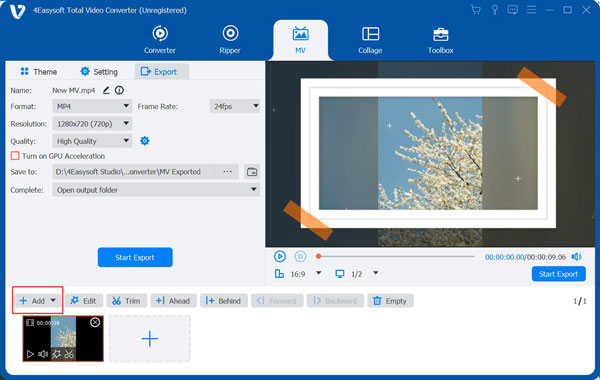 Step 2Next, to add subtitles or lyrics to your music video, click the Edit button. Select the Subtitle tab and tick the Add button to access the subtitle or lyrics from your file storage. You can also modify the position of your lyrics, font, color, outline, and delay time to match it with the video.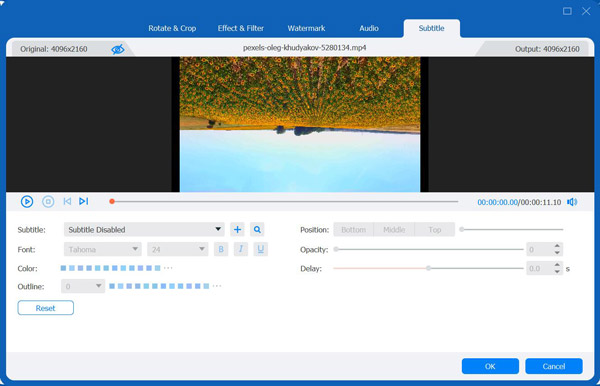 Step 3Then, click the Edit button to apply changes, including effects, filters, or watermarks to make your music video more attractive. You can also access the tool's Theme tab and choose among the theme templates offered by the tool.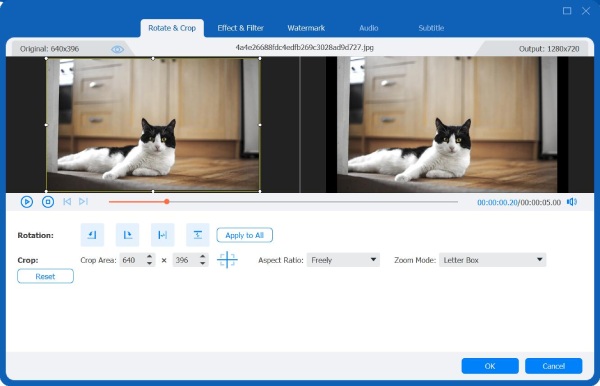 Step 4To add a title to your music video, tick the Settings button. Enter the text and click the Font set button to choose a font style and Color set to change its font color. You can also adjust your Audio Track's Volume, Delay, apply Fade in and Fade out effects, etc.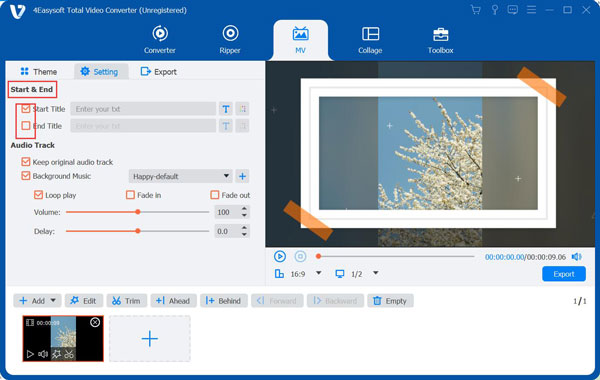 Step 5Lastly, tick the Export tab and choose a specific file format you wish to export. You can also tweak your output's Resolution, Quality, and Frame Rate. Once satisfied with your setups, click the Start Export button to save your created music video.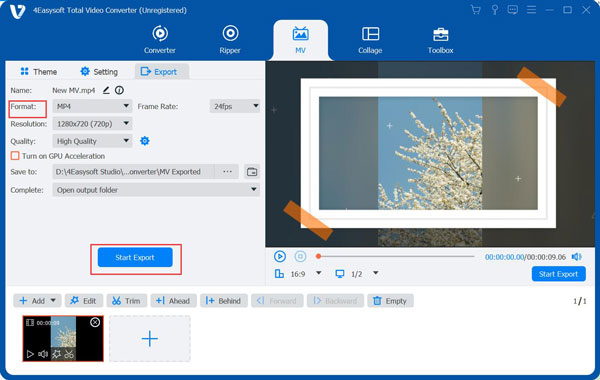 Part 2: Useful Tips on Making An Excellent Music Video
Now that you have the best free music video maker to edit your music video, here also featured valuable tips you can use to create an excellent MV. The essential ingredients in creating a music video are a great song, concept, and good recording equipment. Of course, none of these will work if you don't have a good team. To further expand all of those points, you can continue exploring them below:
Things you must Pay Attention to and Consider:
Create a music video with your best pick track

- An excellent music video starts with the best song. With lots of music today, catching up with great music is challenging due to the feelings and experiences they have already brought to people's minds and hearts. So it is essential to consider which song you think could gain a lot of interest and be profitable. Before adding music to your video, you can also consult professionals or musicians to obtain valuable insights, critiques, and suggestions.

Formulate a great concept for making your music video

- A great and solid concept will help you gain many viewers. You must think of a concept suitable to your music's theme or message, and once be able to do it, it will amplify the song and its brand. The song tells a story, and the music video is an excellent way of visualizing it.

Map out a professional plan

- If you already have the song and music video concept, it's time for you to formulate an overall plan with your team. Planning should include all the work distributions, schedules and places to shoot, scene sketches or storyboards, etc. Having a concrete plan will ease the work.
Equipment for Filming a Music Video?
Camera

- It would be best to invest in Cameras with powerful lenses and records in HD or 1080p, or 4K resolution. Although they are costly, they can provide excellent video quality. Alternatively, you can also invest in those smartphones that also come with high-quality cameras.

Tripod & Stabilizer

- These equipment are also necessary to avoid shaky recordings. They can also provide you with the benefits of having smooth, sharp, and stabilized footage.

Lighting

- Having the best lighting equipment will help you elevate your video and ensure having a commendable quality recording. Aside from that, it is also an essential method for cinematography.

External Camera Monitor

- You can have a live image of your recordings through this tool. Also, it is a piece of suitable equipment to help you check and monitor if you still achieve your desired shots.

Video Editing Software

- Having professional video editing software like 4Easysoft Total Video Converter will help you undergo editing and polishing of your music video. Also, most importantly, it achieves the vision you want for your music video.
Outstanding Ideas for Making Music Videos:
Shoot with green screen

- If you wish to bring your music video into digitalized places or unknown words, then using a green screen is the key.

Make use of the lights

- Shooting a music video in an interior environment, and having cool and attractive lighting is also one of the best ideas. Using various colors or shapes of light will also show emotions and aesthetic appeal.

Record footage during golden hour

- Choosing the best time to shoot also benefits you with various lighting. This idea focuses more on using the sunlight to obtain warm tone color. Additionally, you can also capture lens flare as well as sunlight shapes.
Part 3: FAQs about How to Make A Music Video
1. How to make a GIF picture with music?

Although GIF contains several frames, pictures still don't support audio tracks. Firstly, you should convert GIF to a video format and then make a music video with the mentioned steps.

2. What would be the best format to export a music video?

MP4 with the MP3 audio format would be the best format to export a music video. Not only because it is supported by most devices and online video-sharing platforms like YouTube, but it also comes with excellent quality.

3. What would be the best camera to use when capturing a music video?

The recommend equipment to you are Cinema cameras, created to capture the highest quality professional videos. It is also can provide you with dramatic lens effects. Otherwise, if you want a budget-friendly camera yet designed for photography and videography, you can use Canon EOS Rebel T7 DSLR Camera.
Conclusion
Now you have everything you need! From a free music video maker and editor to all the valuable tips for creating an excellent music video. You can always rely on the 4Easysoft Total Video Converter tool's powerful features to redefine your music video. Feel free to download and install the tool on its official website and start your music video editing journey!
Related Articles: