Detailed Steps on How to Make Best ASMR Videos with High Quality
Doing ASMR videos is a trend now in social media, and they do it while doing a mukbang or eating videos, or doing anything with whispers that brings relaxing sounds. The whole point of ASMR brings comfort to people by hearing sounds that make them relax. You can choose to make eating sounds like crunchy foods or just whisper while talking, fingernail scratching or tapping, and more that brings relaxation to people. Learn below how to make ASMR videos with the ultimate program with step-by-step guide.
Part 1: The Ultimate Guide on How to Make Excellent ASMR Videos
Before doing ASMR videos, prepare first what equipment you need to make the best ASMR content. ASMR videos give a relaxing feeling that you would fall asleep quickly, and here's the essential list of what you will need to create ASMR videos.
◆ High-quality audio microphone
◆ Microphone stand (optional)
◆ A good camera
◆ Tripod (optional)
Obviously, both camera and microphone are really needed. But, there are more things to prepare, like a pop filter that helps eliminate unpleasant noises while you are recording; An editor tool to edit your ASMR video before publishing. Consider using the 4Easysoft Screen Recorder to record your voice from the microphone with excellent quality and the webcam with yourself. Even if you're a beginner in recording, you can use this easy-to-use program to record your voice with clicks. And it provides high-quality output formats and settings with noise cancellation.
As already mentioned, you also need to edit and trim your ASMR video; 4Easysoft Total Video Converter can help you make ASMR videos on your Windows/Mac, which provides 15-plus toolkits for you to edit your videos. Furthermore, it supports AI Technologies, allowing you to enhance video quality, remove unnecessary noise, and apply 3D filters. You can also turn your photos and videos into slideshows and movies and design them with different templates and themes.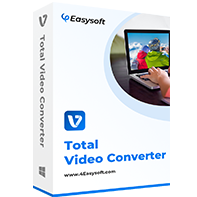 4Easysoft Total Video Converter
Supports AI technology with the noise removing and video enhancing functions.
Enable you to adjust the audio volume and effects, like fade-in or fade-out, or loop play.
Provide a trimming feature wherein you can cut unwanted parts of your AMSR video.
Export your created ASMR videos to 600 audio/video formats for different platforms.
Step 1When you have launched the program 4Easysoft Total Video Converter. Choose the MV section from the menu. Click Add to open your video into the program, and you can see a preview of the file playing on the right. Click Ahead or Behind to fix the order of the videos.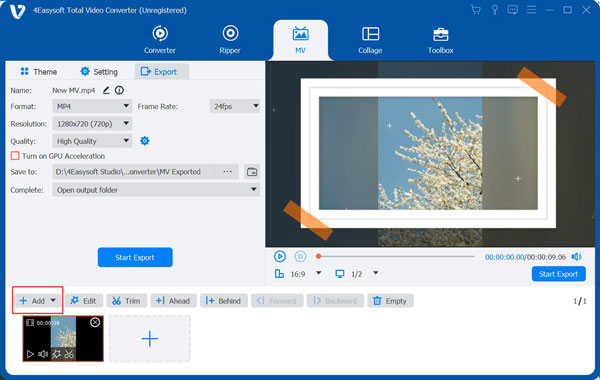 Step 2Click Edit or Trim to edit the video; you can edit the videos individually. You can rotate and cut unnecessary parts, adjust effects, add filters, subtitles, etc.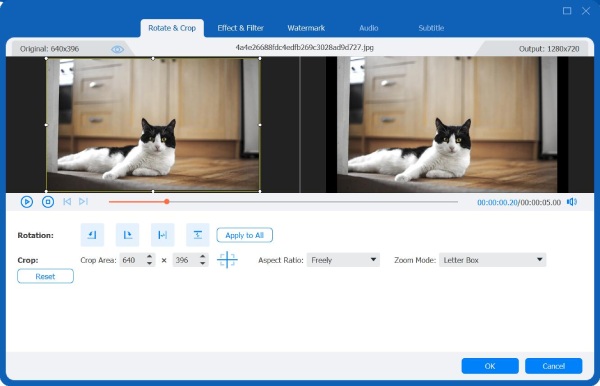 Step 3Click Theme at the upper left corner of the program, and select your preferred theme to make your ASMR videos more attractive. Then go to Settings beside Theme, adjust the audio volume, apply fade in/ fade out effect, or click Loop Play to continuously play your applied background music if you use one for your intro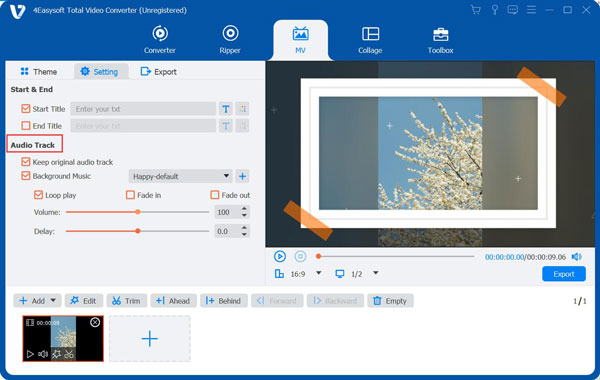 Step 4The output file is in MP4 format. You can change it from the Export tab and the Format option. You can customize other settings, such as Resolution, Quality, and Frame Rate. Lastly, click Start Export to get your ASMR video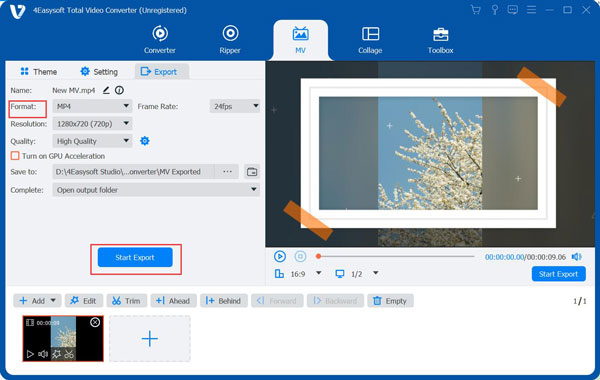 Part 2: Tips on How to Making Comforting ASMR Videos Everyone Likes
Do you still need clarification on how to start creating ASMR videos? If you already have the equipment above, such as a microphone, camera, audio recorder, etc. Your problem is making the best ASMR video that everyone will love. To make your work easier, consider following the tips below.
1. Choose ASMR content. You can come up with such unique ideas while browsing the internet. You should think of something that everyone will love and which you might be good at; you may be good at crafts, makeup, cooking, and more.
2. Be comfortable and interactive. The audience will get bored if you are not talking enough, or they will quickly notice if you're nervous or don't know what to do. Audiences love interactive videos and want you to have a connection with them. Since ASMR video brings people relaxation, you should offer more relief while being comfortable and interactive with your viewers.
3. Write a script. This is optional if you are nervous about what you should do. But it is recommended to help you be more organized and help you stay on track, and finish your ASMR video efficiently. Make sure you are prepared, so there won't be many cuts on your ASMR videos. You can call a friend if you want someone to assist you, and their presence might encourage you.
4. Check audio. Test all your sounds and whisper before you start to film. It would be best if you had a high-quality audio microphone, so the quality of your ASMR will be good. You also must be careful with your breathing sound since it may be too loud in such a quiet video, especially if your mic is sensitive.
5. Prepare a room. A clean room is an excellent view while filming your ASMR videos. You may also think of filming at night, which is nice since you won't have any distractions from cars, people, or loud noise that may affect your ASMR video.
Part 3: FAQs about How to Make ASMR Videos
How to make an ASMR video that is so pleasing to hear?

ASMR refers to the chills brought to people by hearing nice sounds. It is a great way to help you fall asleep and to relax. Use a high-quality audio microphone. You can whisper while telling a story, and be careful when inhaling and exhaling because it may be too loud to hear in your quiet video. If you want more tips, see the above tips on how to make a comforting ASMR video.

Does the camera use to film ASMR videos need to be a professional camera?

You don't need any professional equipment to start creating ASMR videos. Any nice camera and mic will do; they need to be good to ensure your voice and video turn out great. You can even film with your mobile phone. Just make sure it keeps your video in excellent quality. However, a good editing tool will help to keep your video with no quality loss.

Do I need to use earphones while filming my ASMR video?

ASMR works without earphones or headphones. It's good to have a microphone that has excellent audio quality, some are using two mics that deliver sound to the left and one to the right, but usually, a single mic will do. It just needs to be high quality.
Conclusion
Remember, ASMR videos need to be relaxing and pleasing to hear, and that will make people fall asleep and get relaxed. By now, you know how to make ASMR videos. You can do tapping, whispering, scratching or do makeup, cooking, and mukbang video while soft whispering. If you have finished filming and will start editing your video, use the 4Easysoft Total Video Converter. It provides editing features, such as removing unnecessary noise, removing unwanted parts on your video, and offering excellent quality. Are you ready to create your ASMR video?
Related Articles