How to Upscale Video and Enhance the Video Quality [Detailed Steps]
The 4K resolution is the standard for the film and video industry and television and monitors; it has a pixel of 4096 x 2160 and 3840 x 2160. As several movie contents are in full HD, sometimes they would look bad when played on a 4K TV screen. So, it is necessary to upscale video from low quality up to 4K. You still haven't tried upscaling videos, have you? Or do you want to but don't know how to do it? If you are still having trouble and searching for ways to upscale videos, worry not! If you want to watch on a display that supports 4K, learn the 4 best ways to upscale video, which you can do on a desktop and online.
Part 1: How to Upscale Videos to on Windows/Mac with AI Technology
Customize your video and upscale video quality with AI technology through 4Easysoft Total Video Converter. The program provides 720P, 1080P, HD, 4K, and more video codecs. Aside from converting more than 600 formats, it provides toolkits for editing videos, including a video enhancer that lets you get superb quality with its four options to improve the video. In addition, you can enhance video quality with artificial intelligence, allowing you to have a clean video and make your video more engaging.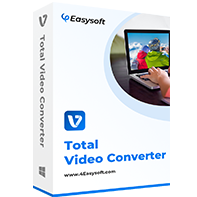 4Easysoft Total Video Converter
AI-supported program that you can use to upscale video and apply incredible effects.
Provide a Video Enhancer feature that lets you improve the quality of your video with its four options.
Offer multiple file formats and video codecs you can choose to apply to your video.
Give users more than 15 toolkits to convert and edit videos, such as image converter, audio compressor etc.
Step 1Go to 4Easysoft Total Video Converter main webpage to download the program, click the Free Download button, follow the installation process, then launch it. To start the upscaling process, click Toolbox. From there, you will see over 15 toolkits; click the Video Enhancer.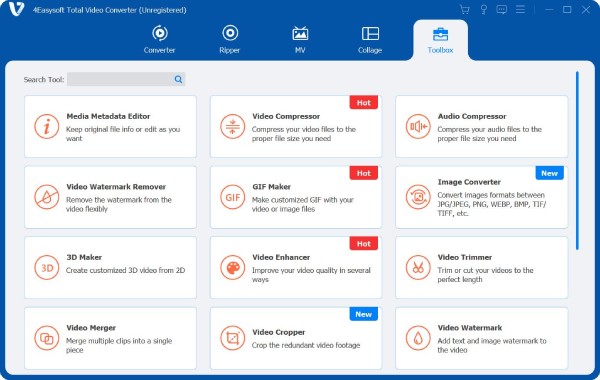 Step 2Click the Plus button to add the video file you want to upscale, then four options will appear, which are Upscale Resolution, Optimize Brightness and Contrast, Remove Video Noise, and Reduce Video Shaking. Tick the Upscale Resolution checkbox or choose other options; it depends on you.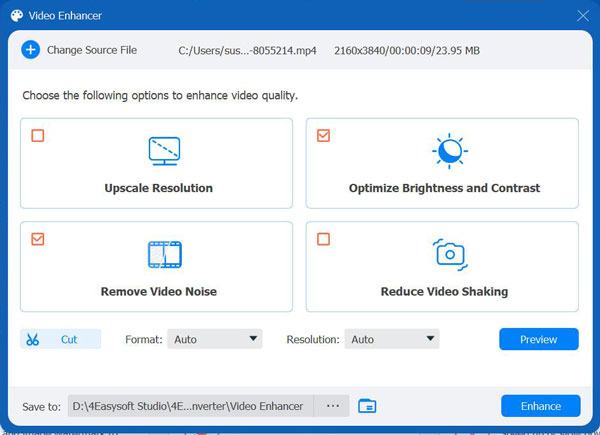 Step 3Next, click Preview on the right side of the program to check the upscaled video resolution. You can also choose the resolution and output format and edit the video by cutting. If satisfied, click Enhance to get your upscaled video with this AI video upscaling tool.
Part 2: 3 Ways to Upscale Videos to 4K/1080p Online for Free
If you don't want to download the video upscaler, you can look for an online video upscaling tool. In the process of upscaling videos, the low-resolution video will be in a high quality that will fit on a 4K display or large screen without even removing the details or affecting the original quality of your video. You can find lots to help you upscale video to 4K and 1080P, but it may take a lot of your time. Check out these three ways to upscale video online for free. You can try each, one by one, and see which is the best among them.
1. FlexClip
First on the list to upscale video online for free is the FlexClip. This excellent online tool can help you convert videos to 1080P without doing any installation. Furthermore, FlexClip has no ads at all that can annoy you while doing the upscaling process. And, unlike other online video upscaler that contain watermarks, you can upscale video to 1080P resolution without worrying about watermarks. Below is a detailed guide on how to upscale video with FlexClip.
Step 1Search flexclip.com on your browser. Once you are on the main webpage of FlexClip Video Converter, you can see a lot of tools offered by the online tool. To start, drop your video file or open the video by clicking Browse Video in the middle.
Step 2Once the video is added, set your desired resolution, format, and quality level in the Settings section. Click the Resolution drop-down menu and choose 1080P. Select High in the Quality drop-down button.
Step 3When you're done, click Start, then it will start the upscaling video process. Once finished, you can click Free edit to make your video more impressive.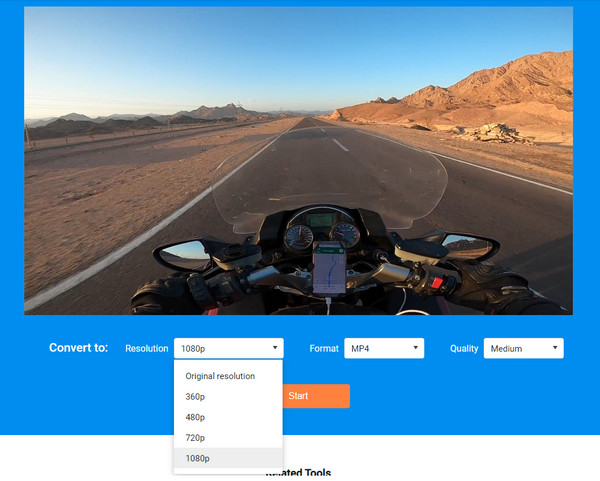 2. Files-Conversion
The following free online tool to upscale video is the File-Conversion. You can use this to convert videos to other video resolutions. It also supports several formats like MP4, AVI, MOV, 3GP, and so forth. Furthermore, the upscaling process is quick with Files-Conversion, you don't have to register before using it, and no download is needed. If simple ads don't annoy you, you can use this online tool to upscale video; here's how.
Step 1To upscale video, go to Files-conversion official website by searching file-conversion.com on your browser. Upload your video to the page by clicking the Select a File button.
Step 2Select a desired resolution in the Size drop-down; you can choose the last pixel, which is 1920x1080 pixels. Tick the Very High below the Quality, and you can also choose the formats for your video.
Step 3Once done, click Convert below, then wait for the upscaling process to get your upscaled video.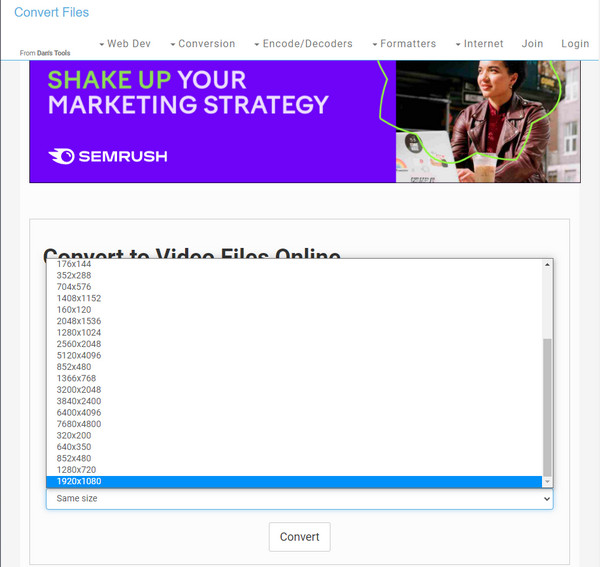 3. Convertio
The last online tool in the list to upscale video is Convertio - another easy-to-use tool. You can use this tool on any web browser and platform. Moreover, it supports more than 300 formats to convert to 1080P and more. Aside from customizing the quality by changing resolution, aspect ratio, and more, you can also flip and rotate the video. Start upscaling now with Convertio by following the steps below.
Step 1Go to Convertio's official website. There you can see its main features, including the formats supported, custom settings, and more. Add your video file by clicking Choose Files, or add a file from Dropbox or Google Drive.
Step 2After you add your file, choose the output format by clicking the drop-down menu, go to the Video section then choose the format you want. Click the Settings icon, then customize the resolution.
Step 3Lastly, click the Convert button. Wait for the upscaling process to complete.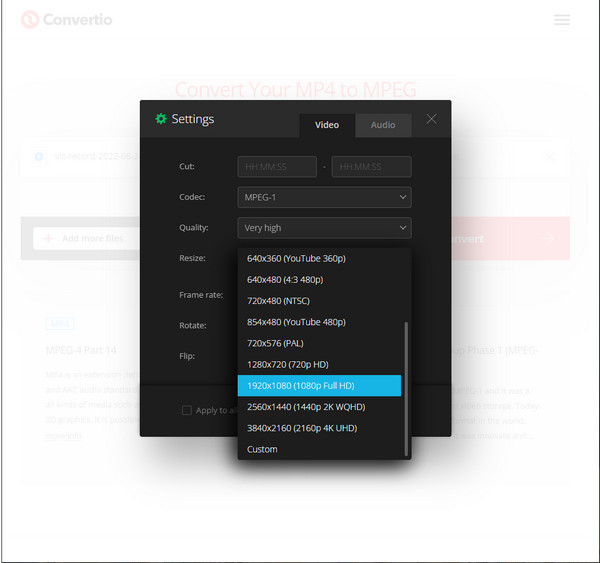 Part 3: Tips about AI Upscaling Videos with High Quality
Now you know how to upscale video with a program and online tools, consider using them if you can't find one on the Internet that meets your requirements. To know more about upscaling videos, below are the three tips about AI upscaling with high quality.
AI Upscaling Video. A program with AI is a game-changing tool that converts lower-resolution videos to 4K up to 8K resolution. It also offers other functions that can help improve video quality, such as Noise Reduction, Enhance Video, Applied 3D Filters, and more.
Real-time Upscaling Video. This upscaling allows users to change the video resolution in a few seconds. Even if the upscaling process will be in such a short time, the video made by real-time upscaling is inclined from blurriness and other issues on the video quality.
Accessory Upscaler. You can use this upscaler if you want to watch on a large 4K screen. The accessory upscaler will help you connect AV and HDMI together, enhancing and upscaling the video quality.
Part 4: FAQs about How to Upscale Videos
Can 480P be upscaled to 1080P video resolution?

Yes, you can upscale video that have 480P resolution to 1080P, but you should be mindful of the effect it may have on the image of the video. You have to look for software that upscale video but still preserves the quality of the images - without losing any detail.

How to upscale video to 4K for free?

You can use the online tools mentioned in this post, but those can only upscale videos up to 1080P. If you're looking for a free online tool to upscale video, you can search on the Internet, and you will find a lot. But one example of a free upscaler is the Video 2x. It supports AI and is capable of upscaling video to 4K resolution.

Can VLC Media Player upscale video?

Besides being a famous media player, it can also help you with simple video enhancement. If you already have VLC Media Player on your computer, you don't have to install another to upscale your video. The Effect feature provided by VLC is enough to get your upscaled video.
Conclusion
If you want to watch your low-resolution videos or movies on a 4K Tv screen, you can upscale them now. You see, it's pretty quick and straightforward to upscale video. You have a lot of choices if you want to use an online tool to upscale video. However, it would be best if it is AI supported. With that being said, the 4Easysoft Total Video Converter is there to assist you! With its AI, you can have excellent video quality, including 1080P and 4K. You can also remove noise to make your video cleaner. Get your upscaled videos with this powerful program now!
Related Articles