3 Easy Methods to Make a Video into a Live Photo [Desktop & Online]
Live photo is now in trend, which makes you laugh. Thus, a great iPhone-exclusive feature is its live photo, allowing you to watch a 3 seconds video recorded as you took the picture; your pictures will feel so alive. Here you can learn how to make a video into a live photo to set it as your wallpaper or upload on social media. Turning your video into a GIF is simple with the best programs. Continue reading to learn the best three methods to make a live photo from a video.
Part 1: The Best Way to Make A Video A Live Photo with High Quality
Turn your video into a live photo with 4Easysoft Total Video Converter. This tool supports converting videos to more than 600 formats and device presets, including live photos in GIF. It also supports ultra-fast video conversion without affecting the original quality when making a live photo from videos. Moreover, you can cut the videos and extract the desired parts as you like. You can enjoy your GIF as you learn here about how to make a video a live photo.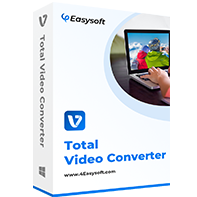 4Easysoft Total Video Converter
Converts video at an ultra-fast speed with the original quality, including 1080P and 4K.
Allow you to enhance video quality with AI, such as removing dirt video noise, adjusting brightness, and more.
Provide customization settings for your GIF, including adjusting frame rate, cutting out desired frames, trimming parts of a video, and so forth.
Enable you to apply a whole frame move for videos and stabilize shaky videos to the optimal effect.
Step 1Download and install 4Easysoft Total Video Converter, then launch it on your desktop. Click Add Files at the upper-left on the program's main interface to choose your file. To put your files into the program, click Open. Alternatively, you can drag the media files and drop them into the program.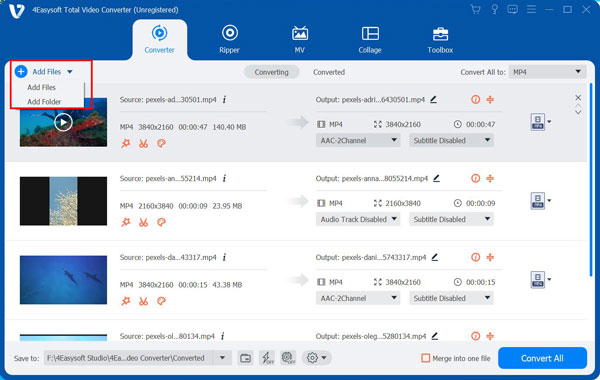 Step 2Click the drop-down button next to Convert All to, then you will see a list of video and audio formats. Go to the Video section, scroll down until you see the GIF, and click it to make a video a live photo. Also, you can change the codec, frame rate, quality, sample rate, and more to keep the original high quality by clicking Custom Profile with the gear icon.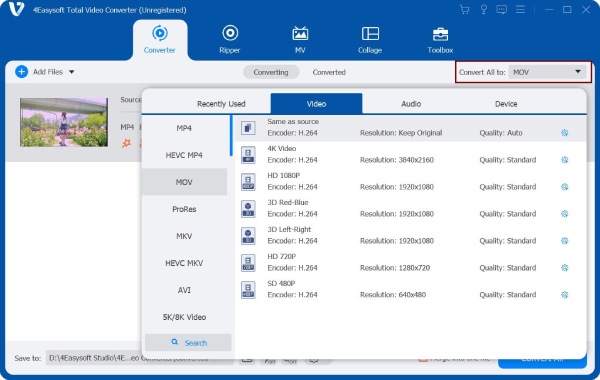 Moreover, you can trim the videos with the desired parts to make short live photos. Just click the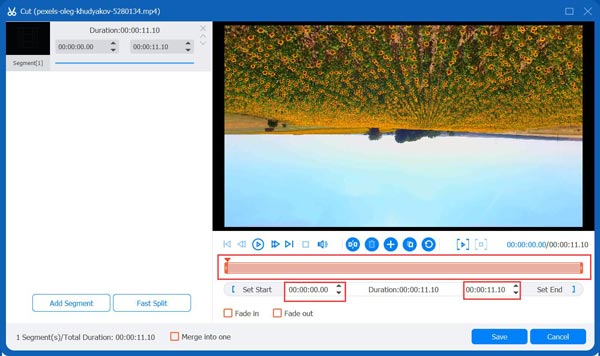 Step 3Click the drop-down list of Save to, to choose your destination file. Click Convert All to start converting your video into GIF. You just learned how to make a video a live photo with this excellent video converter.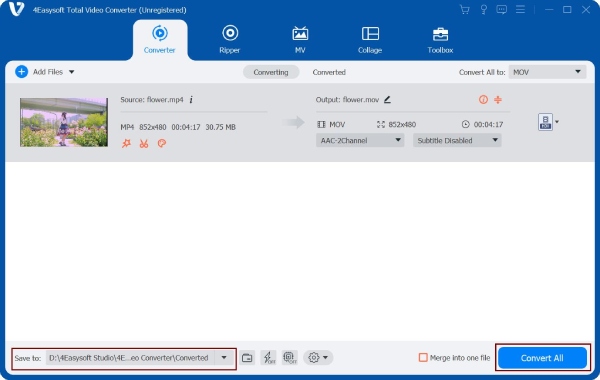 Part 2: How to Make A Video A Live Photo Online for Free
1. How to Make a GIF with GIPHY
GIPHY allows users to search several topics and categories and enables them to display GIFs, animated stickers, and emojis. You can test your creativity and be entertained at the same time with the use of GIPHY. It is a simple and free program for everyone, even kids, to convey emotions and ideas. Use GIPHY to learn how to make a video live photo in a fun and easy way.
Step 1Go to GIPHY's official website, log in or sign up if you still don't have an account. Click Upload, then click Select Choose File to add your video files, or you can add any URL to enter a YouTube video or drag and drop a video file into the program. Your video must be under 100MB and 15 seconds long.
Step 2Next, you can set the duration of your GIF by using the sliders. You can also add text, caption, effects, and more to your GIF. Click Continue to Upload, then add tags and a Source URL to give credit to the source if you use a video from a website. This step is optional but is highly recommended.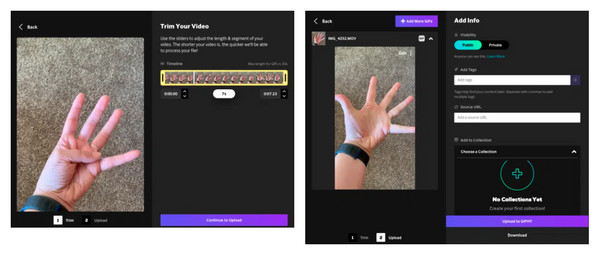 Step 3Click Create GIF to convert your video to live photos. You can share your GIF on social media platforms and with the world.
2. How to Make a Video a Live Photo with Ezgif
Another online GIF Maker is Ezgif, which allows you to quickly create and produce your animated GIFs with high quality and watermark-free, making this program excellent for content creators. It is one easy tool you can use to make a video to live photo, and resize, crop, etc. However, once you go on Ezgif's official website, you may encounter a lot of ads that may cause distractions and end up not using the tool.
Step 1Click Choose Files to open your video file into the program, or press and hold the Ctrl key to select multiple files. There's no need for you to log in or download this GIF maker.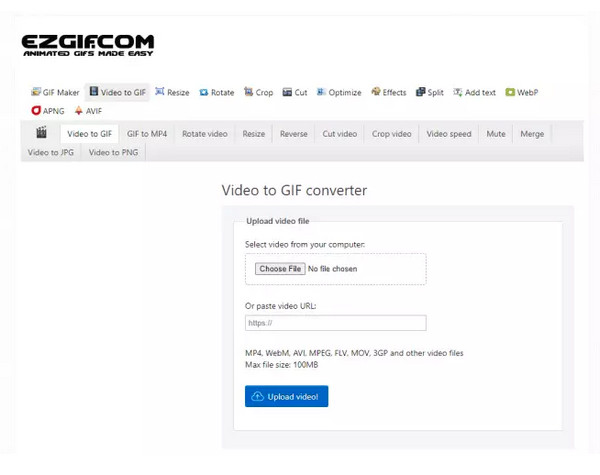 Step 3Set its start and end times. You will see a video preview window to check the exact time codes.
Step 3Click Make a GIF! to see a preview of your GIF before you save it. There, you can crop, add text and effects, and more. Then, click Save if you're satisfied with how your GIF looks.
Part 3: How to Make A Video into A Live Photo on Android/iPhone
After discussing online tools you can use to learn how to make a video into a live photo, you may want to know how to make a GIF directly on your iPhone. Even if you're traveling on a bus, you can easily make GIFs on your phone. Here's how to make a video a live photo with no trouble.
Step 1Go to Camera, and tap the circle at the top-right corner to switch on Live Photos.
Step 2Take a video on your iPhone, or you can open the Photos, then choose a video or live photo that you want to turn into a GIF. In this way, you can make a GIF on iPhone.
Step 3If your iPhone runs iOS 15, tap Live at the top-left corner. If you're on iOS 14 and below, swipe up to open menu options. Click Loop or Bounce to turn it into a GIF.
Part 4: FAQs about How to Make A Video A Live Photo
Can I make my live wallpaper from videos for my iPhone?

If you have an iPhone 6S or a later model, you can natively make live wallpaper on your iPhone without downloading an app. The iPhone 6S and later models (not including the first-generation iPhone SE) allow you to take Live Photos.

How do you turn a video into a live photo without GIPHY?

Aside from GIPHY, to a great surprise, you can use TikTok to convert video into a live photo. Tap the plus icon in the middle, then tap Upload and select the video you want to turn into a live image. Tap Next at the top-right corner, set Who Can View This Videos to private, and tap Post.

Can I set a TikTok video as a live wallpaper on my Android phone?

Setting a TikTok video as a live wallpaper on an Android phone requires easy steps. Open Tiktok on your phone, find the video you like, tap the three dots, and hit the Set as wallpaper.
Conclusion
If you want to turn a video into a live photo, it's easy to do now as you learned to convert video using GIPHY and Ezgif. Both are online GIF maker tools, no need for you to download them to start making your video a live photo. But, if there's one program that can meet your requirements, you are looking for the 4Easysoft Total Video Converter. Aside from learning how to make a video into a live photo here, you can also convert your files into more than 600 formats, and device presets. Try this video converter now!