Top 4 Best Tools to Help You Make Creative GIF on iPhone [Detailed Steps]
GIFs are also one of the best ways to convey emotions or reactions. They also add life or entertainment to social media posts, such as memes and messages. However, even though a lot of them are available online, there are still times when you can't find what you need. But do you know that you can create GIF on iPhone with ease? And transform your video and photo into personalized GIFs? Yes, you can! Explore this article to see how you do it through your iPhone, the creative applications, and a tool to produce an animated GIF.
Part 1. How to make GIF on iPhone through Live Photos in Camera
Can I create GIF on iPhone through your Live Photos? Yes, you can, and making your Live Photos into GIFs is easy. However, producing a GIF through Live Photos does not mean you can have or create a real GIF out of it. Take note that it will just make another Live Photo so that it will look like a GIF. But if you still want to be creative in making a GIF through Live Photos, here's how you do it:
Step 1Launch the Photos app, browse Live Photos, and select the file you wish to convert into a GIF.
Step 2iOS 14 and below, swipe up the photo and choose between the moving picture options you wish to apply to your image. Otherwise, if you are using iOS 15, tap the Live button in the upper-left corner to access the options from a dropdown menu.
Step 3Choose either the Loop or Bounce to turn your photo into a GIF on iPhone. If you choose the loop option, it will make your Live Photo plays into a three-second loop. On the other hand, the bounce will play your Live Photo forward and backward.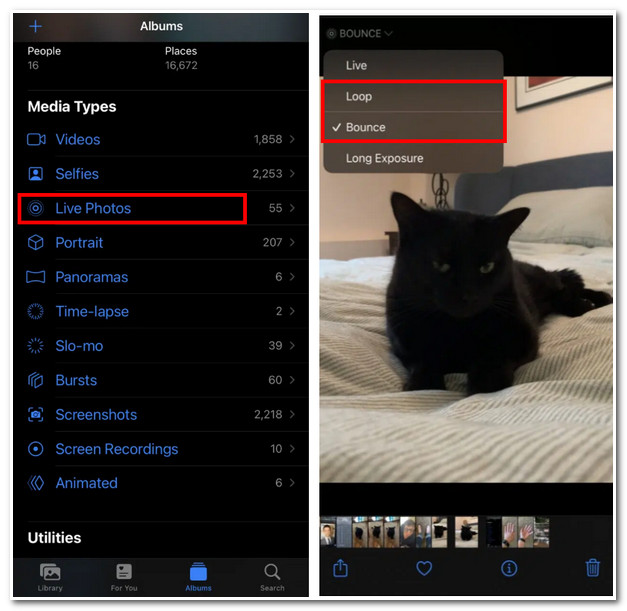 You also need to remember that if you transfer your output to a non-Apple device, the photo will not move. But don't worry; this article provides other options enabling you to create GIF on iPhone and with other platforms. See them in the subsequent parts.
Part 2. The Built-in Shortcuts App to Make GIF on iPhone
How to make a GIF on iPhone easily? The Shortcuts application might be for you. This application is an iPhone's built-in enables you to produce and automate the GIF process directly. This application allows you to create GIFs from your burst photos and videos. Moreover, this intelligent shortcut will not require you to do the process by taking various taps or clicks; instead, as mentioned, it will automatically do the process for you. Here are the simple steps to do it.
First and foremost, check your iPhone to see if you have the Shortcuts app installed on it.You can visit Apple Store on your device to download and install the app if you don't have one.
Step 1On your Shortcuts app, download Video to GIF.
Step 2Run the Video to GIF shortcut by tapping it. After that, a prompt will appear on your screen containing a message asking you to access your photos. This prompt is expected to popup happen if it is your first time accessing the shortcut. Tap OK to continue.
Step 3You'll see various suitable videos to convert into GIFs; you must select the one you wish to convert and make it to GIF on iPhone. After choosing, wait for the tool to process the video-to-GIF conversion.
Step 4Tap Save, Share and Save Image buttons at the upper part of the screen to save it on your library. You are also provided with sharing options such as sending it on a social media app, message, or email.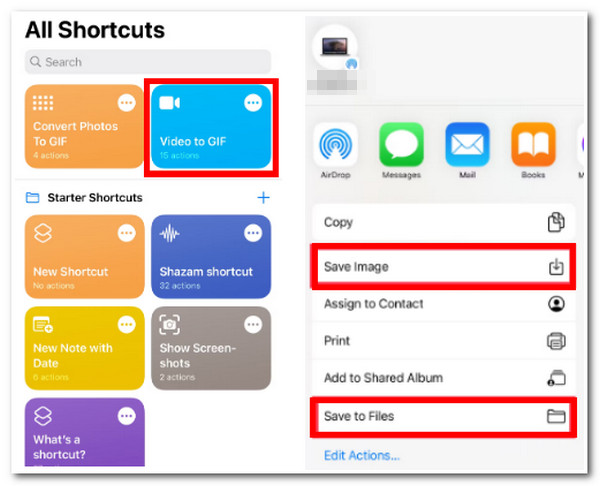 You can also follow the above steps if you want to create GIFs from your burst images.
Part 3. 2 Best GIF Makers to Create GIF on iPhone with Effects
The following tools are the best GIF makers you can use to produce outstanding quality and much more entertaining GIFs. Let's explore these lineups of the best GIF maker iPhone tools.
1. ImgPlay
First on our lineup is ImgPlay. This application is a free GIF maker downloadable on iPhone and Android devices. Moreover, this contains professional features and capabilities such as a converter, editor, splitter, etc., all for your GIF needs. Furthermore, it is also infused with simple yet great GIFs customization when you wish to produce GIFs, whether from your videos, burst, and Live Photos. Aside from that, it is equipped with entertaining and funny memes and captions. Although, ImgPlay was linked to various application issues such as poor performance, slow processing, and unable to load files. Despite that, you can still use it to make GIF iPhone editor. To create your media files to GIF using ImgPlay, here are the simple steps to do it:
Step 1Download and install the ImgPlay application on your iPhone and launch it. After that, the tool will automatically bring you to your photo album.
Step 2Suppose you want to convert your video into a GIF. Choose the Video you want to convert from your album.
Step 3You can change your video's ratio, crop it, apply some filters, text or stickers, etc., in the application's Edit option. Once you are done, tap the Next button.
Step 4After that, you are also provided with output customization settings, including Quality, Looping Options,and Type selection. Tap the toggle switch under the Type option to save your video as GIF. Then, tap the Save to Photos button to save your output on your Photo Album. This app also supports social media sharing of your GIF file.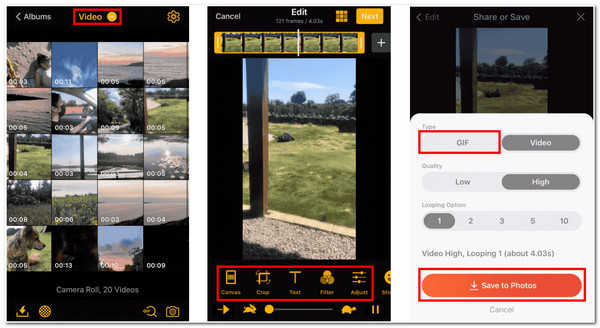 2. Giphy
What's impressive about this GIF maker iPhone editor application is that you can use Giphy's GIFs to embed them in your messages and include them on your social media platforms. Aside from that, this application also enables you to share your creations with others and download GIFs created by Giphy's community members. With that, you can consider this application as your library full of animated GIFs and use them depending on your purpose. However, this application is already owned by Facebook, meaning you must first sign in or sign up for an account or your Apple ID. But then, you can still use this powerful and extraordinary application to create GIF on iPhone. To produce a GIF through Giphy, this is how you do it.
Step 1Go to your Apple store to download and install the Giphy app. Sign in through your Facebook account or your Apple ID and follow the series prompts that the tool will show you.
Step 2At the upper-right corner, tap the Create button with a camera icon.
Step 3If you wish to film a video or capture a photo, tap the Camera icon button at the bottom part of the application. Otherwise, tap the Photo icon button if you want to make GIFs out of you're files from your album.
Step 4Giphy is also infused with redefining features you can apply to your files, such as filters, captions, arts or word art phrases, trim and more. After that, tap the Arrow icon at the bottom-right corner of the tool to upload your file to Giphy.
Step 5Then, click the three vertical dots and tap the Save to Camera Roll.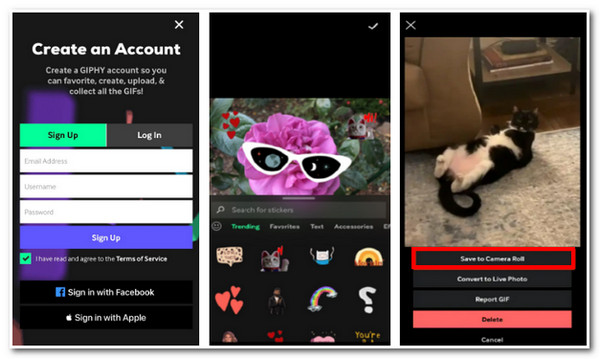 Recommended GIF Maker with Customized Effects on Windows/Mac
Lastly, we recommend you try 4Easysoft Total Video Converter as your powerful tool to convert your video or image files to a GIF on Windows/Mac. This tool supports 600 plus media file formats and is equipped with advanced video, photo, and audio reinventing features suitable to use by beginner experts. Moreover, this tool is AI-supported and transforms your video or photo to GIF with a 60X faster speed. Furthermore, you can assure of having the best quality GIF thanks to its video and photo tweaking options. To know more about the tool's capabilities, let's explore its features below.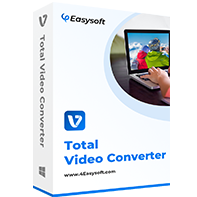 4Easysoft Total Video Converter
Contain capabilities to create GIF on iPhone video files stored in various file formats such as AVI, MOV, MP4, MXF, 3GP, and more.
Able to convert video and photo to GIF with ultrafast speed and high-quality output.
Capable of manipulating and altering memory for a much more intensive and smooth conversion process.
Support AI technology responsible for giving an excellent enhancement to your GIF.
Part 4. FAQs about How to Make GIF on iPhone
1. How long can an animated GIF be?

There are no restrictions on how long your GIF will be. However, some platforms or applications contain rules that don't allow you to exceed a maximum of 15 seconds GIF, like GIPHY. This is to make your GIF uploadable on social media platforms.

2. Do GIF files contain a large file size?

Yes, they do contain large file sizes. For example, a video clip saved in MP4 has 2MB, but if you keep it in GIF format, it can take up to more than 20MB. Fortunately, you can use 4Easysoft Total Video Converter to compress it and reduce the size of the file while preserving its original quality.

3. Is it true that GIFs might contain viruses?

There is what they call GIFShell, which is capable of installing malware on your computer and other devices that can steal data from it. On the bright side, you can still protect your computer by installing an antivirus program that can remove malware from your computer.
Conclusion
GIFs would be one of the great ways to express your emotions or thoughts and to bring additional entertainment, whether on your messages or social media posts. "How to make a GIF on iPhone?" is no longer a question because you already know what applications and a tool you will use. Just take note that there are possibilities that the featured applications are somehow hassled and not that promising. If you wish to use one that contains a total package and powerful features to create a GIF, try 4Easysoft Total Video Converter to see how it can contribute to your needs! Feel free to download and install the tool now!
Related Articles: