How to Make a Collage on Instagram with Multiple Photos
One of the great features of Instagram is the ability to enable its user to create a collage on Instagram which you can be found in its Story feature. But some still need clarification about how they will use it to produce their collage. Luckily, you found this page! In this post, you'll see three ways to create a collage you can share on your Instagram Story. After reading this post, you can definitely create a stunning Instagram collage! Explore them now.
Part 1: How to Make A Collage on Instagram Story with Stickers
"How to make a collage on Instagram Story?" Making a collage on Instagram Story takes only a few steps. Thanks to its well-composed features, which make it easy to navigate and understand. Moreover, this feature allows you to add stunning and cute stickers to your collage to make it much more attractive and creative. Furthermore, those stickers are composed of still images, animated, and clickable, enabling you to have a collage that is engaging and interactive. Find it interesting? Here are the steps showing you how to make a collage on Instagram Story:
Step 1On your mobile device, launch your Instagram app and tap the Your story button at the upper left corner of the app.
Step 2Next, take a picture or select an Image on your Album. Otherwise, you can select a solid background color from the options.
Step 3Then, tap the Sticker icon at the Instagram Story's interface and select the Collage icon. Choose the images you wish to collage; you won't be able to add them simultaneously and will have to add them individually.
Step 4After adding them all, you can now edit them one by one. You can tap each of them to change shapes and enlarge, shrink, twist, and rotate them using your fingers. If you need to place them in specific parts, hold the image and drag them to your desired part of your display.
Step 5Once you are satisfied with the arrangements of your images, tap the Sticker icon again, and choose your desired stickers to add to your collage. Then, tap the Your Stories button to post it on your Stories.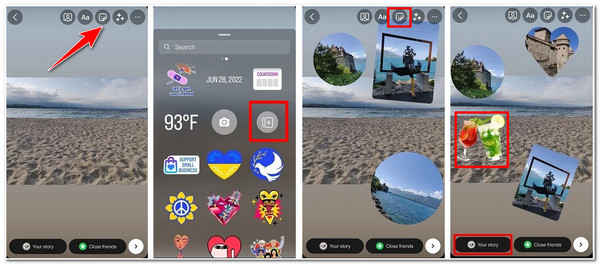 Part 2: How to Make A Collage on Instagram through Layout App
Alternatively, you can also create an Instagram collage through its Layout App. This app offers various collage layouts that allow you to mix different images into one frame. It is also infused with a feature allowing you to capture images and automatically arrange them with a specific collage layout. Of course, the layout will depend on how many images you've taken using your camera. Here's how to make a collage on Instagram using its Layout app.
Step 1Install the Layout app on your mobile device and once it is installed, tap to launch it.
Step 2Next, choose the photos you wish to add to your collage by tapping them.
Step 3After that, on the top of the screen, select your preferred Collage Layout by swiping the screen to the right. Then, tap the layout you wish to apply to your selected images.
Step 4Arrange the placements of your images from the built-in editing features provided for you. You must tap the specific image and select whether you want it to REPLACE, MIRROR, FLIP or apply some BORDER.
Step 5Once satisfied with your arrangements, tap the SAVE button and select where you want to share it.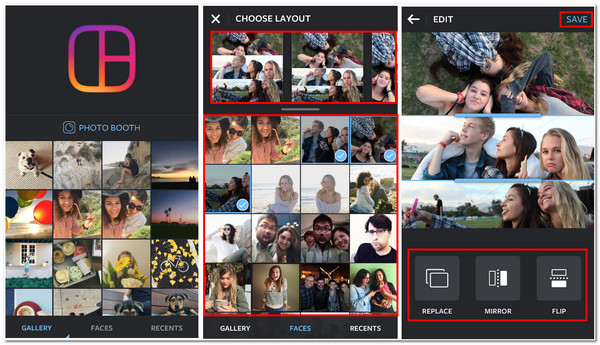 Part 3: Professional Way to Make Collages for Instagram on Windows/Mac
Now that you have the knowledge of how to make a collage on Instagram Story and through the Layout app, you might find it offers only a few or limited collage layouts. If you are looking for more creative collage layouts, then the professional 4Easysoft Total Video Converter is what you need! This Windows and Mac-compatible tool offers you 40+ free collage layouts for making collages for Instagram. Moreover, it is also infused with redefining editing features you can use to modify your image or video clips' size, position, brightness, saturation, and more. Furthermore, it is also equipped with collage layout modification features where you can apply border images, select a specific aspect ratio, choose your preferred filter, etc.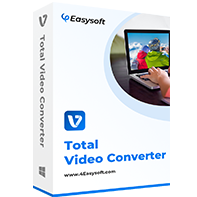 4Easysoft Total Video Converter
Support output tweaking options that enable you to enhance your college's resolution, quality, frame rate, and loop animation.
Offer 10+ border images you can apply to your collage layout and enhance its border size.
Enable you to add background music to your collage and tweak its volume, delay, loop, and more.
Equipped with a real-time preview feature that helps you monitor your applied collage editing.
How to create an Instagram Collage using the Professional 4Easysoft Total Video Converter Tool:
Step 1Download and install the 4Easysoft Total Video Converter tool on your Windows or Mac computer. After that, launch the tool and select the Collage tab. Then, select the Template tab from the option for you to access and choose the tool's offered collage layout templates.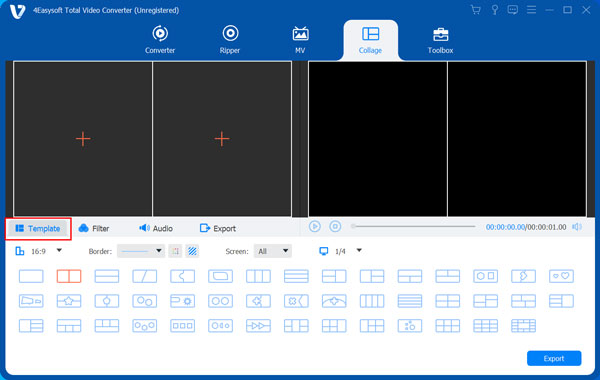 Step 2Next, click the Add button with the Plus icon on the left side of the preview section to add the images you want to include on your collage. You can use the line to adjust the size of the images you put on your collage. You can also modify the size of the layout's borders and select an image or color.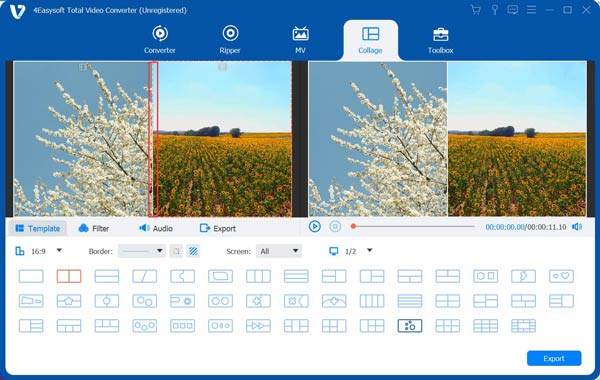 Step 3Then, select the images you wish to edit and tick the Edit button with the Starwand icon on your selected image. On the new window, choose among the editing features you wish to apply to your image, whether you want to crop, rotate, add subtitles, and more. Once you are satisfied with your editing, click the OK button to make an Instagram collage.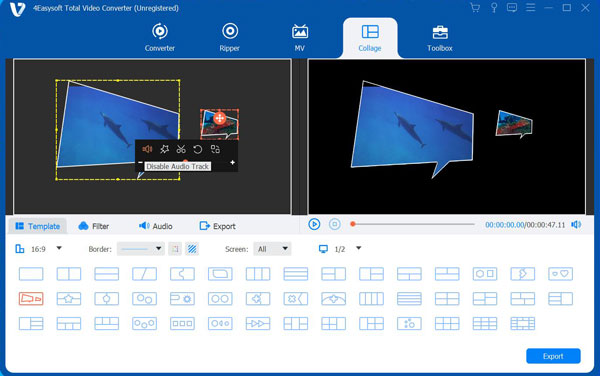 Step 4You can also apply stunning filters to your collage; tick the Filter option and select the one you think is suitable. On the other hand, if you wish to add background music to your collage, select the Audio option and click the Add button to add your preferred background music.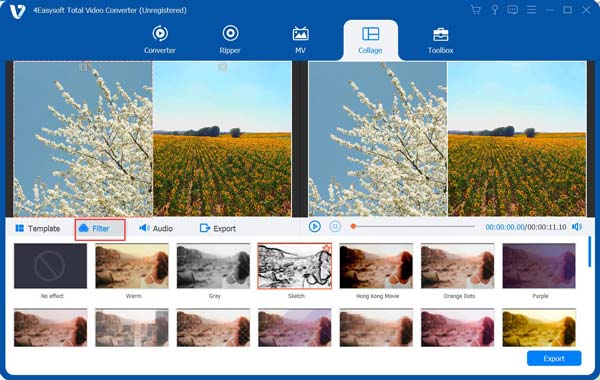 Step 5Once satisfied with your arrangements and editings, click the Export tab and select your preferred resolution, format, quality, and more. After that, tick the Start Export button to start the saving process.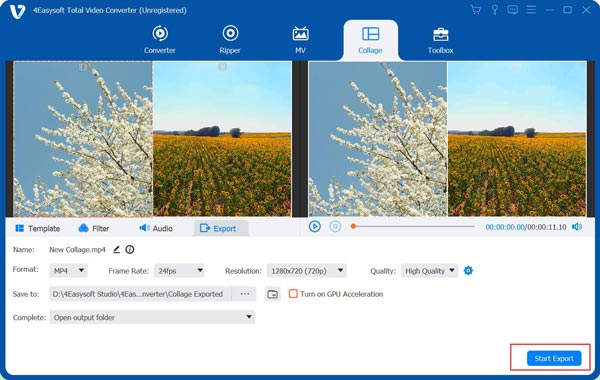 Part 4: FAQs about How to Make Collages on Instagram
1. What aspect ratio does Instagram supports?

The latest version of Instagram supports 1.91:1 and 4:5 aspect ratios. So, if you will upload an image or video on your Instagram, it will automatically convert into those ratios. .

2. Can I save the collage I created on the Instagram Collage app Layout on my mobile device?

Unfortunately, you can't. Instagram Layout app doesn't offer you an option to save the collage you've directly on your device. Otherwise, you can send them to another device via Gmail, Bluetooth, Google Drive, etc.

3. How many photos can I put on an Instagram collage app?

The Layout app by Instagram only enables you to put nine photos in one collage layout. If you wish to put more than nine photos in one layout, you can use the 4Easysoft Total Video Converter. This tool enables you to put 13 different photos in one collage frame.
Conclusion
That's it! Those are the three different ways how to make a collage on Instagram. Now, you can definitely bring your best moments in one frame with creative layouts. If you want a great tool that can meet all your extra needs, the 4Easysoft Total Video Converter tool is your best pick! Produce a most creative, eye-catchy, and stunning collage with this tool. Feel free to visit its website to download and install it now!
Related Articles