Ultimate Tips and Guide on How to Make a Tutorial Video on Windows/Mac
Tutorial videos are one of the best ways to deliver a particular procedure. Additionally, a well-planned "how-to" video is a great way to convey the instructions more effectively. So, if you plan to create a specific tutorial video and don't know where to start, you definitely landed on the right page! This article provides valuable tips you should take note of and features powerful tools with detailed steps on how to make a good tutorial video through them. Explore it now!
Part 1: Useful Tips on How to Make A Good Tutorial Video
Before solving the question, "How to make a great tutorial video?" you should know what a video tutorial means. A video tutorial is a method where you deliver your 'how-to' information, whether dealing with a service, product, or entertainment, via visual presentation and publicize it online. Additionally, it is an excellent way of transferring instructional information in just one video.
Now, if you are thinking of making a tutorial video, it is actually easy to create one. You don't even need deep knowledge of creating a tutorial as well as expert-level skills in making and editing videos for it. Moreover, most tutorial videos you see on the internet are only captured using a mobile camera and edited by a basic editing tool. However, as easy as it seems and not demanding, making it effective is a thing you badly need to consider. Here are valuable and noteworthy tips or guidelines on how to make a good tutorial video:
◆ You must Know your Target Audience - Knowing your audience is crucial in making an effective video tutorial. First, gather all your possible audience and identify the problems they mostly encounter. From that, pick the one that needs to be given a go-to solution video tutorial. This way, you can help yourself focus on a specific topic and create a more detailed video.
◆ Gather Valuable Information - Now that you have already narrowed down your target audience with their specific problems, it's time to collect all the real solutions. Once you already have the solution, you must check it on your own hands to see if it is effective and suitable enough to make a clear tutorial video. Additionally, the simpler the solution to execute, the more the chances of helping the viewers avoid confusion.
◆ Conceptualize your Video Tutorial Properly - Conceptualize how you will present the solution, how people will execute instructions, how and where you will record your tutorial, etc. Through this, you can make your video tutorial topic well-organized, clear, and concise. You can also create a script to deliver your solution accordingly and smoothly.
◆ Record Video Tutorial Professionally - To have a good tutorial video, you must present the solution without any distractions. If you are capturing an on-screen tutorial, you should ensure no possible pop-ups appear on your screen. On the other hand, if you are recording yourself while showing a solution, ensure that you are recording in a quiet place with decent and appealing background and without any possible distractions. Moreover, you should also make sure that your microphone captures your voice.
◆ Edit your Video Creatively - Editing your video by applying special effects, stunning transitions, texts, subtitles, etc., will help you present your solution or instructions more creatively. This is not only to add spice to your video tutorial but also to help present your instructions, primarily if you use transitions. But, you need to remember that using too many effects on your video might distract your viewers, so it would be better to use them appropriately.
Now those are the valuable tips you need to consider for making a tutorial video. Through them, you can have effective video tutorials, whether training, gaming, cooking, beauty, fashion, or dance tutorials. You also need to consider your viewer's feedback for you to write down whether good comments or the things you need to improve in making a video tutorial.
Part 2: Detailed Steps to Make A Tutorial Video on Windows/Mac
To provide a high rate of assurance that you achieve a great video tutorial, here is the 4Easysoft Screen Recorder tool you can use to record your video tutorial professionally. This tool has the ability to record your on-screen tutorials with your voice and webcam simultaneously, which is best for educational and product tutorials. With those capabilities, the 4Easysoft Screen Recorder is indeed a flexible screen recorder tool. And makes it much more powerful through its outstanding features; check them out below and the steps on how to make a good tutorial video through this tool!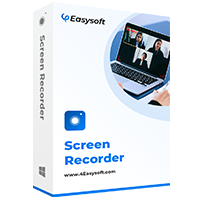 4Easysoft Screen Recorder
Enable you to simultaneously capture an entire or specific area of your computer screen and webcam.
Infused with customizable hotkeys, you can quickly access and execute start, pause, stop, and take screenshots while recording your tutorial.
Support CPU and GPU acceleration technology that allows you to record a gameplay tutorial with high quality and lag-free.
Equipped with output tweaking options that enable you to enhance the quality, modify the resolution, and improve the frame rate.
How to Make a Great Tutorial Video through 4Easysoft Screen Recorder:
Step 1Download and install the 4Easysoft Screen Recorder tool on your Windows and Mac computer. After that, launch it and click the Video Recorder. Then, go to the subject where you wish to create a tutorial video.

Step 2Then, tick the Full button if you wish to capture the whole screen of your computer. Otherwise, click the Custom button if you wish to record a specific area of your screen. You can also choose your preferred resolution to make a high-quality tutorial video.

Step 3Next, tick the System Sound's switch button to enable it to capture your computer's sound. You can also turn ON the Microphone by clicking its switch button to capture your voice as well. Also, use their corresponding Volume Sliders if you wish to adjust the volume.

Step 4Then you can now start recording your tutorial by ticking the REC button. During recording, you can use the toolbox to add shapes, lines, callouts, capture screenshots, etc. Adding annotation is necessary for making a good tutorial video.

Step 5Once you are done, click the Stop icon to finish the recording. Then, in the preview section, you can cut the unwanted clips from the beginning and end parts of your recorded video. If satisfied with your work, tick the Export button to save the recorded file on your storage.
That's it! You must follow those workable steps when using 4Easysoft Screen Recorder to record your on-screen tutorials. If you want to edit your recordings, you can use the recommend 4Easysoft Total Video Converter. This tool is rich with advanced video editing features you can use to add flavor to your video tutorials. It is infused with a feature where you can apply stunning filters, effects, 3D elements, subtitles, captions, etc., on your video tutorial recordings.
Part 3: FAQs about How to Make A Tutorial Video
1. How many minutes should the video tutorial be?

Most viewers on various platforms preferred to watch a tutorial video that lasted from 3 to 6 minutes. Lengthy tutorial videos are more likely to gather only a few views, unlike those that are short but valuable. If you are recording a complex tutorial, it would be better if you recorded it for about 10 to 15 minutes only.

2. What would be the best camera to capture a tutorial video?

Actually, you can use your mobile device's camera to record video tutorials as long as it can record up to 1080p video. You can also utilize your webcam as your medium to capture video tutorials. But, having Sony, Panasonic, and Canon cameras is beyond the best cameras you can use.

3. What would be the best format to export my video tutorial for YouTube upload?

If you choose YouTube as a platform to upload your video tutorials, it would be better if you exported your recorded tutorial into MP4 format. This is because MP4 losses only a small amount of its quality, unlike other file formats available today.
Conclusion
"How to make a good tutorial video?" is no longer a question. You can now create a fruitfully effective video tutorial with those valuable tips. Take note of them and remember them whenever you create video tutorials. If you need a tool that can be your great ally in recording your video tutorials, the 4Easysoft Screen Recorder tool is your best choice. Feel free to download the tool on its official website and experience its greatness!
Related Articles