Top 10 Best Video Speed Controller Tools on the Market [Pros & Cons]
You have probably been in a moment where you get bored of unexciting parts of the movie, or you get annoyed with keeping missed every detail from a fast tutorial. This won't be an issue if you have a video speed controller to modify a specific video's speed. You can also speed up or slow videos to make them more interesting before uploading. Thus, you shouldn't miss the chance to discover this post's lineup of the Top 10 best Video Speed Controller Tools! Get to know them now!
Part 1: The Best Video Speed Controller Tool for Windows/Mac
One of the best Windows and Mac-compatible Video Player with speed control tools on the market is the 4Easysoft Total Video Converter. This tool offers a great range of playback speeds from 0.125x to 8x. Additionally, it is also made to maintain the quality of your video even though its speed is modified. Moreover, this tool has customization settings, from file storage selection to video or audio enhancements, advanced editing features, etc. So if you are looking for the best and total package Windows and Mac Video Player with speed control, this tool is definitely the one you are looking for.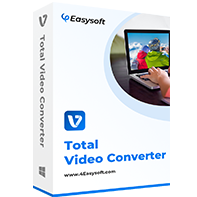 4Easysoft Total Video Converter
Infused with output tweaking options that enhance video and audio quality.
Support 24 video and audio formats to export your edited video.
Integrated with other powerful features which you can use to further improve the quality and looks of your video.
Equipped with an extensive library of themes, effects, and filters supported by AI technology to upscale and enhance your video much more effectively.
How to use the 4Easysoft Total Video Converter as a Video Speed Controller Tool:
Step 1Download and install the 4Easysoft Total Video Converter tool on your Windows or Mac computer. Next, select the Toolbox tab and click the Video Speed Controller from the options.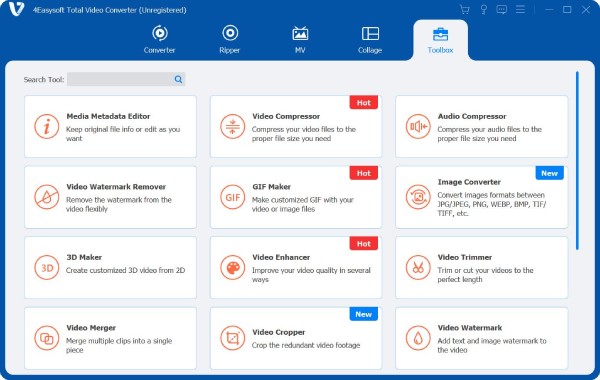 Step 2Then, tick the Add button with the Plus icon to import the video you wish to modify the speed. Select the file and click the Open button. After that, the video speed controller will then bring you to its built-in preview feature. From the options below, choose a specific speed according to your preferences. You can view the changes by playing the video in the preview section.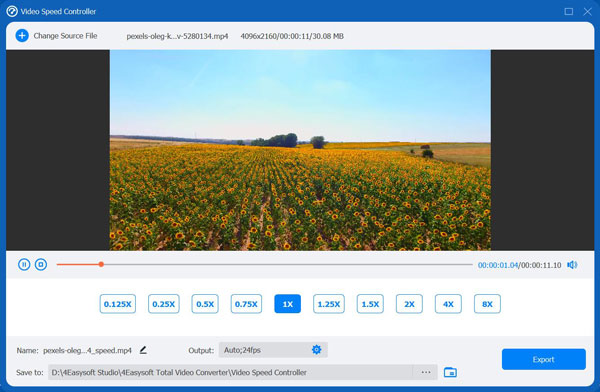 Step 3Once you are done choosing your preferred speed value, tick the Output button with the Gear icon. On the Output Settings window, you can tweak your video's resolution, frame rate, quality, etc., to have the best quality. If you are satisfied with your selection, click the OK button.
Step 4Lastly, tick the Export button to save your video on your computer. This will take a few moments on the video speed controller, depending on your video's length.
Part 2: Top 9 Video Speed Controllers for You [Desktop & Online]
Now that you know how powerful 4Easysoft Total Video Converter is to be your Video Speed Controller tool, we also collected the top 9 Video Speed Controllers on the market. They are also capable of modifying the speed of your video either to make it faster or slower.
1. iMovie (Mac)
First on our list of Video Speed Controller Tools is the iMovie (Mac). iMovie is a video editing software that Apple develops. This pre-installed freeware on Mac is also made to support video playback customization that offers both fast and slow playbacks. Besides that, this tool also lets you redefine the overall looks of your video to make it much more entertaining and improve your watching experience.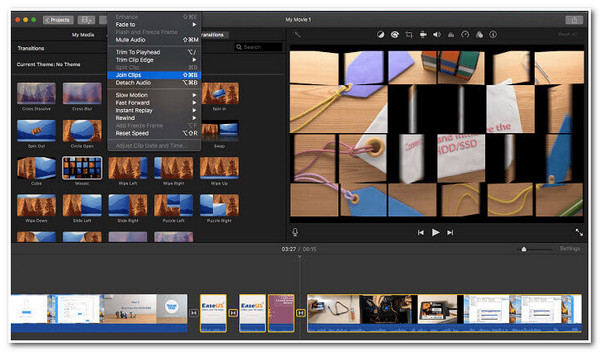 Pros

It has a well-composed and easy-to-use video speed editor.
A free video editor that doesn't embed watermarks on your output video.
Come with lots of video editing features, such as a library of special effects, filters, and themes.
Cons

Link with various lag and MP4 compatibility issues.
The interface layout could be more user-friendly.
2. Easy Video Maker (Windows)
Next on the line is the Easy Video Maker. This free Video Player with speed control is developed to modify your video's speed and redefine it ideally. Moreover, it lets you choose a specific value of speed. Furthermore, if you want to recreate your video, you can customize its looks using its basic and advanced editing features. It also allows you to export your video into various formats such as AVI, WMV, MPEG, etc.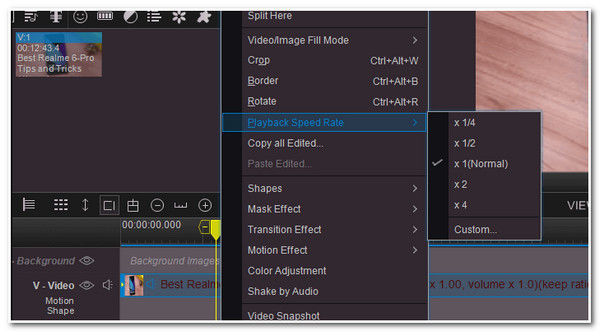 Pros

Support many additional features, such as a screen recorder and lyric maker.
Rich with video editing features.
Cons

Speed Control is too complex, which is not suitable for beginners.
Take a lot of minutes to execute the process of modifying the speed of your video.
3. Adobe Premiere Pro
You should also consider Adobe Premiere Pro as your Video Speed Controller tool (Windows and Mac). This video editor is considered one of those total package tools on the market. Aside from that, many people labeled it as the industry-leading video editor, not only because of its infused video speed customization settings but also due to its other powerful features. That includes professional editing features integrated with free graphics, stickers, effects, and more. You can also enhance the quality of your video through the tool's built-in editing feature.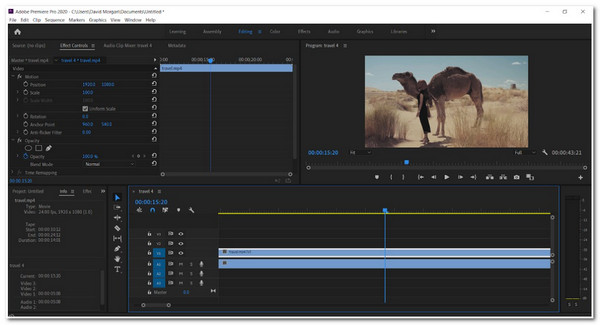 Pros

Support various types of formats.
Offer you advanced video speed customization settings.
Cons

Limit you with only 7 days of free usage.
Too complex tool to use by beginners.
You must have an intensive system and high RAM to use the editor without lag issues.
4. Clideo (Online)
You should also consider Clideo, a Video Speed Controller online tool you can use on any desktop browser. Unlike other tools available on the market, this tool allows you to choose a specific speed value or select one using its built-in slider. Additionally, it also enables you to export your file into a new format, for it supports 20+ video formats.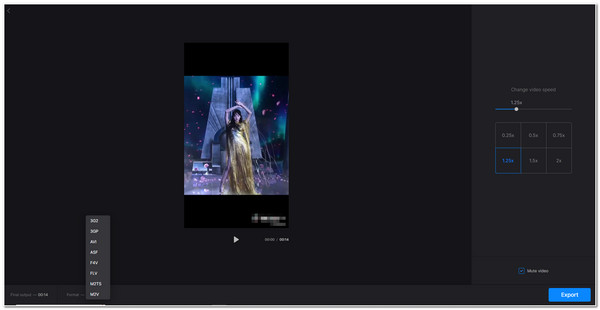 Pros

Support security encryption for safe video speed modification.
Support multiple import and output formats.
Provides uninterrupted video speed modification experience.
Cons

The free version leaves a watermark.
It doesn't support Mobile device browsers.
Features offered under the free version are almost the same offered under paid version.
5. FlexClip (Online)
This is another Video Speed Controller you can use on your browser. This tool is integrated with a video speed editing feature, which you can easily tweak the speed parameter of your video. Additionally, it supports most standard video formats available today. Moreover, it is also infused with lots of editing features that you can use to bring total reinvention to your video.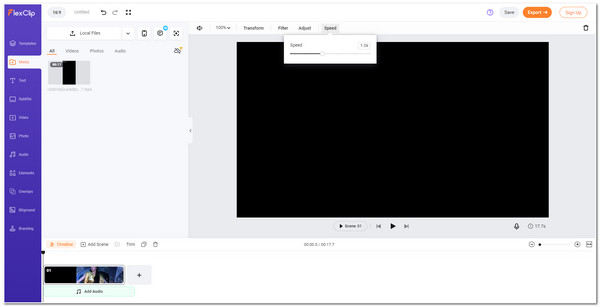 Pros

Features, including the speed controller, are well-composed.
Support various video formats to export your file.
Cons

It doesn't allow editing videos that are more than 1 minute.
The tool embedded a Flexclip intro under the free version.
Require a stable and robust connection for the tool to work properly.
6. Kapwing (Online)
Another best Video Speed Controller online is the Kapwing tool. Its video speed tweaking feature was made to access desktop and mobile devices' browsers. By copying their links, you can also tweak video speed from popular video-sharing and social media platforms like YouTube, TikTok, Twitter, etc. Through this tool, you can speed up video up to 4X or slower them up to 0.25x.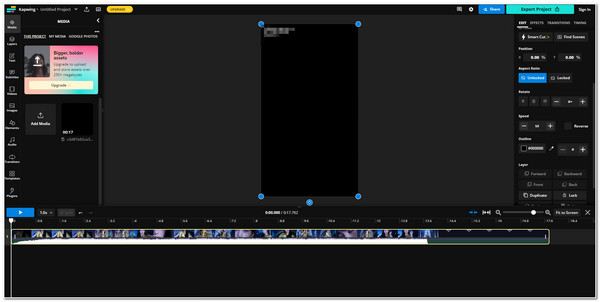 Pros

Easy-to-use and understand interface.
Allows users to import videos from other platforms by pasting their corresponding links.
Cons

Watermarks are embedded if you are using the free version.
The process takes a lot of time to finish.
Linked with issues regarding video quality are compromises after exporting.
7. Video Speed Controller (Online)
You also don't want to miss the chance to try using Video Speed Controller as your Video Speed Controller Chrome extension. This tool is one of the popular video speed controllers on the Chrome extension market today. Moreover, through this, you could easily and quickly control a video's speed on a specific website platform. That is made possible through its speed controller box overlaid on a video player. Its built-in controller box comprises various buttons, such as Plus and Minus icons, indicating speed increase and decrease.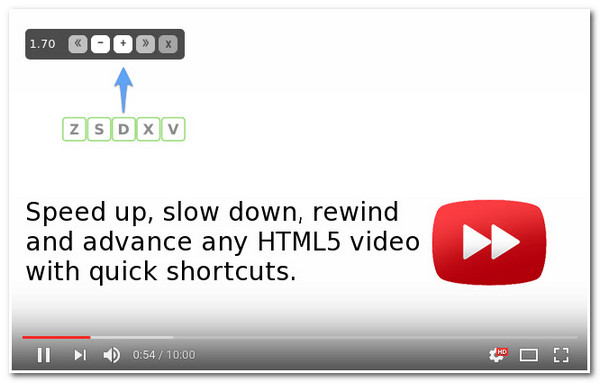 Pros

Easy-to-use extension.
Offers shortcut keys for easy video speed modification execution.
Usable under Chrome on mobile devices.
Cons

It doesn't work with any other browser.
Hotkeys don't work very well.
8. Accelerate (Online)
If you are using the Safari browser on your Mac, then Accelerate is the best pick Video Speed Controller Extension for you. Just like Video Speed Controller, this Safari extension also supports hotkeys, and what makes it stand out is that users can modify this hotkey according to their preferences. Besides, this Video Speed Controller extension supports AirPlay and picture-to-picture mode in every video.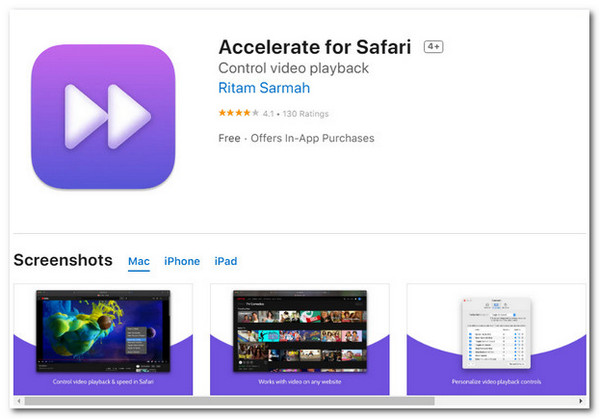 Pros

Free to use and install.
Can be used on any website.
Let you personalize shortcuts by adding your preferred icons.
Cons

Linked with lag issues.
9. Playback Speed (Online)
Lastly, if you use Firefox as your browser, you should have Playback Speed as your Video Speed Controller Extension. Aside from the fact it can speed up and slows down a video, it is made to promote ease of use. Thanks to its well-composed features and buttons, it makes it easy for users to control the speed of any video online. Additionally, you can also customize the buttons according to your preferred arrangements.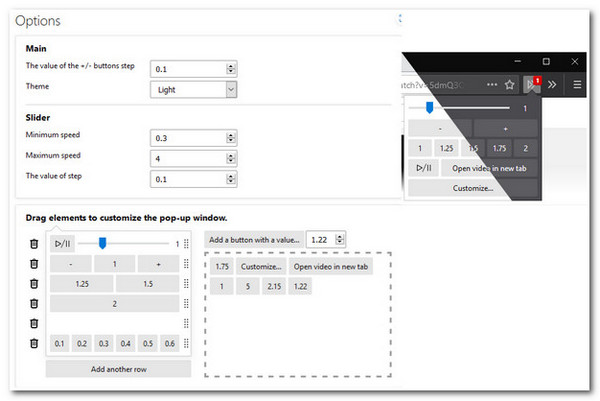 Pros

Easy to understand Firefox extension.
Allow you to personalize the extension's controls.
Cons

Require remodifying the extension's controls again once after a system update.
Linked with various lag issues.
Part 3: FAQs about The Best Video Speed Controller
1. Does the quality of the video stays the same after changing its speed?

Yes, it does. With the 4Easysoft Total Video Converter tool, you can enhance or improve its quality by choosing the best resolution, frame rate, bitrate, etc. You can even export it into a high-quality format, like MOV, AVI, or MP4.

2. Can I slow down video speed on YouTube?

Yes, you can. YouTube supports video playback speed controls, which can be found after you click the Settings button with the Gear icon. It offers video speed parameters from 0.25 up to 2.

3. Does QuickTime Player on Mac has a playback speed controller feature?

Yes, it has. You can modify the playback speed of a video using QuickTime Player through its built-in A/V controls. You can increase or decrease the video according to your needs.
Conclusion
With those 10 best Video Speed Controller tools, you can now control every video's speed, whether you want it to speed up or slow down. Lengthy and fast videos won't bother you anymore, and you can also use them as effects for entertainment purposes. But among them, the 4Easysoft Total Video Converter tool is the best choice! It is not only made to support video speed modification capability but also provides you with better and high-quality results, thanks to its video tweaking feature! If you want to explore more about this video speed controller and discover its other phenomenal features, visit its official website now!
Related Articles