How to Do Siri Voice on TikTok and Make Voice Explanation Easily
TikTok recently released the Text-to-Speech feature, which became a trend due to its ability to do Siri-like voice with text narration on TikTok videos. Even though it adds entertainment value to various content, many users still don't know how to access this TikTok feature. You are probably one of them, and thank goodness you landed on this page! Continue reading this post to learn how to get the voice effect on TikTok, like Siri, in two ways! Explore them all now!
Part 1: How to Do Siri Voice on TikTok - Change Text to Speech
TikTok Siri Voice Generator is one of the effects of TikTok's Text-to-Speech feature, in which users can now use an AI voice to narrate or read their added texts on their content. As mentioned above, it became a trend among TikTokers and was used in various content. That is because many of them find it very catchy, entertaining, and funny. If this TikTok's Text-to-Speech feature Siri effect, also caught your interest and wanted to try it, follow the simple steps showing you how to do Siri voice on TikTok:
Step 1Launch your TikTok app on your mobile device and tap the Plus icon to record a video or upload a recorded one on your gallery.
Step 2After that, tap the Text button with the Aa icon and add your desired text. Then, tap the text and select Text-to-speech from the three options.
Step 3Next, wait for TikTok to apply the Siri Voice effect to your text. Once done, you can tap the text to listen to Siri's voice effect.
Step 4If you are satisfied with it, tap Done to save and upload your content added with the Text-to-Speech feature with Siri voice effect.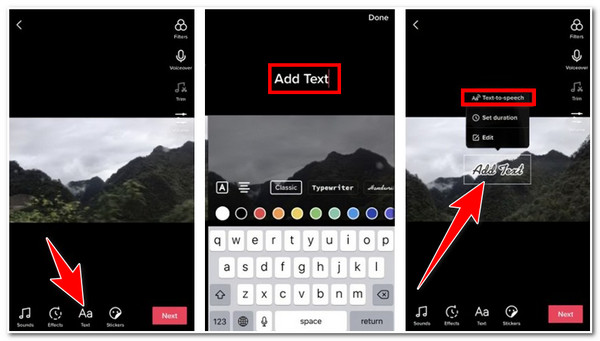 Part 2: The Detailed Steps to Add Record Siri Voice on TikTok Videos
Now that you know how to do Siri voice on TikTok, you can now definitely add the Siri effect to every content you want quickly. But if you wish to go beyond adding Siri voice effects to your video, you can use the 4Easysoft Total Video Converter. This tool is infused with Audio customization settings that enable you to add Siri voice and other recorded voices or audio on TikTok. It also supports volume enhancement which you can use to balance the loudness of the audio in your TikTok video. Moreover, it also enables you to customize the delay of your recorded voice or audio for better timing. So, this tool is your best pick if you want to use other types of voice effects other than Siri.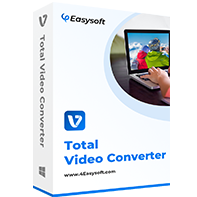 Features of 4Easysoft Total Video Converter
Enable you to import various types of recorded audio other than TikTok's Text-to-Speech Siri voice effect.
Infused with audio tweaking options that you can use to modify the audio's loudness and delay.
Support output customization settings that provide you the ability to enhance or improve your TikTok's video and audio quality.
Equipped with lots of advanced video editing features such as applying effects, filters, watermarks, subtitles, and more.
How to do Siri Voice on TikTok Video using 4Easysoft Total Video Converter:
Step 1Download and install the 4Easysoft Total Video Converter tool on your Windows or Mac computer. After that, click the Add Files button at the upper left corner of the tool, select the TikTok video you wish to add a voice effect and tick Open.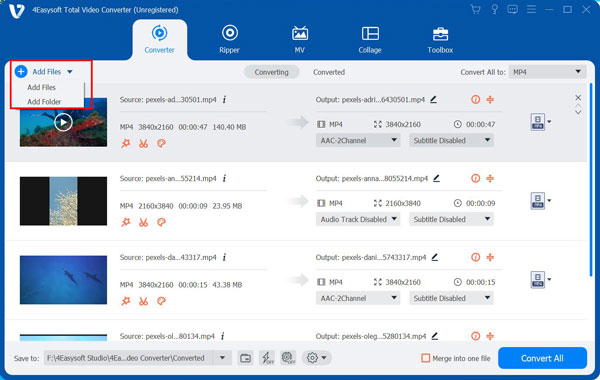 Step 2Then, click the Edit button with the Starwand icon and select the Audio tab. To import the Siri voice or other audio effects you want to add to your TikTok video, tick the Add button with the Plus icon under the Audio Track option to do Siri voice on TikTok videos. Adjust the volume level of your audio using the tool's built-in Volume Slider and your audio's Delay according to your preferences. If you are satisfied with it, click the OK button.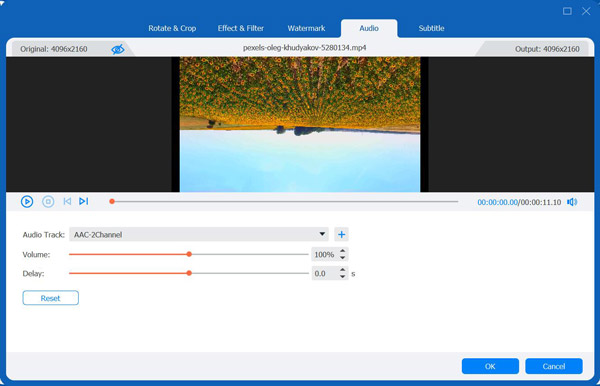 Step 3Other than that, you can also tweak your TikTok video and imported audio qualities. Click the Convert All to dropdown menu option, select MP4 format since TikTok supports this file format, and tick the Custom Profile button with the Gear icon. On the Edit Profile window, you can tweak your TikTok video's quality, encoder, frame rate, resolution, etc. You can also tweak your imported voice effect or audio as well. Once finished, click the Create New button.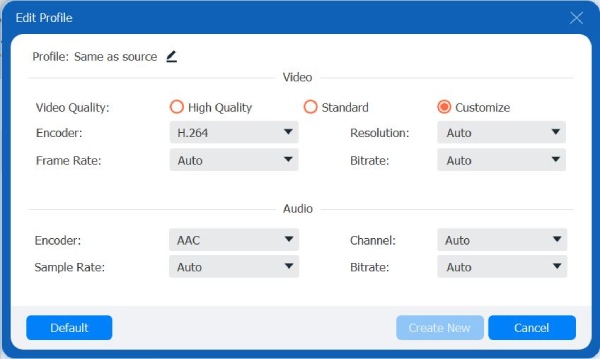 Step 4If you are satisfied with your setups, tick the Convert All button to start saving your TikTok video with Siri voice effects.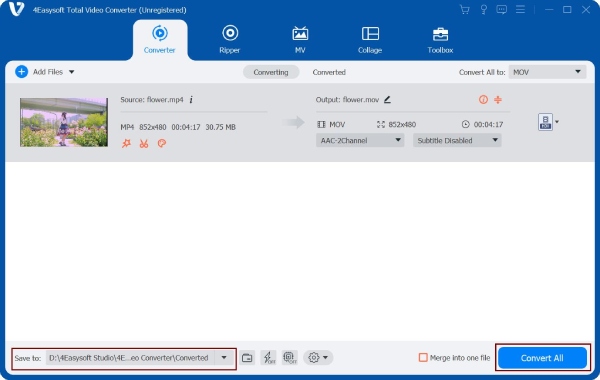 Part 3: FAQs about How to Do Siri Voice on TikTok
How many voice effects does TikTok's Text-to-Speech feature support?

TikTok offers users only 4 different AI voice effects. You can choose the one you think is catchy or suitable for your content. Or you can go for a professional video editor to make more audio effects.

Why does Text-to-Speech feature not available on my TikTok?

If you discover that you can't do Siri voice on your TikTok, your TikTok app might be in the version that doesn't offer this feature. You have to check it on Google Play or in Apple Playstore if your TikTok app needs to be updated. Once it is already updated, you can now use the Text-to-Speech feature.

Can I record my voice and add effects to it like TikTok's Siri effects?

Yes, you can. With several voice recorders or creators on the market, you can be able to change your recorded voice through them. Most of them are advanced enough that they are built to offer various audio effects you can apply to your recorded voice.
Conclusion
Now those are 2 of the easy yet best ways how to get the voice effect on TikTok and through the 4Easysoft Total Video Converter tool. With TikTok's Text-to-Speech feature, you can conveniently add Siri voice effect to your content and post it right away. If you wish to add other catchy voices or audio to your TikTok, then let the 4Easysoft Total Video Converter Tool be your best ally. Through this tool, you are not only given the freedom to import your preferred voice effect to your TikTok but also to reinvent your video and audio quality as well. With the help of its customization settings, you can be able to tweak the overall looks of your TikTok video and voice effect. Find it interesting? Visit this tool's official website to discover its other capabilities and features. Feel free to install it now!
Related Articles