2 Workable Ways to Record PowerPoint with Audio on Windows/Mac
Want to add voice explanations to your presentations to report the subject clearly but don't know how to record PowerPoint presentation with audio? Microsoft PowerPoint infused a feature that lets you record your presentation. However, although it provides excellent benefits, you might find it lacking. Fortunately, you found this page! This post will show you PowerPoint's default way to record your presentation and the best alternative tool with an annotation feature.
Part 1: The Default Way to Record PowerPoint Presentation with Audio
"How to record PowerPoint with audio?" With PowerPoint 2016, 2019, and 365, Microsoft infused a feature that enables users to record their presentations with audio. Additionally, this Microsoft PowerPoint presentation's built-in recorder feature was composed in an easy way to cope with and uncomplicated. Here are the simple steps you need to follow:
Step 1Launch your PowerPoint program and open your presentation. After that, click the Slide Show tab next to Animations. Tick the Record Slide Show.

Step 2Next, select the Record from Beginning if you wish to record your presentation starting from the beginning. Otherwise, tick the Record from Current Slide if you want to record a specific slide on your presentation.

Step 3After that, the PowerPoint program will automatically record your presentation (video) and your voice on your microphone. Click the Record button to start the recording process, and that's it! That's how you record PowerPoint presentation with audio.

Note
The process of exportation or saving will take a lot of time. This is likely to happen if you apply many special effects to your presentation and large file sizes, like a video on your slide.
Part 2: How to Record PowerPoint with Audio and Annotations
After knowing Microsoft's PowerPoint default way on how to record powerpoint presentation with audio, we also recommend you try the most powerful and total package 4Easysoft Screen Recorder tool. Unlike Microsoft PowerPoint, this tool comes with customizable hotkeys which enable you to access start, pause or stop recordings. This tool also comes with a preview section where you can undergo clip trimming. Through its built-in trimming feature, you can eliminate unwanted clips and incorrect explanations. Moreover, it is also equipped with a real-time annotation in which you can add shapes, lines, arrows, etc. With this feature, you can efficiently deliver your presentations effectively and interactively. Those are just a glimpse of what 4Easysoft Screen Recorder can provide you. Now, let's explore how to record powerpoint with audio with video.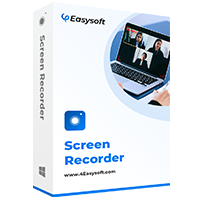 4Easysoft Screen Recorder
Infused with the ability to record your computer's whole screen, selected resolution or region based on your preferences.
Equipped with the ability to record your webcam and your PowerPoint presentation simultaneously.
Support video tweaking options such as format, codec, and quality selection to have an excellent recording output.
Offer Noise Cancellation and Voice Enhancement features to have a commendable audio quality.
Simple steps to show you how to record PowerPoint presentation with Audio and Annotations:
Step 1Download and install the 4Easysoft Screen Recorder tool on your Windows or Mac computer. After that, launch the tool and click the Video Recorder option.

Step 2Next, click the Full option to capture the entire screen of your computer. Otherwise, tick the Custom button and choose your preferred resolution. You can adjust the tool's built-in borderlines and the area you wish to capture.

Step 3After that, click the System Sound to capture your computer's sound if you apply some sound effects to your PowerPoint presentation. Aside from that, you can also turn On the Microphone by ticking the switch button to capture your voice while recording.

Step 4Once you finish those setups, tick the REC button to start recording your PowerPoint presentation with audio. To add annotations during recording, you can use the toolbox to apply shapes, lines, arrows, and callouts.

Step 5If you are done recording, click the Stop icon; then, the tool will bring you to its built-in preview feature. In this section, you can trim unwanted clips to your recordings from beginning to end. This is also useful if you stated inaccurate descriptions or explanations during the recording. After that, tick the Save button.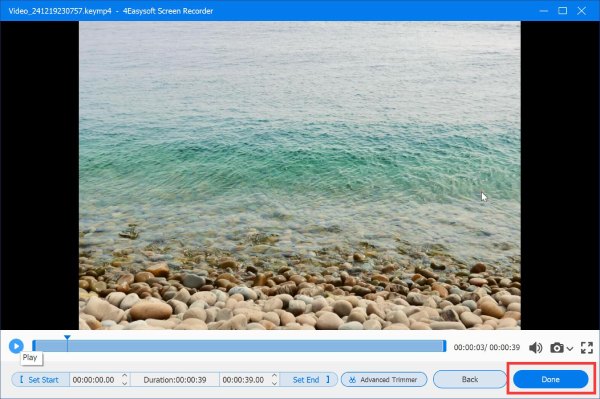 Part 3: FAQs about the How to Record PowerPoint with Audio
1. How long does a Microsoft PowerPoint can record presentation?

There's no limitation on how long you wish to record a PowerPoint presentation with audio. However, there are scenarios in that PowerPoint truncates recorded audio. Aside from that, there are cases in which even your entire presentation was trimmed.

2. How to save PowerPoint recordings?

To save your PowerPoint presentation recordings, select the File menu and tick the Export button. Next, select Create a Video from the options and tweak your output. Once you are satisfied with your parameter setups, click the Export button. PowerPoint will then automatically save your recordings on your local storage.

3. Can I record my PowerPoint Presentation without a camera?

Yes, you can. By default, PowerPoint's built-in recorder automatically records your presentation's screen and your voice on the microphone. But Microsoft also lets you turn it Off by clicking the Camera icon on its hotkeys. This way, it only records your voice on your microphone and your presentation.
Conclusion
That's it! Those are the easiest way to record powerpoint presentation with audio or video. If you wish to have a professional PowerPoint presentation recording, you need to let 4Easysoft Screen Recorder help you achieve it! This tool has advanced features that suit all of your PowerPoint recording needs. You can add annotations through its easy-to-understand hotkeys and trim recorded clips to remove unwanted parts from your recording. Feel free to download the tool and obtain all its powerful features to easily record Powerpoint presentation with audio and video!
Related Articles: