How to Screen Record on Mac with Audio: 3 Ways to Solve Video Voiceless Issue
Why can't you screen record on Mac with the internal audio? It's a big issue for recording online lessons, meeting presentations, online tutorials, and so on. If you use the built-in QuickTime Player to capture your videos on Mac, here is a detailed way to tell you how to screen record on Mac with audio. What's more, there are also some easier and professional methods for you. This post will give you 3 ways how to screen record on Mac with audio by different tools.
Part 1: How to Screen Record on Mac with Audio with QuickTime
There is a default tool that you can screen record your Mac with external audio. This means that it can be hard to use QuickTime to record things like streams or online videos. Fortunately, there is a workaround for this problem, and it involves downloading and installing an extra piece of software called Soundflower. Here are steps on how to screen record on Mac with audio by QuickTime:
Step 1Download and install Soundflower. You may need to grant permission for the installation by going to the System Preferences menu, then clicking the Security and Privacy button, and clicking the Allow button for the software. You may also need to restart your Mac to finish the installation process.
Step 2Open Audio MIDI Setup. You can find it through the Search bar by pressing Command + Space keys. Then click the Plus button at the bottom left corner to click the Build-In Output button and the Soundflower button from the Create Multi-Output Device button at the same time.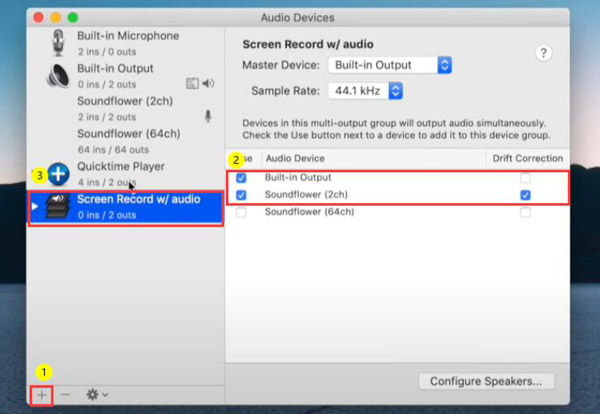 Step 3Click the New Screen Recording. And a window should appear with a Record button, ready to let you capture your screen. Before clicking the Record button, click the Options button on the right side of the window. Ensure that your Microphone is set as Soundflower (2ch). This is what will allow QuickTime to record system audio rather than audio from your mic. Then you can click the Record button to record your screen.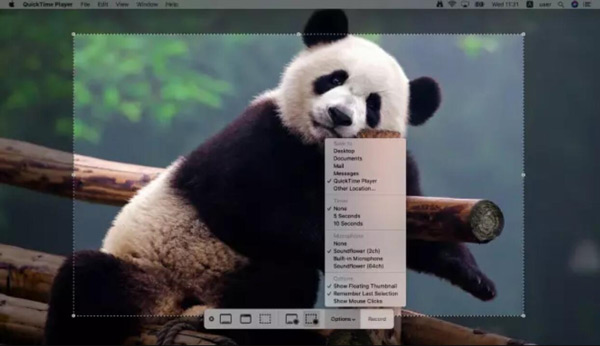 Part 2: The Professional Way to Screen Record on Mac with Any Audio
There is the best choice for you those people who want to know how to screen record on Mac with audio. You can use third-party software like 4Easysoft Screen Recorder. Many people will want to ask how to screen record on Mac using OBS, but in fact, OBS is almost outdated. With the help of 4Easysoft Screen Recorder No matter the internal audio or the external audio, you can all capture them with this software without audio quality loss. And with the powerful audio recording function, you don't even have to mention the video quality, of course, it can meet all requirements of screen recording.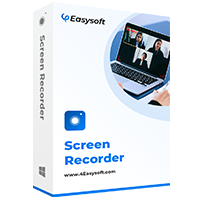 4Easysoft Screen Recorder
Enable screen record with both system sound and microphone on Mac for gameplay, business meeting, and other onscreen activities.
Allow users to save output video to a different format, quality, frame rate, codec, and keyframe interval.
Adjust the system audio and microphone audio volume during the screen recording time.
Add text during the recording to fit your audio if you need it.
Here are the steps on how to screen record on Mac with audio by 4Easysoft Screen Recorder:
Step 1Launch the screen recorder and click the Video Recorder button to capture the screen with audio.

Step 2Choose the recording area of your computer. You can choose the Full option to capture the whole screen of your computer or the Custom option to record a part of your screen.

Step 3If you want to record conference meetings, online lectures, or any video with audio, you can click the System Sound button to record internal audio. You can also open the Microphone capture to record your sound simultaneously. Don't forget to change the volume by pulling the slider.

Step 4After all settings are done, click the REC button on the right side to start recording your screen. Then a toolbox will pop up, and you can use it to add shapes, lines, and callouts and take screenshots while recording.

Part 3: How to Screen Record on Mac with Audio through ToolBar
There is another default way on Mac to record the screen, which is using the screenshot on ToolBar. But the disadvantage is you can do other operations after you select the recording area on your Mac. However, let's take a look at the steps on how to screen record on Mac with audio by ToolBar:
Step 1Press Shift + Command + 5 keys to open the Screenshot Toolbar.
Step 2Next to the Screenshot icon, you will find buttons for recording your screen. Based on your needs, you click either the Record Entire Screen button (on the left) or the Record Selected Portion button (on the right).
If you click the left button Record Entire Screen, no need to adjust anything. If you click the right button Record Selected Portion, you can choose which area to be recorded and change the area size.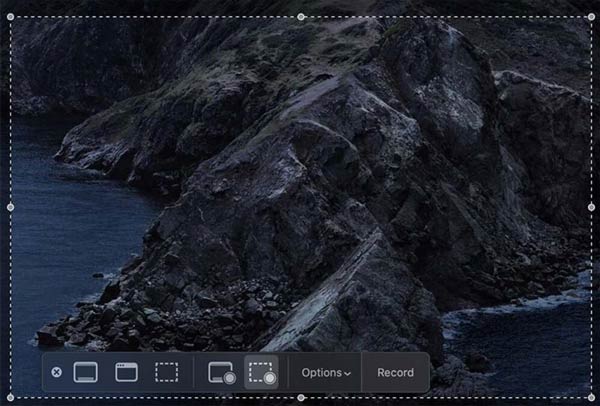 Step 3Click the Options button to preset your recording. From a wide range of selections, you can decide where to save the recording, how many seconds to start after clicking the Record button, whether to use a microphone or not and more options such as Show Mouse Clicks.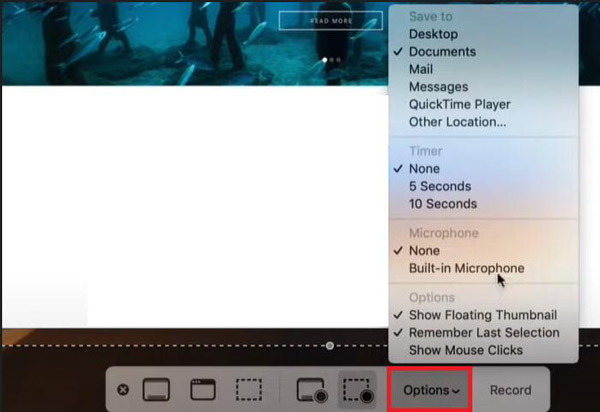 Step 4Click the Record button to start recording screen on Mac with audio. Then, click the Stop button in the menu bar in the upper right corner of your computer to finish recording.
Part 4: FAQs about How to Screen Record on Mac with Audio
Why does my screen recording still have sound on Mac?

There are many possible reasons for this. Usually, it's because the screen recording tool or software you're using to capture the screen isn't able to record system sounds or hasn't been configured correctly. Try to use another software like 4Easysoft Screen Recorder.

Can I screen record FaceTime on Mac with audio?

You can record a FaceTime call on an iPhone or Mac using the built-in screen recording feature. By default, iPhone screen recording won't capture audio, but Mac screen recording will. To screen record with audio on iPhone, make sure to tap the Microphone.

What video format does QuickTime save screen recordings on Mac?

The default video format for screen recordings is MOV and HEVC with H.264 codec. You can export the recorded video to various resolutions such as 4K, 1080p, and 720p. The output formats make the files unplayable to other portable devices like Windows or the recording games on PS4.
Conclusion
There are 3 ways introduced to tell you how to screen record on Mac with audio. There is also extra software required if you want to record internal audio on Mac with QuickTime. So, 4Easysoft Screen Recorder could be the best choice for you if you want to achieve the best video and audio quality when screen recording on Mac with audio.
Related Articles