How to Record Gameplay on PS4/5 with Audio and Webcam to Make Tutorial
As console games become more and more popular, many people want to know how to record gameplay on PS4 because they want to share the video on many platforms like TikTok. Don't worry about it, this article will teach you how to record gameplay on PS4 with sound and webcam on to help you upload the highlight moment of your game. And if you have PS5, you can even do the same thing to record gameplay on PS5.
Part 1: How to Record Gameplay on PS4 with Built-in Tool
You can use the default tool in PS4 to record gameplay, but there is a time limitation existing. You can only record the gameplay in 60 minutes. Here are the detailed steps about how to record gameplay on PS4 with its built-in default tool:
Step 1Turn on your PS4 and press the Share button. Go to Sharing and Broadcasts option.
Step 2Under the Sharing and Broadcasts, there is the Length of Video Clip option. Here you can set the recording duration up to 60 minutes.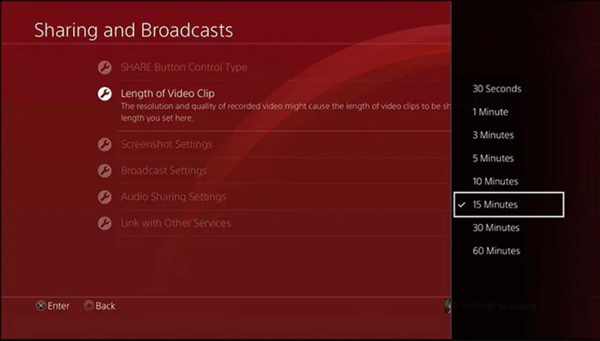 Step 3If you want to record your gameplay with your voice, go to the Audio Sharing Settings option. Press the controller to check the Include Mic in Video Clip.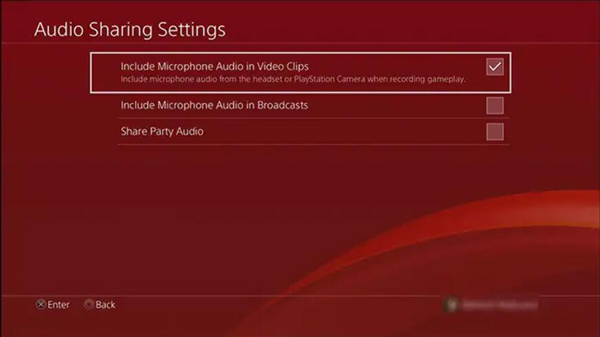 Step 4Start your game and when you need to start recording, press the Share button two times on PS4. The recording will start automatically in the background and as soon as the set duration limit is reached, the recording will stop. However, many people may ask how to turn off gameplay recording on PS4, all you have to do is press the Share button twice again.
Step 5You can go to the main menu and under Capture Gallery, you will find the recorded video.
Part 2: How to Record PS4 Gameplay on PC without Limitation
If you want to record your gameplay on PS4 for more than 60 minutes. You can use 4Easysoft Screen Recorder to record your gameplay with the help of PS4 emulator. In this way, ou can easily record PS4 gameplay after streaming PS4 on PC.
With 4Easysoft Screen Recorder, you will get a high-quality video of your gameplay. And it supports editing the video after recording and offers many video formats for you to choose from. Besides, you can also choose to record the system sound or microphone sound. These features can help you save much time before uploading the gameplay on social media. As for the most asked question about how to record gameplay on PS4 with a webcam, you will also find the perfect solution on this software.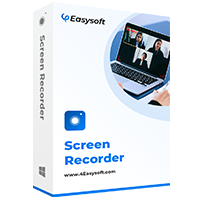 4Easysoft Screen Recorder
Record PS4 gameplay on the computer with the high-resolution output, even the 4K video.
Edit the video like professional video editing software before uploading it to platforms.
Capture PS4 gameplay in different video and audio formats, like MKV, MP4, MOV, MP3, etc.
Have CPU and GPU acceleration tech to record your gameplay without lag.
Here are the detailed steps to tell you how to record the gameplay and voice on PS4:
Step 1Run PS4 Emulator software on your Windows/Mac to play PS4 games on your computer. Then run 4Easysoft Screen Recorder to click the Video Recorder button and capture the screen with audio.

Step 2Click the Full button to capture the whole screen of your PS4 gameplay. And if you click the Custom button, you can select the desired window or fix the resolution, including 1080p, 720p, 480p, etc.

Step 3If you want to record the game sound, click the System Sound button. You can also click the Microphone button to record your sound simultaneously. Don't forget to change the volume by pulling the slider.

Step 4For those who want to record gameplay on PS4 with webcam, you can directly click the Webcam Recorder button on the main interface to record yourself.

Step 5During the recording time, there will be a toolbox providing features to edit the video. And when you want to stop recording, click the Stop button to finish recording gameplay on PS4. In the preview window, you can choose to clip the unwanted beginning and ending parts and then click the Save button to export the recording.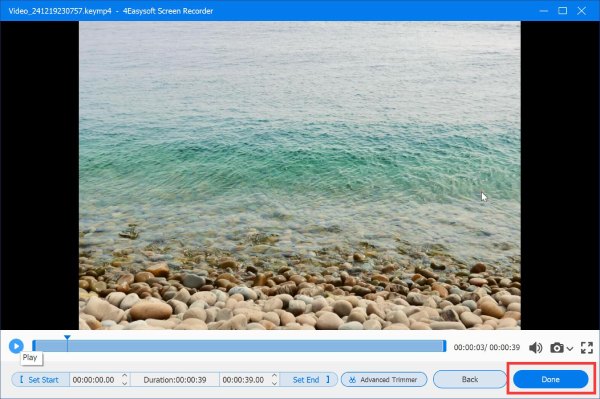 Part 3: How to Record Gameplay on PS4 with Capture Card
If you don't want to download the emulator software to stream PS4, one of the commonly used methods to record PS4 gameplay on PC is via a capture card. For this, you will need a game capture device, preferably a game capture software for the device you are using, and an HDMI cable along with a data cable.
Here is how to record your PS4 gameplay on PC with a capture card.
Step 1Connect your capture cable and PS4 with HDMI. And then connect your PS4 and TV with another HDMI. These steps are allowing your PC to capture your gameplay.
Step 2Connect one end of your data or USB cable to the capture device and the other to your PC. You are now done with the hardware part and can start recording your PS4 gameplay.
Step 3Before you start recording your PS4 gameplay, you have to make sure that your PS4 settings are up to date. This is simply due to the fact that some of the older versions of the PS4 software didn't allow players to record their gameplay on a foreign device. So, just turn on your PS4, switch on your TV, and head over to the Settings main screen. From there, press the System Information button from the System to check your PS4 software settings.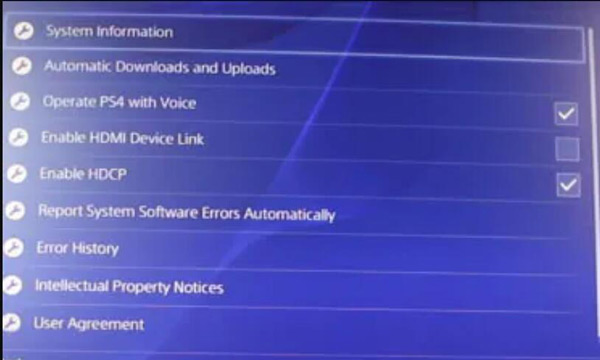 Step 4Press the Enable HDCP button to disable it. This is important because as long as this setting is enabled, you will not be able to record your gameplay using a game capture. The setting in question disables countless game captures from recording the gameplay.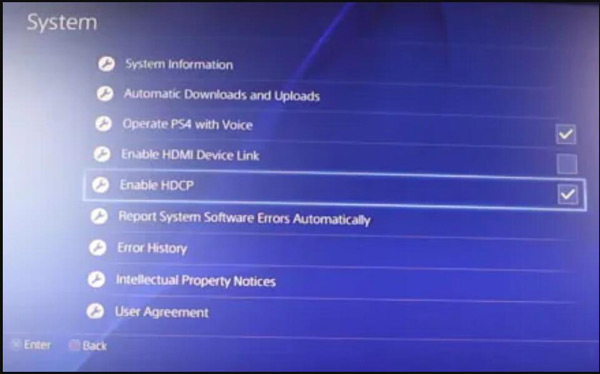 Step 5Now, your PC is ready to take over. It will display what's transpiring on your TV. While it's preferable to use recording software that complements your capture device, in most cases, you can opt for a variety of screen recording applications to record your PS4 gaming experience. All you have to do is choose one that will allow you to adjust your audio and video settings for the desired output.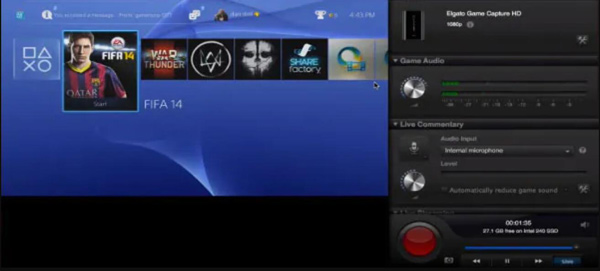 Part 4: FAQs about How to Record Gameplay on PS4
How to screenshot gameplay on PS4?

It is easier to screenshot gameplay on PS4 than recording, all you need to do is Press and hold the SHARE button on your controller. And your screenshot will be saved on your gallery.

Can record party chat on PS4?

No. The voice chat recording built-in function is only available on PS5 game consoles. If you want to record party chat on PS4, you will need screen capture software like 4Easysoft Screen Recorder to help you.

How to stream PS4 via iPhone?

First, you should connect your iPhone to PS4 through Bluetooth, you can press and hold the PS and Share buttons on your PS4 controller to enable the pairing mode. After that, tap Bluetooth on your iPhone, and then choose your PS4 from the device list. Then you can stream PS4 on iPhone.
Conclusion
You will find that the convenient way of how to record gameplay on PS4 is using the built-in function. But if you want to record the gameplay for more than 1 hour or you need to record the webcam also, you should use the 4Easysoft Screen Recorder to do it. And if you want to use Capture Card to record, you also need screen capture software.
Related Articles