Where to Find Saved or Deleted Voice Messages on Your iPhone Easily
When you open iMessage again two minutes later but find no voice messages in the dialogs box, you may want to know where do voice messages save on iPhone. And if you mistakenly delete your voice messages, can you recover it from the trash? Do not worry about this, this post will tell you where do voice messages save on your iPhone. And for the expired and deleted messages, you can also find them and get them back. In this way, you can save your memories from voice messages.
Part 1: Where do Voice Message Save on iPhone: Brief Introduction to the Storage Path
It's quite difficult to locate the audio files you have saved on your iPhone, which is unlike in Android where audio files can be played directly by the default media player.
So where do voice messages save on iPhones? Audio files on iPhone get stored in the app that has received the file, or it goes to an app based on file type. iMessage audio files automatically disappear after a set period unless you specify otherwise.
For example, if you have received a voicemail, it goes directly to the voice memo app of the iPhone. If you have received a WhatsApp voice message, it will be saved within the app. Audio MP3 files will fall into your default media folder. All in one, your voice messages are saved on the receiving app. You can also long-press the voice messages and tap the Keep button to save them.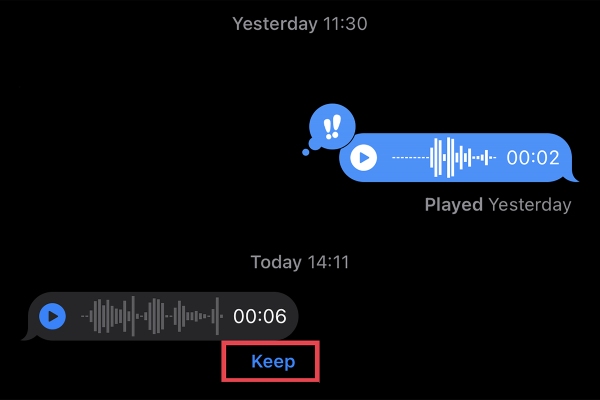 iPhone does not actually make separate physical folders for each app separately on the phone. The app itself is the storage for audio, where the files lie. If you delete the app, your data will be deleted unless you have stored them manually in some other location. So, where to find the deleted voice messages on iPhone? Please keep reading the following methods.
Part 2: Why Can't I Find Voice Messages on iPhone [Solved]
Method 1: Voice Message Expired
Many people receive a voice message in iMessage, and later want to listen to it again, then they will find out that the voice message has expired. Then they don't know where do voice messages save on iPhones. And here are the steps to help you solve this problem.
Step 1Open your Settings app on iPhone and tap the Messages button. Scroll down and tap the Expire button under the Audio Message.
Step 2Then you should tap the Never button. In this way, the apps will not delete your files automatically, and the voice messages are saved permanently.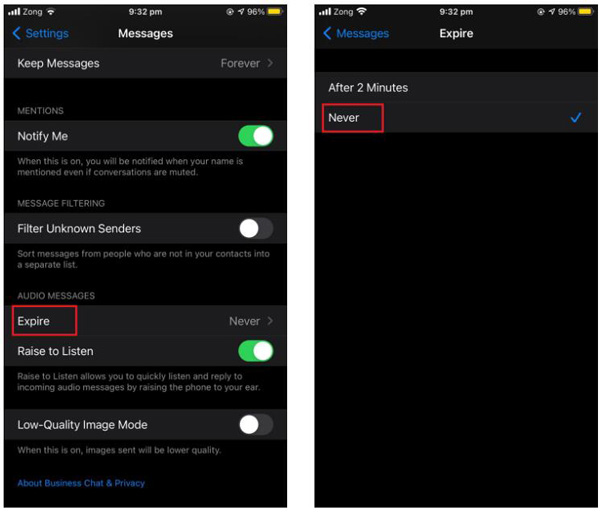 Method 2: Voice Message Deleted
You have known how to get voice messages not expired. But where to find the voice messages have been deleted? 4Easysoft iPhone Data Recovery is the best choice for you. This software will in-depth scan your devices and recover the deleted voice messages from all models and iOS system versions, including the latest iOS 15. Whether you want to recover the default or from third-party apps, you can preview all backup files to retrieve the desired one.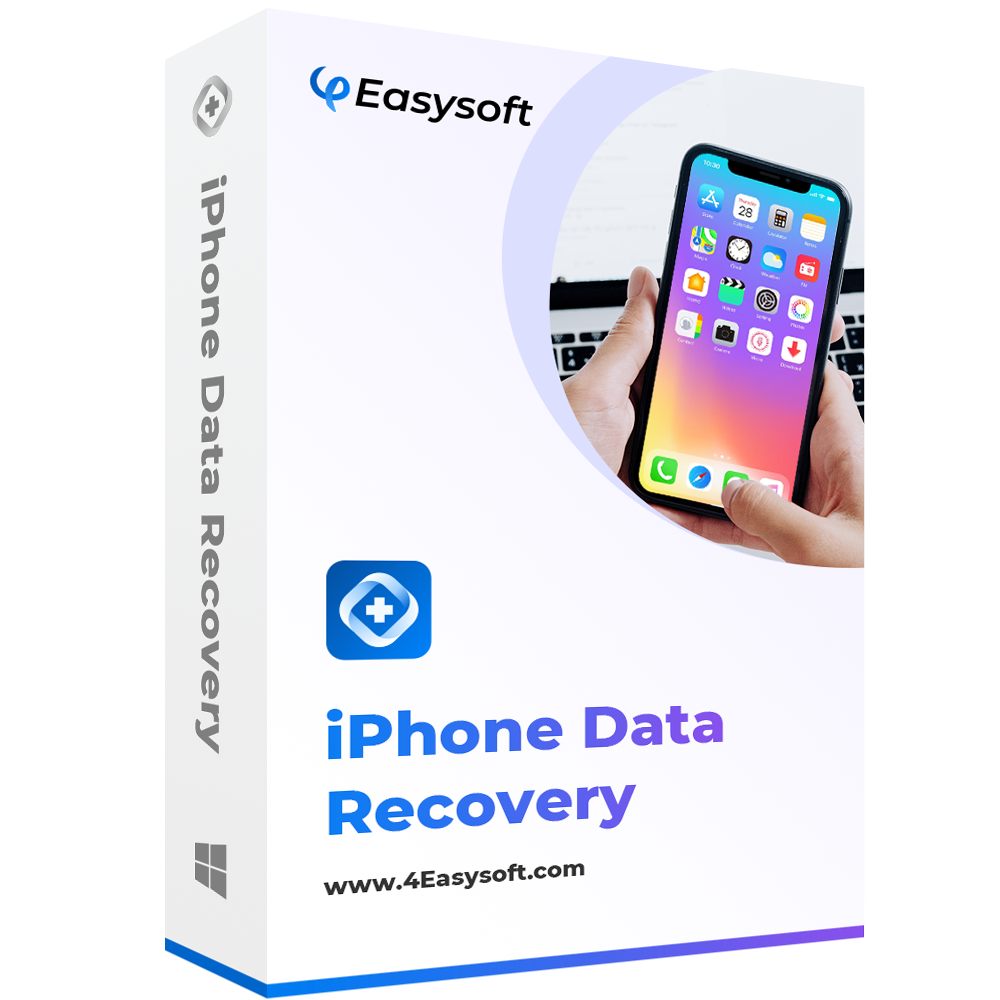 4Easysoft iPhone Data Recovery
Recover all data, including the deleted and expired voice messages from all apps.
Able to backup/restore data, and transfer WhatsApp voice messages.
Scan the voice message files on your iPhone for you to choose to recover.
Promise one hundred percent of safety to recover your voice message.
And here are the steps to find where do voice messages save on iPhone and get them back. And before do this, please ensure that the iTunes on your computer is updated to the latest version. Then read the following steps:
Step 1Launch 4Easysoft iPhone Data Recovery on your computer, and then connect your iOS device to the computer via USB cable. If you are using the iOS 11 or above system, please unlock your device and tap Trust on the screen.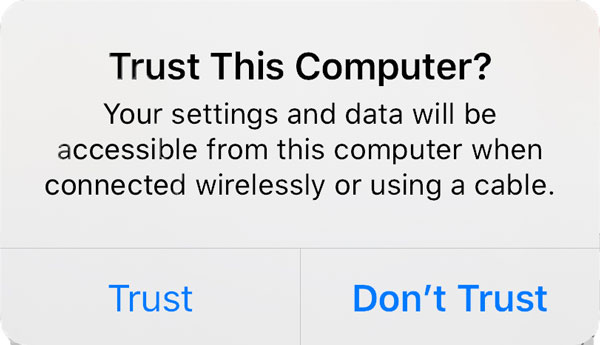 Step 2Click the iPhone Data Recovery button on the main interface and click the Recover button from the iOS Device menu. Then click the Start Scan button to scan all the deleted data on your iOS device. The time taken by the scanning process depends on the file number you have.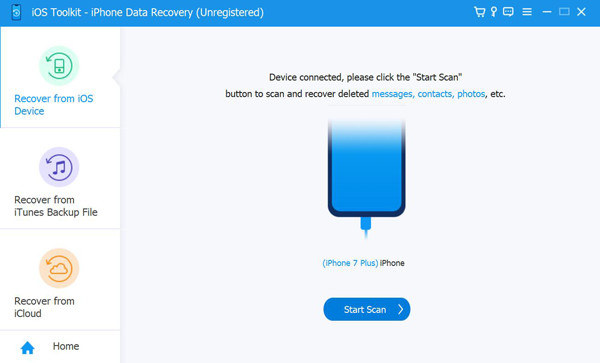 Step 3After that, all the data will be classified into different file types and listed on the program. You can double-click on the desired file to preview it and then click it to recover. Finally, click the Recover button to start recovering all the chosen files simultaneously. Then, you can directly find the voice messages on iPhone from the target folder.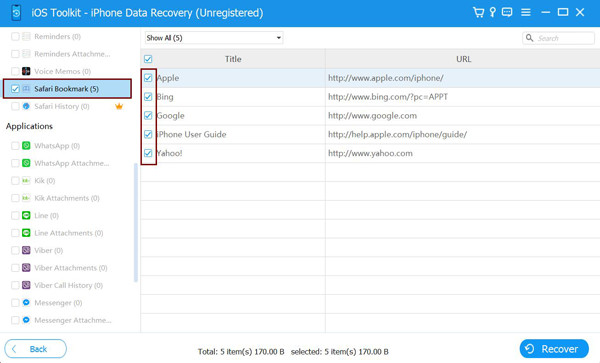 Step 4If you want to recover some private and important data such as call history, safari bookmark, contacts, etc. From the iOS 13 or above system, you need to click the Encrypted Scan button to confirm the operation.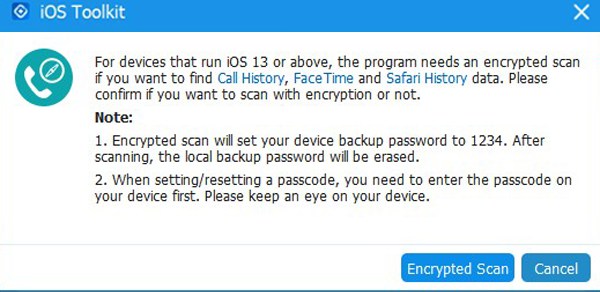 Part 3: FAQs about Where do Voice Message Save on iPhone
How to save voice messages on iPhone?

To save the audio message on ios 14/15, simply tap Share and tap Save to Voice Memos. The audio message will then be saved to your iPhone's Voice Memos app, where you can access it.

Why my saved voice messages are not in voice memos?

You can do a few things if your audio messages aren't saved to voice memos. First, check if you have enough storage space on your device. Then, you can restart your device to fix minor software issues. Lastly, if the problem is still not fixed, you can try resetting your device to its factory settings with the help of 4Easysoft iPhone Data Recovery.

How to listen to saved voice messages on iPhone?

To listen to a saved audio message after finding the saving location of voice messages, simply open the Voice Memos app and tap the audio message you want to listen to. The audio message will begin playing automatically. Also, tap Share if you want to share the audio message with someone else.
Conclusion
After reading this post, you must know where do voice messages save on your iPhone, and if you find your voice messages are expired or deleted you can use 4Easysoft iPhone Data Recovery to get them back.