How to Use Audio to Video AI Generators to Make Wonderful Videos
You'll definitely agree that video creation takes a lot of process to finish. It is indeed time-consuming work to do. But with the rise of Artificial Intelligence and with its integration with video editors, various developers were able to produce Audio to Video AI Generator tools that allow you to create video from various audio inputs. You might get overwhelmed by how many of them are on the market. Don't worry; this post collects 8 of audio to video AI creators! Explore them now!
Part 1. Top 8 Best AI Generators to Create Audio to Video Easily
Here, this post lists 8 of the best audio-to-video AI Generator tools on the market. Along with their names, there are also a few descriptions of them. This makes it easier to weigh everything and choose the one you think suits your needs. So, without any further delay, explore them now!
1. Flowjin
The first tool you can use as an Audio to Video AI Free Generator is Flowjin. This AI Generator can transform long and short audio files into video clips for social media platforms such as YouTube, TikTok, and Instagram. With Flowjin, you don't have to be a professional video creator to produce great videos; you just need to upload your audio, like voice recordings, and let the platform creates a video for you! Flowjin is the best tool for Podcast advertisement.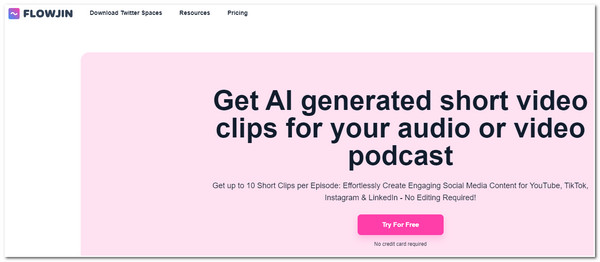 2. Melobytes
Melobytes supports many AI-powered creative applications, including Audio to Video. Each of these apps is well-composed and is easy-to-use which makes them user-friendly. With its Audio to Video Clip application, you can import audio files with a maximum of 50 MB, add lyrics, and titles, generate images, and then let this tool's AI do the rest of the work. The way the apps are developed makes this tool one of the best Audio to Video AI Generators.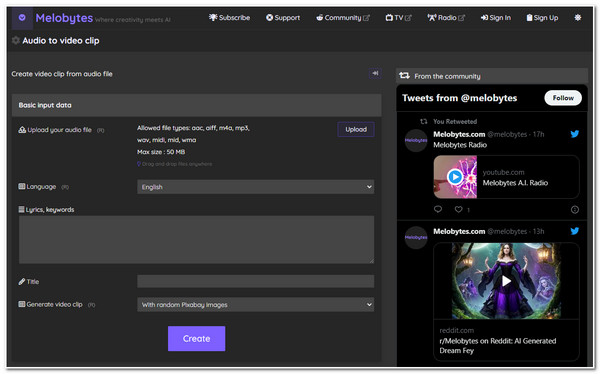 3. Elai.io
If you want to create a video that lets you import audio recordings to an avatar, then Elai.io would be your best tool! This tool lets you embed voice recordings into an avatar; the system will synchronize the audio and video and produce real results. Aside from this tool's Audio to Video AI Generator, it also supports customization settings that let you tweak various areas of your video.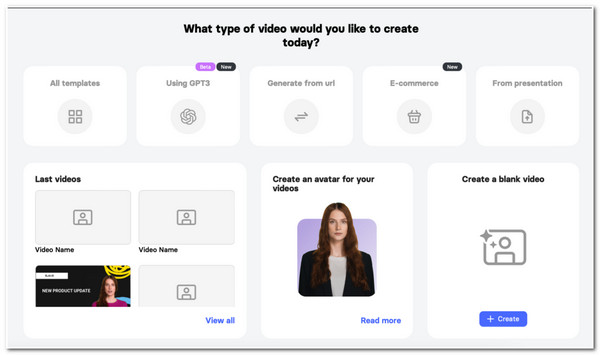 4. Steve.AI
Another tool that supports AI Audio to Video feature is Steve.AI. This tool has patented Artificial Intelligence that lets users create various videos and animations. Steve.AI also aims to provide users with fast and efficient video creation by making their features simple yet powerful. One of its features allows you to repurpose your audio file by extracting its text, building contents, and producing excellent video.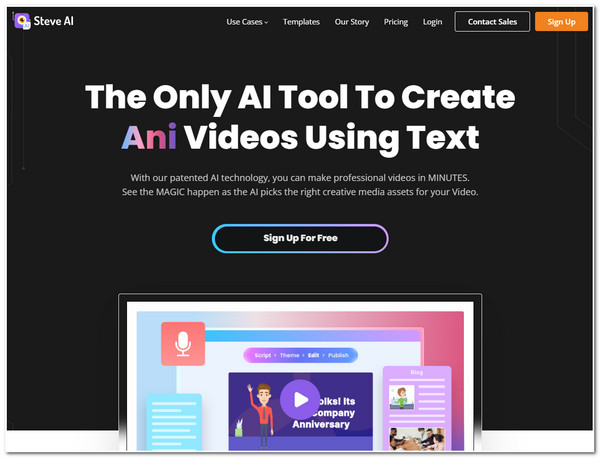 5. Nova A.I.
Like Steve.AI, Nova A.I. aims to provide users with easy yet efficient video creation out of audio files. Even if you are not an experienced user without any knowledge of video creation, you can edit and create videos easily using this tool. With this Audio to Video AI Integrated tool, you can import various audio files, modify parameters such as adding sound effects, transitions, and trimmers, and produce great videos.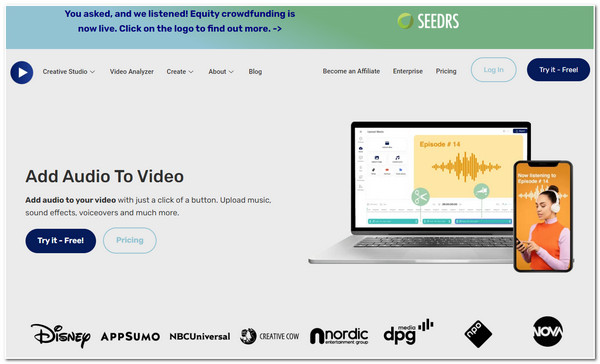 6. WZRD - AI Music Visualizer
After trying WZRD, you'll definitely say that this tool is one the best Audio to Video AI you've ever used! This tool utilizes AI technology that can analyze percussions and harmonic elements of your audio and then add them to various parts of your video. Moreover, it is also equipped with a machine learning technology technique called neural network which provides beautiful visuals of your video. With these features, you'll definitely have the best Audio to Video output.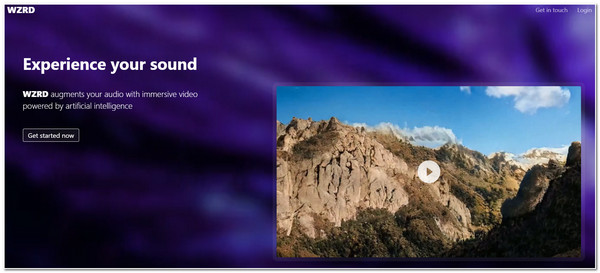 7. DeepWord
DeepWord is also similar to Elai.io. This tool's AI Audio to Video feature allows you to upload audio files and use your preferred actor (avatar) as someone who delivers the audio for you. This tool supports different languages, which means it lets you select which language you prefer to use. Within just a few steps, uploading audio, choosing an avatar or actor, and AI generation, you can acquire the best Audio to the Video output.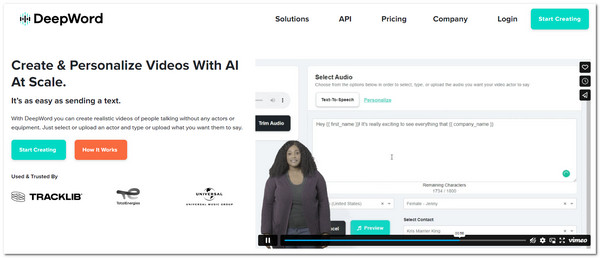 8. Sonix.ai
Another Audio Video AI tool that uses AI to automatedly transcripts audio to videos is Sonix.ai. This tool lets you accurately convert audio files into text and use them as subtitles to a video. You can organize, edit, and share them easily on any device. This tool is much more impressive because it supports various types of language to choose from!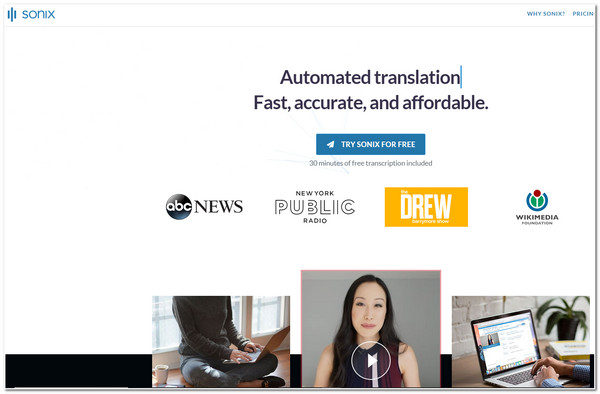 Bonus Tips on How to Simply Convert Audio to Video with AI Enhancer
That's it! Those are the 8 best Audio to Video AI tools that you can use to generate videos from an audio file input. Now, in case you are looking for a way to extract audio content and embed it into a different video clip, then the 4Easysoft Total Video Converter tool is what you are searching for. This tool is infused with a Converter feature that supports 600+ media formats, and device presets to convert your audio file. It is also equipped with Output Enhancer feature that allows you to tweak output quality, optimize brightness and contrast, remove dirt-like noises on your audio, etc.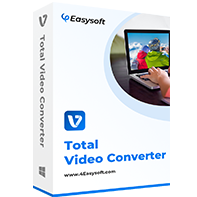 4Easysoft Total Video Converter
Offer Batch Conversation process that let's convert various Audio to Video simultaneously.
Infused with an Audio Trimmer that lets you cut unwanted audio parts.
Equipped with Output Tweaking options that you can use to modify the quality, frame rate, resolution, etc.
Support Audio Tweaking option that you can use to modify the volume and delay of your audio.
Part 2: FAQs about the Best Audio Video AI Tool on Windows/Mac
1. Is Steve.ai a free audio to video AI generator to use?

Steve.ai is not a free tool that you can use to generate Audio from Video, but it offers a free plan. However, its free version only allows you to download 3 monthly outputs with a watermark. If you consider availing of its other plans, you can visit its Pricing Page to discover its Pricing Plan.

2. Does Elai.io support other languages?

Yes, Elai.io supports other languages aside from English. It supports 129 languages worldwide, including Spanish, Arabic, Russian, Chinese, and Japanese.

3. What exactly does the AI Video Generator tool automatically generate?

It depends on the tool with an integrated AI you are using. They usually automatically generate the video's color balance, exposure, length, size, etc. Some tools automatically add animations and transitions and generate captions for your video.
Conclusion
There you have it! Those are the 8 best Audio to Video AI tools that you can use to produce videos from audio file inputs. With these 8 tools, you can produce videos within just a few clicks. Thanks to their integrated Artificial Intelligence (AI) which makes video generation out of audio faster and easier. Along your video creation journey, you might need to extract audio from a video and apply it to different video clips. To help you do the audio extraction from a video, you can use the 4Easysoft Total Video Converter! This tool supports the ultra-fast speed conversation process you can experience once you use the tool. It supports hundreds of formats to export your audio. If this tool caught your interest, then visit this tool's official website to learn more!