WhatsApp Status: How to Add Music, Voice Note, And Use More Features
When WhatsApp was released, the feature, Status, was one of the fan favorites. With more than 1.5 billion users, staying in touch with family through sharing status is essential. Now, WhatsApp Status made expressing even more exciting by adding new features, like voice status, the ability to use emojis, GIFs, links, and more. If you know platforms like Snapchat or Instagram, you will be familiar with the new features of Status. What else to know about it? Below are all things you need to know about WhatsApp Status.
Part 1. The Ultimate Guide on How to Use WhatsApp Status Features
WhatsApp Status is one way to update your family and friends. As chats and calls can be done privately, it goes the same with Status. Similar to how Instagram Stories works, the status will disappear after 24 hours.
Once you post your status, your friend or contacts will be able to view it, and vice versa. However, you might wonder if you can set a specific person to see your online status. In this case, "How to hide online status on WhatsApp?" rise. This part will walk you through that and many more features of WhatsApp Status. Without any delay, take a look below.
How Can I View My Friend's WhatsApp Status?
For Android users out there, tap the Status tab from the above menu to access Status Update. Meanwhile, on iPhone, you will locate the Status tab below. Then, under Recent Updates, all statutes from your friends will be visible; tap the selected one to view their update.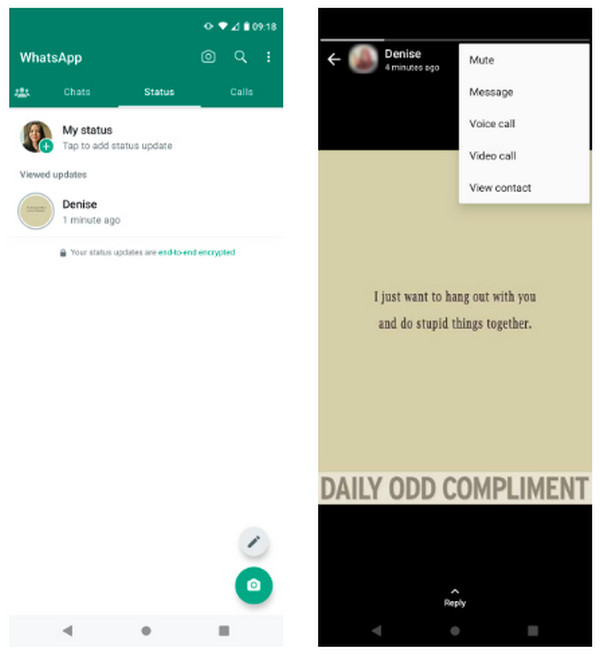 If they've shared a photo, it will be on your screen for seconds before it slides to the following status of your selected contact. Does it disappear too quickly? You can tap on the status and keep holding the screen to pause. While for video, it will be automatically played, then swipe left of the screen to view the next WhatsApp Status.
How Can I Reply to WhatsApp Status?
When you have viewed a status that caught your attention and want to reply, you can send a text, voice message, video, GIF, sticker, etc., as a reply. Aside from these, you are also allowed to send location, contacts, documents or create a poll.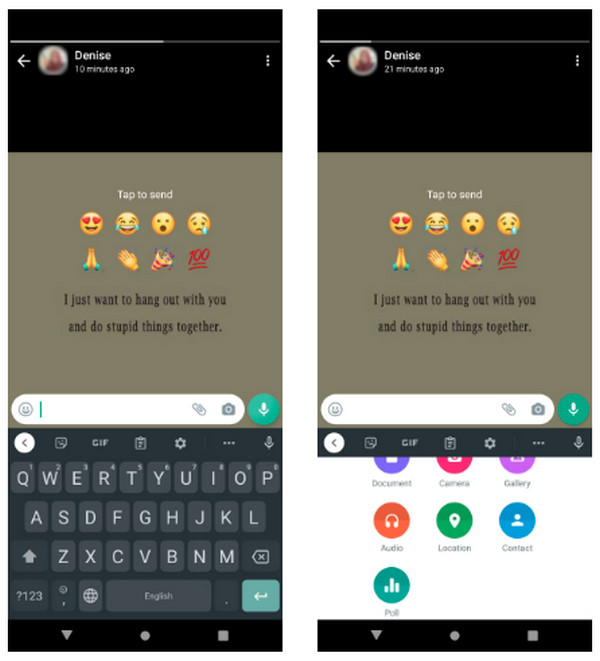 How Can I Post Photos and Videos As WhatsApp Status?
On the Status section, tap the My Status. It will automatically open the Camera to take a picture. Tap the Shutter button if you wish to. For video, select the Video option beside Photo before tapping the same button. If you want to switch camera view, double-tap your phone screen. After that, enter a caption with other elements, then hit Send to apply them.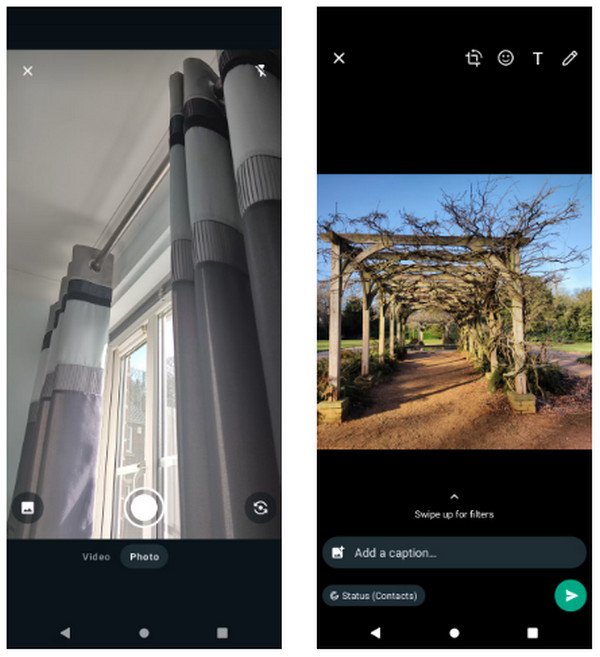 Now, you ask, how to do voice note on WhatsApp Status? Fortunately, WhatsApp offers an Audio Status. Go to the Status Updates section, tap the Pencil icon, and long-tap Microphone to record. Is it possible to learn here how to add music to WhatsApp Status? Audio Status can be shared with a funny story to be shared, talking about thoughts, sharing music, and so forth.
How Can I Add Emojis or GIFs to WhatsApp Status?
To add fun elements to your status, WhatsApp lets users apply emojis or GIFs after selecting a photo or video to be posted. You can access all filters on the editing window by swiping them up. Use the Caption feature to enter what you want. Add an emoji or sticker to your status in the Emoji tab in the Emoji tab, or use the Pencil icon to draw.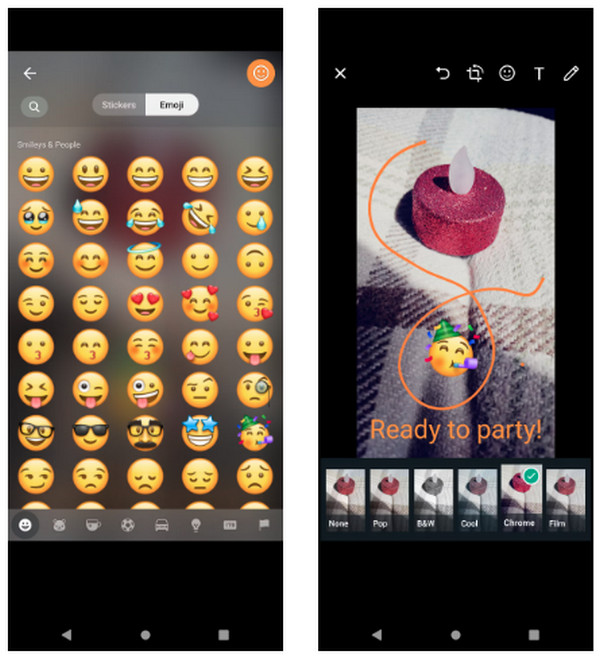 One effective way to create animated GIFs more impressive is through 4Easysoft Total Video Converter. The program is full of powerful features, from converting to editing. It embraces more than 15 toolkits, one of which is the GIF Maker you can find in the Toolbox. Using it, you can customize GIFs out of your videos or photos without quality drops. You can crop, add effects, rotate, and do more to it before generating it as a high-quality GIF.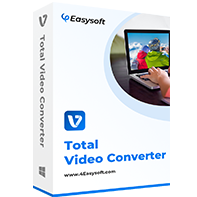 4Easysoft Total Video Converter
GIF Maker allows users to customize pictures and videos to generate GIFs.
Customizable video settings, like frame rate and output size, to maintain high quality.
Dozens of filters can be applied to your GIF, like dynamic, paints, snow, drop, etc.
Full of editing features, looping animation, conversion, and more from the GIF Maker section.
How Can I Post Text or Links to WhatsApp Status?
How about adding links or text after knowing how to add GIFs to your status? In the Status section, tap the Pencil icon to share text. Change the font by hitting the T icon, then adjust the Paint Palette icon color. On the other hand, links can be copied and pasted by tapping the pop-up preview.
How Can I Hide a WhatsApp Status From Specific People?
Remember the question earlier? How to hide online status on WhatsApp? Or do most users even ask how to turn off WhatsApp online status? Of course, you may only want some to view your status. You can hide it from specific contacts or share it with selected ones.
For Android users, tap the three-dot menu, then go to the Status tab. On an iOS device, tap the Privacy button. After that, hit the My Contacts except to select which contacts have denied access from viewing your WhatsApp Status. Or select the Only Share option to pick friends who are able to see your status. Hit the Done option to apply changes.
How to Delete WhatsApp Status?
After learning how to post and view, it's time to delete it. On Android devices, head to the Status section, where you'll see the three-dot menu; tap Delete, then confirm. For iOS, on the My Status section, swipe left of your screen to see the Delete button.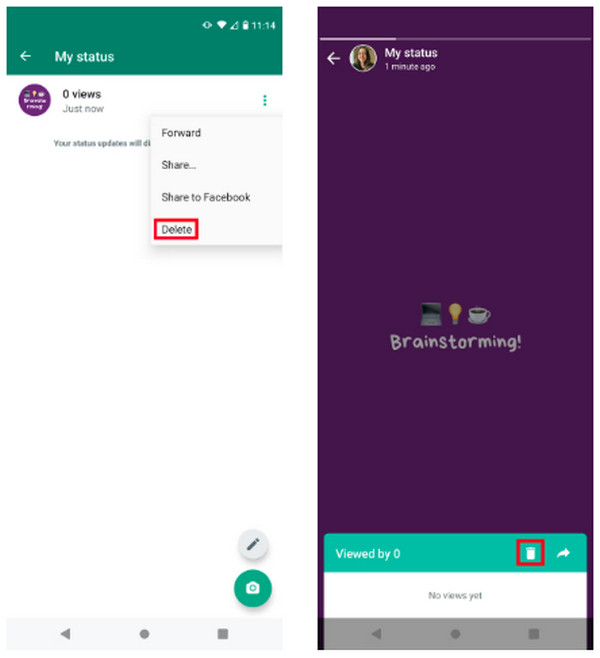 How to Take Screenshots of WhatsApp Status Without Getting Caught?
Unlike SnapChat, capturing someone's WhatsApp Status can be achieved without notifying the user who posted it. Both iPhone and Android allow you to take screenshots easily with the use of buttons or other onscreen controls. However, if you will do it on a PC and have never done it before, go for 4Easysof Screen Recorder. It has the ability to record any screen activities, such as gameplay, meetings, tutorials, and more. Also, it has the fantastic Snapshot Tool, which enables you to take screenshots of essential messages, screens, information, and so forth. You can then make additional edits using the drawing tools.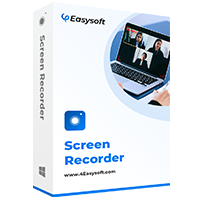 4Easysoft Screen Recorder
A Snapshot tool that lets users capture screen activities conveniently.
Customized hotkeys for taking screenshots are set for easy capturing.
A Preview window where you can edit, draw, add annotations, and more.
During recording, taking screenshots can be achieved with the floating toolbar.
Part 2: FAQs about the New Feature WhatsApp Status
Can someone view my WhatsApp Status without notifying me?

Yes. WhatsApp has an option where you are able to view someone's status without the other user knowing. They do it through Settings, then Account, and go to Privacy. Toggle the Read Receipts option to turn it off.

How to check other's WhatsApp Status?

Open the WhatsApp, then go to the Status tab, then a list of your contacts or friends who have posted new statuses is visible there.

What is the primary purpose of WhatsApp Status?

The main purpose of status on WhatsApp is to share text, photos, videos, and other updates in your life with friends and others within 24 hours. Simply put, it is for sharing what you are up to now with your contacts.

Who can view my status on WhatsApp?

If someone has your phone number, they can view your status, and if you have their phone numbers as well, they are able to see what you post. However, you can change whether your update is viewable by specific contacts or hidden from selected contacts.

Is there a limit to viewing someone else's WhatsApp Status?

In posting videos, it has a maximum of 30 seconds, but in terms of viewing it, there is no. So, if you wish to avoid seeing a particular person's status, you can put them on Mute. To do this, tap and hold, for Android, the selected contact status, then Mute. While for iOS, swipe right onto the name, then tap Mute.
Conclusion
Sharing thoughts and ideas is no surprise on the WhatsApp Status feature. This post has highlighted essential features of Status, and hopefully, you have gained more knowledge about it. For very attractive GIFs to be posted, remember to try out the 4Easysoft Total Video Converter to customize pictures and video to GIFs, and capturing it is best with Screen Recorder. Both programs support Windows and Mac operating systems. You might be surprised about what other features they offer; check them out.
Related Articles: