How to Record WhatsApp Calls with High Quality? [Step-by-step Guide]
You may need to record WhatsApp calls of lectures or other essential calls for future reference. WhatsApp is an instant messaging application that allows users to send messages, pictures, videos, and more. You may be working on something important and need to record it for sharing. However, the application does not support a built-in recording tool. Thus, read on to the following parts to learn how to record WhatsApp calls on Windows PC, Mac, iPhone, and Android devices.
Part 1: The Best Way to Record WhatsApp Call on Windows/Mac
Want to record WhatsApp calls, tutorials, lectures, meetings, gameplay, and more? Record with 4Easysoft Screen Recorder! This program is an easy but powerful recorder that captures all screen activities and audio tracks with just simple clicks. While recording, you can add lines, shapes, text, etc., as annotations. In addition, it also offers multiple formats which you can use to export your file, including MP3, WMA, AAC, and so forth. It also provides a high-quality video/audio editing tool to trim recorded WhatsApp calls, videos, online meetings, and lectures according to your requirements.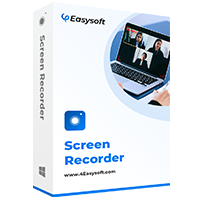 4Easysoft Screen Recorder
Provide an Audio Recorder to record WhatsApp calls, favorite music, voiceovers, and more.
Offer noise cancellation and voice enhancement so that your audio will have an excellent quality.
Support a Snapshot Tool that allows you to take screenshots quickly at any time.
Can trim the recordings with its Clip Recordings feature to delete unwanted parts at the beginning and end.
Step 1The designed Audio Recorder of 4Easysoft Screen Recorder is the best choice for recording WhatsApp calls. On the main interface, click Audio Recorder to prepare for recording WhatsApp calls.

Step 2Toggle System Sound and Microphone switch buttons to turn them on, which will record the whole WhatsApp call without any missing. The System Sound refers to the internal sound that comes from your computer, and the Microphone is the one that will record your voice. Pull the sliders to adjust the volume of each. Then, click the REC button on the side to record WhatsApp calls.

Step 3When you're done, click the Stop icon to stop recording audio. You can preview the recording and delete the unwanted parts at the beginning and end. Lastly, click the Save button to export.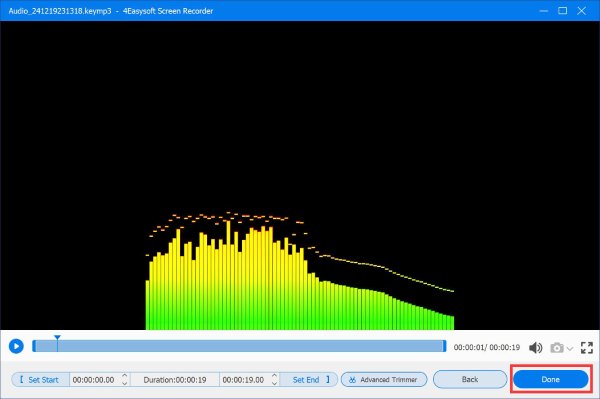 Part 2: How to Record WhatsApp Call on Android/iPhone with High Quality
After knowing how to record WhatsApp calls on Windows PC or Mac, you can also use the built-in recorder and professional apps to capture a WhatsApp call on your Android and iPhone. Below are the three methods to record a WhatsApp call on your iPhone and Android device.
1. Record WhatsApp Calls with iPhone's Built-in Screen Recorder.
Step 1If you didn't turn on this function, go to Settings, then tap Control Center to include the Screen Recording option in your controls. Tap the Customize Controls on the menu and tap the Plus icon next to Screen Recording, which will turn on the deafault recorder on iPhone 14/13/12/11.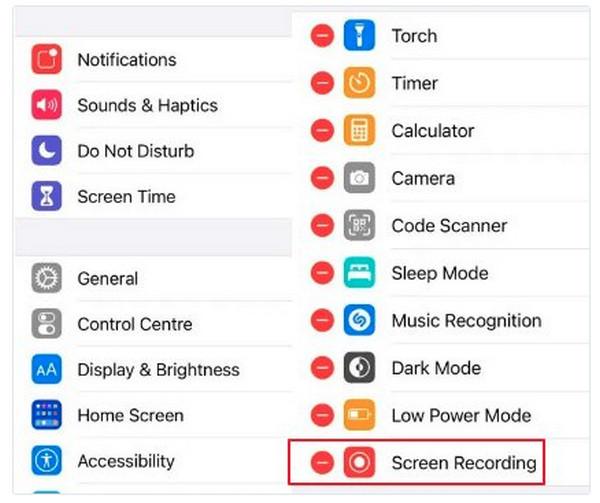 Step 2Go to Control Center on your iPhone by swiping down the top-right corner of your screen if you are using an iPhone X and the latest models. At the meanwhile, you need to swip up from the bottom of your screen for iPhone SE, iPhone 8, and earlier models users.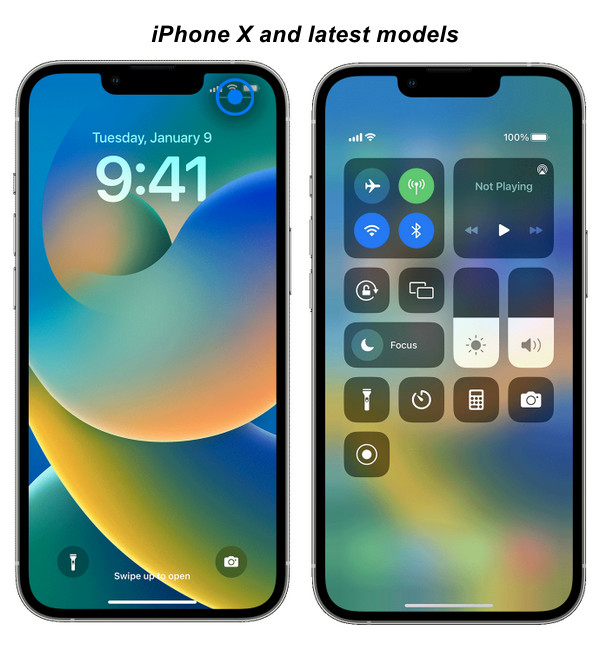 Step 3When the WhatsApp call starts, ensure the microphone is turned on, and the volume is up to record WhatsApp call. Tap the Screen Recording option to start, then tap it again when the call is over. It will be automatically saved on your Photos.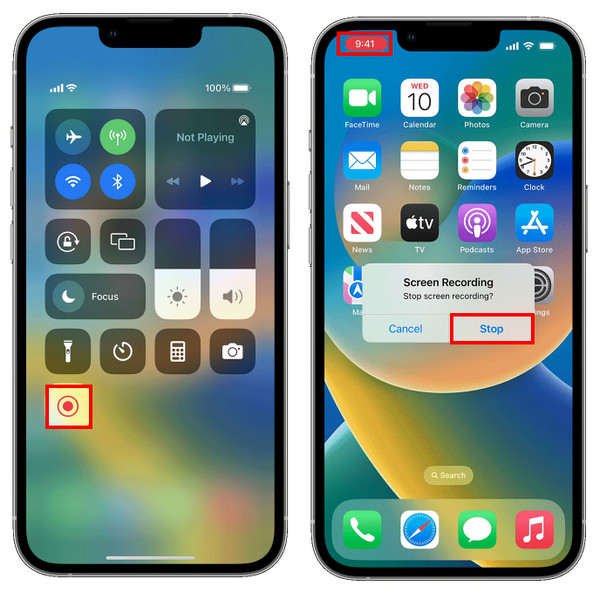 2. Record WhatsApp Calls on iPhone via Mac.
Besides the built-in recorder on iPhone, you can also use Mac to record WhatsApp calls on iPhone without downloading any other app. QuickTime is not only a video player, but also a video and audio recorder, which even supports capturing audio from your iPhone. Here are the detailed steps:
Step 1Use a USB cable to connect your iPhone to Mac. On your iPhone, you will receive a Trust this Computer? notification, select Trust.
Step 2Launch QuickTime on your Mac. When you have launched it, click File from the above menu then select New Audio Recording from the drop-down menu.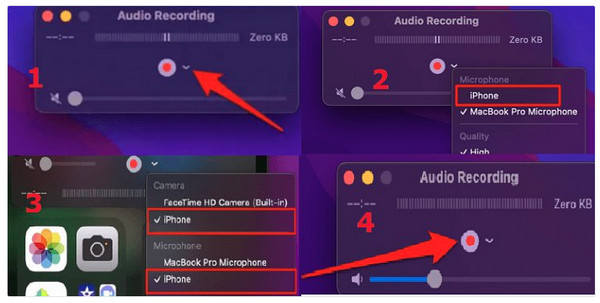 Step 3Click the arrow-down icon, select your iPhone, then press the Record button. Now, you can start the WhatsApp call.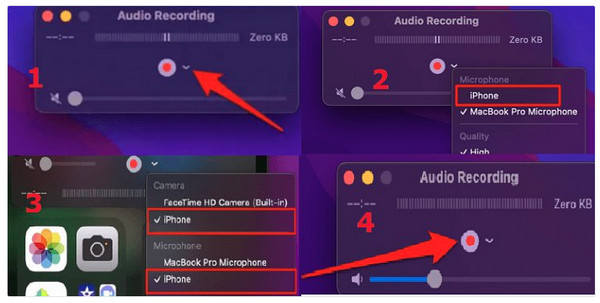 Step 4Call the person you want to record on WhatsApp. Once you're finished, your WhatsApp call will be saved on your Mac.
3. Record WhatsApp Calls with Cube Call Recorder.
Cube Call Recorder on Android, which can be downloaded on Google Play Store, offers call recording features to record incoming calls from a variety of apps, like WhatsApp. However, it contains ads to help it stay freely available to download. Furthermore, it has support to back up your recordings and Silent Mode that enables you to hide the recording icon. Below is a detailed guide on using this Cube Call Record on Android to record WhatsApp calls.
Step 1Open Cube Call Recorder once you get a call from WhatsApp, or you start the call on WhatsApp first. Then you can screen record on Android.
Step 2Tap the Cube Call widget on your mobile phone screen to start recording the WhatsApp call. If there is no widget, it means your Android phone doesn't support the Cube Call Recorder application.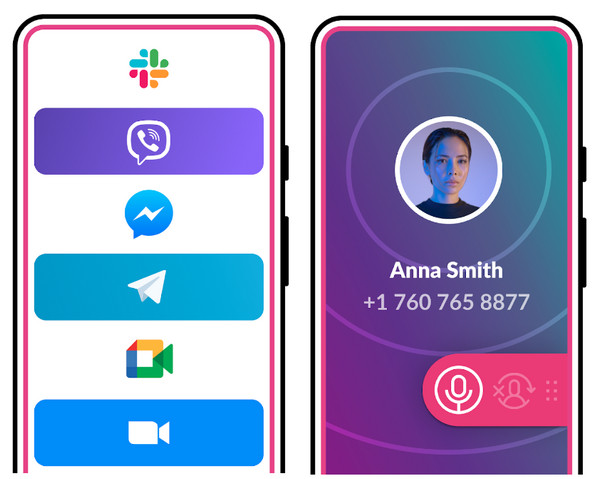 Part 3: FAQs about How to Record WhatsApp Call
Is there a built-in tool to record a WhatsApp call?

You can't record WhatsApp calls directly from the application since it does not support a built-in recording tool option. So if you want to record a WhatsApp call, download a third-party program to help. Or use your phone's built-in recorder if you have one.

Can Voice Memos record WhatsApp calls?

Voice Memos can only record phone calls from the iPhone. If you tap on the Record button before starting the call, the application will be able to hear and record your conversation.

Will recording WhatsApp calls notify others?

No, it won't tell the other side when you are recording WhatsApp calls. You can use any third part software or the built-in recorders on mobiles to record WhatsApp calls with permission.
Conclusion
Recording a WhatsApp call now is easier with the four ways this post provides. For a basic screen recorder, use the built-in screen recording tool if you're an iPhone user. Or, if you want another option to record with your iPhone, connect it through a USB cable to your Mac. Meanwhile, for Android users, several applications are downloadable on Google Play Store to record WhatsApp calls, one of which is the Cube Call Recorder. But, if you are considering recording online calls on your desktop, the best program for you is the 4Easysoft Screen Recorder. Record calls, voiceovers, and your favorite music with its designed Audio Recorder. Do all your screen recording with high quality using this powerful screen recorder.
Related Articles