Top 10 Hidden Call Recorders to Capture All Calls on Android/iPhone
Imagine you forgot the comments about your performance and things you need to improve in a call; it can be frustrating. So, record your phone call with your teacher, employer, or other people next time. But how can you record a call without them knowing? A hidden call recorder is used in these situations! Whatever the scenario is, a call recorder would be your vital tool to listen to phone calls offline as a future reference. Below is a list of the top 10 best hidden call recorders for Android and iPhone. Dive in right now!
Part 1: Top 10 Hidden Call Recorders for Android/iPhone
As said, a call recording tool can be used in many important situations. So, if looking for the best-hidden call recorder gives you a hard time, take a look at the list of 10 best call recorders for mobile devices, each with a description and pros and cons. Choose which one fits your requirement as the best-hidden call recorder.
1. MSPY
MSPY can be used as your iPhone and Android hidden call recorder. You can use this app to track locations besides recording phone calls. Plus, it allows you not only to monitor all text messages and incoming and outgoing calls but you can also monitor several social media applications. Besides this, it can be your all-in-one app as it handles everything, like calendars, contacts, photos, videos, internet connection, etc.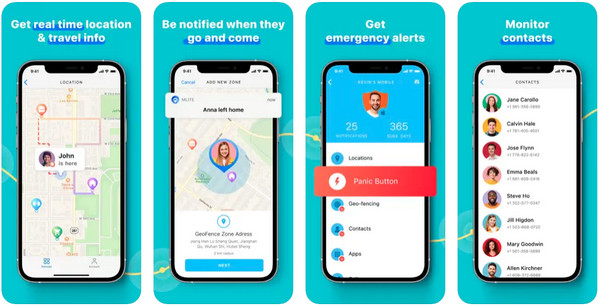 Pros

Notifie you about others' locations
Block apps and websites
Advanced social media monitoring
Cons

One license applies to one device only
A bit pricey when subscribed
2. TapeACall
TapeACall is one popular and reliable hidden call recorder for Android/iPhone. With its powerful call-recording technology, you won't find yourself having a difficult time with any voice and call issues while recording. Furthermore, it supports recording Zoom meetings at any length — no recording limits. And the output will surely be in a crystal clear recording and can be quickly downloaded to your computer.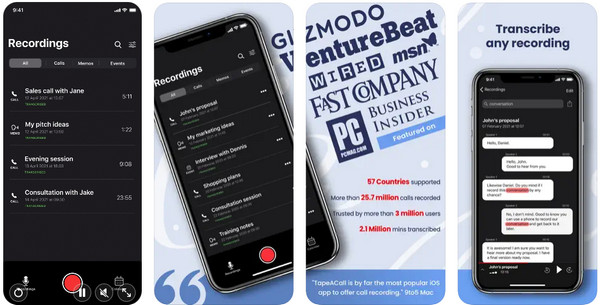 Pros

Offer huge storage space.
Support recording long calls.
Instantly answer all issues.
Cons

Store recording for only one year.
The audio quality may be bad sometimes.
3. Rev Call Recorder
Rev Call Recorder is another IPhone hidden call recorder that enables you to record incoming and outgoing calls in a simple step. Unlike other applications, it offers no limits in recording, meaning you can record as many times as you want and record long phone calls. Moreover, it supports exporting high-quality phone recordings and sharing them through email, Dropbox, SMS, iCloud, and more.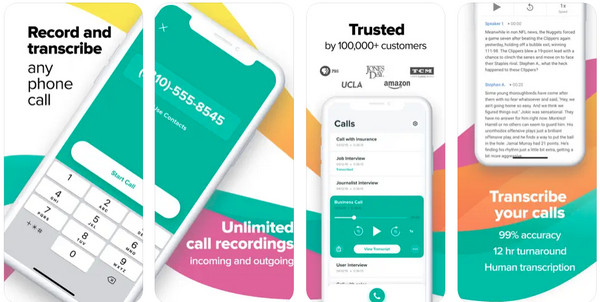 Pros

Offer no ads when used
Let you record long calls — no limits
Don not require you to subscribe.
Cons

Might encounter bugs and issues.
For long recordings, it gets slow.
4. SPYZIE
SPYZIE is among the best phone call recording tools to monitor children, employers, etc. It works as both iPhone and Android hidden call recorder. Besides being a call recording tool, it allows users to monitor messages, several applications, and even track location! You can also check call logs, and contact details, view deleted text messages and browser history, and monitor other social activities.
Pros

Have a stealth mode, letting you not get caught
Allow you to set boundaries on GPS
Quickly monitor a device in real-time
Cons

Feature in the iOS version are limited
Offer no free trial, except the free demo on website
5. SPY PHONE
SPY PHONE is an excellent hidden call recorder for iOS devices, such as iPhones and iPad, enabling you to monitor online locations. In addition, it lets you see contacts from other phones, the target ones. Also, monitoring GPS locations lets you view information from up to five different devices using the control panel. Of course, other than tracking the locations, it can also help if they have lost their phone.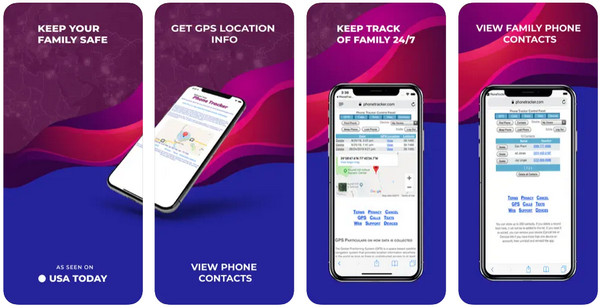 Pros

Allow you to set your phone's usage limit
Useful when devices get lost
Offer a user-friendly interface
Cons

Limited recording features
Poor customer support
6. SpyBubble
SpyBubble is an excellent hidden call recorder that functions perfectly for Android users. Additionally, it is a good monitoring tool for parents who want to check their kids' online activities and keeps them safe from bullies, scammers, and other online predators. You can also take screenshots and read messages, emails, and others remotely. Plus, you will get alerts whenever the target device does a restricted action.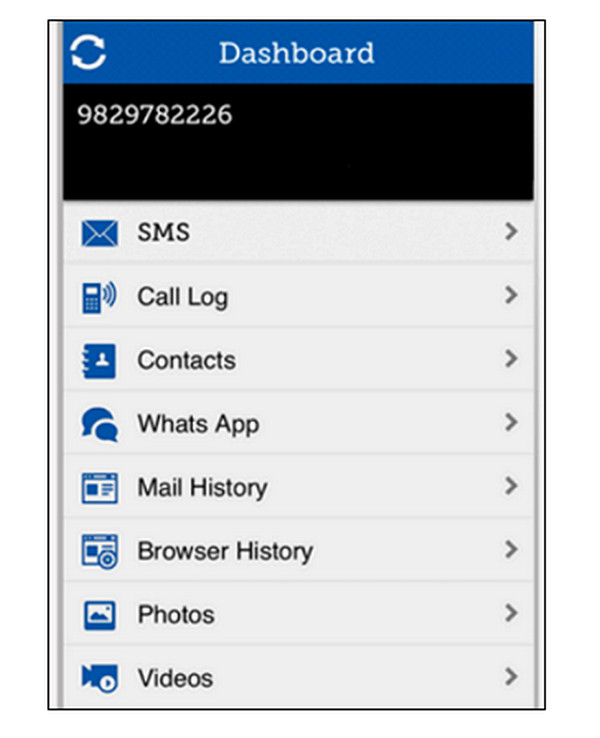 Pros

Copy deleted files of the target phone.
Track all YouTube activity.
Notify you when there are changes in contacts.
Cons

Do not function well compared to others.
Can't monitor videos.
7. SPY24
SPY24 is another hidden call recorder for Android and iPhone that lets you monitor children, employees, and other people's activities. Furthermore, you can remotely see text messages, call logs, several files, websites, track locations, and more. It works 24/7, so you will get alerts at all times. Plus, it supports messaging apps like Viber, WhatsApp, Skype, etc., allowing you to view those apps' messages.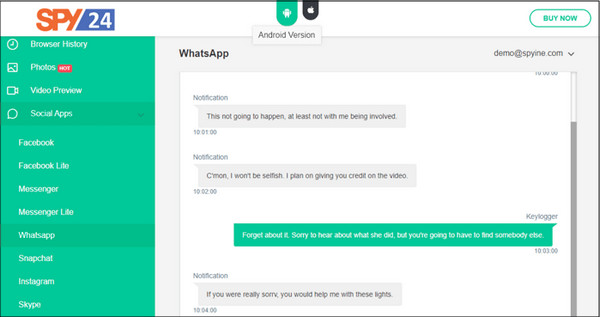 Pros

Send notifications for calendar events.
Allow you to set a restriction to the target phone.
Block harmful applications.
Cons

Offer a complex process.
Too limited features in the free version.
8. TTSpy
TTSpy or TheTruthSPy is a hidden call recorder for Android users, compatible with all models and versions. It assists you in monitoring your children, employees, and everything suspicious. Moreover, it not only works like that, but it also supports recording social activities and text messages. Also, it lets you track the target phone's location as it is equipped with an excellent GPS tracking system.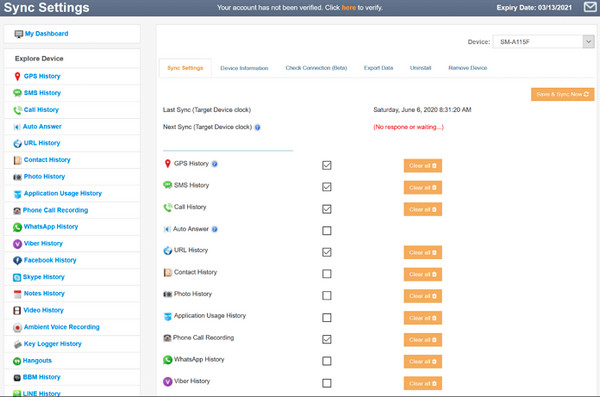 Pros

No jailbreaking for most features to function.
Monitor visited websites.
Remotely access the app's dashboard.
Cons

No free trial is available.
Don't support monitoring social media activity.
9. EyeZy
EyeZy is your way to go for the best-hidden call recorder. Parents can monitor their kids' online activities besides tracking the location. It also offers rich phone monitoring features, allowing parents to protect their children. You can ensure you're the only one who knows you're recording the targeted phone, keeping it secure. Plus, customer support is available 24/7, so you can get help anytime.
Pros

Customer support is always available.
AI-based notification setting.
Provides affordable pricing.
Cons

Tracking features are limited.
Offer no free trial version.
10. RMC: Android Call Recorder
RMC Android Call Recorder is the last hidden call recorder on the list for Android users. It helps record all incoming and outgoing calls and saves them quickly on your phone's memory card. However, you should take note that it can only record from the microphone, so ensure you have turned on the loudspeaker option during phone calls. Besides recording, you can also monitor text messages.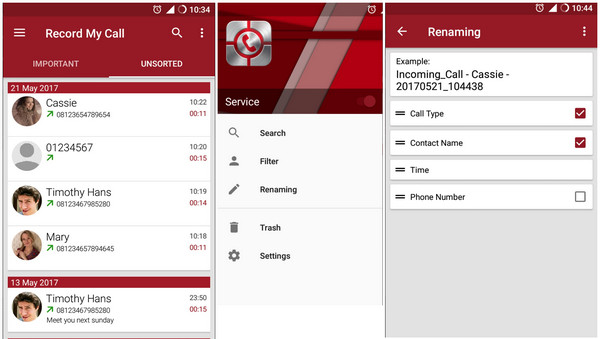 Pros

Have backup and restore features.
Let you customize audio.
Cloud storage integration.
Cons

Only work with a microphone.
Lack some useful recording features.
Recommended: Professional Call Recorder for All Devices
After discussing all the top 10 hidden call recorders, here is also a powerful and easy-to-use screen recorder that works on both Windows/Mac is the 4Easysoft Screen Recorder. The program allows you to record all activities happening on your screen, like tutorials, meetings, gameplay, and more. And while recording, you can add annotations and take screenshots of a specific presentation. Furthermore, as a call recorder, it is equipped with an Audio Recorder to capture your voice, and other audio. It also has noise cancellation to remove background noises and voice enhancement, to increase the volume if you can't hear it properly. For more details, you can look at some of the main features below.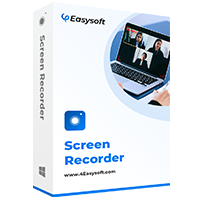 4Easysoft Screen Recorder
Provide you with a designed Audio Recorder, which allows you to record your voice and audio that comes on your computer.
Support several output formats, like MP3, WMA, AAC, and other video and audio formats for easy playback.
Its Clip Recording feature enables you to trim recordings before exporting them to remove unwanted beginning and end parts.
Enable you to remove background noises and enhance audio to get high-quality audio in your recordings.
Part 2: FAQs about The Best Hidden Call Recorder
Is using a hidden call recorder legal?

If it is used to monitor children's online activities, track phones quickly, use for future reference, and keep it to yourself, yes, it is. But, if you will use it for other harmful purposes, recording phone calls without consent is illegal, especially if you install a hidden call recorder on others.

What format is used to save calls in the RMC Audio Call Recorder?

It offers multiple formats, like MP3, MP4, and 3GP. WAV, etc. Besides this, you can adjust audio settings, such as the bitrate, volume, and other parameters.

Can I see social media chats from other phones using EyeZy?

EyeZy allows you to see social media conversations from the target phone. It doesn't just support Messenger, but it also views chats from Instagram, Snapchat, Tinder, and other messaging applications.
Conclusion
That's it for the best call recorders on iPhone and Android. Hopefully, those descriptions, pros, and cons helped you choose which works best as your hidden call recorder. If you haven't chosen yet, get 4Easysoft Screen Recorder now! The program lets you record all screen activities, voice, and audio from your computer. Compared to other tools, it provides excellent and helpful features, meeting and exceeding your standards in a recording.
Related Articles