List of Top 10 Best Music Recording Software [Features, Pros & Cons]
You may need to record music or audio to create a demo or accomplish a task in school or work; to do this, you must start by choosing the right music recording software. The good thing is that several programs to record music are within reach today, free or paid; each will meet your needs differently. If you are still choosing the best one, some of the best music recording software are listed in this post. Check out their unique characteristics, as each will be discussed thoroughly; choose what is best for you!
Part 1: Top 10 Best Music Recording Software on Windows/Mac
1. 4Easysoft Screen Recorder (Windows/Mac)
The first on the list is a powerful screen and music recorder available on Windows and Mac — 4Easysoft Screen Recorder. You can record whatever you want through the microphone or system sound. It also provides the noise cancellation and voice enhancer to improve the quality. Aside from recording screen activities, you can add annotations while recording, such as text, lines, shapes, etc. Furthermore, you can export the record music in different formats, like MP3, FLAC, AAC, etc. Do voice overs, record calls, and your favorite music with this music recording software.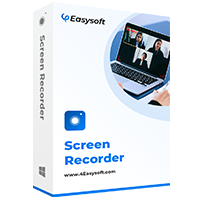 4Easysoft Screen Recorder
Offer an Audio Recorder, which lets you record your voice to do voice-overs, record calls, and music.
Noise cancellation and voice enhancement, giving you a high audio output quality.
Provide all popular formats for audio, such as MP3, WMA, AAC, M4A, and more, for easy playback.
Before exporting, you can delete unwanted beginning and ending parts from your recorder audio.
2. Adobe Audition (Windows/Mac)
The following music recording software is Adobe Audition, one of the most advanced for professionals. It can help you from recording to mixing to restoring audio. Its tool sets include waveform, multitrack, and spectral display. Moreover, it provides a complete package of features you can use to produce a high-quality podcast, as it improves your audio quality with simple clicks. Creating podcasts is best with this music recording software.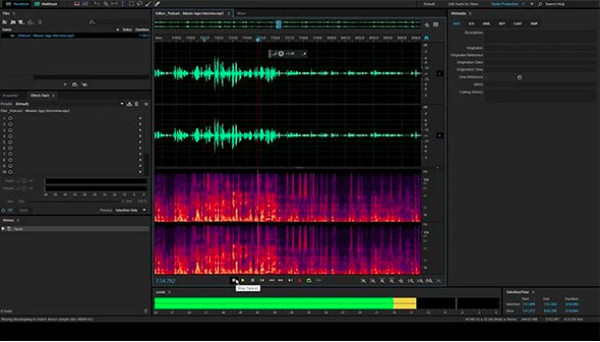 Pros

Multitrack editing abilities.
Restore audio, remove sound, reduce noise.
Great for recording podcasts.
Cons

A bit expensive compared to others.
Complicated for beginners.
3. Audacity (Window/Mac)
Audacity is one of the most famous music recording software today. This program is an easy and open-source tool to record, edit, and export audio files quickly. Even if you don't have any experience in recording music, this program is excellent even for beginners. It also offers many languages which are not offered by many programs. Furthermore, it offers many effects, high-quality audio, and editing features.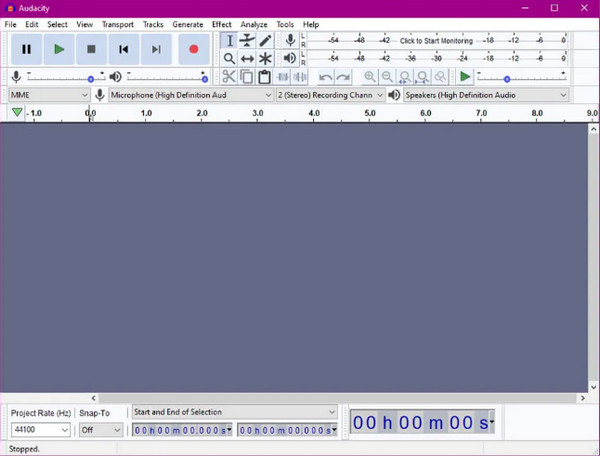 Pros

Have batch processing capabilities
Export files into multiple audio formats
Change the speed and pitch of audio tracks
Cons

Once you did changes, you can't be undone.
It doesn't save edits on history.
The learning curve is a bit steep.
4. AudioDirector (Windows/Mac)
Another excellent music recording software is the AudioDirector. This tool contains many features to help you get a crystal clear audio output quality. You can remove clicks, pops, and other noises that can hear from your recording. It also enables you to export audio directly to PowerDirector as it syncs your audio and video projects. In addition, like Adobe Audition, you can use this to produce professional recordings.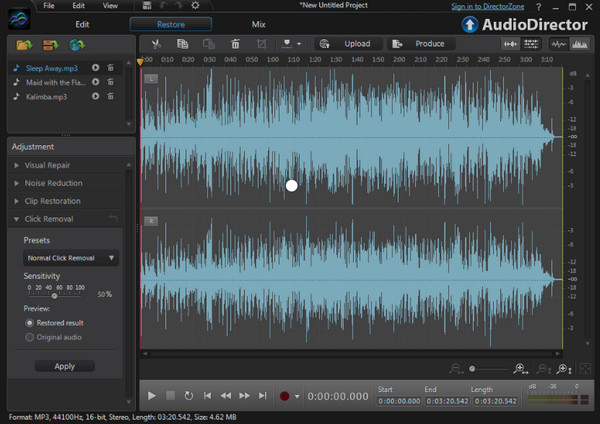 Pros

Supports batch processing.
Has the advanced audio restoration.
Cons

Complicated to use.
Hard to remove background noises.
5. Reaper
The fifth from the list is the Reaper. A music recording software that isn't for beginners is a powerful tool for recording, mixing, and mastering audio content. Additionally, it offers many plugins to add effects and instruments. You can also customize colors, toolbars, icons, etc., in any way you want. Plus, this program supports any format, allowing you to record audio formats completely.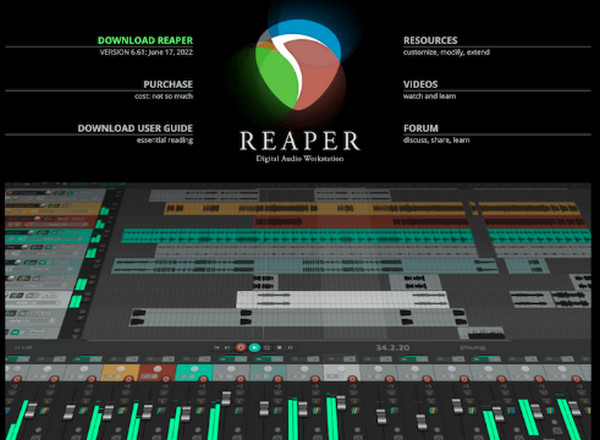 Pros

Great for mixing audio content
Supports several formats
Has multi-track recording
Cons

Hard to read interface's fonts
Does not have video editing abilities
6. Apple GarageBand (Mac)
For Mac users, the best music recording software is GarageBand. This free program provides professional recording on iOS devices, such as iPhones, iPad, etc. If you are a beginner in recording audio, GarageBand is equipped with an understandable interface. Furthermore, it lets you do a lot of customization for audio tracks, including separating them for intros and outros, music, and voiceovers.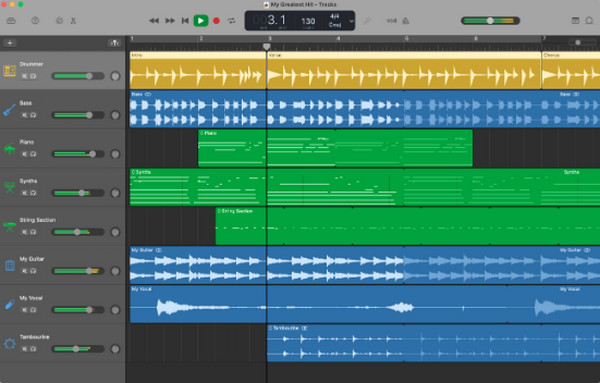 Pros

Provide piano, sounds, guitars, etc.
Many sound effects are available.
Can share tracks on social media.
Cons

Work on Mac only.
No elapsed time appears in projects.
7. FL Studio (Windows/Mac)
The following music recording software, the FL Studio, allows users to compose, arrange, edit, record, and mix audio content. Moreover, it offers a hundred instruments you can use to record music. It also offers an extensive library of samples and plugins that are very useful. With this application, you can also quickly create patterns and sequencing and add harmonies and melodies.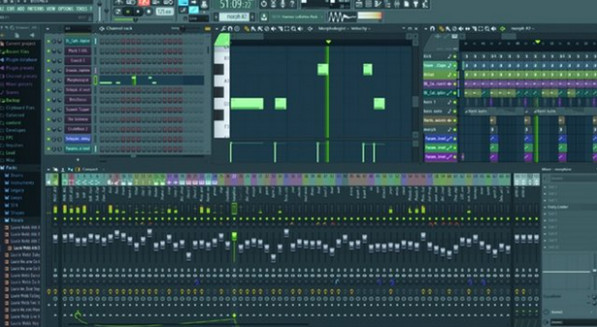 Pros

Move around the music blocks easily.
Offer many features, samples, presets.
Has built-in plugins with more functions.
Cons

Auto-saving is not working properly.
It has steep learning curve.
8. PreSonus Studio One (Windows/Mac)
Another professional music recording software is the PreSonus Studio One. This program provides advanced virtual instruments and audio editing tools that help you improve audio recording. Additionally, it helps you arrange the speed of the audio track. Another thing about this program is that you can record audio tracks, virtual instruments, MIDI tracks, and FX channels.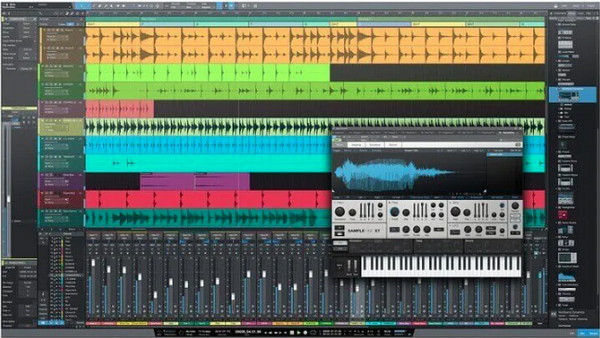 Pros

Can trim, split, slice, and more your records.
Offer unlimited tracks.
Provide high-resolution audio recording.
Cons

Too limited functionality in the free version.
Quite expensive for beginners.
9. Wavosaur (Windows)
Wavosaur is one music recording software that is great for producing music loops, analyzing, and doing batch convert. It contains many features to improve the quality of all your audio recordings. Moreover, you can use the program without installing it and use it as your free online music recording software. Besides recording audio, you can use Wavosaur to edit and master any audio content.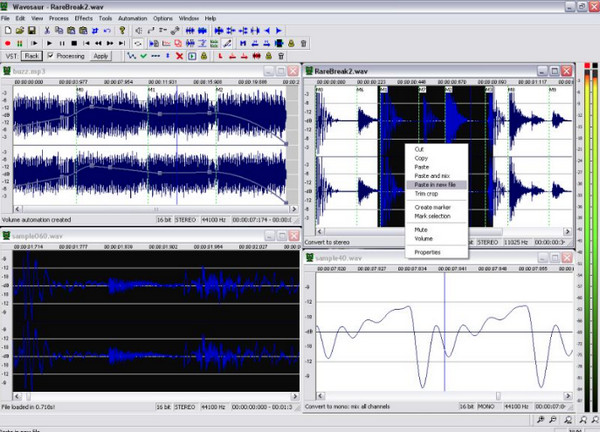 Pros

Not overeating space on your PC.
Has a quick guide before starting.
Record from multiple inputs.
Cons

Too limited features.
Work only on Windows.
10. Ocenaudio (Windows/Mac)
The last music recording software in the list is Ocenaudio, used for audio recording and editing tasks. If you're a beginner in recording, you may find it complicated at first, but it does perform all the things needed for audio recording. Compared to other music recording software, this is much easier. In addition, you can clean up your audio with this program to produce a high-quality audio output.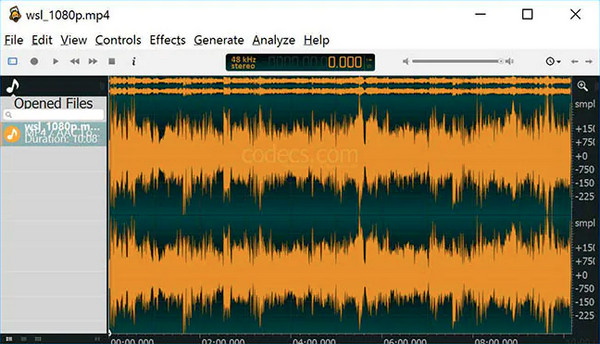 Pros

Work on Windows, Mac, and Linux.
Support several file types.
Provide a real-time preview.
Cons

Don't offer many features compared to others.
It can't edit multiple tracks.
There's still an additional program for you. Go to 4Easysoft Free Screen Recorder if you prefer to record music online. This online tool also has advanced features that allow you to record audio and includes seven different recording modes. It can record zoom meeting, videos, camera footage, your voice, etc. Aside from recording, you can also edit and convert with this program easily. And if you want to add text, you can also do it with this music recording online, as it provides annotations that you can add to your videos. You can use this all-around screen recorder to record audio quickly.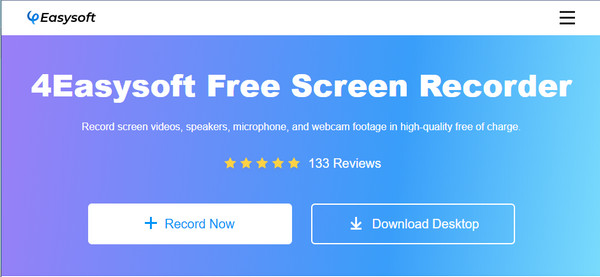 Part 2: FAQs about The Best Music Recording Software
Do any professionals use FL Studio?

Many professionals in the music industry use FL Studio, one of the most famous music recording software for music production. You can use FL Studio for a high-quality digital audio recording program.

Can I use Studio One without the Internet?

If you haven't downloaded Studio One, you can't download it without the Internet. However, you can activate Studio One using a computer with Internet access, as Offline Activation lets you connect a flash drive to the internet-connected PC to activate Studio One.

How do you remove vocals from a Wavosaur?

Click on the Process tab, then select Vocal Remover from the drop-down menu. Wait for the process to complete then the vocals will be removed from the song.
Conclusion
There is more music recording software today than before, so if you're looking for one to record music, hopefully, this post is a big help. Consider looking at a program's features, pros, and cons before using it, so you would avoid encountering problems during recording. After reading this article you may find that 4Easysoft Screen Recorder is a powerful tool to help you record all screen activities, do voice overs, and record music. You can even improve audio quality through noise cancellation and microphone enhancement. Make the best and clean recorded music with this music recording software.
Related Articles