How to Record a Podcast on Windows/Mac: Detailed Guides for Beginners
As time goes by, Podcast recording becomes popular from time to time. With many people who do Podcasting, aside from the subject, people look for a professional and high-quality Podcast. If you are new in this Podcasting industry, consider exceptional Podcast recordings as your goal! Don't know where to start, let this article be your guide! Here, we feature Podcast recordings preparation, the equipment you need, and the best Podcast recording software.
Part 1: Detailed Steps to Record A Podcast: Preparation, Equipment, Tool
Recording a Podcast is easy; however, you should prepare yourself and every piece of equipment you need. And once you are all set, you'll achieve the Podcast recording you desire. Additionally, when you create a concrete plan, you'll have a smooth Podcast recording, and everything is under your control.
Just like what mentioned above, this post will show you all the information you need starting from Podcast recording preparations, equipment, and tools. So, without any further ado, start with what you need to prepare.
What are Things You Need to Prepare:
Prepare the equipment you will use for recording Podcast

- There is a lot of high-quality equipment available on the market that can provide you with commendable outputs. Some are costly yet reliable, but if you are looking for a budget-friendly one, you should make sure it can provide you with good service. At this point, it takes to be critical to choose equipment. Later, we will highlight those tools in this article's next part.

Prepare your recording environment

- If you don't have a recording studio, find a noise-free recording space. It could be your room or in other parts of your house, without any noises coming from the outside environment, pets, children, or other people in the surrounding. It would be better to place yourself and the Podcast recording in a space with lots of soft materials to prevent possible noises.
What is the Equipment you Need to Record A Podcast:
Recording software on your computer

- Aside from using them as your Podcast recording software, you can also use them to bring changes to your recordings. There are a lot of Podcast recording software or tools on the market that come with excellent redefining features.

Microphone

- Condenser would be the best microphone for you if you are looking for a high-quality mic. However, they are unreliable microphones for noisy environments because they are too sensitive. On the other hand, Dynamic microphones are less sensitive and capture less noise which is suitable for noisy environments. Aside from that, it would help if you also considered using a microphone with a USB connector. This is likely easier to set up.

Headphone

- Another essential piece of equipment you can utilize to monitor the Podcast recording. Through this, you can hear all those unwanted sounds in the background after recording and removing them using the software.

Camera (for podcast video recording)

- If you wish to apply some visual elements to your Podcast recordings, you will need a camera to record all the happenings during the Podcast.
What is the Best Podcast Recording Software You Need to Record A Podcast:
The best Podcast recording tool/software recommend for you is the 4Easysoft Screen Recorder. It has great recording features that can provide outstanding Podcast recordings. This tool is infused with advanced noise cancellation and voice enhancement features which are responsible for providing you with high-quality Podcast audio recordings. Additionally, the tool allows you to export your recordings into various audio formats. Besides that, this tool can also record all your on-screen Podcast activities, whether on the entire window, selected region, or in a specific resolution. With those commendable points, 4Easysoft Screen Recorder is the best Podcast recorder software/tool.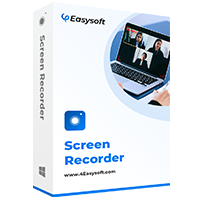 Features of 4Easysoft Screen Recorder
Equipped with output tweaking options for video and audio recording enhancements.
Support webcam and Podcast screen recording simultaneously in high quality.
Enable you to capture screenshots through hotkeys during Podcast recording.
Offer 20+ commonly used video and audio formats to export, like MP4, MP3, etc.
How to Record a Podcast through 4Easysoft Screen Recorder:
Step 1Download and install the 4Easysoft Screen Recorder on your Mac or Windows computer. Launch it and click the Video Recorder button to record the Podcast screen with audio. Otherwise, tick the Audio Recorder button if you only wish to capture the Podcast audio.

Step 2Next, click the Full option to capture the entire screen of your computer. You can also select a specific resolution or use the borderlines and adjust it to the region you wish to capture.

Step 3Then, tick the System Sound option to record the video and audio of the Podcast on your computer. You can also turn On the Microphone to capture your voice at the same time. The same goes with the tool's Audio Recorder feature; you have to turn On those options to capture the Podcast's audio and your voice on the microphone.

Step 4Once you are done with those setups, tick the REC button to begin the Podcast recording process. You can use the tool's built-in toolbox to add annotations, shapes, lines, callouts, or take Podcast screenshots.

Step 5After the Podcast session, tick the Stop icon, and the tool will bring you to the Preview section. Delete the unwanted parts from the beginning and at the end. Then, if you are satisfied already, click the Save button to export your Podcast recording.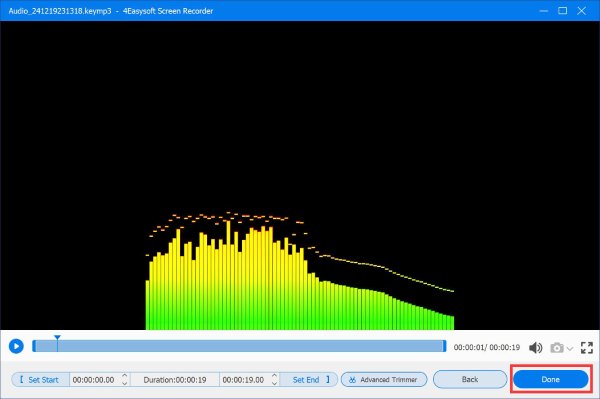 Part 2: Useful Tips on How to Record An Excellent Podcast
Now you have the bank of knowledge regarding what to prepare, the equipment, and the best Podcast recorder tool/software. To achieve an excellent Podcast recording, we also feature the essential tips for you; here they are:
1. Use the proper Podcast Recording Equipment - Aside from the subject or focus of your Podcast, it is vital to choose the right equipment. This is to make your listeners stay because you can give them high-quality audio through your equipment.
2. Record in a Space that is Not Vulnerable to Noise - It is essential to record a Podcast without any possible noises from your surroundings being captured as well. Moreover, listeners can enjoy your Podcast without being distracted by unwanted sounds. This is also for you to produce an excellent Podcast audio recording.
3. Remove Background Noises Recorded during the Podcast session - Playback your Podcast recordings is a great way to assess or check for any unwanted noises captured while recording. That is why it is imperative to choose the best place to record for you to avoid further editing.
4. Check the Strength Status of your Connection - Checking the status of your internet connection is an excellent way of preventing your Podcast recording software from capturing laggy or choppy audio. You can visit a bandwidth speed tester online to check the strength status of your internet connection. Additionally, you can improve your internet connection by plugging your computer directly into your router.
5. Be Mindful of Volume Levels when you are Recording - Most Podcast recorder tools, like 4Easysoft Screen Recorder, are infused with volume sliders for both System Sound and Microphone. You need to make sure that they are appropriately set so you can prevent the overlapping of sounds. This way, you can focus your listeners on the Podcast topic rather than pointing out unwanted and uncomfortable sounds captured.
Part 3: FAQs about How to Record A Podcast
Can I record a Podcast on my mobile device?

Yes, you definitely can, even with the built-in recorder on mobiles. However, unlike Podcast recording on a computer, mobile phones are only somewhat capable of providing you with the excellent sound quality of Podcast recording.

What is the best Microphone to use in a noisy environment for Podcast recording?

The suitable Mic for recording in a noisy environment would be a direction mic with a low-cut filter. You can look for Shure SM7B and Electro-Voice RE 20 on the market, for they are the best pick mics for noisy environments. Additionally, you can use the 4Easysoft Screen Recorder tool, which is infused with a noise-cancellation feature that enables you to improve the quality of your recordings.

What would be the best format to export my Podcast recording?

The best format would be MP3 because MP3 is the most acceptable format on most devices and Podcast platforms, like Spotify, Google, and Apple Podcasts.
Conclusion
After reading this article, you are ready to step into the world of Podcasting. Take note of those preparations, equipment, tools, and tips to produce an excellent Podcast recording. As you can see, 4Easysoft Screen Recorder comes with noise cancellation and voice enhancement features. This tool's features will help you produce high-quality audio, not to mention those output tweaking options in which you can further enhance your Podcast recordings. Feel free to download the tool on its official website and use it as your powerful Podcast recording software!
Related Articles