OBS Screen Recorder Reviews: Is It the Best Choice for Capturing Screen
Nowadays, more and more people need to record screens to do with work. Whether you are game influencers who need to record gameplay, or teachers need to record lessons, you must hear about OBS Screen Recorder. This is a professional screen recorder, especially for gamers to steam live. But is it suitable for everyone? This article will give you an OBS Screen Recorder review after using this software and tell you if this is the best choice to record your screen for different usages.
Part 1: Brief Reviews of OBS Screen Recorder
After using this software, here is a brief OBS Screen Recorder review. The first thing impressing people is the encoder of OBS Screen Recorder, you can record high-quality videos and do not worry about too much size will be taken on your computer. And it is very convenient to share your recorded video to many platforms directly.
But the annoying thing is that if you want to solve any lag and save your RAM, you have to sacrifice the quality. If want to use a high bit rate, your device may get frozen and shut down. Another important problem is that multiple sources do not work at a time. Sometimes the program will make you confused about whether it is running or not. So, when you do not know whether the software is stopping recording or not, you need to force yourself to quit OBS Screen Recorder. If you are recording lessons, you may feel alright. But for those who are recording gameplay, meetings, online lectures, etc., it is troublesome that you do not know if the recording process is on.
Pros

Create quality videos that are not too big in size.
Have direct integrations with many streaming platforms.
Cons

Overload your system and make it lag.
Freeze and shutdown occasionally
Complex and difficult for beginners.
Part 2: 3 Key Features of OBS Screen Recorder
The OBS Screen Recorder offers many essential features that can help you in making your broadcast exceptional. Besides the features most software has, there are 3 options for basic recording and streaming, which are essential for quick streams and recordings.
Sources and Scenes: OBS studio offers an infinite number of scenes. But as mentioned in the OBS Screen Recorder review, there will be many crashes when you use this feature.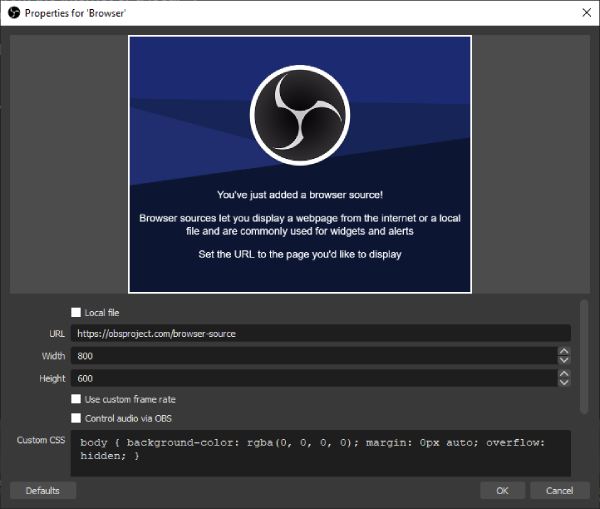 Audio Mixer: While streaming or recording, you will be working with 2 audio sources; system audio and the microphone. OBS gives you the option to choose between these two sources.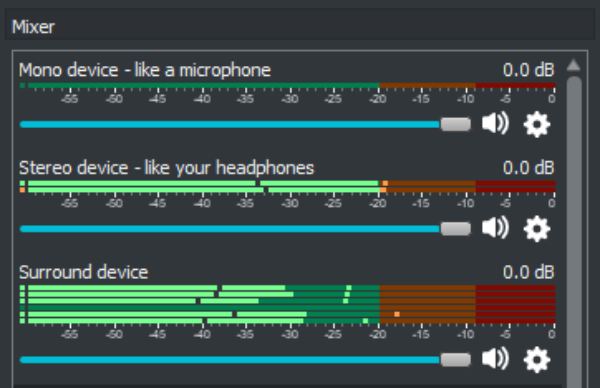 Scene Transitions: Scene transition helps you in switching from one source to another. The OBS Studio allows the control of many transitions, making the ultimate outcome.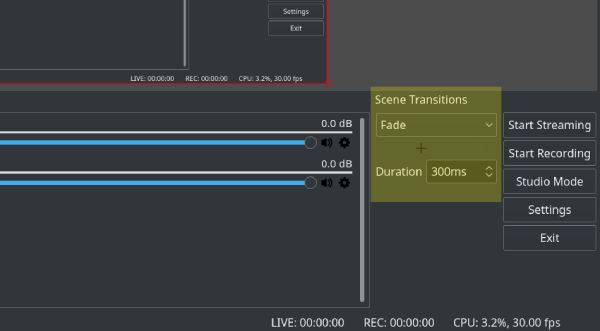 Part 3: How to Use OBS Screen Recorder
And this part will tell you how to use OBS Screen Recorder because many people say that the interface is not user-friendly, and there is no detailed tutorial about how to use this software.
And here are the brief steps to use this software.
Step 1Before you can start recording, you will need to add a source inside this scene; with the default scene chosen, click the Add Sources button with a plus icon at the bottom of the panel, then click the Screen Capture button on Linux or Display Capture button on Mac and Windows.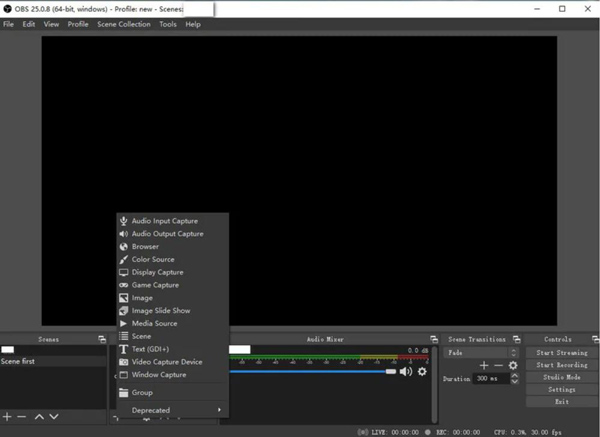 Step 2Click the Settings button at the right-bottom corner and change the recording settings, including the recording path, video frame rate, etc. After that, click the OK button to save the changes.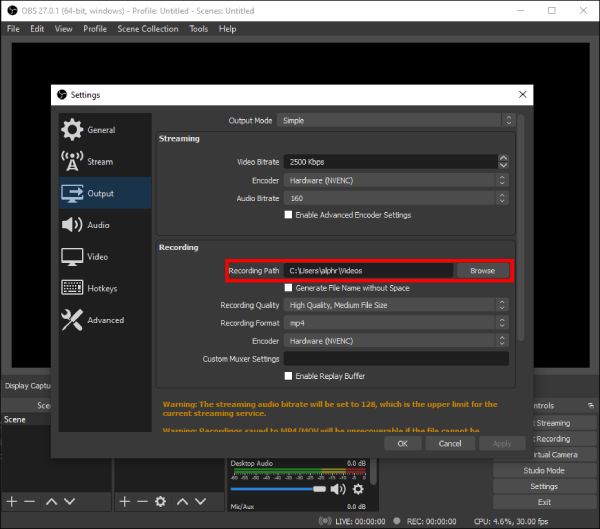 Step 3Click the Start Recording button to begin recording. When you want to stop you can click the Stop Recording button.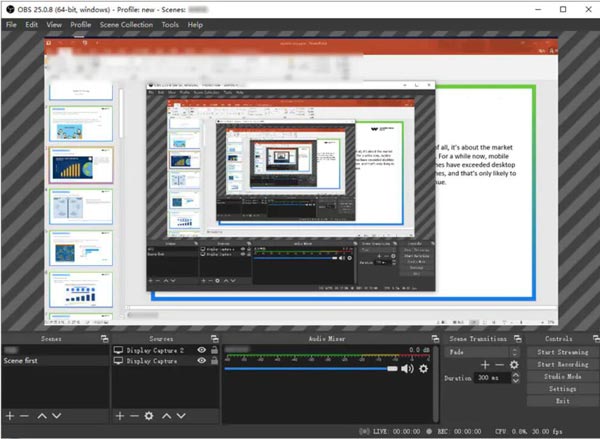 Part 4: Best Alternative for OBS Screen Recorder
The best alternative to OBS Screen Recorder is 4Easysoft Screen Recorder. This software is a powerful screen recorder. You can find all advantages and key features of OBS Screen Recorder on this software, and you will also find that all disadvantages are perfectly solved on 4Easysoft Screen Recorder.
You can choose the desired mode to record video, audio, gameplay, phone screen, and webcam in the full-screen or selected area. With customized settings, you can capture any activity with original quality and save them in MP4, WMV, AVI, MOV, and GIF formats according to your need. Moreover, it supports real-time drawing to help you add annotations with shapes, lines, texts, callouts, etc.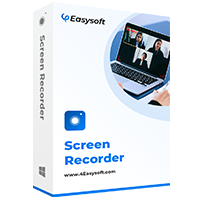 4Easysoft Screen Recorder
Easy-to-use and powerful alternative tool to OBS Screen Recorder that provides many features.
Adjust the frame rate and resolution to record your gameplay in high quality without lag and freezing.
Enable you to record video with audio on the computer or your voice from the microphone.
Clip the recordings and save them in different formats, such as MP4, MOV, AVI, FLV, MP3, etc
And here are the steps to use 4Easysoft Screen Recorder
Step 1Launch the screen recorder and there are three modes you can choose, including Video Recorder, Audio Recorder, and Game Recorder. You can choose the desired mode to record Facetime call, music demo, or game shows.

Step 2After choosing the desired mode, you can click the Full button to capture the whole screen of your computer. Or you can click the Custom button to select the desired window, or fix the resolution, including 1080p, 720p, 480p, etc.

Step 3After all settings are done, click the REC button on the right side to start recording your screen. Then a toolbox will pop up, and you can use it to add shapes, lines, callouts, and take screenshots while recording.

Part 5: FAQs about OBS Screen Recorder
What to do when OBS Screen Recorder can't record the screen?

Some people encountered OBS black screen or not working at all while recording, you can try to start in compatibility mode in Windows 7; reinstall multiple times both x32 and x64; disable and uninstall the space desk

Why is OBS recording laggy?

Change your encoder to AMD VCE. Always use GPU encoders for local recordings whenever possible since you don't need the compression from x264. x264 is great for streaming since you can get much better compression on your stream, but it is bad for local recordings.

Why does OBS Screen Recorder crash?

OBS crashes while accessing some video capture device. If you have some capture device, physical or virtual that is running with custom drivers and not Microsoft ones, try to update that software or uninstall it.
Conclusion
After reading this OBS Screen Recorder review, you will see although OBS is a strong screen recorder, it also has some disadvantages compared with other recording software. And if you want to find the best alternative, the 4Easysoft Screen Recorder will be recommended to you, because this light software will never get frozen even when you open multiple tasks. So, for those who need to record screens to do work, you all can try this safer software instead of OBS.
Related Article