If don't Know How to Screen Record on Chromebook: Here are 3 Effective Ways
Maybe you do not know how to screen record on a Chromebook when you get this kind of new laptop. Actually, it is very easy to operate. Luckily, this post will tell you three methods of how to screen record on a Chromebook. You can find the convenient default way, and the professional third-party screen record software to help you get the best recording video on Chrome, no matter whether you want to record meetings, games, video calls, or anything else.
Part 1: How to Screen Record on Chromebook with Software
Actually, the best way to screen record on Chromebook is to use third-party software like 4Easysoft Screen Recorder. This software could help you to capture your screen with a better effect. There is no time limitation or lag out even compared with the default tool. And you could record anything you want with this software, such as games, video calls, and even the view of the webcam. There are also three main methods provided to you, which are Video Recorder, Audio Recorder, and Game Recorder. You can decide which method you want to choose when you record the screen on Chromebook.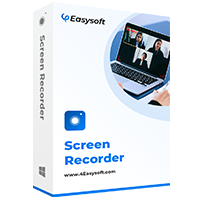 4Easysoft Screen Recorder
Provide high quality up to 60fps and 4K resolution and even lossless quality to export recordings.
Add text, arrows, lines, shapes, and callouts during recording which cannot be done when using the default tool to record Chromebook.
Set a task to start/stop the recording automatically when you are absent.
Record audio on the computer and your voice from the microphone.
Here are the steps on how to screen record on Chromebook by 4Easysoft Screen Recorder:
Step 1Launch the screen recorder and click the Video Recorder button to capture the screen on Chromebook.

Step 2If you are choosing the Screen Record which could be anything on your Chromebook actually, you can choose the recording area of your Chromebook. You can choose the Full option to capture the whole screen of your Chromebook or the Custom option to record a part of your screen.

Step 3If you want to record a video with audio, you can click the System Sound button to record internal audio. You can also open the Microphone capture to record your sound simultaneously. Don't forget to change the volume by pulling the slider.

Step 4After all settings are done, click the REC button on the right side to start recording screen on Chromebook. Then a toolbox will pop up, and you can use it to add shapes, lines, and callouts and take screenshots during the recording time.

Part 2: How to Screen Record on Chromebook with Default Tools
There are also two ways how to screen record on Chromebook with default tools. It will be convenient to use the default tool, but the disadvantages are pretty much. For example, you may have lag out when recording the games, or there is no external audio during the recording times.
1. Using a Screen Capture Option
The first way is using the screen capture option on Chromebook. Although this is a default tool, you still need to download an extension to record your screen, otherwise, you can only screenshot your Chromebook.
Now let us take a look at how to screen record on a Chromebook with this default tool:
Step 1First of all, you need to install the extension from the Google Chrome Web Store. You can download Screencastify or other extensions.
Step 2Once installed and enabled, you can click the Screencastify in your Screen Capture toolbar to start recording. Nonetheless, you'll need to set up an account before you start recording for more than a minute at a time.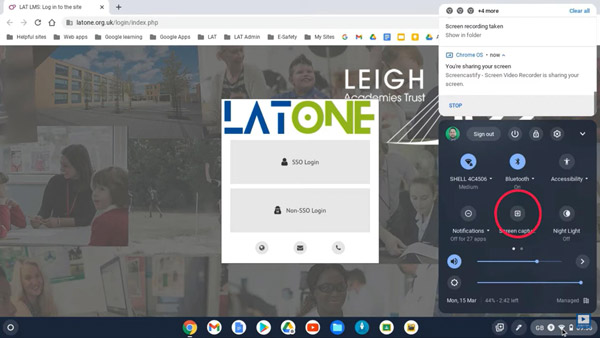 Step 3To screen record on Chromebook with the extension, you first need to use the built-in screen capture option by pressing Ctrl + Shift + Switch Window keys. This will open up a small menu in the bottom right corner of your screen, where you can choose whether you want to record the entire screen or just a portion of it.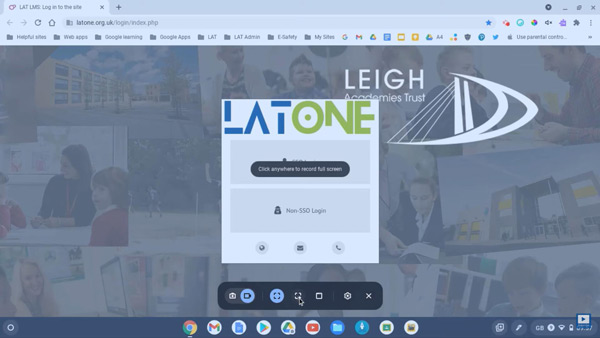 2. Using Keyboard Shortcuts
There is also another default way to record your Chromebook, which is to use the keyboard. Before you get into details of how to screen record on your Chromebook with keyboard shortcuts, it is important to note that they come in two types: global and browser specific.
Global shortcuts: it will work no matter what app or window you have open. Now that's out of the way, here are some global keyboard shortcuts to help you know how to screen record on Chromebook:
Ctrl + Alt + R – starts/stops a recording
Ctrl + Shift + P – pauses/resumes a recording
F11 – full-screen mode
Esc – stops a recording or exits full-screen mode
Ctrl + Alt + Shift + R – displays the recording options dialog box
Browser-specific shortcuts: it only works in Chrome windows and when a browser extension has been installed. You also have some browser-specific shortcuts that you can use to record your Chromebook screen:
Ctrl + Shift + H: starts and stops video recording,
Ctrl + Shift + U: it takes a screenshot of what's currently on your screen.
Part 3: FAQs about How to Screen Record on Chromebook
How do you record your screen with Face Cam on a Chromebook?

You need to use an external recorder app. There is no default tool to record face cam on Chromebook. 4Easysoft Screen Recorder offers the cam recorder for Chromebook to record many things like gameplay, Webex meetings, and so on. There are many features to adjust your camera recording in this software.

Where to find recording videos which are recorded by default tools?

Recordings and screenshots get saved to your Downloads folder. You can change where your recordings or screenshots are saved. You can press Shift + Ctrl + Show Windows keys. At the bottom, click the Settings button and then choose the save path.

How to screen record on Chromebook if my Chrome OS is too old?

Many people will find out that their Chrome browser version is too old to use the default tools to record screens. You can use a third-party software, or you can use the Flags feature to record the screen. many Flags are in the testing stages before being rolled out in future updates. You just have to copy and paste this into your browser: chrome://flags#screen-capture. And the Flags feature will be enabled.
Conclusion
There are three ways introduced to you to tell you how to screen record on Chromebook. And you will find out that if you want to find the answer to how to screen record on Chromebook without extension is impossible to use the default tool. So, if you want to record your screen with a good experience, you should use 4Easysoft Screen Recorder. You can download it on the official website now!
More Related Articles