Get to Know the Top 10 Chrome Tab Recorders [Software/Extensions]
For different purposes, people often open several tabs in Chrome. And there are instances when they have to record one Chrome tab with audio, making sure no other area of the screen is visible. It may appear challenging, but don't fret; this article comes to the rescue! As technology advanced so much today, a bunch of software that can work as a Chrome tab recorder as well as extensions in Chrome, are seen on the Internet. So, what are you waiting for? Record Chrome tab now with the shared best Chrome tab screen recorders in the following.
Part 1. The Best 5 Chrome Tab Recorders on Windows/Mac
Read on here to learn the five best recorders to record Chrome tab, and each will give you the requirement you need.
1. 4Easysoft Screen Recorder
Record video, audio, and screen activities conveniently with 4Easysoft Screen Recorder. This Chrome tab Recorder guarantees that no area of your screen will be recorded other than the Chrome tab since you're the one selecting parts to record. During recording, you can as well annotate and take screenshots. Furthermore, it supports recording audio from the system and microphone; in this case, you will have no problem capturing your favorite music from a tab.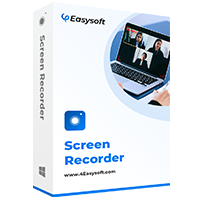 4Easysoft Screen Recorder
Capable of recording in full screen, customized area, or selected window.
Chrome tab audio recorder that lets users capture system and mic's sound.
Gives users excellent quality, even lossless, when exporting the recordings.
Customized hotkeys to start the recording and do other actions quickly.
2. OBS Studio
Another worth trying out to record Chrome tab is the OBS Studio or the Open Broadcaster Software. It is commonly used for live streaming, but it works very useful to record video and audio simultaneously. Also, it supports adjustable settings, like the resolution and frame rate, and customized keys for almost everything.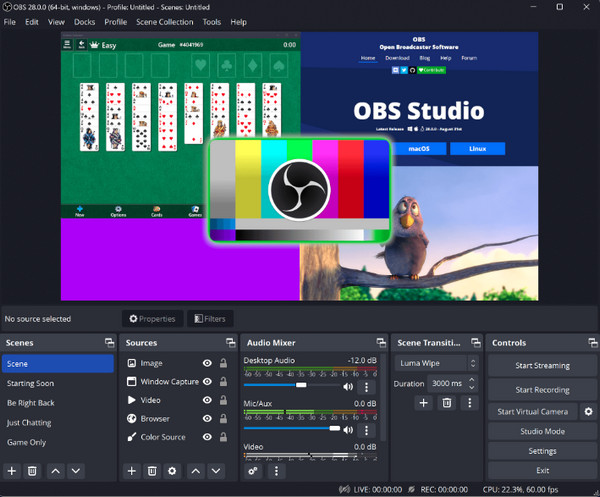 3. ShareX
ShareX has an elegant and clean user interface where you can see all its capabilities as a Chrome tab Recorder. You can do custom area recording, webcam, and audio too. Although you might feel overwhelmed by the features, you will get used to it. In addition, recording good quality videos is covered by the program as well.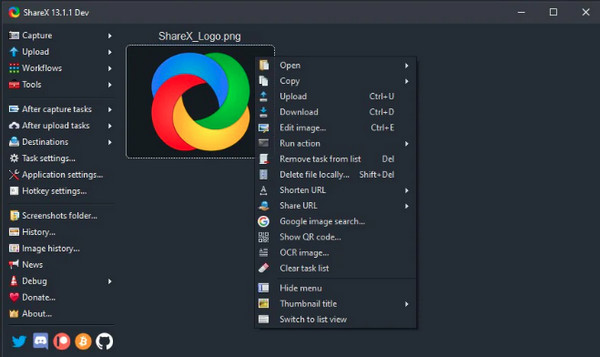 4. Windows Xbox Game Bar
One helpful feature of Windows has a built-in tool that can work as a Chrome tab Recorder named Xbox Game Bar. It is mainly for computer gameplay but works well in recording screen activities. Additionally, it supports audio recording and switching between recording the entire screen and selecting an area.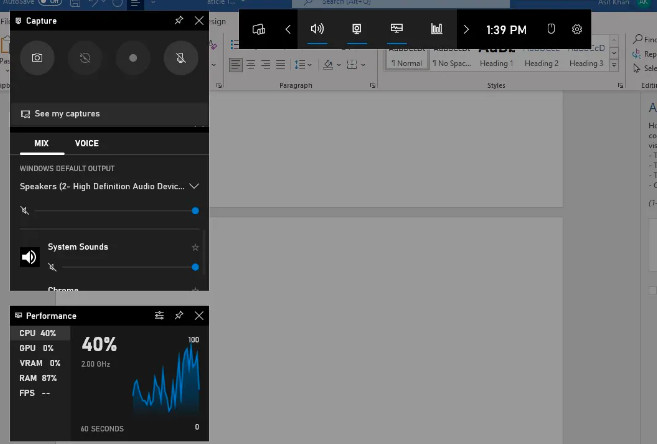 5. Mac Screenshot Tool
If there's a built-in recorder on Windows, there's also one for Mac. It is a screenshot tool but has a function to record videos. Access it with the Command + Shift + 5; you are allowed to select an area, letting you record Chrome tab without any problem. Besides working in Chrome, it can also record any web browser an application on your Mac.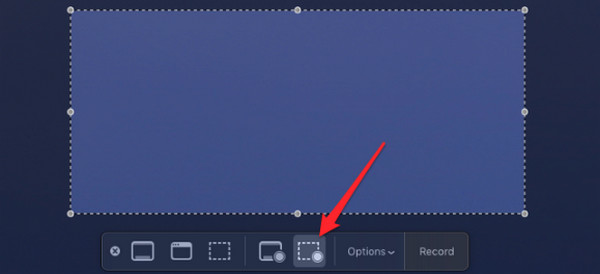 Part 2. Top 5 Chrome Tab Recorder Extensions on Google Chrome
If there's a program on Windows and Mac to record Chrome tabs, you might want to add a recorder as an extension for easy access. Luckily, five of the best Chrome tab recorder extensions are discussed below.
1. Loom
The first spot on the list of Chrome extensions to record tab is Loom. With it, you can record Chrome tab, webcam, audio from the system, and a microphone. Afterward, you can access all recordings in its cloud and select people who can view your video.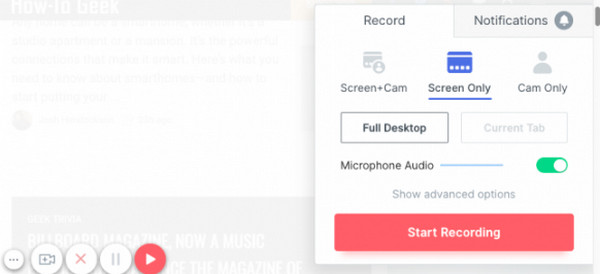 Pros

Easily embed GIF sharing.
Able to trim videos after recording.
Work well as a mobile application.
Cons

Will show the mouse clicks.
Show different thumbnail.
2. Screencastify
Screencastify is a fantastic Chrome extension that gives users a quick process from recording to sharing videos. Like any other tool, you can record Chrome tab, the entire screen, and the webcam. You can also narrate as it has an audio recording feature; users can annotate, too, using its stickers and pen.
Pros

Let you choose an output format.
Capable of editing videos.
Share directly to Google Drive.
Cons

Limited to 5-minute length.
Won't let you edit videos in the free version.
3. Droplr
Working as a Chrome extension to record tab and a screenshot tool is Droplr. This tool gives you features such as area selection, annotating, highlighting, etc. It also provides an easy way to capture recordings and be able to save those on its cloud storage.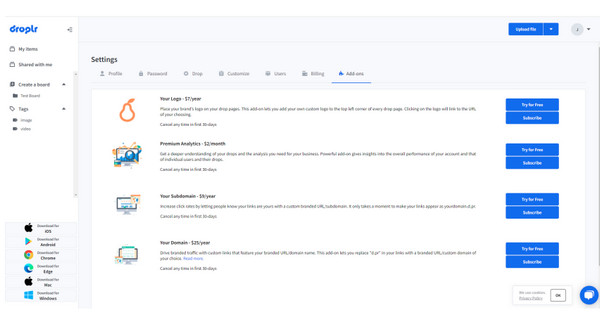 Pros

Can record webcam.
Generate sharing link.
Trim video recordings.
Cons

Doesn't support frequent updates.
It's free for 3-day use.
4. Vidyard
Vidyard is a famous application for screen recording and covers video and webcam. Besides being downloadable, it is a perfect Chrome extension to record tab with audio. It also has several options for selecting a particular window to be recorded on a web browser.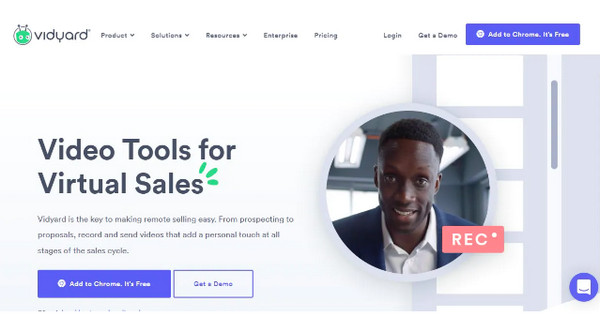 Pros

The screen layout is very engaging.
Provide video link sharing.
Easy storage access.
Cons

Do not integrate with other platforms.
Unwanted notifications pop up.
5. Nimbus Capture
Nimbus is another downloadable application that can serve as a Chrome extension to record tab. You can also edit the recording, annotate in real-time, and has the ability to select an area to record. Once finished recording, you can share them on online platforms.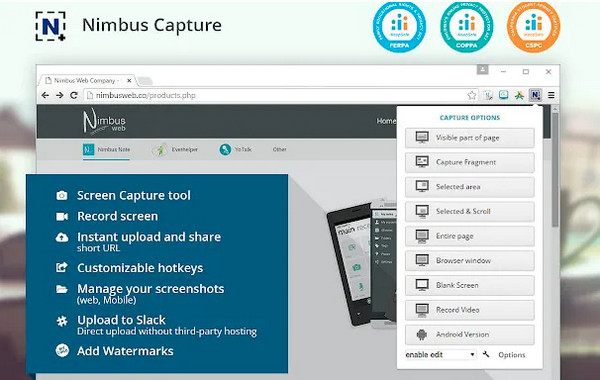 Pros

No time limit for recording.
Adjustable video settings.
Support easy-sharing.
Cons

Update messages always pop up.
Limited in file types.
Part 3. FAQs about the Best Chrome Tab Recorder
Which recorder is best to record Chrome tab?

Each one discussed above is best for recording Chrome tabs. You can choose 4Easysoft Screen Recorder, Loom, ShareX, OBS, and more online extensions.

Can I use the Chrome extension to record tab in Incognito?

When you're in Incognito mode, your device won't be recorded, and extensions are also not allowed in Incognito. But, users can force install an extension.

How to record tabs with the Xbox Game Bar?

Open the Chrome you want to record, then press the Windows + G keys to access the game bar. After that, select the Widget menu, go for Capture, and click Start Recording to record Chrome tab.

Does Screencastify embed a watermark in Chrome recording?

Even though it is an online screen recorder, it leaves no watermark when you export the recording. You can capture and edit for free with simple clicks.

How to add a recorder as a Chrome extension?

Go to the Chrome Web Store, then select Apps or Extension in the left column. Next, search for the online recorder you want to add, then tick Add to Chrome.
Conclusion
All the software and extensions discussed differ, but they can help you record Chrome tab with no issues. Hopefully, you have decided on the ideal one for you. If not, we highly recommend the 4Easysoft Screen Recorder for Windows and Mac. Not just can you select an area to record, but you can ensure high-quality recordings with the format you choose when exported. Enjoy more other great features of the program by getting it now!
Related Articles: