Detailed Steps & Useful Tips on How to Live Steam on Twitter
Live streaming on Twitter is an excellent way of bringing your brand or content to a larger audience. Through this, you can simultaneously communicate with them and have a great chance to promote your brand or content to be retweeted or shared via a link. But the question is, how do you establish live streaming on Twitter? To answer that question, this post features detailed steps to live stream on Twitter and tips to hold a good one! Explore them now!
Part 1. The Detailed Steps on How to Start A Live Stream on Twitter
Like other social media platforms, Twitter also made its live-streaming functionality easy to establish. Within just a few taps, you can easily bring your brand, content, and activity into an on-the-go live streaming situation. However, this will only be possible if you have a cellular or Wi-Fi connection currently available, and your account should be set to public. Now, in case you've checked all the boxes of those mentioned conditions or requirements, follow these steps on how to live stream on Twitter:
Step 1Open the Twitter app on your mobile device and tap the Compose button with the Feather and Plus icons. After that, tap the Camera icon and select the Live option at the lower right corner of the camera screen.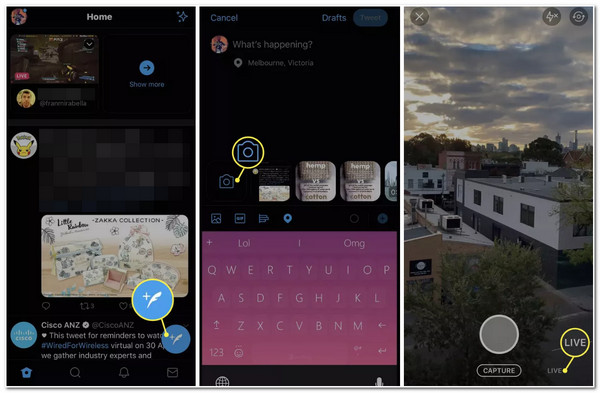 Step 2Next, tap the What's happening? And add a live-streaming title or greetings. You can also add hashtags to make your live stream easier to find. Tap the Add location option and insert your location to make it more discoverable. After that, tap the Go LIVE button to start your live stream on Twitter.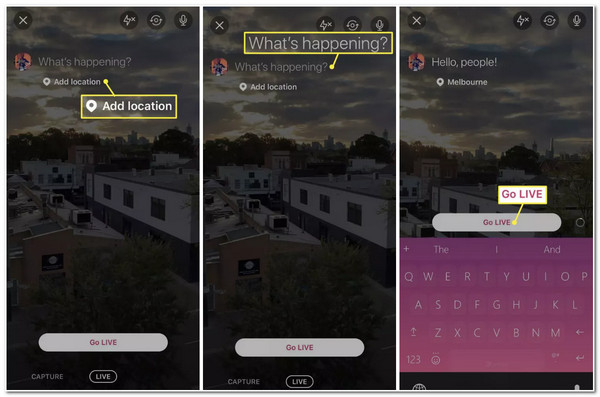 Step 3Once you are done live streaming, tap the Stop button at the upper left corner of the screen. Confirm your selection by tapping the Stop Broadcast option right beneath the screen.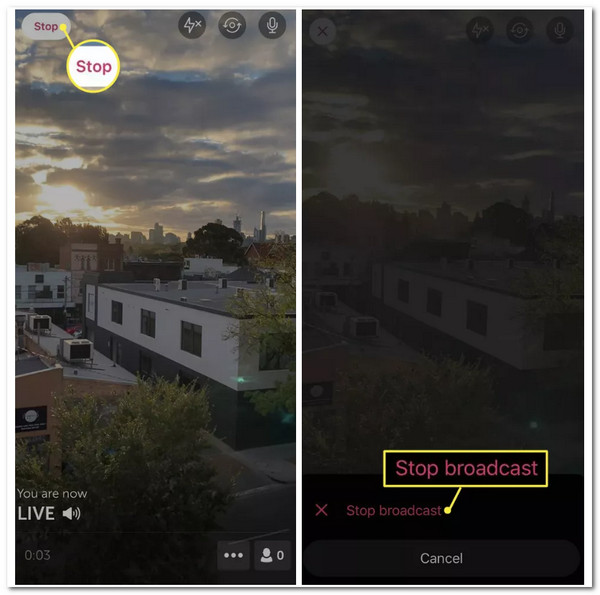 Part 2. Useful Tips on How to Hold A Good Live Stream on Twitter
That's it! That's how you establish a live stream on Twitter. Now, you need to consider that there are also many people out there who love to do live streaming on the platform. So, acquiring a lot of audience during live streaming is quite challenging. In this case, you must make your live stream stands out from the rest and something that will make your audiences keep coming back every time you do live streaming. In this part, this post listed 5 valuable tips you can absorb and use as a guide to having an outstanding live stream on Twitter! Start diving in!
1. Utilize a Tripod or Selfie Stick during Live Streaming
Before live streaming on Twitter, remember that no one will endure watching a shaky live stream. This is indeed one of the biggest turnoffs for your audiences! So, to avoid shaky live steam, you must use a tripod or at least a selfie stick to deliver stable live steam on Twitter.
2. Position Yourself Properly and Work with Your Angles
This indeed sounds so easy, but there are a lot of people who need to remember. If there are people who don't want a shaky live stream, there are also people who hate unpleasing angles. So, you really need to work with your angles and positions to present yourself properly in front of your audiences during a live stream on Twitter. If you are presenting a product, you must be at the frame's center. Otherwise, if you are streaming gameplay, you need to place your face above the center of the screen so you couldn't be able to cover the comments below.
3. Always Check Live Comments
Yes, some audiences sometimes share inappropriate and unuseful comments, but some share lovely feedback or deserve to be 'checked on' comments. These people are either asking questions, sharing important information, or providing excellent feedback on your brand, activity, or content. Thus, keep your radar on with these people during a live stream on Twitter!
4. Interact with Your Audience
Since the benefit of live streaming is to build a real-time interaction with your audiences, you must use this as an advantage to provide audiences a reason to stay on your live stream. You have to keep the connection between you and your audience through communication, answering questions, and reacting to their comments while doing a live stream on Twitter.
Bonus Tips on How to Record Live Streams on Twitter and Share with Followers
There you have it! Those are valuable tips on how to hold an excellent live stream. Now, what if there are a group of followers that couldn't be able to make themselves available during the time you are live streaming? Well, to help them watch your ended live stream on Twitter in the future, you must use the 4Easysoft Screen Recorder tool whenever you live stream!
This tool supports the Video Recorder feature that you can use to record your Twitter live stream on your computer, whether it is on full screen, specific area, or in an active window. It also offers a Phone Recording feature that can record your phone if you are doing a Twitter live stream on your Android or iPhone. Those features are indeed unique! What are you waiting for? Access its official website to learn how to use it to record a live stream on Twitter!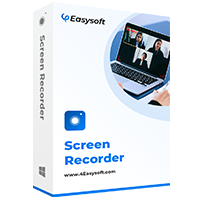 4Easysoft Screen Recorder
Support screen recording your live stream on Twitter quickly and with customized regions and high quality.
Infused with a SnapShot feature that enables you to take screenshots while recording.
Various video formats, such as MP4, MOV, etc., to export your recorded live stream on Twitter.
Equipped with Output Tweaking options to modify the Quality, Frame Rate, Codec, etc.
Part 3. FAQs on How to Live Stream on Twitter
1. How can I Public my Twitter account?

To turn your Twitter into a public account, access Twitter's Settings and Privacy and select the Privacy and Safety option. After that, turn off the Protect your tweets option to change your account from Private to Public.

2. How to chat on the Twitter live stream?

If you are an audience on a Twitter live stream and want to send a comment, just tap the Say something option at the lower part of the screen. Then, type in your comment and tap the send button with the arrow icon.

3. How to watch a live stream on Twitter?

It is easy to watch a live stream on Twitter. All the live streams of those people you followed will automatically appear on your Twitter timeline as a tweet. You can access them, and Twitter will automatically prompt you to the live stream.
Conclusion
Those are the detailed steps and valuable tips on how to live stream on Twitter! Now that you have discovered them, you can quickly and amazingly establish a great Twitter live stream! However, not all the time audiences can keep up with your live-stream schedules. So, for them to still experience your best live streaming, you can record it using the advanced 4Easysoft Screen Recorder tool! This tool is equipped with powerful Phone and Video Recording features that you can use to capture your live stream on Twitter easily and with high quality! To learn more about this tool, feel free to visit this tool's official website today!
Related Articles: