How to Stream Switch Games on Discord? 2 Simple Ways to Get it Done!
Nintendo Switch is one of those consoles that catches the interest of every gamer today. With the popularity of online streaming, streaming Switch gameplay on Discord, YouTube, and Twitch also becomes popular. If you think of streaming your Switch gameplay on Discord, you might find the process confusing. Thankfully, you found this page! This post covers 2 easy ways how to stream Switch on Discord via live and pre-recorded. Discover them all now!
Part 1: How to Stream Switch on Discord with VLC on Windows PC
How to stream Switch games on Discord?, well with VLC Media Player, you can be able to stream Switch gameplay on Discord. However, preparing a few things before achieving your desired Switch gameplay stream would be best. This post dissects each part to attain successful gameplay streaming on Discord.
First, you must Set up your Nintendo Switch by Connecting it to a Video Card.
Step 1Link the USB-C to your Nintendo Switch to the Dock so that you can make a strong and stable connection.
Step 2After that, connect the HDMI port to the Dock to the capture card. Ensure that the HDMI cable is plug-in into the "In" port of the capture card.
Step 3Then, link the capture card's USB cable to your Windows PC. After that, you must turn on your Switch by pressing the Power button.
Step 4Next, wait for your Nintendo Switch to be displayed on your Windows PC screen.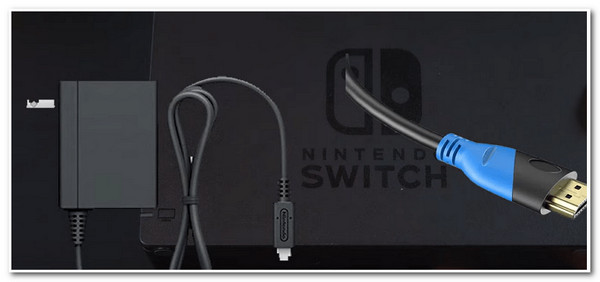 Next, Establish your Windows VLC Media Player.
Step 1Launch your computer's Notepad and copy and paste this group of codes. After that, launch the VLC Media Player program to stream Switch on Discord.
C:Program FilesVideoLANVLClc.exe" dshow://
:dshow-vdev="Game Capture HD60 S (Video) (#01)"
:dshow-adev="Game Capture HD60 S (Audio) (#01)"
:dshow-aspect-ratio="16:9″ :dshow-audio-
samplerate=48000 :dshow-audio-channels=2 :live-
caching=0 :dshow-fps=60 to the Notepad
Step 2Next, on your VLC, select the Media tab and click the Open Capture Device from the list of options.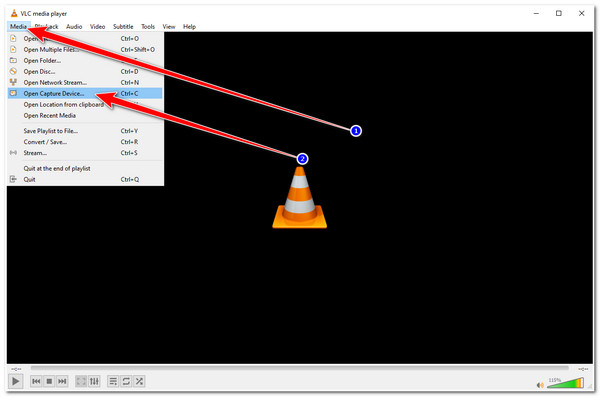 Step 3Then, on the Open Media window, tick the Capture Mode dropdown menu option and select the DirectShow. After that, under the Device selection, put the name of your Capture Card on the Audio and Device name selection. Once you are done, click the Show more options and copy the group of codes that you've pasted on your computer's Notepad. Then, paste it into the Edit Options.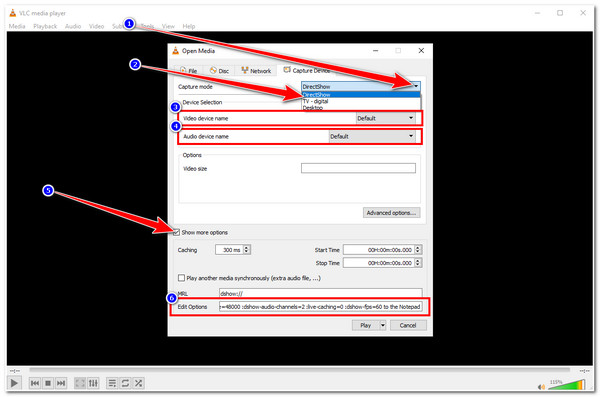 Step 4After setting up some parameters under the Open Media window, right-click the VLC shortcut on your Windows desktop and select Properties. Lastly, paste the group of code to the Target input box and click Apply.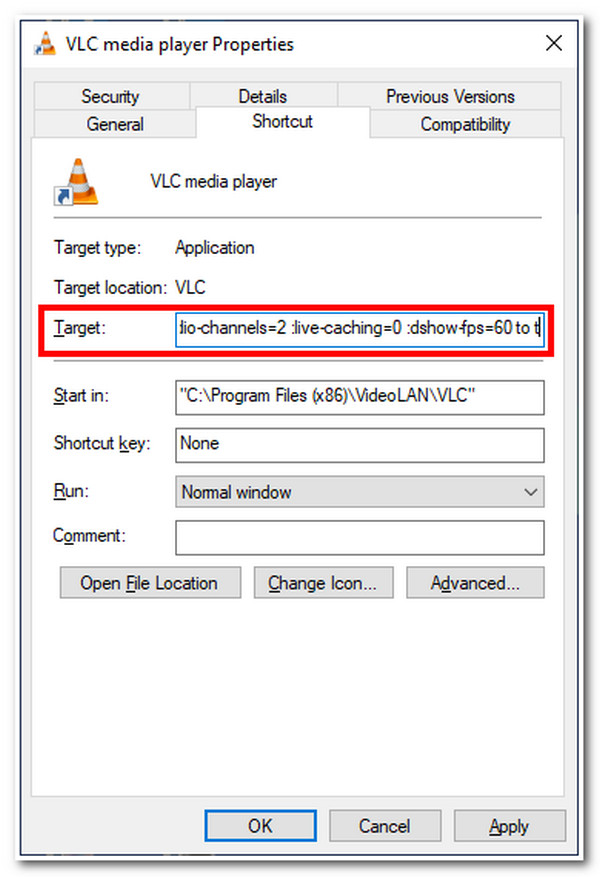 Lastly, Prepare the Discord for Switch Gameplay Streaming.
Step 1Access your Discord, join a server, and you'll see a list of channels on the left corner of your Discord's interface.
Step 2After that, to join a Voice Channel, click the Speaker icon. Then, on the lower part of the channel list, select the Screen option, tick the Application, and click the VLC display.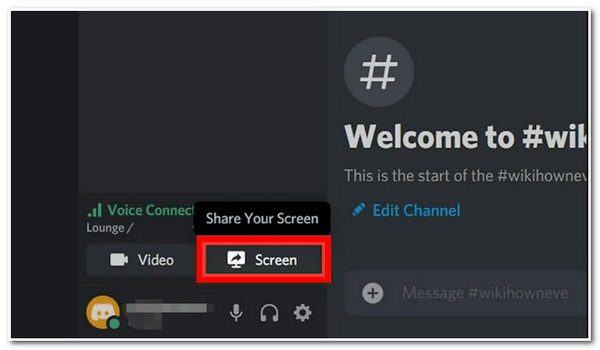 Step 3Finally, tick the Go Live button to cast out your Nintendo Switch screen on Discord. Once you are done streaming, click the X button inside the preview. That's it! Those are the steps on how to stream Switch games on Discord.
Part 2: Bonus Tips to Record Switch Gameplay and Upload on Discord
Now that you know how to stream Nintendo Switch on Discord, you can now be able to publicize any of your gameplay on Switch. As a bonus tip, you can also record your Switch gameplays and upload them on Discord; recording is made possible for you with the 4Easysoft Screen Recorder tool. This tool is infused with a Game Recorder feature that lets you record your Switch gameplay without any lags. Additionally, you can execute the recording process quickly through its easy-to-use toolbox and customizable hotkeys. Moreover, it also supports Webcam recording, which you can enable to capture yourself during the gameplay recording. Using this tool, you can ensure that you record and stream Switch gameplay with the best quality.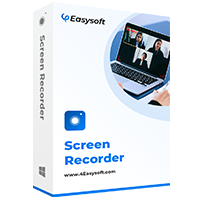 4Easysoft Screen Recorder
Support Area Selection feature enables you to capture specific parts of your screen, such as the entire or small portion of your screen or a particular window.
Equipped with output modification settings that let you tweak your video and audio quality and storage path directory.
Infused with CPU and GPU acceleration technology that provides high-quality recordings without experiencing lag issues.
Offer customizable hotkeys in which you can modify your preferred key combinations for initiating start, pause, stop, recording, taking screenshots, etc.
How to Stream Switch Games on Discord via Recording using 4Easysoft Screen Recorder Tool's Game Recorder:
Step 1Download and install the 4Easysoft Screen Recorder on your Windows or Mac computer. After that, launch the tool and click the Game Recorder from the options.

Step 2Next, tick the Select the game button and select the Nintendo Switch window. You can also overlay and enable your Webcam and System Sound by turning them On using their corresponding Switch button.
Step 3Then, to have smooth and high-quality gameplay, click the Output setting after the Gear icon. On the Preferences window under the Output tab, you can tweak your video recording's Frame rate to 60 fps and select Lossless on Video quality. After that, click the OK button.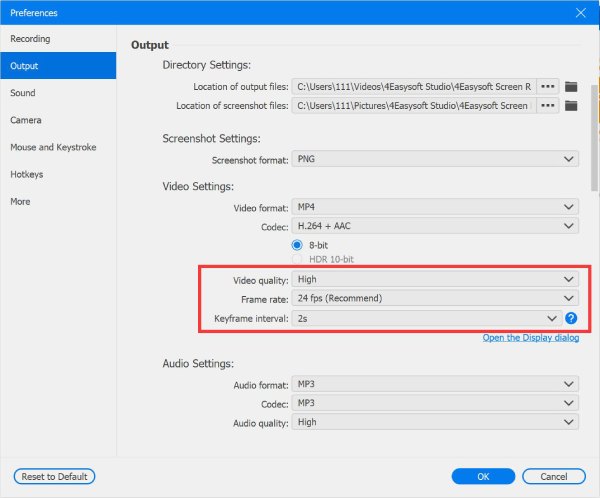 Step 4If you are satisfied with the overall setups, tick the REC button to start recording your Switch gameplay. Once you are done recording, select Stop icon.

Step 5After that, the tool will bring you to its built-in preview section. Here, you can trim your recordings' unwanted beginning and ending parts. Once you are done with it, tick the Export button to save your recorded Switch gameplay. Then you can now upload it on your Discord. There you have it! That's how to Stream Switch games on Discord by recording and uploading them.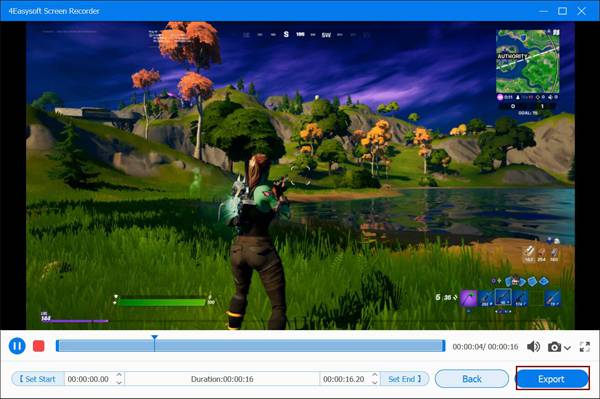 Part 3: FAQs about How to Stream Switch on Discord
1. Does Discord available on Nintendo Switch?

Discord is not currently available on Nintendo Switch. A few years ago, Nintendo Company announced they looked forward to having Discord on their console platform. However, up until now, it is still not available. If you plan to link or stream Switch gameplays to Discord, the above methods can help.

2. Can I stream Switch gameplay on Discord without using Capture Card?

You can use XBOX One as an alternative solution. You need to place your Switch on its Dock and use the HDMI cable to connect your Switch and XBOX One. Then, you need to connect your XBOX One console to your computer (In this case, you need to use Wi-Fi or Ethernet cables). After that, download XBOX app on your computer, launch the app and click your XBOX One console. Lastly, you can now use a streaming program to publicize your gameplay.

3. Is Streaming Switch on Discord still possible if I use VLC without a Capture Card?

Streaming Switch gameplays on VLC is still possible without a Capture Card if an HDMI "In" port is integrated into your computer. If your computer doesn't have an HDMI In port, then streaming won't work.
Conclusion
There you have it! Those are the ways how to stream Switch on Discord by directly streaming it on Discord or uploading recorded Switch gameplay. With those easy-to-understand steps, you can now record your thrilling Switch gameplay! If you want to record a live Switch gameplay stream on Discord or your gameplay, the 4Easysoft Screen Recorder's advanced Game and Video Recorders are your best ally. Feel free to visit the tool's website to try it now!
Related Articles