Overall Review on Icecream Screen Recorder: Pros, Cons, and Features
Icecream Screen Recorder is an easy tool that enables users to capture any area of their screens. This program offers advanced screen editing tools besides its recording options. After you have captured your screen, you can edit it directly on the Icecream Screen Recorder. Many programs are available today, and this recording tool is one of the best choices that provides excellent features and functionalities. Learn what makes the tool lovable in the following parts with the comprehensive review of Icecream Screen Recorder and more.
Part 1: Overall Reviews on Icecream Screen Recorder
Icecream Screen Recorder is a screen recording software that allows users to record and edit recorded videos. You can easily record the screen or take screenshots using the tool. It provides users with excellent features that make the program lovable by many. Moreover, this program is available on Windows and Mac, unlike other competition tools that only work on Windows or only work with Mac. And besides being a desktop application, Icecream Screen Recorder is a mobile app, but it is only available on Android devices.
Like other screen recording tools, Icecream Screen recorder comes with two versions which are free and paid versions. The features offered by Icecream Screen Recorder, both free and paid, enable you to record screens with audio easily, including applications, Zoom meetings, WhatsApp calls, video tutorials, live streams, and more. Check out below the list of the main features of Icecream Screen Recorder.
1. Record Screen
The screen recording tool of Icecream Screen Recorder will enable you to record your computer screen effortlessly. You can choose whether to record the entire screen or a specific window or select a part using the mouse cursor. You can record your computer screen according to your requirement; recording screens has never been this easy!
2. Record Audio
It supports both computer audio and microphone. Users can record audio according to what they need; it offers options ranging from low to high bitrate. Icecream Screen Recorder also allows you to select if you want to record audio from the microphone or choose both the microphone and an additional device to be used at the same time. The volume levels can also be adjusted when creating personalized recordings.
3. Add annotations and Edit Recordings
Besides being a recording tool, Icecream Screen Recorder provides options for instant editing. A screenshot or whatever you have captured on your screen can easily be edited using the drawing tool. Add annotations like squares, circles, arrows, and texts. You can add colors and fonts, change speed, mute, and do more with your video recordings.
4. Trim Recordings
From adding an annotation to your video, Icecream Screen Recorder enables you to trim your recordings. Cut out unwanted and pointless parts from the recorded videos, starting from the beginning to the end part.
5. Share Instantly and Convert format
Icecream Screen Recorder allows you to change the video format, even the quality, then upload all recording videos by sharing them for free. Once you're finished recording the computer screen, you can upload the video to the program's server in just one click. You can also share them with your co-workers, classmates, and others, then see the number of views in the application.
Part 2: How to Use Icecream Screen Recorder to Record Activities
With Icecream Screen Recorder, you can record online videos, games, meetings, etc., as well as audio files. After the recording, add some text and drawings and edit your video using the program. Follow the detailed guide below to record all screen activities using Icecream Screen Recorder.
Step 1On your Mac or Windows, download Icecream Screen Recorder. Launch the program on your computer.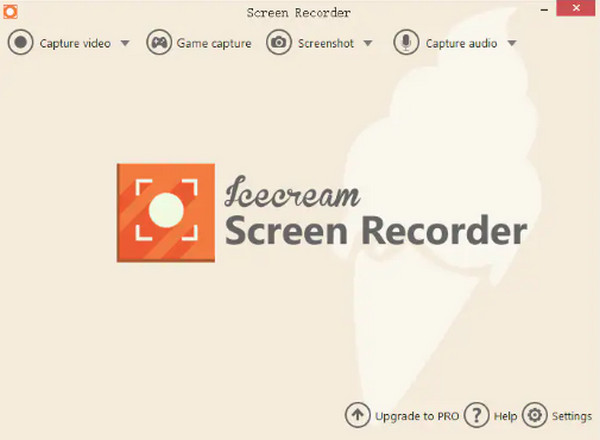 Step 2Navigate to the Capture Video option, then you will see a list from which you can choose, set up the recording area to fullscreen, partial screen, or a specific area.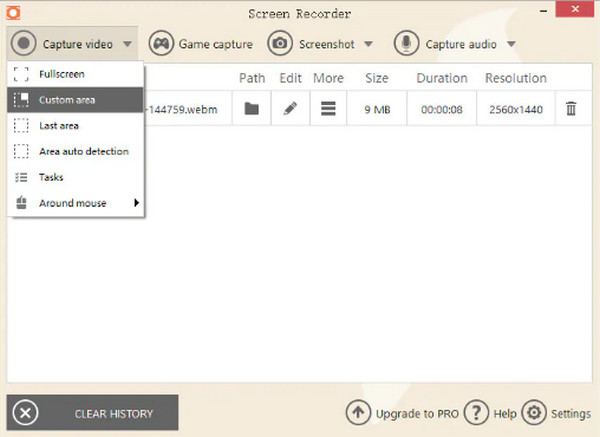 Step 3The capture options will appear; click the Rec button at the left to start recording your screen. You can also use the Draw tool while recording to add some annotations.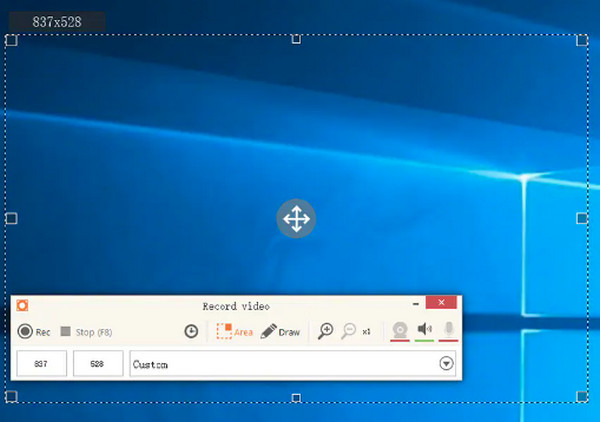 Step 4Once done, press F8 on the keyboard, then the recorded video file will be automatically saved on your computer. You can locate them on the video list.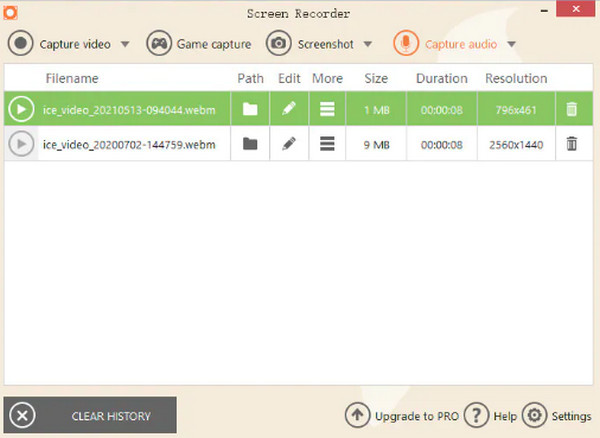 Part 3: The Best Alternative to Icecream Screen Recorder
Though Icecream Screen Recorder is one of the best software available, it contains disadvantages that may affect the recording process and output. Here comes the best alternative, 4Easysoft Screen Recorder! This program is available to download on both Windows and Mac and allows you to record all screen activities with high-quality settings. You can capture gameplay, and music, take screenshots, do voice overs, and even record the webcam and your screen simultaneously. This Icecream Screen Recorder alternative can be your screen recording and editing tool at the same time.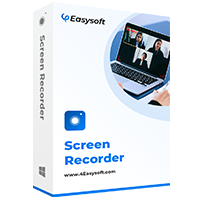 4Easysoft Screen Recorder
Provide high-quality video for all recordings with up to 60 fps and 4K resolution.
Allow you to take screenshots of the entire screen or just a single window.
Add text, lines, shapes, callouts, and other annotations while screen recording.
Offer all popular video, audio, and image formats to export, including WMA, AAC, MP3, and more.
Step 1Download and install the 4Easysoft Screen Recorder, then launch it on your computer. When you have launched the program, click the Video Recorder button.

Step 2You will have to choose from the two options, choose the Full option to capture the entire screen and click Custom if you want to select only a desired window to capture.

Step 3To record meetings, online lectures, or any video with audio, turn on the System Sound and Microphone options. Adjust the volume by pulling the slider. Click the Rec button to start recording. A toolbox will appear, and you can use it to add annotations and take screenshots while recording with this Icecream Screen Recorder alternative.

Step 4Once done, click the Stop button. Then in the preview windows, you can clip the unnecessary beginning and end parts. Click the Save button to export the recording.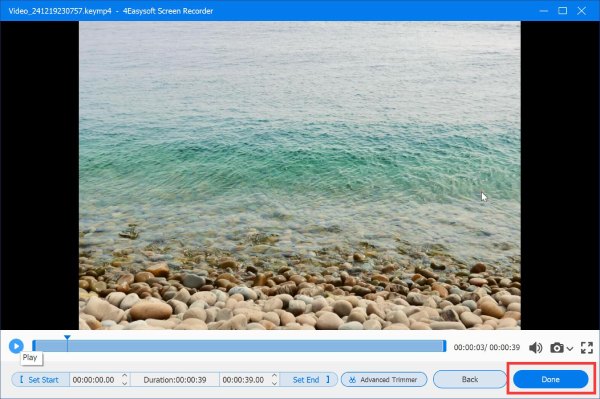 Part 4: FAQs about Icecream Screen Recorder
Is there a time limit for recording video using the Icecream Screen recorder?

The Icecream Screen Recorder offers trial and pro versions. In the free trial version, you can only record up to 10 minutes of video. While the pro version offers an unlimited time of screen recording.

Can I record two screens with the Icecream Screen Recorder?

The program does not provide a feature that allows you to record two screens. You can have a try on OBS Screen Capture to record multiple screens simultaneously.

Where will I locate my recordings in Windows 10?

All recordings in Windows 10 will be automatically saved on the Desktop. For some, you have to press F5 to refresh then you can see the recorded video. However, the tool allows you to change the output folder. Go to Settings, then Save to.
Conclusion
Hopefully, the detailed review of Icecream Screen Recorder, including its pros, cons, and features, helped you learn more about the recording tool. You can choose it to record your screen and then edit it directly using the tool. But, if the program doesn't work for you and you are looking for another excellent screen recording tool, choose 4Easysoft Screen Recorder! It is your best choice in terms of recording your screen with audio, your entire screen, a specific part, and recording all your screen activities. It offers all the necessary features that you need for screen recording and video editing.
Related Articles: