Top 10 Noteworthy MP4 Screen Recorders: Features, Pros, and Cons
When you want to share or save a specific type of MP4 video, whether gameplay, webinar, or online tutorials, the unavailability of a download feature hinders you from doing it. This case paved the way for powerful MP4 recorder tools. If you are trying to spot the best tool to use on the market, let this post help you ease the process. This article collected 10 top-notch MP4 screen recorders that can achieve your screen recording needs! Discover them now!
Part 1: Top 10 MP4 Recorders with High Quality for Windows/Mac
1. 4Easysoft Screen Recorder (Windows/Mac)
If you are searching for a professional MP4 recorder, then 4Easysoft Screen Recorder is what you are looking for. This tool is infused with the ability to record any MP4 on full screen, in selected windows, or in a specific screen area. Aside from that, it is also equipped with output tweaking options that you can customize for additional assurance of having high-quality MP4 recordings. Moreover, you can enjoy those glimpses of features offered by this tool on your Windows or Mac. This tool is your best-pick MP4 recorder!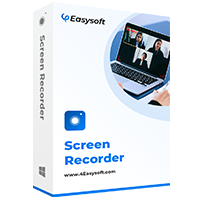 Features of 4Easysoft Screen Recorder
Infused with an easy-to-use toolbox and hotkeys to execute start, pause, and stop quickly and easily.
Equipped with the ability to capture on-screen MP4 videos and your webcam at the same time.
Capable of capturing your MP4 video sound through your System Sound and your voice on your Microphone simultaneously.
Support various output formats like MP4, WMV, MOV, WebM, etc., to export your MP4 recordings.
How to use 4Easysoft Screen Recorder as an MP4 Recorder with High Quality
Step 1Visit the 4Easysoft Screen Recorder website to download and install the tool. After that, launch it and click. the Video Recorder button. You can even use the phone recorder to capture screen on iPhone 12.

Step 2Select the Full option if you wish to capture the entire screen of your computer. Otherwise, tick the Custom button and select your preferred resolution or use the borderlines by moving it to the area you wish to capture.

Step 3Turn On the System Sound option to capture the MP4 audio. If you also wish to capture your voice simultaneously, tick the Microhone's switch button to turn it On. You can also use their corresponding Volume Sliders to adjust their volumes.

Step 4Next, click the Output setting option beside the Gear icon and customize the output settings in this MP4 screen recorder according to your preferences. Once satisfied with your setups, tick the REC button to start the recording process. The tool will then show you a toolbox; you can use it to add shapes, lines, arrows, callouts, etc.

Step 5Once you are finished recording, click the Stop icon. Then, the tool will bring you to its preview section, where you can trim your recorded MP4. You can eliminate unwanted parts of your recordings from beginning and end. Tick the Save button to store your recorded MP4 video finally.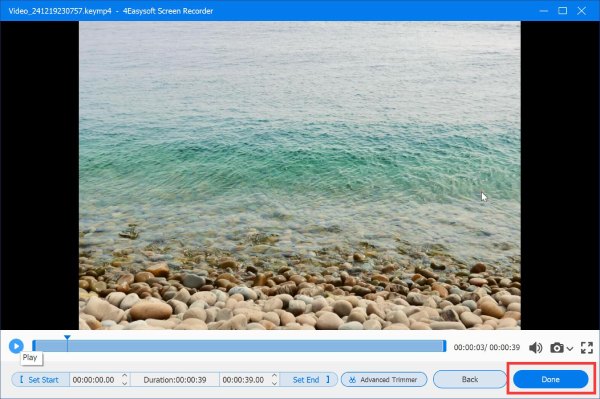 2. Debut Video Capture (Windows)
Next on our list of MP4 screen recorder tools is the Debut Video Capture. This Windows-compatible tool can easily capture any on-screen MP4 video and export it into various formats. Additionally, if you wish to overlay your webcam while recording, this tool can do it. Moreover, it enables you to apply date stamps and captions to your MP4 recordings and add video effects. This tool is more impressive because it can burn your MP4 recordings into a DVD. However, despite having those features, this tool can only be used under the Windows platform and was linked with tool freezing.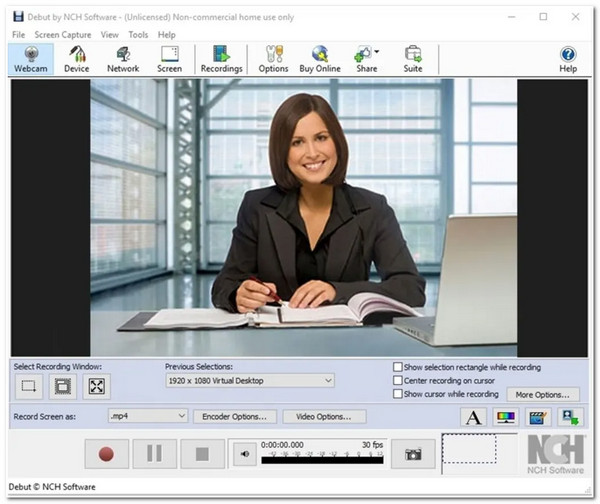 3. Bandicam (Windows)
You also don't want to miss the chance to use Bandicam as your MP4 recorder. This lightweight screen recording tool is made available for Windows and captures screens with high quality. This tool might look simple, but it offers many advanced features capable of achieving your MP4 recording needs. Bandicam can record any MP4 video while capturing your webcam at the same time. Additionally, it offers features like scheduling and adding drawings and outlines to your recordings. However, users encounter difficulty finding their recordings after saving them, for this tool's file directories are confusing.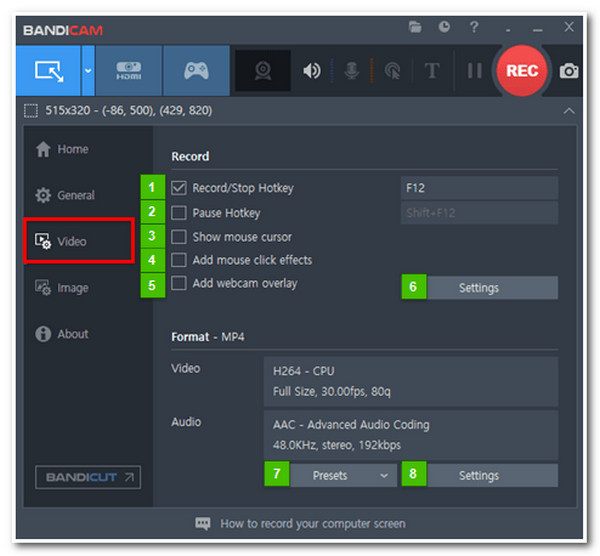 4. Snagit (Windows/Mac)
Next on the line is the Snagit which supports both Windows and Mac computers. This MP4 screen recorder lets you capture your computer's screen in the full-screen or selected window. Like other screen recorder tools, this can also record your on-screen MP4 videos with your webcam. Aside from that, this tool also allows you to redefine your MP4 recordings by trimming and adding stamps. But, despite its simplicity, this tool needs to improve its recording quality.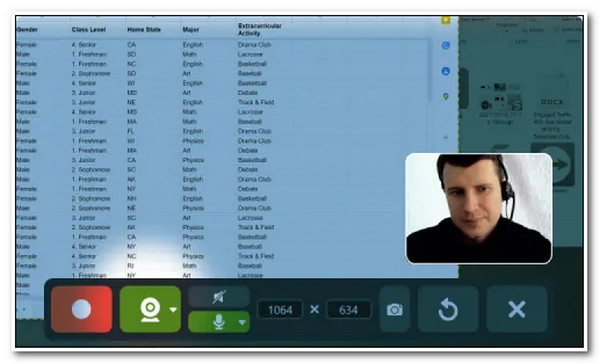 5. Screenflow (Windows/Mac)
Screenflow is another tool that is capable of recording MP4 videos with ease. What makes this Mac-compatible tool is that it is rich with editing features that you can truly unleash your creativity. Using this tool, you can simultaneously capture your Mac computer screen, webcam, and voice through your microphone. Additionally, it also supports high-definition recordings and high-quality MP4 output recordings. Sadly, you can't be able to add real-time drawings while recording, which is the major drawback of this tool.
6. Camtasia (Windows/Mac)
You also need to include Camtasia on your note if you want an MP4 recorder tool with a built-in video editor. You will surely get along quickly with this tool, for it has easy-to-understand features and an interface. Additionally, this tool supports themes, templates, annotations, transitions, etc., which you can all apply to your MP4 recordings. Aside from that, it also enables you to overlay your webcam during the recording. Unfortunately, this tool was linked with delay issues regarding the recorded video and audio. Despite that, you can still enjoy this tool's functionality on Windows or Mac platforms.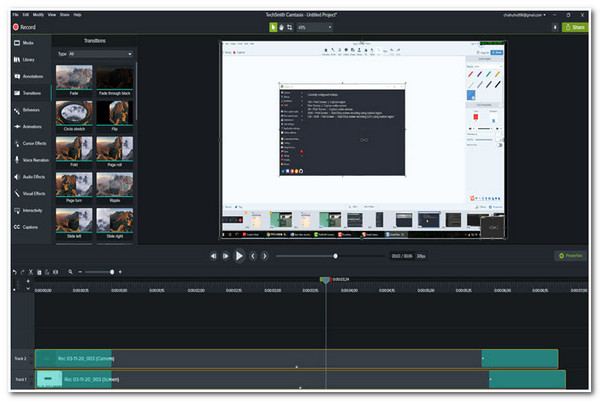 7. OBS (Windows/Mac)
Another MP4 screen recorder tool you can utilize is the Open Broadcaster Software (OBS). Although this screen recorder is a popular tool for gameplay recordings, it is still suitable to record any MP4 videos. This Windows and Mac-compatible tool also offers high-performance real-time MP4 video recording and mixing. It can also record your whole screen or a specific area of it. Additionally, in terms of its audio mixing feature, it can quickly eliminate background noise and unwanted sound on your MP4 recordings. This feature is necessary if you decide to record an MP4 video with your voice on the microphone.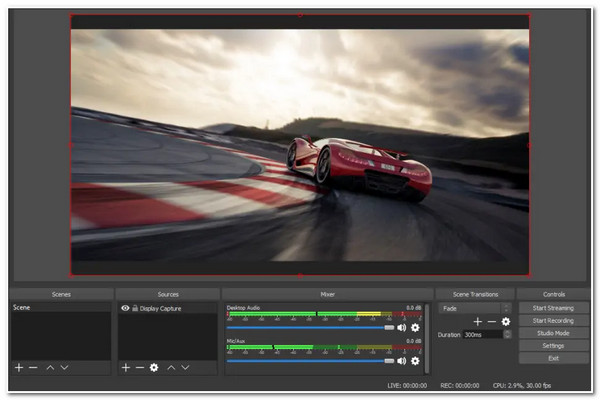 8. Icecream Screen Recorder (Windows/Mac)
Icecream Screen Recorder is another Windows and Mac-supported tool capable of recording MP4 videos. This tool allows you to capture any screen area and take screenshots. It also supports an annotation feature in which you can apply real-time drawings while recording. Moreover, you can also apply some modifications to your MP4 recordings by trimming unwanted clips, changing the speed, muting, etc.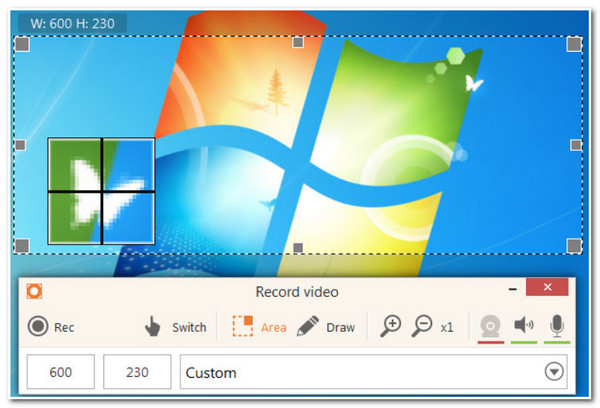 9. Screen Capture (Online)
If you are looking for an MP4 recorder tool that can only be accessed online, we recommend Screen Capture. This free online screen recorder tool comprises excellent features such as Microphone and Sound capturing, Webcam recording, etc. These features are well-composed, and users can quickly execute MP4 screen recordings. Additionally, it can also provide you with a commendable MP4 recording output. However, this online tool leaves watermarks on your output and doesn't have editing features.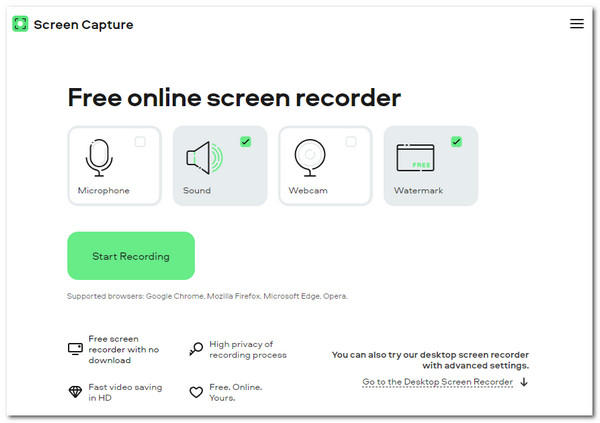 10. ScreenApp (Online)
Last but not least is the ScreenApp. This online MP4 screen recorder tool is also developed to capture your computer screen, a specific application window, and a browser window. Additionally, this online tool enables you to undergo 3hrs of MP4 video recordings with or without a webcam. It is also infused with basic trimming and merging features which you can use to eliminate unwanted parts of your recordings. Unfortunately, this online tool constantly fails to do its job, especially if you are using it to record lengthy MP4 videos.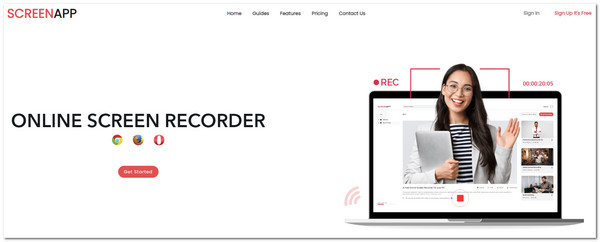 Part 2: FAQs about the Best 10 MP4 Recorders
Is there a default MP4 screen recorder on Mac?

Yes, there is. You can use the built-in media player QuickTime to capture MP4 videos on Mac. But you should note that you need to install SoundFlower to capture the internal audio on Mac.

How to record MP4 on iPhone?

To record an on-screen MP4 video on your iPhone, here are the simple steps to do it: On your iPhone, access your Control Center and tap the gray Record icon. Once you are done recording, tap the red Record icon. You can also utilize third-party tools like AZ Screen Recorder for Android or Record It! for iOS.

What would be the best format to export my on-screen MP4 recordings?

If you wish to have a high-quality MP4 recording, then we recommend you export your recordings into AVI format. However, note that this format has a massive file size that occupies ample space in your storage.
Conclusion
Now those are the finest MP4 screen recorder tools you can find on the market. Please take note of their commendable features, capabilities, and limitations. If you wish to have the best and most professional screen recorder tool, then 4Easysoft Screen Recorder is what you need. This toohasth advanced recording features for providing great video, audio, and image quality. Try it now!
Related Articles