Guide on How to Record a Google Meet Video Call [For Everyone]
"How to record a Google Meet?" - Although the Google Meet video conferencing tool provides its users with a feature that enables them to record video calls, you still need to go through its Google account requirements and host permissions. Lucky you found this post! This article will show you those must-have Google accounts and learn the best go-to solutions to record Google Meet video calls!
Part 1. How to Record Google Meet on Windows/Mac as A Host
"How to record Google Meet?" It actually takes only a few steps; however, this is only workable for users with a Google Workplace account or membership. Even though you are using your personal Google Account as a host, you still can't use other Google Meet features, such as recording, polls, live streams, etc. These features, especially recording Google Meet video calls, are only available to various Google account types, such as a Google Suit account or an Enterprise plan. So basically, you must sign in to a Google Account plan, then follow these simple steps on how to record a Google Meet video call as a host.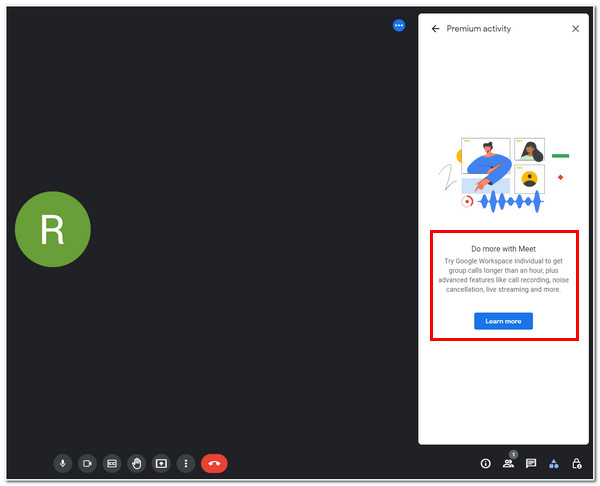 Step 1On your Windows or Mac browser, search for Google Meet and open it. Otherwise, if you are currently utilizing an app, launch it on your computer. Then, start the meeting session by clicking the Start button.
Step 2Next, tick the Activities button right after the "Chat with everyone" option. After that, look for the Recording option and click it.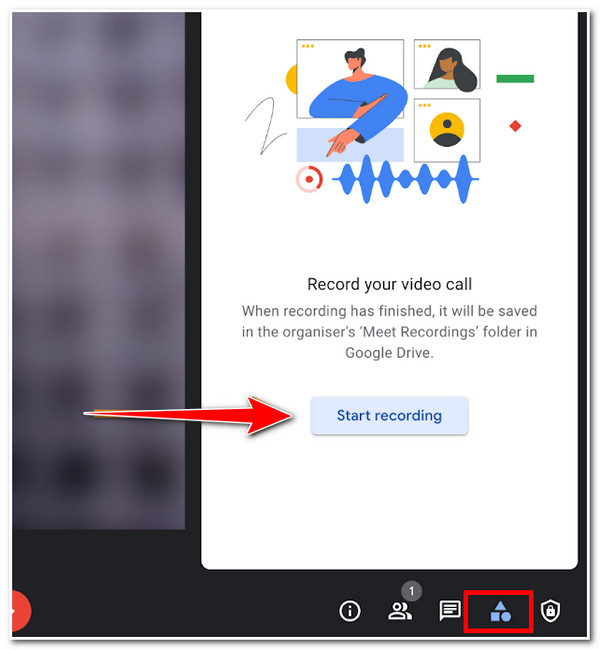 Step 3You'll see a REC icon at the upper-left corner of the tool; this means that the recording is ongoing. If you wish to end the recording, tick the Stop Recording button. Also, the recording will automatically stop once you finish the meeting session or leave the call.
Step 4Your recordings will be then stored or saved in a folder named "Meet Recordings," and you can access it on Google Drive.
On the other hand, if you wish to record a video call on Google Meet as a participant, you must be granted permission first from an administrator or the host.
Part 2: The Easiest Way to Record Google Meet without Permission
If you are looking for a way on how to record Google meet without any permissions as a participant, requirements as a host, or Google account requirements 4Easysoft Screen Recorder is for you. Through its easy-to-use hotkeys, this tool can record your Google Meet sessions within just a few clicks. Moreover, you can record your Google Meet sessions in full screen or a selected window. Furthermore, it was also designed for you to capture them with a high frame rate and resolution in high-quality.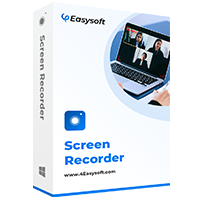 4Easysoft Screen Recorder
Support resizable borderlines to record your Google Meet sessions at any region.
Infused with a Screenshot feature you can use to capture images during the Google meeting session.
Offer lossless quality formats to export your recorded Google Meet for you to attain high-quality output.
Composed of Real-time drawing features you can use to add texts, arrows, shapes, and annotation during the recording.
How to record a Google meet video call by using 4Easysoft Screen Recorder:
Step 1Visit the 4Easysoft Screen Recorder tool on its official website to download and install it on your Windows or Mac computer. After that, launch the tool and click the Video Recorder option.

Step 2Tick the Full button to capture the whole screen of your computer. Other than that, you can also choose to tick the Custom option, which enables you to capture the desired region of your Google Meet window. You can adjust the borderlines freely before or during recording or select an immediate resolution.

Step 3Since you need to record a conference meeting on Google Meet, click the System Sound option to capture both video and audio. Otherwise, tick the Microphone option to record the Google Meet conference and your voice simultaneously.

Step 4After those setups, click the REC button to start your screen recording. Then, a toolbox containing shapes, lines, arrows, callouts, screenshot button will appear, which you can use during recording.

Step 5Tick the Stop button with the Red box icon once you are done recording. Then, the tool will show you a preview of your recording. In this section, you can eliminate unwanted clips at the beginning and end of your recording. After that, tick the Save button.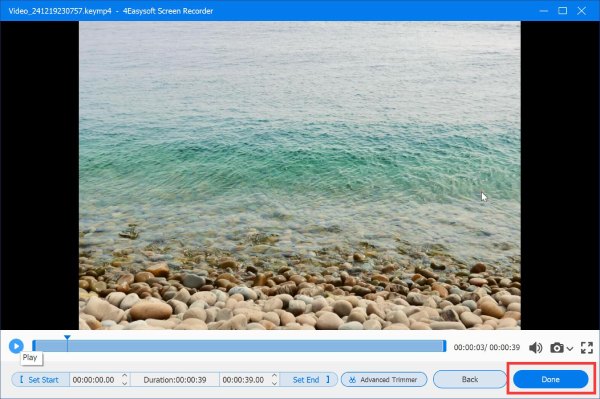 Part 3. FAQs about How to Record Google Meet As A Participant/Host
1. Can I record Google Meet video calls on iPhone and Android?

Yes, you can. However, in the same case with Google Meet video call sessions on the computer, you should also have a Google Workplace account to access the Google Meet recording feature.

2. How can I share recorded Google Meet video calls from my Google Drive?

Go to your Google Drive and select the recorded Google Meet session under My Recordings folder. After that, tick the Share icon and enter the names or Gmail addresses of those you want to be the recipient of your recorded Google Meet, then click Send. Otherwise, you can copy the link to your recorded Google Meet session by ticking the Link icon. Then, paste it on social media chats or via text message and send it.

3. Can I record Google Meet as a participant?

Yes, you can, but you need to meet some requirements. These requirements include the Administrator enabling a recording feature for you as the participant if you are outside the host's organization or promoted as a co-host of the Google Meet conferencing.
Conclusion
With the Google Meet recording feature, you can review all the sessions taken from this platform anytime. You should pay attention to those Google requirements and meet them to attain the full benefits of Google Meet features. Apart from that, you can also use 4Easysoft Screen Recorder to let yourself record every Google Meet session without permission or requirements. With its flexible and easy-to-understand functionality, "how to record Google Meet?" is no longer a question for you! Visit the tool's website to learn more!
Related Articles: