How to Record Google Hangout Calls - Save and Share Them with Others!
Google Hangout is one of the best programs that help you communicate with members or partners, especially if you can't attend meetings personally for some reason. Along with Zoom and other video conferencing tools, Google Hangout can record meetings and save them as your references or share them with others that couldn't attend the class or meeting. If you don't have any idea on how to record Google Hangout, keep reading to learn the two ways in the following article, one is by default, and the other is with a screen recording tool.
Part 1: The Default Way to Record Google Hangout for Paid Account
There are many great options to record calls from digital communication tools, but the easiest is recording through their built-in recorder. The good thing is Google Hangout provides a default recording option so that you can record Google Hangout calls quickly. Google Hangout effectively connects with your members, organizes meetings, etc. You can use it to record meetings and webinars for future reference. However, the built-in recorder is only available for those who subscribe to the paid service. Here's how you can use the recorder to record Google Hangout calls.
Step 1To start, of course, you have to start or join a meeting. If you don't have a link for a meeting or you are the one who's going to start. Go to hangouts.google.com on your web browser, then click on Video Call.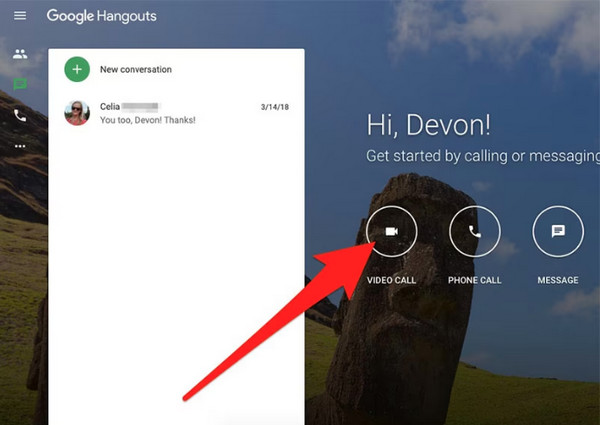 Step 2Invite participants by clicking People in the top-right corner. Click on Add People, then type their email address or name to add them to the meeting..
Step 3When the meeting is about to start, click the three dots at the bottom-right corner of your screen, then click Record meeting. It will immediately start recording the meeting, and everyone will be notified that the meeting is being recorded.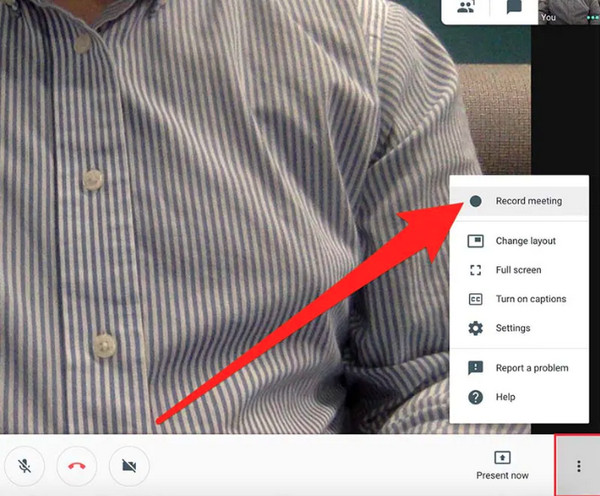 Step 4To stop recording, click the three dots again, then click Stop recording. The saving process depends on how long the recorded Google Hangout meeting is. Then, it will be saved automatically on Google Drive under the Meet Recordings folder.
Part 2: How to Record Google Hangout with High Quality [Free]
For high-quality output when recording Google Hangout, go for 4Easysoft Screen Recorder. This powerful program lets you record screen activities, including a tutorial, meetings, lectures, music, gameplay, and more. You can also take screenshots and record your voice to do voice-overs. Moreover, aside from recording your screen, it allows you to add annotations, such as shapes, lines, callouts, etc. while recording on Google Hangout. This recording tool also supports recording your computer's camera and screen at the same time for business meetings and other essential video calls.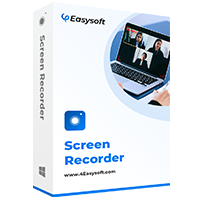 4Easysoft Screen Recorder
A powerful recorder that records the webcam and screen simultaneously is best for meetings.
Allow you to add shapes, lines, text, and others while recording to discuss and mark essential parts in the video.
Offer high-quality, even lossless, in your exported video up to 60fps and 4K resolution.
Give you the option to record the entire screen, just a selected window, or a customized part of the screen.
Step 1To record any screen activities, download and install the 4Easysoft Screen Recorder, then launch it. Click the Video Recorder to start.

Step 2Click the Full option to record your entire screen. If not, click the Custom option beside it to select the desired window. Whatever you choose between the two, you can still adjust the capture area according to what you need.

Step 3To record Google Hangout calls with audio, turn on the System Sound which is the internal sound from your computer, and the Microphone that will capture your sound. Pull the sliders of each to adjust the volume.

Step 4When ready, click the REC button on the right side to start. In the toolbox below, you can add shapes and lines and take screenshots while recording the meeting.

Step 5If the meeting is done, click the Stop red icon to stop the recording. You can preview the recorded meeting and remove unwanted parts at the beginning and end. Once done, click the Export button to save the Google Hangout recording.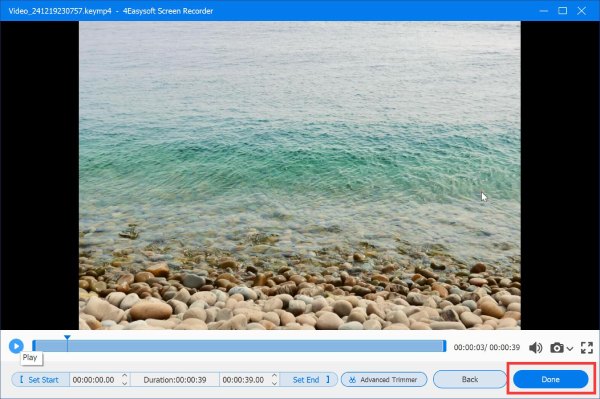 Part 3: FAQs about How to Record Google Meet on Windows/Mac
Why is there no record button on Google Meet?

Ensure you are using a computer since the recording option is only available for computers. You won't see the record option if you only join the meeting to present. You have to join a meeting first, then start presenting, and you can start recording. Furthermore, you need to confirm that the admin has turned on the recording option.

Can you record a Google Meet without premium?

Even if you don't have a premium Google Workspace, you can record Google Meet. However, if the meeting organizer does not give you permission, you can't. Instead, you can use a screen recorder to record any meeting on Google Meet. Finding the best screen recorder tool is essential in this situation; make sure to find the excellent one.

Can I record Google Hangout if I'm not the host?

Google allows meeting organizers to record calls; they are the only ones who can. However, if you are one of the meeting participants, you will be able to see the recording option and access it if given permission by the host. You can record Google Meet even if you are only a participant.
Conclusion
If you are struggling to record Google Hangout meetings, now you can easily do it with the help of this post. You just learned the default way, which is the easiest way to record Google Hangout calls; however, you can only do it if you subscribe to its paid service. You can consider using 4Easysoft Screen Recorder to record Google Hangout calls; no matter you are the host or participant, you can easily use it to capture Google meetings on Windows/Mac. It even provides tools to record your screen with audio, webcam, capture webcam, and add annotations while recording. Additionally, it offers you high-quality recordings and almost all popular video, audio, and image formats.
Related Articles