An Overall Screen Recorder Review Featuring Screencast-O-Matic [2023]
Screencast-O-Matic is a popular screen recorder tool for those who want to create educational or business presentations. However, does it achieves your screen recording needs? Or Is it the best screen recorder for you? Let's find it out together here in this post. You will explore this tool's features, pros, cons, and prices in this article. Here also featured the best alternative tool for Screencast-O-Matic. Let's dive in!
Part 1. Screen-O-Matic Reviews: Features, Pros, Cons, and Prices
Before exploring and reviewing Screen-O-Matic features, pros, cons, and prices, get to know the brief introduction of this tool.
Screencast-O-Matic is a tool to capture various video activities on your screen. It also supports webcam recordings, which you can use on your Windows or Mac computers. Moreover, this tool is developed to support educational, business, and personal video presentation creations or capture gameplays on your screen. Additionally, this screen recorder tool supports outstanding capabilities that are well-arranged to make it more attractive to beginners. Furthermore, with its outstanding features, it also accommodates advanced users. But the question is, does it achieves your desired screen recording activities? Let yourself dive into what does Screencast-O-Matic features, its pros & cons, and compare its different licenses. Read them below.
1. Features of Screen-O-Matic:
Webcam Recording

- This tool lets you add your webcam while recording, which is perfect for demos, presentations, or tutorials.

Take Screenshots

- Aside from screen capturing, this tool also supports a feature that lets you capture images while recording. It supports screencaps on selected parts of your screen or your whole computer monitor. Moreover, you can also redefine your captures by using its built-in image editor. This image editor enables you to add arrows, highlights, and text.

Export Feature

- Unlike other screen recording tools, Screencast-O-Matic can export your recording to various video formats such as MP4, AVI, and FLV. Otherwise, you can also export or upload it directly to YouTube.

Video Editor

- This tool also supports video editing features that you can use to improve the looks of your recordings. You can add music, audio narration, captions, etc. Other than that, it also supports video trimming options which help you polish your recordings.
2. Screencast-O-Matic Pros & Cons:
Pros

Compatible across multiple devices such as Windows and Mac.
Easy-to-use and easily accessible features with intuitive interface.
Record your screen, audio, and webcam simultaneously.
Additional editing tools to help you take notes and annotations.
Cons

Linked with audio sound issues.
Only provide the maximum quality in 720p.
Not a recommendable tool for stream gameplay.
3. Comparison between the different Licenses offered by Screencast O Matic
Note: If you are using the accessible version of your Screencast-O-Matic, you'll be able to use all the features listed under the Free version. Once you have decided to upgrade to the Deluxe, additional features will become available for you and those under the Free version. The same goes with the subsequent version of Deluxe, namely the Premier. Free and Deluxe features are added to your Premier Screencast-O-Matic, plus those made available for you under this license.
Free
Deluxe ($1.65 per month)
Premier ($4 per month)
◆ It lets you simultaneously record your screen and webcam in full screen or a selected window.
◆ Take screenshots in different areas of your screen.
◆ Basic video editing enhancements.
◆ Ability to publish recorded videos to YouTube or share them on Facebook, Twitter, or Google Drive.
◆ Comes with 25GB of storage space per month.
◆ It enables you to access 30 tracks from your music library.

◆ It allows you to zoom your screen while recording.
◆ Allows you to publish your video recordings to DropBox and Vimeo.
◆ It enables you to have watermark-free outputs.
◆ It enables you to record more than 15 minutes.
◆ It provides you with options to record your system audio.
◆ Access your whole music library.
◆ Options to edit your audio tracks, cut, copy or paste video recorded segments.

◆ Ad-free playback pages.
◆ Upload your recorded videos for more than 15 minutes.
◆ Automatically transfers your Mobile screen recorded videos to your desktop.
◆ It provides you with secured online storage for backups.
◆ 00 GB of bandwidth each month is made available.

All features are only available if you purchase the Premier version of Screen-O-Matic. This tool provides you with choices of the version that comes with different features.
Part 2: Reviews of the Recommended Alternative to Screen-O-Matic.
Now that you know what Screencast-O-Matic can provide, you shouldn't miss the chance to learn what the 4Easysoft Screen Recorder tool can contribute to your high-quality screen recording needs. This tool lets you simultaneously record your Windows or Mac computer screen with your webcam and voice on a microphone. Moreover, it can capture any moment on your screen, record your audio, and produce high-quality outputs. Furthermore, this tool is also equipped with CPU and GPU acceleration technology which is responsible for recording gameplay in high-quality without experiencing lag issues. Unlike Screen-O-Matic, features are all available in each offered license. Additionally, there are no watermarks included in every export.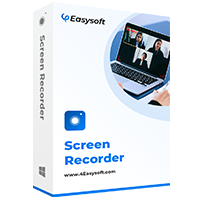 Features of 4Easysoft Screen Recorder
Capable of exporting your recorded video, audio, and captured images into 20+ different file formats.
Equipped with output tweaking options such as quality, resolution, frame rate, codec, etc., for video, codec, and quality for audio.
Infused with the ability to capture the entire screen of your computer, select a region, or select a specific computer resolution.
Offer noise cancellation and microphone enhancement feature to enhance your audio or voice recording.
Pros

A cross-platform tool that supports Windows and Mac devices.
User-friendly video, audio, and game recorder for beginners and advanced users.
Features are well-arranged and easy to understand.
Comes with customized hotkeys and, mouse & keystroke settings.
It doesn't leave any watermarks on your recorded videos.
Cons

Advanced features like trimming, cutting video or audio, etc., before saving are not supported under the free version.
Part 3. FAQs about Screen-O-Matic Software
Does Screencast-O-Matic come with a time limit when recording?

Yes, it does. Screen-O-Matic only allows its users to record their screens for 15 minutes. However, if you decide to avail of the Deluxe version, you can record your screen without any time limits.

Can I use Screencast-O-Matic without the internet?

Unfortunately, you can't. Screencast-O-Matic works with the internet, which is why most people look for alternatives. Luckily, we have 4Easysoft Screen Recorder, which you can use to record your screen without using the internet.

Where does Screencast-O-Matic store the recorded files after saving them?

Screen-O-Matic automatically saves your recorded video files in your Documents folder under "Screencast-O-Matic". There is no option for you to change the settings.
Conclusion
Those commendable points of Screencast-O-Matic truly show how powerful this tool is for various screen recording needs. You only need to avail of the Premier version of this tool to have the full-blown features available. You can also use 4Easysoft Screen Recorder as an alternative tool to address all the Screencast O Matic's disadvantages. Those disadvantages are watermarks added to your outputs and unsupported system audio recording under the Free version. Download and install it now!
Related Articles