Snagit Review: Is it Worth Buying? What about the Alternatives?
Gamers, students, employers, editors, or others have to capture screen activities for future reference or fundamental reasons. If you're one of them, TechSmith Snagit can help you accomplish the work. Snagit is an excellent lightweight screen-capturing and recording tool that works flawlessly on Windows and Mac. The application, however, is pricey compared to others, but it will offer you beyond what you expected. This review of Snagit will assist you in figuring out how to use this capturing program and incorporate its unique features. You will also see the best recorder alternatives for Snagit.
Part 1: Main Features of Snagit Screen Capture [Pros and Cons]
Regardless of how many screen recorders are available today, TechSmith Snagit, introduced in 1990, contains several tools that can help. It allows users to capture every kind of picture and video and comes with a collection of great features.
Although the features of this screen recording tool are slightly different for Windows and Mac, Snagit revolves only around its three main features. Get to know each below.
Recording & Capturing
Snagit's capabilities for screen capturing and recording screen activities can't compare with other screen recording programs. It gives you a free choice to select how to record your screen; you can do a full-screen or active window recording. Furthermore, you are allowed to switch between recording the screen or your webcam, which is adequate for educational and business purposes. You can do this while recording as it provides you with a video toolbar to change recording settings easily.

Editing
After recording, shockingly, you can do additional edits using Snagit directly. Whether it's an image or video, Snagit is open to editing almost any kind of image and video. You can add text overlays, drawings, shapes, and others that will help add uniqueness to your recordings. Additionally, editing on Snagit is much quicker than considering using a not-so-friendly image editing program that will add to your computer's storage space. Since Snagit is a lightweight program, it doesn't affect your PC's performance and functionality — it saves space on your hard drive. Other than that, Snagit permits you to quickly create animated GIFs with your short recordings.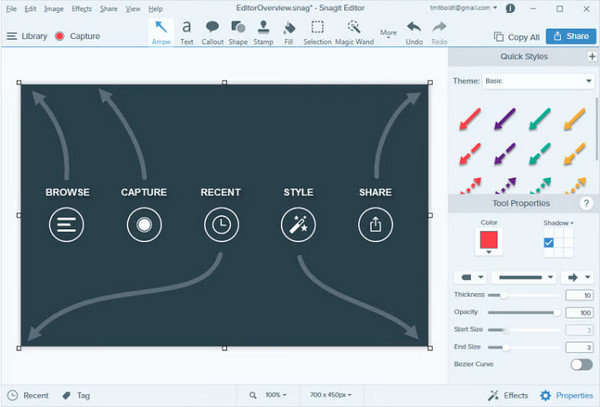 Sharing
Of course, when you have finished recording and editing, you may proceed to share your recordings. You can save your recordings as a file in formats like PNG, MP4, WebP, and more. And the TechSmith Snagit lets you share their produced captured images and recorded videos on social media platforms, like YouTube, and to other applications, such as Microsoft Outlook, Mail, Camtasia, etc. Aside from sharing it online, it also has a Library to store those recorded videos and captured images.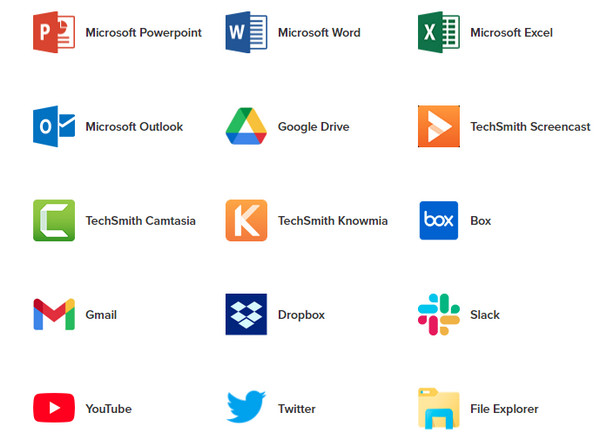 Pros

Quickly grab a screen capture with the desired area.
Directly navigate you to the editing window.
Store your recordings in Library for easy finding.
Create GIFs out of short video recordings.
Cons

No free or trail version offered for you.
Too much pricey.
Outdated shapes and callouts.
Part 2: Is Snagit Worth Buying? Free Version VS. Paid One
Here's another thing about TechSmith Snagit, other screen recording tools offer a free version, but Snagit doesn't offer that. But it will give you a free trial, but it's on a limit, and once it is over, you have to purchase the paid version of Snagit and use it with no limitations and take advantage of its features. Since Snagit has no free version, you would have to pay $62.99, and here's some of what you can expect when you purchase its paid version.
Allow you to take scrolling screenshot of the entire page.
Let you trim video clips to remove extra parts.
Apply an intelligent move that makes objects in the image movable.
Personalize images with designs.
Create steps and workflows.
Use professional markup tools.
Part 3: 3 Best Snagit Alternatives on Windows/Mac
If you think Snagit is too expensive to you, just consider using other screen recording tools with different features on Windows/Mac. See below the three shared tools as alternatives to Snagit.
1. 4Easysoft Screen Recorder
If you want an easy but powerful alternative to Snagit for Windows and Mac, then 4Easysoft Screen Recorder is for you. The program provides you with three recording modes: full screen, selected window, and customized region. With this, you can easily do what you want to record tutorials, meetings, gameplay, and more with simple clicks. Aside from the recording screen, you can record your webcam and capture your voice. It also supports taking screenshots and adding annotations while recording without compromising the quality. And, like Snagit, you can create animated GIFs with the program.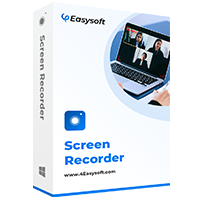 4Easysoft Screen Recorder
Provide collections of formats for popular video, audio, and image to export recordings.
Equipped with a preview feature so that after recording, you can still check the video to remove the extra beginning and end parts.
Even when you can't attend meetings, you can set a schedule to start and stop time of the recording.
Support real-time drawing, allowing you to add text, shapes, lines, and other annotations while recording.
2. ScreenRec
Another alternative to Snagit is Screen Rec, which works on Windows, Mac, and Linux. This program lets you capture and record as well. With this screen recording tool, you can instantly share your recordings with the shareable link it provides. Furthermore, you can select the capture area freely and add annotations to your recording or screenshots. In contrast with Snagit, you can record unlimited videos for free with ScreenRec. Besides that, it supports recording audio from your microphone and audio from your computer simultaneously.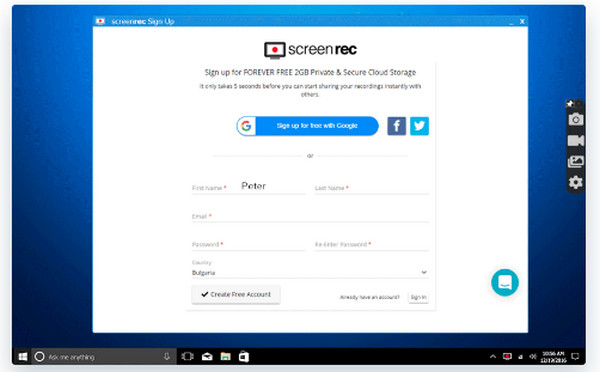 Features:
Support MP4 format to export your recording, as all devices support this format.
All your screen-recorded activity will be automatically saved to the private cloud with a sharing link.
Able to capture your screen and adding a webcam as an overlay.
3. Windows Snipping Tool
Windows Snipping Tool is a built-in capturing tool for Windows Vista and the latest versions. With the Snipping tool, you can quickly take screenshots of your screen, whether it is an active window, a selected area, or the entire screen. Moreover, after capturing, you can add annotations and make additional edits to the images. It is a primary alternative to Snagit, but if you want to record your screen, you can't do it with the Snipping tool since it only supports capturing screens.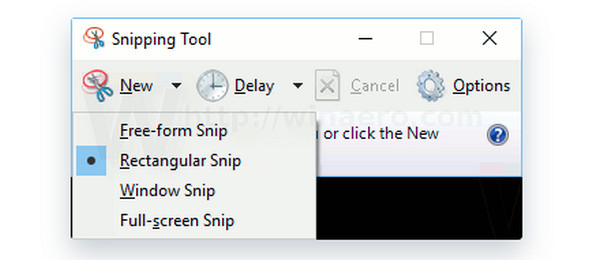 Features:
Capture the entire screen, a selected part of your screen, and any active window.
Let you edit the captured image's size, color, text, and many others.
Support highlighting the image or adding drawings, then erasing it quickly if you want.
Part 4: FAQs about Snagit Screen Capture
How long is the free trial period of the TechSmith Snagit?

Since there is no free version of Snagit, it offers a free trial period. You can enjoy features for 15 days, and then once it is over, you must purchase the paid version.

Is Snagit better than the Snipping tool in Windows?

For capturing screens, they both work nicely. However, the Snipping tool is limited to capturing images only, not in screen recording, unlike Snagit, which captures and records screen activities on Windows.

Can I use Snagit offline?

For Snagit 2021 and the latest versions, you can use it offline by enabling the Offline Activation on the popup dialog on your screen when you don't have an internet connection.
Conclusion
Hopefully, this complete Snagit review helps you capture and record your screen as you learn more about it. And with the alternatives given, you have plenty of options if you don't Snagit since it has no free version. To help, consider using the 4Easysoft Screen Recorder for Windows and Mac. With this powerful screen recorder, you can easily record screens, take screenshots, record voice, and webcam, and edit your recordings.
Related Articles