Overall Reviews on Bandicam: Explore the Features, Pros, and Cons
Creating presentations and tutorials is made easy by Bandicam. You can capture the screen with the audio and webcam as you like. This tool is always in search recommendations for its features, but is it the best choice? Luckily you found this post! Here you will see the reviews on Bandicam screen recorder's features, pros, and cons. Here also provide you with an alternative tool that can provide you with high-quality recordings.
Part 1. Overall Reviews on Bandicam Screen Capture
Before exploring Bandicam, you need to first define what precisely this screen recorder is. Bandicam is made to capture anything on your screen, whether tutorials, webinars, personal videos, etc. Moreover, this screen recorder could also record gameplay due to its ability to record high-resolution games. Aside from that, this tool comes with three modes: Screen, Webcam, and Game recorder. Those modes come with outstanding features with output settings for you to have a great recording experience.
Additionally, this tool uses Nvidia's H.264 codec to compress recorded videos, enabling users to store files in smaller sizes. In line with that, although compression takes place, it doesn't affect the quality of the file. Furthermore, the Bandicam screen recorder also supports 4K ultra HD recording at resolutions up to 3840X2160 in size.
So with that scope of capabilities, this screen recorder is proving its flexibility already. Does Bandicam already amaze you? If yes, this screen recorder still has a lot to offer! Let's go deeper by exploring its main features and its pros and cons below.
1. Main Features of Bandicam Screen Recorder
◆ Area Selection - This feature allows you to choose which part of your screen to capture. It supports options such as a Rectangle area where you can freely move the capture line according to your preferences. Fullscreen, on the other hand, allows you to capture the whole screen of your computer. Lastly, the Around mouse follows and captures a portion of your screen depending on where your mouse moves.
◆ Webcam Overlay - This Bandicam's Webcam overlay feature enables users to overlay their Webcam on the corner of their screen while recording. So if you plan to make a presentation for educational purposes, this is a good feature.
◆ Mix Your Voice - Another option offered by this screen recorder is the ability to record your voice through a Microphone while screen recording. It also comes with customization settings that allow you to mix your voice from an audio track, include audio, etc. .
◆ Real-time Drawing - The Real-time Drawing feature of Bandicam is capable of adding sketches or drawings on your screen during the recording. This feature is essential in highlighting parts of your screen, sentences on your presentation, and images. .
2. Bandicam Pros and Cons
Pros

The overall interface is beginner friendly and also best for advanced users.
Features are well-composed and easy to use.
It enables users to make file sizes smaller while maintaining the original quality.
Offer multiple recording modes, enabling you to choose according to your preferences.
Cons

It is not a cross-platform screen recording tool, for it only supports Windows.
The unregistered version limits you from recording your screen for a maximum of 10 minutes.
It doesn't support live-streaming features.
It was linked to a frame rate dropping issue during screen recording.
Part 2: The Best Alternative to Bandicam to Record Screen with High Quality
All screen recorder tools like Bandicam come with their disadvantages, which is the main reason why people find free alternatives to Bandicam. This post recommends the 4Easysoft Screen Recorder tool, your best Bandicam alternative.
This Windows and Mac-supported tool also offers three screen recording modes: Video Recorder, Audio Recorder, and Game Recorder. Each mode can record your screen with high-quality output, which supports lossless file export. Moreover, it is also infused with easy-to-use features, which are all well-composed for easy access while recording. Aside from that, it also provides you with high-quality setups up to 60fps and 4K resolution. Furthermore, it enables you to capture any video happenings on your screen, whether on a full-screen monitor or select a specific resolution depending on your computer.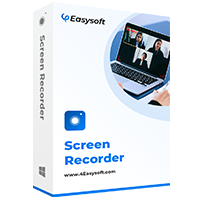 4Easysoft Screen Recorder
Capable of recording full screen, selecting a window, or customizing your desired screen region to record.
Enable you to tweak your output's video and audio settings to enhance the quality of your recordings.
Infused with the ability to capture your screen and your Webcam and record your voice.
Aside from recording, this tool lets you take screenshots of your recordings through its easy-to-use hotkeys.
How to use 4Easysoft Screen Recorder as a Bandicam alternative to Record Screens with High-quality:
Step 1Download and install the 4Easysoft Screen Recorder tool on your Windows or Mac computer and launch it. Then, in the tool's interface, click the Video Recorder option.

Step 2Next, tick the Full button to capture the whole screen of your computer. Otherwise, click the Custom button to record a specific screen portion. Then choose between the Resolution options according to your preferences.

Step 3Then, turn On the System Sound by ticking the switch. You can also click the Microphone's switch to turn it On to capture your voice simultaneously. Use the Volume Slider provided for each option to volume up or down according to your desire.

Step 4After those setups, tick the REC button to start the screen recording with this Bandicam alternative. A hotkey will then pops up on your screen, which you can use to stop, pause, add annotations, shapes, lines, take screenshots, etc., during recording.

Step 5Once you are done recording, tick the Stop icon, then the tool will bring you to its preview section. You can use the tool's Advanced Trimmer feature to cut those unwanted clips from the beginning or at the end. Then, tick the Save button to save your recordings.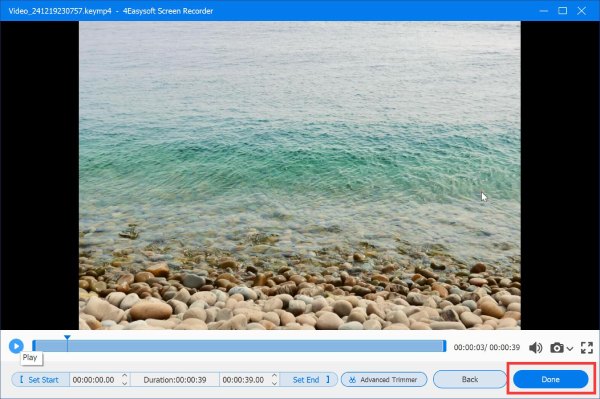 Part 3. FAQs about Bandicam Screen Capture
1. Does the Bandicam watermark is included in every export?

No, you are depending on the Bandicam version you are currently using. If you are using the free version, then Bandicam leaves a watermark on your exported recordings.

2. What is the Bandicam important setting for screen recording?

The best setting Bandicam offers where you can tweak your video output's Size, FPS, Codec, and Quality. If they are arranged appropriately, you'll definitely, obtain a high-quality recording.

3. Does Bandicam legit and safe to download?

Bandicam is linked to various virus issues because most people download the tool from authorized and unofficial Bandicam websites. Bandicam installers on those websites are being injected with viruses that can affect your computer. It would be best if you got the tool on its official website for your computer's safety.
Conclusion
Bandicam is an easy-to-use screen recording yet a powerful tool, but you can only use it under the Windows platform. But with 4Easysoft Screen Recorder, you can use it either with Windows or macOS computers. Aside from that, you can record anything on your screen while having the best and most advanced features to help you produce high-quality recordings.
Related Articles