Detailed Steps to Use iMac As Monitor For PC With A Bonus Tip
iMac is one of the most in-demand desktops on the market today. With this desktop, your screen looks much more pleasant compared to other screens. So, can you use your old iMac as a monitor for PC? The good thing is, in 2009, iMac was introduced with a Target Display Mode — allowing users to display it on another device. And this post is here to guide you by providing a step-by-step below on how to use iMac as monitor for Windows PCs and with a bonus tip. Dive right in!
Part 1: What You Need to Use the iMac As A Monitor for PC
Before you use iMac as monitor for your computer, ensure you have checked what you need first. It is a great idea to see the system and version of your iMac to check if it is compatible to use as a monitor for your PC.
The iMac you're using should use a macOS High Sierra or earlier versions. Furthermore, if your iMac has a Thunderbolt or a Display Port feature, you can use it as your second monitor. There are types of iMac you can choose from: the iMacs with Mini Display Port that was released in late 2009 and mid-2010. And the other one is the iMacs that come with a Thunderbolt port that was introduced in mid-2011 and 2014.
However, it isn't as simple as that since a 5K retina iMac released in 2014 has the Thunderbolt port but does not support the Target Display Mode. But, aside from ensuring that your iMac comes with either a Mini Display port or a Thunderbolt port, you must also ensure that your PC has one of those features.
You can use an HDMI or a Display port to use iMac as a monitor for PC. Note that you need to prepare those cables to connect your devices.
Part 2: Detailed Steps on How to Use iMac As Monitor for PC
Now that you have checked everything you need before you use iMac as monitor for your PC, learn below the steps on how to accomplish the task. You simply have to follow the simple steps provided carefully:
Step 1Turn off both your iMac and PC. Then, you can connect the cable to HDMI or your Display Port. And then, connect the male end cable to either the Thunderbolt or Mini Display of your iMac.
Step 2After that, you can turn on your iMac and PC and hold down the Cmd + F2 keys. As an alternative, you can hold down the Cmd + Fn + F2 on your keyboard to prompt the Target Display Mode.
Step 3Wait a few seconds to open up the Target Display Mode, then you can use the iMac as a monitor for your PC.
Step 4Remember to adjust the screen resolution for better display quality. It is suggested to use the 2560 x 1440 resolution. If you want to check the screen's resolution, you can hit the Apple logo on your taskbar, go to About This Mac, and select the Display option.
Bonus Tip: How to Screen Record on PC with iMac Screen Easily
You probably want to record your screen activities with an iMac, but it is not suitable for capturing your screen. For a high-quality screen recording while you use iMac as monitor for your PC, 4Easysoft Screen Recorder is there to help. This program works flawlessly on Windows and Mac and allows you to record screen activities with simple clicks. Furthermore, it provides options in recording, such as the entire screen, a selected window, or a customized part of your screen without compromising the output quality.
Additionally, you can record your voice, music, and more with its Audio Recorder. With this powerful screen recorder, you can also record gameplay, and online tutorials, take screenshots, add annotations, schedule a recording, and much more. Besides that, it provides a wide range of output formats to export your recorded video and easily watch it on your iMac screen on PC. To learn more about this program, you can visit it and see its main features.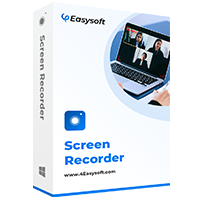 4Easysoft Screen Recorder
Record any screen activities, including meetings, online lectures, gameplay, TV shows, and so forth.
Support recording screen with audio and webcam simultaneously without affecting the overall output quality.
Let you select how you will record your screen, whether in full screen, selected window, or you will customize a part of your screen to record.
Enable you to clip recording to remove the unnecessary beginning and ending parts before exporting your recorded video to your desired format.
Part 3: FAQs about How to Use iMac as Monitor for PC
Why can't I use iMac as monitor?

If you're having trouble using your iMac as a monitor, ensure that it is using a macOS High Sierra or earlier versions installed. You might have the 5k retina iMac that has a Thunderbolt port, but it does not support the Target Display Mode. Or, it must have been because of the cable connecting the two computers. For further details, you can look back again at Part 1.

How many monitors can you connect to an iMac?

You can connect a 4K display up to four and two 5K displays. To do this, you can connect the first display to the first two Thunderbolt ports. And the second one is to the last two Thunderbolt ports.

What to do if the Target Display Mode won't work?

Fortunately, there is a way to fix Target Display Mode that won't work when using iMac as a monitor for PC. You can try restarting your iMac, also the PC you want to connect to your iMac. Ensure that the cable is unplugged from your PC to avoid problems. And then plug it back in slowly and carefully. Finally, press and hold down the Command + F2 on your iMac.
Conclusion
Hopefully, this post helped you if you are somehow confused about what you need to have before you use iMac as monitor for your PC. And after you have the right things you need to use the iMac as a PC monitor, you can start using it immediately! For some reason, you might have a hard time using iMac monitor. You can record your PC screen and then play it on your iMac with 4Easysoft Screen Recorder. The program allows you to record screen activities in a full screen, a selected window, or a customized part. Record now with high-quality video in simple steps with this screen recorder.
Related Articles