How to Record on Spectrum And the Best Tool As Replacement
Spectrum is known by many as it provides multiple channels to watch different shows. But it's just a tool for online watching. Thus, if you're a fan of watching a show offline, you probably want to record on Spectrum with your favorite shows. Fortunately, there are several options to do this since technology is way more advanced than before. You can find the best solutions in the following parts. Read on to learn how to record on Spectrum with its built-in DVD and the best alternative tool you can use to record. Find out what is best for you!
Part 1: How to Screen Record on Spectrum with the Built-in DVR
What is Spectrum TV? It is a widely known online television service that lets you watch different shows and series and offers over 200 live television channels. Plus, it does support many devices where you can watch, like smartphones, tablets, and laptops. And if you have one, you can use the built-in DVR to record and watch your favorite shows offline. Its built-in DVR best records many shows on Spectrum and saves them directly on file without requiring you to download or install anything.
Furthermore, the recording way on Spectrum is easy once you have successfully set it up — you can record without any difficulties. You can also schedule if you want. Spectrum enables you to schedule a recording with its cloud DVR; after that, you can watch them remotely any time you want. But, before recording, note that you have to go for a Spectrum DVR subscription to record any shows you want and do unlimited saving recordings. So, if ready, follow the given steps below on how to record on Spectrum with its built-in DVR.
Step 1To start, access the Cloud DVR or use the Spectrum TV app on your Apple devices. If you start watching your favorite shows on Spectrum, use the DVR settings to record. There, you can make a choice if you want to schedule a recording first or record now.
Step 2Suppose you want to schedule a recording; navigate to the most-loved show you want to record, then choose the program to go to the information page, wherein you see options for the schedule recording process, and then click Record.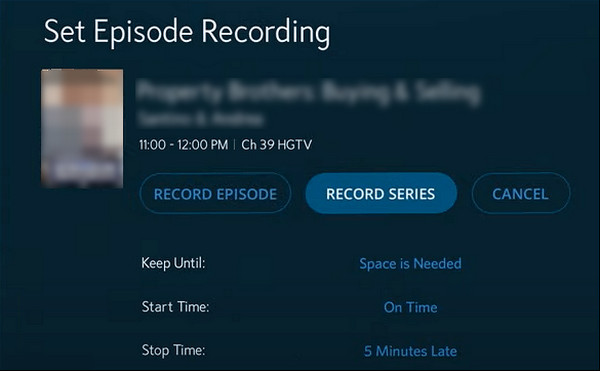 Assuming you want to record on Spectrum with the series immediately, go to your favorite shows first. And then, navigate to the Information section, and click the option Record Series. There, you can record all episodes or just the new ones; select start and end times, then click Confirm or Record.
Step 3When done recording your favorite shows, you can watch them by clicking the DVR, then My Recordings, and clicking the Watch button. Or, you can click Delete Recording if you want.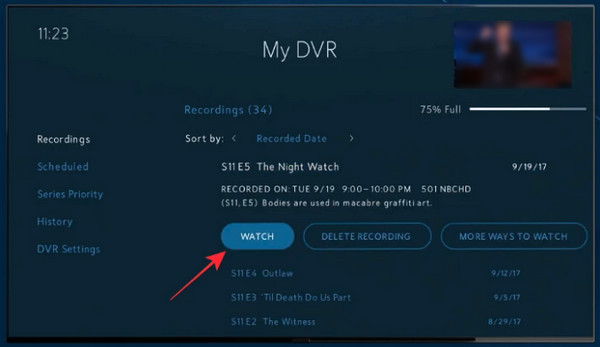 Part 2: The Best Alternative to Screen Record on Spectrum [Windows/Mac]
Luckily, if you think the above way is too complex to record Spectrum videos, you can always rely on the 4Easysoft Screen Recorder. This program is the best alternative as it offers you three modes of recording every moment on your screen: lectures, tutorials, music, meetings, TV shows, and so forth. Furthermore, it provides high-quality settings compared to the other recording programs. It lets you customize video settings before exporting and save them to multiple formats the program offers.
Moreover, like Spectrum, you can also set a schedule to record. This way, the recording will start automatically even if you don't attend. After learning how to record on Spectrum, continue reading to learn how to record with this fantastic alternative to Spectrum.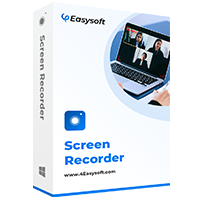 4Easysoft Screen Recorder
Offer you an Area Selection feature that allows you to select the entire window, an active one, or desired part of your screen to record.
Enable you to set a start and stop time to schedule a Spectrum recording, allowing you to start the recording even if you're away.
Record high-quality video with audio on your Windows PC and Mac computer, so you can easily watch your favorite shows.
Equipped with a Clip Recording feature wherein you trim recording to delete unwanted beginning and ending parts.
Step 1On the main interface of 4Easysoft Screen Recorder, select the Video Recorder to record Spectrum videos. Then, select an option to capture the entire screen by clicking Full or select the desired window by choosing Custom. Whatever you choose between those two, you are still allowed to pull the borderlines to adjust the capture area.

Step 2Turn on the System Sound by toggling the switch button to record video with audio. Remember that you can change the volume of it by pulling the slider.

Step 3Once ready, click the REC button on the right side to start recording on Spectrum. While recording the show, a toolbox will pop up, allowing you to add shapes and lines and take screenshots.

Step 4If done recording, click the Stop button to end. And before exporting, the program lets you preview the recorded show and delete unnecessary beginning and ending parts. Lastly, hit the Export button to save it on your computer.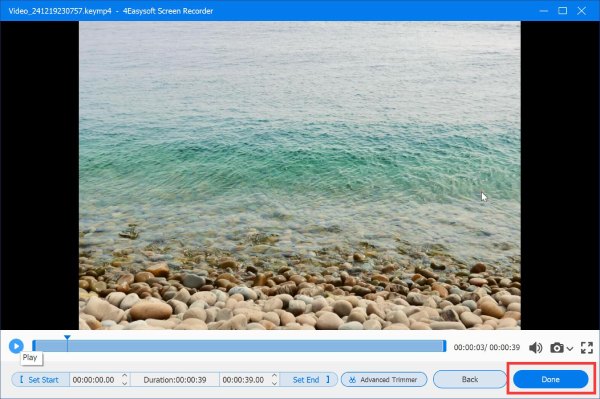 Part 3: FAQs about How to Screen Record on Spectrum
How many shows can you keep on Spectrum Cloud DVR?

Now that you have learned how to record on Spectrum, you don't have to worry that you may reach the limit of recordings you can keep on Cloud DVR. Spectrum allows you to keep up to 50 shows for 90 days using DVR. While for users of DVR Plus, you can keep up to 100 shows for 365 days.

How can I view all my recordings on Spectrum?

After recording on Spectrum, you can press the My DVR on your Spectrum remote, and then you will be taken to the My DVR screen. From this screen, click the Recordings tab where you will see the list of all programs and series you recorded in the past.

Can I delete multiple recorded episodes on Spectrum?

Spectrum allows you to delete all episodes of a series. To do this, go to the My DVR on your screen or press it on your remote control. Go to the Recordings tab, then navigate to the show you want to delete. Select the Delete All button on your remote to delete all recorded episodes.
Conclusion
As you learn here how to record on Spectrum, you can quickly watch your favorite shows offline! Plus, after you watch your recording on it, you can delete it to save space from your Cloud DVR library. However, you can only access this if you have subscribed to Spectrum DVR. For powerful recording features that allow you to schedule a recording to export it with high quality, always go to 4Easysoft Screen Recorder. The program is suitable for all seeking an easy-to-use recorder that enables you to record TV shows and more screen activities in multiple formats.
Related Articles